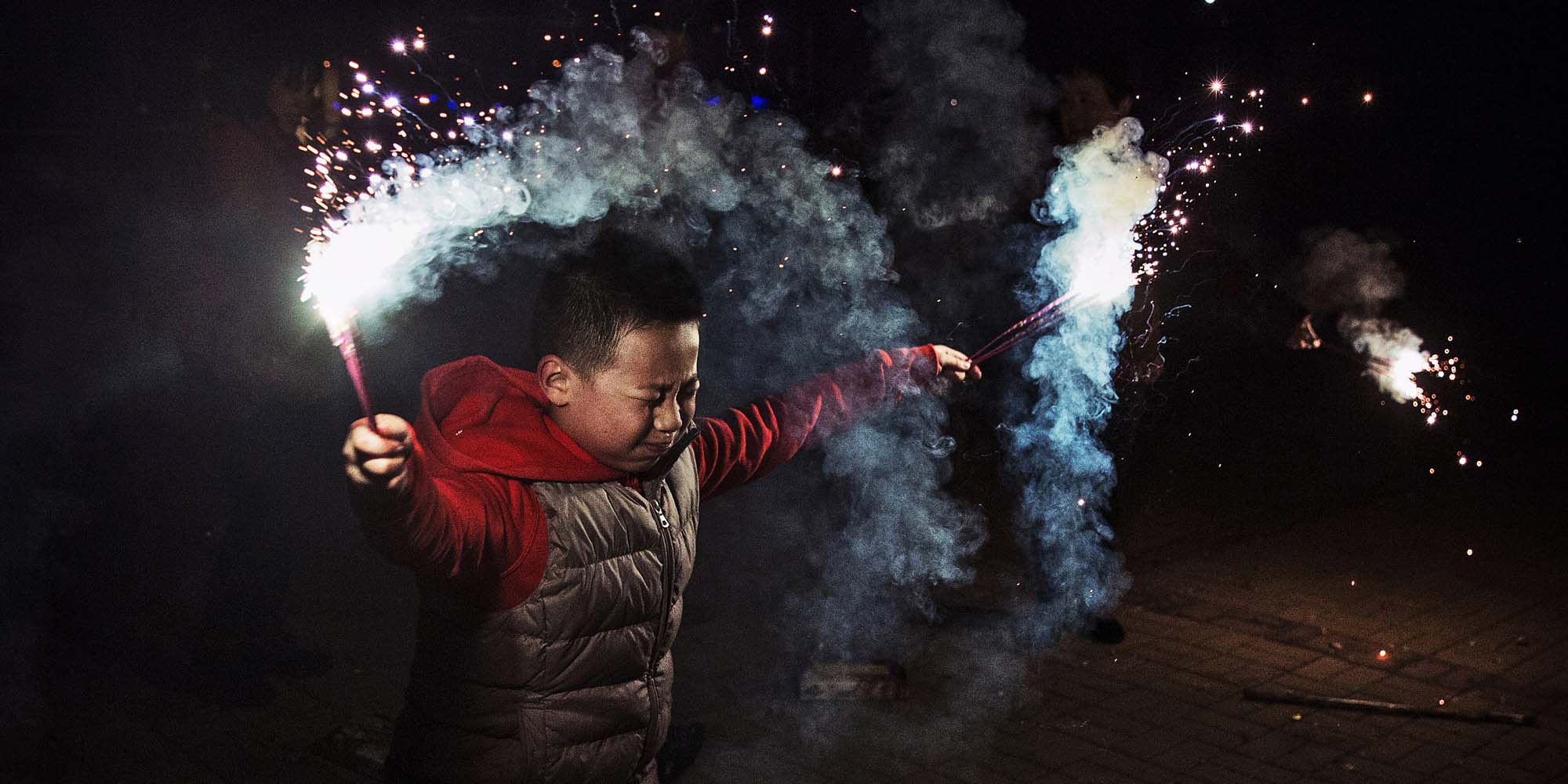 NEWS
Smog Persists as China Celebrates New Year With Fewer Fireworks
One rural town tries to curb firecracker use by offering free flowers instead.
Despite more cities than ever banning residents from setting off firecrackers to ring in the new year, large parts of China were blanketed in thick smog on the first day of the lunar calendar.
In parts of Hebei and Henan provinces to the south of Beijing, air quality index readings exceeded the maximum of 500 in the early hours, denoting "severely polluted" skies. And throughout the day, air in much of the country was still "heavily polluted," including in Sichuan province, in the southwest, and in Guangdong province in the south.
The Ministry of Environmental Protection had predicted on Tuesday that adverse weather conditions would contribute to severe pollution throughout the Chinese New Year holiday, from Feb. 15 to 21.
Fireworks, a longstanding Chinese tradition during festivals like the lunar new year, were banned in 444 cities across the country this year, and 764 more imposed restrictions.
Limits are the most stringent in China's biggest cities. The festive booms of yesteryear were only heard sporadically in Beijing, which in December completely banned fireworks within its fifth ring road. On Friday, city police said that there had been zero injuries or fires caused by fireworks in the that area, and that there had been much fewer elsewhere in the city, too.
Similarly, Shanghai banned fireworks within its outer ring road. On Friday, city authorities said that their use had dropped 70 percent compared to last year, as measured by the amount of trash that had been collected overnight. Air quality readings in both Beijing and Shanghai were "excellent" by noon, though smog in Beijing spiked in the hours after midnight, according to Air Matters, an air quality app.
Bans on fireworks can be unpopular because they run counter to centuries of tradition. In Huangcai — a town in central China's Hunan province where, on Lunar New Year's Eve, people commemorate their ancestors by setting off fireworks at their graves — local authorities had a creative solution, Sixth Tone's sister publication The Paper reported Friday.
In order to reduce air pollution and prevent forest fires, the town provided 10,000 free flowers to be used for the rituals instead. On Wednesday, the local government reminded villagers via its official WeChat account to come claim their flowers — yellow and white chrysanthemums — and to set off firecrackers at designated spots before going up to the mountain to worship their ancestors.
The flower plan went well in Huangcai Town, with most chrysanthemums gone by Thursday and fewer firecracker than previous years, according to The Paper. The town's government decided to continue next year. "We can't immediately ban people from lighting firecrackers at their ancestors' graves, as it's a longstanding tradition," Dai Yongxing, Huangcai's mayor, told The Paper. "We can only gently lead the way."
Editor: Kevin Schoenmakers.
(Header image: A  boy uses sparklers during celebrations of the lunar new year in Beijing, Feb. 19, 2015. Kevin Frayer/Getty Images/VCG)