After a Chinese national studying abroad in Germany claimed she was being stalked by what appeared to be a satanic cult, diplomatic efforts to intervene came to naught — since the story was entirely made up.
Earlier this week, the student — who claimed to be female, though media reports have since reported otherwise — pleaded for help on microblog platform Weibo, saying she was receiving strange and threatening letters. They contained disturbing drawings such as bloody handprints, a pentagram, an upside-down cross, and dark outlines of human figures with horns protruding from their heads, which led netizens to conclude they came from devil-worshippers.
Even after she moved from Düsseldorf to Frankfurt, the student said, the cult continued to stalk and harass her: She would hear light knocking at her front door, or the jarring sound of a saw well after midnight. She was so terrified, she wrote, that she contacted both the local police and the Chinese embassy — though neither, she alleged, took her story seriously or seemed to show any concern for her safety.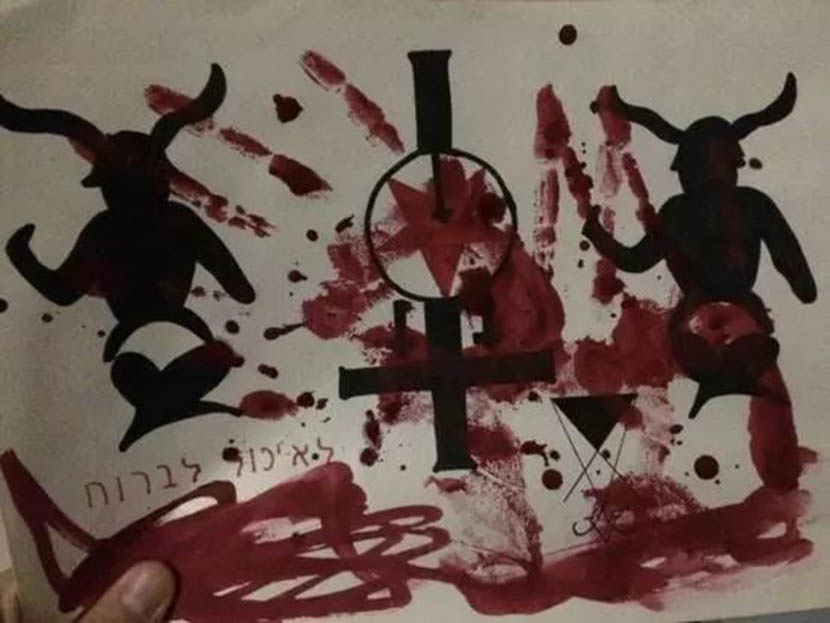 The disturbing drawings the Chinese student said were sent to her by a satanic cult.
"I don't know what I can do now; I'm on the verge of collapsing," read one of her posts. "I'm shaking with tears in my eyes as I write all this down."
The woman's story was picked up by two popular entertainment accounts with a combined 3 million followers on Weibo. Their lengthy posts about her grim situation received over 170,000 comments and 80,000 shares. As word spread, net users grew angry over both governments' apparent inaction, and panicked over the existence of the unknown evil hounding the poor woman.
According to state news agency Xinhua, China's embassy and consulates in Germany initiated an investigation, and local reporters were dispatched to find the student.
Online, meanwhile, the Communist Youth League — one of the most influential Party-affiliated accounts on Weibo, with over 5.5 million followers — questioned on Monday why, after the Chinese embassy consulted its phone records, the calls the student claims she made were not found.
Later the same afternoon, a Weibo account called "Detplus" posted an apology, saying the story had been fabricated on a whim and posted as a joke, and that the two entertainment accounts should not be blamed for believing it. The only factual part of the story appears to be that the poster was indeed studying in Germany — a detail Weibo confirmed by tracing the account's IP address.
"I never expected my joke would spread so quickly, and draw the attention of the Communist Youth League and China's embassy in Germany," read the post. "I will never do such a ridiculous thing again."
The two days of chaos finally ended with Weibo suspending the Detplus account for "spreading misleading information" and "being a bad influence on society." The microblog site has said that it will fully cooperate with the police in any investigation, including into the two entertainment accounts Detplus claimed were innocent of any wider conspiracy.
In China, social media users who post rumors that get shared over 500 times can be criminally prosecuted: If convicted, they face up to three years in prison.
Editor: David Paulk.
(Header image: Yang Guang for Sixth Tone)