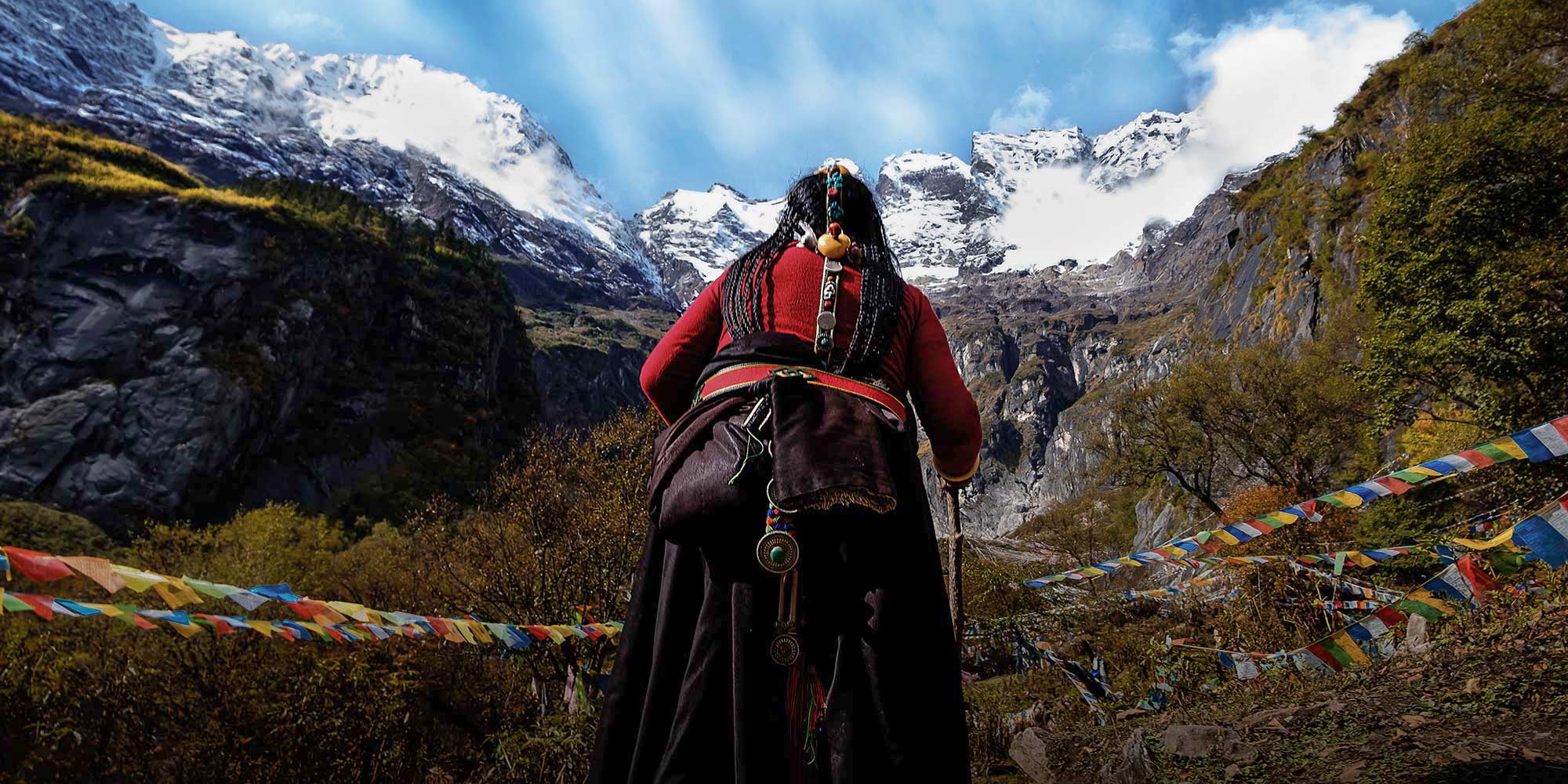 VOICES & OPINION
Herders on the Grapevine: Why Tibetans Are Turning to Winemaking
In the face of climate change, Yunnan's semi-nomadic farmers are taking up viticulture.
At an elevation of 6,740 meters, Kawagarbo is the highest peak of the Meili Snow Mountains in northwestern Yunnan, a province in southwestern China. To many Tibetans, it is one of nine holy mountains scattered across the Qinghai-Tibet Plateau. At the foot of Meili lie a smattering of traditional Tibetan villages, many of which are named after characters and events in the myths of Kawagarbo.
I first visited Meili in 1998. I remember vividly the endless stretch of snow-capped peaks, the Tibetan villages peeking out from between walnut groves, and the fields of highland barley and wheat. But when I returned to the area 15 years later, I saw something entirely different: Tibetan villagers cultivating vineyards that had sprung up in the Lancang River valley — known as the Mekong River further downstream.
The villages in Meili are largely located in the arid river valley, along the Lancang. With arable land a rare commodity, people here combine a small amount of crop cultivation with livestock grazing higher up in the mountains. The animals they raise include pianniu, the hybrid offspring of bulls and female yaks that are adapted to both alpine and more temperate valley climates.
In the summer, for example, men in Sinong Village traditionally herd livestock up to mountain pastures at an altitude of 3,000 meters. There, they let the animals graze, milk them, and churn butter. Women, meanwhile, come out to the pastures to deliver food, chop firewood, and cut and store the long grass that their cattle feed on during the winter months. This semi-nomadic lifestyle traditionally allowed Meili's Tibetans to make good use of the region's natural resources and thrive in the harsh, dual ecosystems of mountain and valley.
But the region's history of winemaking goes back further than you might think. In the early 20th century, French missionaries came to Meili to spread the Christian gospel. In Dêqên Tibetan Autonomous Prefecture, they planted Cabernet Sauvignon grapes and taught locals how to ferment them into wine. But because local Christians primarily used wine during mass, Meili Tibetans never harvested grapes on a large scale.
Since 2009, however, a severe drought in the region — widely thought to be caused by climate change — has affected traditional ways of life in Meili. In the nearby village of Bucun, people told me that drier, warmer weather had reduced the growth of mountain grasses, making their cattle thinner and reducing the volume of milk produced. Local governments, NGOs, and communities across this stretch of the Himalayas have adopted a variety of measures to deal with the newfound aridity, many of which involve planting dry-loving cash crops instead of subsistence farming. In Meili, the answer lay in viticulture.
In 2011, officials in Dêqên made the development of the wine industry a priority for the region. By 2016, the around 2,800 households in the village are producing nearly 6,000 tons of grapes and earning average annual income totaled more than 12,000 yuan ($1,900) — nearly four times as much as they earned in 2010. Indeed, winemaking has helped local Tibetans make up the revenues lost from being less able to raise livestock and even escape poverty along the way.
Vineyards across Yunnan have even started attracting interest from large-scale international wine distributors. In 2013, 12 families in Sinong signed a labor contract for the luxury goods conglomerate LVMH Group, whose beverage brands include the likes of Moët Chandon and Hennessy. In Bucun, vine-ripened grapes freeze overnight, then thaw in the winter sunshine, creating the distinctive dry taste of ice wine, the current favorite of the international winemaking community.
In Gushui Village, I met a Tibetan woman who went by her Chinese name, Li Weihong. Li's vineyard is unique in that it was the first to use homemade organic fertilizer. Instead of using chemical pesticides on her grapes, Li sprays them with a mixture of walnut oil, raw eggs, and water laced with tobacco. The unconventional concoction keeps insects away from the grapes, but doesn't kill them. Neither does it bother the birds that nest in the area.
Li's eco-friendly fertilizer is rooted in the Tibetan Buddhist belief that it is wrong to kill living creatures unless they are domesticated for food. In the off season, she visits nearby villages to teach women how to cultivate pesticide-free grapes. She is even the subject of a documentary about Tibetan winemaking.
The Tibetans living at the foot of Meili are adapting to the slow-motion havoc that climate change is wreaking on their environment, of which drought is just one issue alongside many others. Their transition from food crops to cash crops may not revive declining local ecosystems, but it is at least helping lift families out of poverty. Traditional beliefs, too, are bolstering the efforts to safeguard the local flora and fauna that make this region so diverse.
Translator: Katherine Tse; editors: Wu Haiyun and Matthew Walsh.
(Header image: A woman from the Tibetan ethnic group walks toward the Meili Snow Mountains in Dêqên Tibetan Autonomous Prefecture, Yunnan province, Oct. 13, 2015. Dao Junyun/IC)