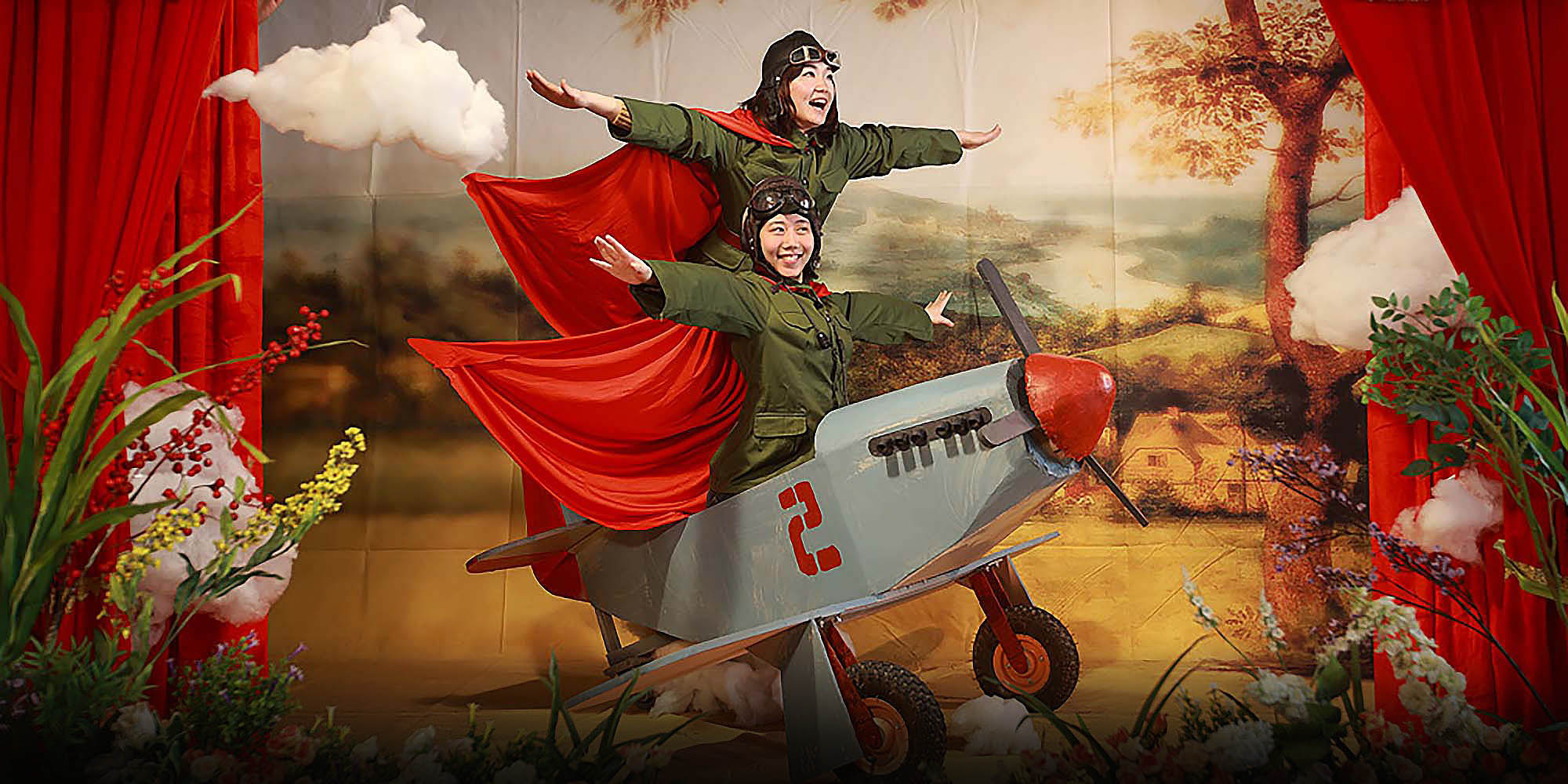 VOICES & OPINION
China, Captured: The Dreamlike Nostalgia of Ma Liang
An artist masterfully captures the relationship between individual and collective memories.
This article is part of a series on some of China's foremost photographers.
Ma Liang does not just take photos. His creative process is like directing a play or perhaps exhibiting antiques. His pieces look like movies or perhaps theater stills, so vivid and intricate are the costumes, characters, props, colors, and lighting.
Ma's photographs toe the line between the real and the surreal. The scenes he creates come largely from his or his friends' dreams, but the symbolism he uses is rooted in real life. His works often evoke shared memories of a particular generation. "The audience might think the photos are real when they see them," says Ma, "but the content itself is surreal, and that creates an interesting tension."
He was born in Shanghai in 1972, to a family with theater in its blood: Ma's mother was an actress, while his father was a well-known Peking opera director. Before Ma began his formal art education at 12 years old, his father made him spend two years mastering the basics of wusheng, the role of a male soldier in traditional Chinese opera. But Ma did not take up his father's line of work; instead, he became an artist.
In his childhood memories, Shanghai has a somewhat magical quality to it. "When I was young, half of Shanghai was old, Western-style houses where old people spoke English and drank coffee," he reminisces. "My elementary school was in a beautiful Western building that had narrow, long glass windows, similar to a church. When my teacher made me stand in the corner, I'd be surrounded by all this colorful light streaming through the window." His memories are extremely vivid, and he describes these scenes with clarity in his book, "Confessions of an Undercover."
Ma first started using his artwork to evoke collective emotional memories while working as an advertiser. In one piece, titled "Channel [v]: Eye Exercises, Made in China," Ma had a number of workers from cities across China massage their eyes in the way Chinese students are frequently taught to do at school, in the unproven belief that it improves concentration. Certain images held a trove of individual memories related to development, including a brand-new metro station in Shanghai's Pudong New Area, a number of looming high-rise buildings under construction, and humble roadside mom-and-pop stores. The video captured the collective experience of urbanization and netted Ma a number of industry awards.

Soon afterward, in 2004, Ma started expressing himself through photography. During the first few years, Ma mimicked theater directors by overseeing every element of the photo, as well as instructing models on the expressions and postures that befit the setting. In the 2005 series "Shanghai Boys," young men, wearing rouge on their cheeks and red scarves round their necks, strike exaggerated poses against the backdrop of everyday life in an old, European-style Shanghai home.
While this scene might not exist in real life, its props and the staged appearance evoke a powerful sense of identity among its audience. Many Chinese currently in their 30s, for example, were forced to practice piano on a daily basis under the hawkish gaze of their parents in their childhood. At the turn of the millennium, people from that same generation were just finishing their education, heading into the job market, and becoming a part of mainstream society and discourse. Ma's work resonates with a wide range of audiences because they brought up these shared feelings.
In the last decade or so, more and more young Chinese have gravitated toward social media, a phenomenon that has led Ma to reexamine the significance of photography. "I suddenly thought that photography has become passé, so I wanted to use it as a way to interact with people," he says. "I liked collecting old photos: family portraits, wedding portraits, graduation photos. These intimate pictures were more meaningful to individuals."
In 2011, when the influence of microblogging site Weibo was at its peak, Ma launched a highly publicized campaign. First, he recruited photo subjects on Weibo. Then he filled a truck with props and costumes and drove around China photographing strangers he met online. In each city, he would erect a temporary studio in such places as retired public buses, a resident's backyard, or the exhibition hall of an art museum.
Over 11 months, Ma traveled to 35 cities and photographed more than 1,600 people. Indeed, the very process of creating the work felt like an interactive piece of performance art. Before the shoot, his subjects would usually talk to him about how they wanted to be portrayed, and Ma would recreate a dreamlike setting for them. Many subjects in their 30s and 40s would share memories and stories from their youth during the shoot. The photos of his "Studio Mobile" series showed the intimate relationships of ordinary Chinese people and the deep influence of popular culture in their lives.
Ma's next creative move transcended further boundaries. In his installation "The Milky Way," he displayed more than 1,000 one-inch portraits he had bought at an old curio market in Lanzhou, the capital of western China's Gansu province. Ma also collected vast amount of documentation dating back to the establishment of People's Republic of China in 1949 — newspapers, notebooks, postcards, self-criticisms from the Cultural Revolution — and exhibited them on the walls of Bund18, a Shanghai art gallery, for visitors to read at their leisure. "I saw portraits of the people who owned these materials and felt the dilemmas they faced by reading their words," Ma says. "That generation of people seem to have survived by different means altogether."
As Ma grows older, he struggles to understand the times we are living through. "This era confuses me sometimes," he admits. "It's not just a creative crisis for me as an artist; maybe it's a midlife crisis, but I feel like I'm already losing my grasp of the crux of the times." It is a bewildering realization for an artist whose work has always touched upon the relationship between collective and individual memory. "People from different eras have different mindsets," he concludes. "The most pathetic person is someone trying to hold onto something they don't understand in the hope of staying relevant. In the end, they inevitably fall behind."
Translator: Katherine Tse; editors: Ming Ye and Matthew Walsh.
(Header image: A work from "Studio Mobile." Courtesy of Ma Liang)