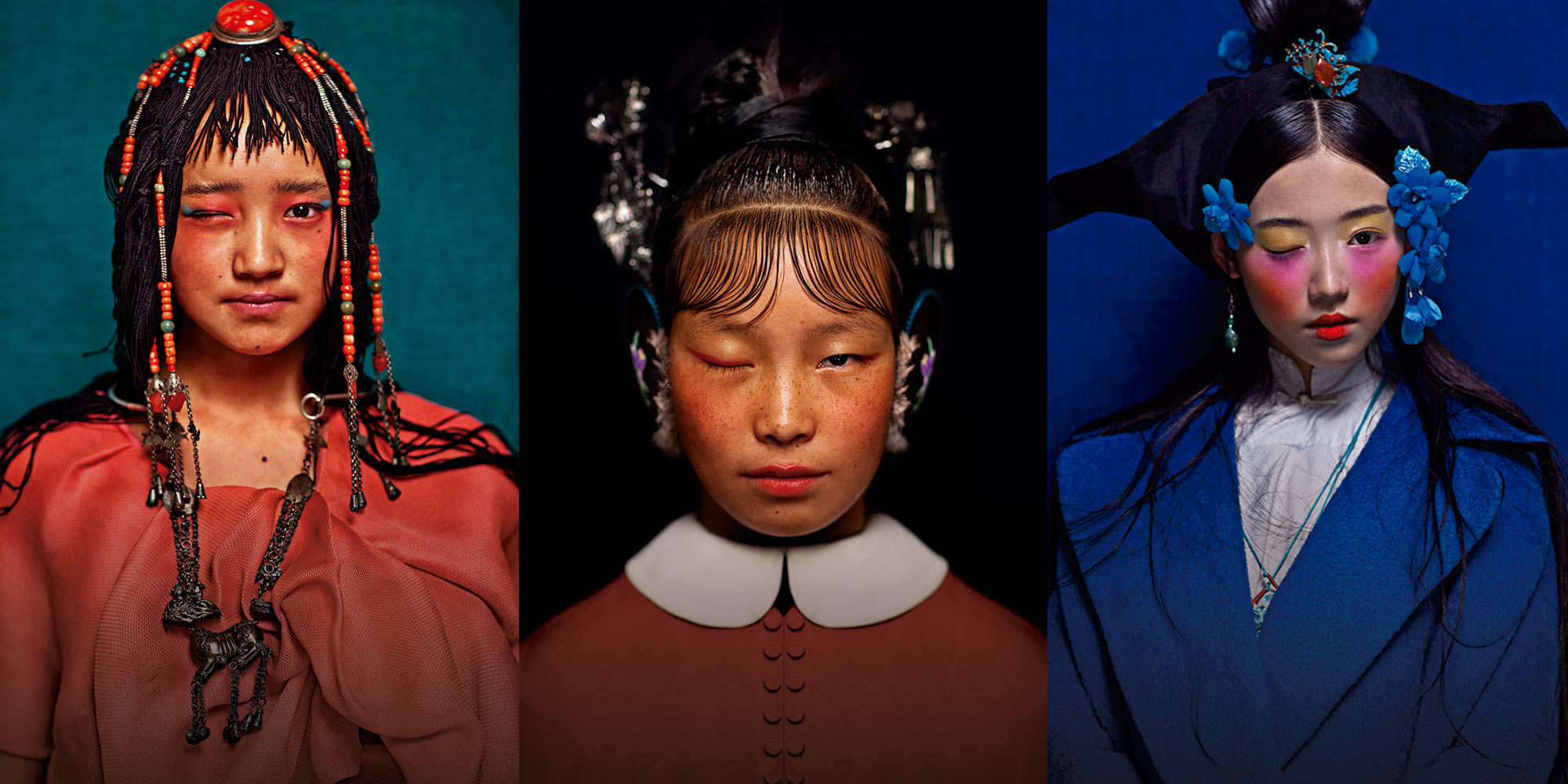 VOICES & OPINION
China, Captured: How Chen Man Redefined Fashion
Unapologetically bold and colorful, the photographer's portraiture disrupted the country's fashion industry and put contemporary Chinese beauty in the spotlight.
This article is part of a series on some of China's most renowned photographers.
Chinese fashion magazines only became popular nationwide around the turn of the millennium. For years, they mainly aped the styles and beauty standards of their Western counterparts, either by directly publishing covers featuring white Caucasian models or imitating the cute, more playful aesthetic of Japanese or Korean magazines.
But Chen Man changed all that.
Since emerging in 2003, Chen has become one of China's highest-profile fashion photographers. Her work regularly appears on the covers of the Chinese editions of Vogue, Harper's Bazaar, and Elle. She is known for her bold, vibrant style that merges Chinese tradition with high fashion; she has shot Chinese models in Tiananmen Square and at the Great Wall, complimenting them with folk symbols like candied hawthorns on a stick and old men carrying bird cages.
Chen, who grew up in a Beijing hutong — one of the capital's historic courtyard residences crisscrossed by narrow alleys — cites the lives of ordinary urban Chinese as a source of inspiration. "I would ride my bike through Tiananmen Square on my way to school, carrying my backpack. That was a snapshot of my childhood," she tells Sixth Tone.
From her works, it would seem that Chen prefers female models with narrow, single-lidded eyes and a sense of traditional East Asian elegance. In August 2012, the British fashion magazine i-D invited Chen to shoot the cover for a special edition. She chose the theme "Whatever the Weather," for which she photographed 12 young Chinese women from various ethnic minorities. "Dark Red," one of the most popular covers, featured a Tibetan girl whose wink underscored her restrained, quiet beauty. Chen says: "As a professional visual artist, I believe that I should help more people recognize the face of modern Chinese beauty with greater confidence."
But when Chen first launched her career with a series of covers for Vision, a leading Chinese fashion and subculture magazine, she received mixed reviews. Images she created from 2003 to 2007 melded photography with graphic design, which she also studied in college. Traditional photographers said her early images stood out only because they were heavily retouched. But to many, the unexpected digital elements heightened the creativity and tension of her pieces.
In "The Astronaut," created in 2004, the thick-lipped model wears a glass helmet with a launching rocket in the background. The image captured the fervor surrounding China's successful launch of a manned spacecraft in 2003, the third nation in the world to do so. The work was later part of a 2008 exhibition called "China Design Now" at the Victoria and Albert Museum in London.
Gender reversal is another theme in Chen's work. In a series of portraits, Chen cast the Chinese actress Fan Bingbing as various pop culture icons: Marilyn Monroe, Che Guevara, Superman, Bruce Lee, and Elvis Presley. Fan, who had been considered a traditional beauty in China, was suddenly seen as a bold, even fierce persona — a change that has seen her be nicknamed "Daddy Fan" among young Chinese.
However, Chen admits that she has no intention of using visual symbols to highlight women's empowerment. Instead, she focuses more on fulfilling the needs of her clients, saying that at its core, fashion photography is still part of the service industry and must fulfill the needs of clients. "I strive for precision, not style," she concludes.
Widely regarded in China as a model of female independence and success, Chen came to be well-regarded by fashion brands as her fame grew. Though she has stepped in front of the lens herself, she still prefers to be behind the camera.
Chen sees her work as a "visualization" of certain points in time and space. The sometimes bizarre world of fashion photography can also be a form of realism, as artists strive to document "the ideas of beauty or perfection held by certain people at a certain time." She sees photography regaining a more formalized role in the future: an event for which people groom themselves and meticulously prepare for their close-up.
Yet the future that Chen envisions hews closer to bygone times. Fifty or sixty years ago, Chinese people would trek to studios just to get their photos taken and then carefully mount the photos on their wall. This ritual of imagery gradually faded as cell phone photography grew ubiquitous, but Chen supports having more photographers out there, saying, "We should give our future audience a clearer picture of what our times were like."
Translator: Katherine Tse; editor: Ming Ye and Matthew Walsh.
(Header image: 'Whatever the Weather,' 2012. Courtesy of Chen Man)