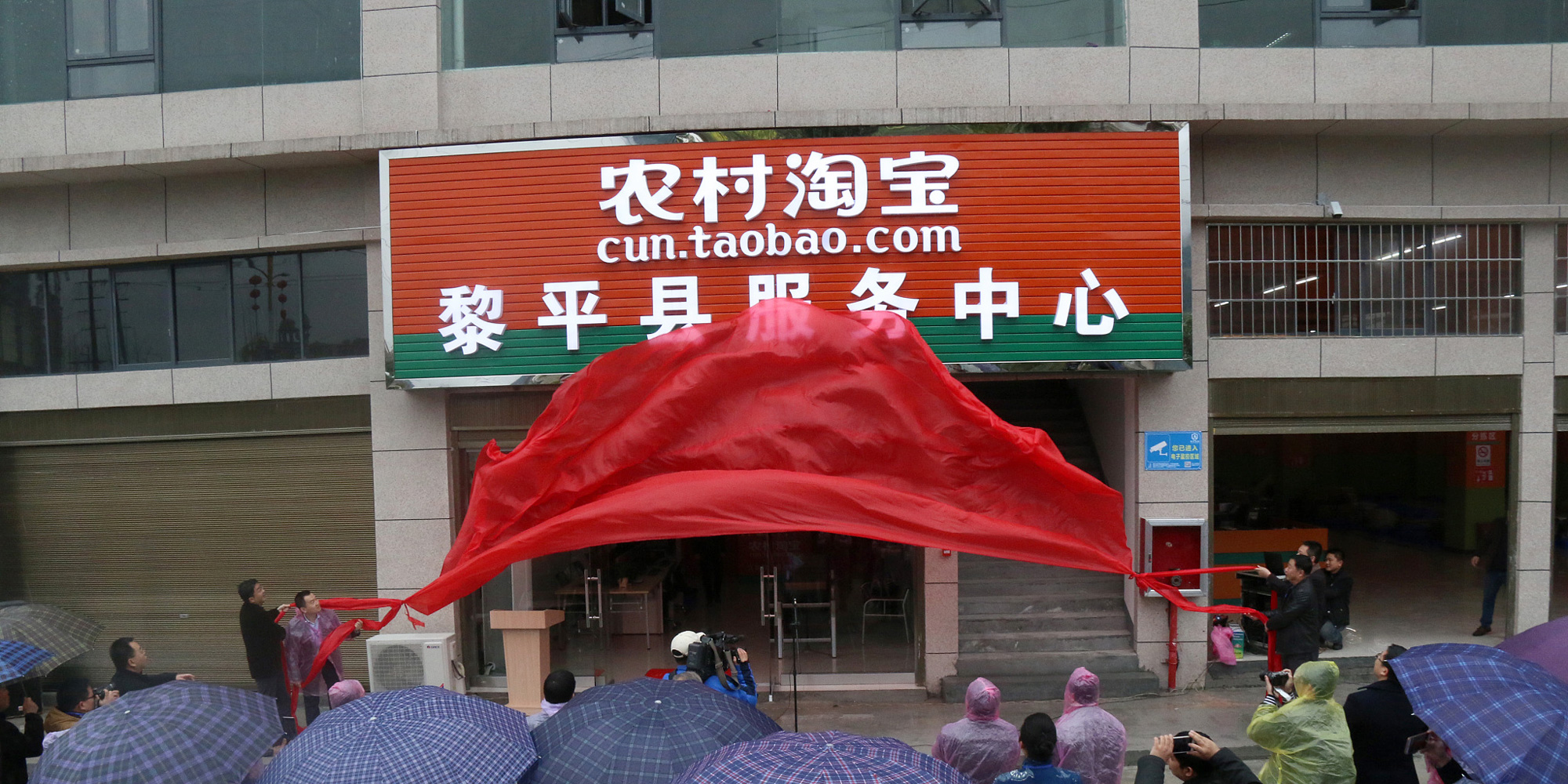 VOICES & OPINION
E-Commerce Is Changing Rural China — Not Always for the Better
Rising incomes in so-called Taobao villages are frequently offset by environmental pollution and a loss of community.
The village of Qingyanliu lies on the outskirts of the city of Yiwu, in the eastern Chinese province of Zhejiang. E-commerce forms the basis of the economy here, with local merchants buying products in the city and selling them online at low prices. In 2016, over 3,200 local outlets sold more than 5 billion yuan ($794 million) in goods online and processed an average of 100,000 orders a day.
Qingyanliu is a so-called Taobao village, named after China's largest online retailer, on which most of the village's entrepreneurs peddle their wares. According to Alibaba, Taobao's parent company, 10 percent of a village's households must be actively running online outlets and netting yearly e-commerce sales of more than 10 million yuan before the area can be named a "Taobao village," and townships with three or more such villages under their jurisdiction qualify as "Taobao townships." The company has not yet disclosed how it defines the word "active."
A report released by AliResearch, Alibaba's in-house research arm, concludes that there were 2,118 Taobao villages and 242 Taobao townships in China last year, with combined sales of 120 billion yuan. Bian Feng, a national award-winning business administration student in his senior year at Zhejiang Normal University, has spent two years studying eight Taobao villages in Zhejiang, exploring the socio-economic transformations taking place there in order to understand what their futures hold.
Alibaba holds up Taobao villages as shining examples of rural rejuvenation at a time when millions of country-dwellers are migrating to the cities for work. But the reality is more complicated than that. During last year's Singles' Day online shopping event — typically the busiest day of the year for online outlets — Qingyanliu seemed deserted. Some nearby delivery companies even closed early.
Many local sellers' business models lack strong branding and are easy to copy. As a result, store owners blindly slash prices and cut costs by sourcing stock from smaller sellers. In Qingyanliu, local enterprises have seen sales decline steadily since peaking at 6 billion yuan in 2013, according to Bian's research. Now, only 20 to 30 percent of new outlets even earn enough to be viable.
Qingyanliu's decline is mirrored in other Taobao villages, too. An oversaturated market has left many small online retailers struggling to keep pace with the platform's largest e-commerce stores.
Yet some villages have managed to successfully avoid the price wars. One such village is Jiayu, near the coastal city of Taizhou. Jiayu's economy is centered on shoe manufacturing. In 2013, local companies were selling children's shoes for just under 10 yuan a pair, including shipping. However, after receiving large numbers of online complaints for substandard products and poor post-sale customer experience, local shop owners formed a so-called Taobao association, a local industry watchdog staffed by democratically elected local sellers who set quality standards and pricing tiers for all of Jiayu's stores. Today, shoes made in the village retail at more than 100 yuan a pair, and local retailers have restored their reputations.
Bian's team also notes that Taobao villages are drawing young people back to the countryside. Once a few young villagers find success on Taobao, members of the older generation hear about it and pass the news on to young men and women who have migrated to cities for work. According to AliResearch, 52 percent of Taobao village shop owners are 30 years old or younger. The average age of retailers who generate more than 10,000 yuan in annual sales is 34, but almost half of this group are under 30. Returnees from the cities, university graduates, and discharged soldiers form large subgroups of young e-commerce entrepreneurs.
In the majority of Taobao villages, tertiary businesses like retail, express delivery, and warehousing account for more than 50 percent of local gross domestic product, with Taobao stores supplying 60 percent of residents' incomes. E-commerce outlets have also changed how villagers think about money, as they shift their focus from thrift to investment. Villagers are becoming increasingly willing to use their personal savings or even take out loans to invest in their businesses.
However, as e-commerce takes up more of their time, residents visit each other less and less, and village get-togethers become fewer and farther between. Most products shipped out of Taobao villages are quite similar, and Bian says that neighbors now rarely drop in on one another in order to avoid divulging important business secrets. This is especially true of newcomers and returning migrant workers, who spend much of their social lives online and often keep others at arm's length.
Many young residents of Taobao villages are not locals. Once home to only around 2,000 residents, Qingyanliu now accommodates 25,000 e-commerce merchants whose average age hovers around 25 years old. This influx of people has put a strain on the village's housing supply and caused a variety of environmental problems, from illegal garbage dumping to soil contamination. Longtime residents want to make their village livable again, while business-hungry newcomers hope to build more warehouses and a better transport infrastructure.
Internet use in China's Taobao villages has injected a shot of life into the countryside, allowing these hamlets to avoid the population depletion so common elsewhere in rural China. The homecoming of large numbers of young people has helped ameliorate a number of longstanding social problems, including left-behind children and empty-nest elderly. In 2015, Bian's team conducted fieldwork in Huangliangchen, another Taobao village in the Taizhou area, where they found just two empty-nest households. At the time, an estimated 35 percent of children and 23 percent of seniors in rural areas nationwide qualified as "left behind."
The crime rate in Taobao villages is 50 percent lower on average than in other villages around the country. At the same time, the divorce rate is falling, and there are an increasing number of preschools, parks, and movie theaters under construction. All of this could be attributed to rising incomes and happy, healthy families.
China's current batch of Taobao villages still suffer from a number of deep-seated issues. Local policymakers have struggled to keep pace with rapid rural development, and many Taobao villages fail to draw the line between residential and industrial space, leading to the contamination of agricultural areas. The products many villages sell lack quality guarantees and occasionally breach professional ethics and consumer trust. The influx of e-commerce is also disrupting established relationships between families, friends, and acquaintances in the community.
Yet e-commerce enterprises, embodied by the Taobao village, are radically remaking the economic and cultural structures of the Chinese countryside. By returning home from the cities and starting their own businesses, the younger generation is not only bringing wealth to their hometowns, but also bringing the future home with them, too. It's no wonder, then, that despite China's oversaturated e-commerce market, villages across the country are throwing their full weight behind online stores.
Contributions: Bao Lewen; translator: Kilian O'Donnell; editors: Lu Hongyong and Matthew Walsh. 
(Header image: A Taobao village service center opens in Liping, Guizhou province, Mar.18, 2017. Yang Daifu/VCG)