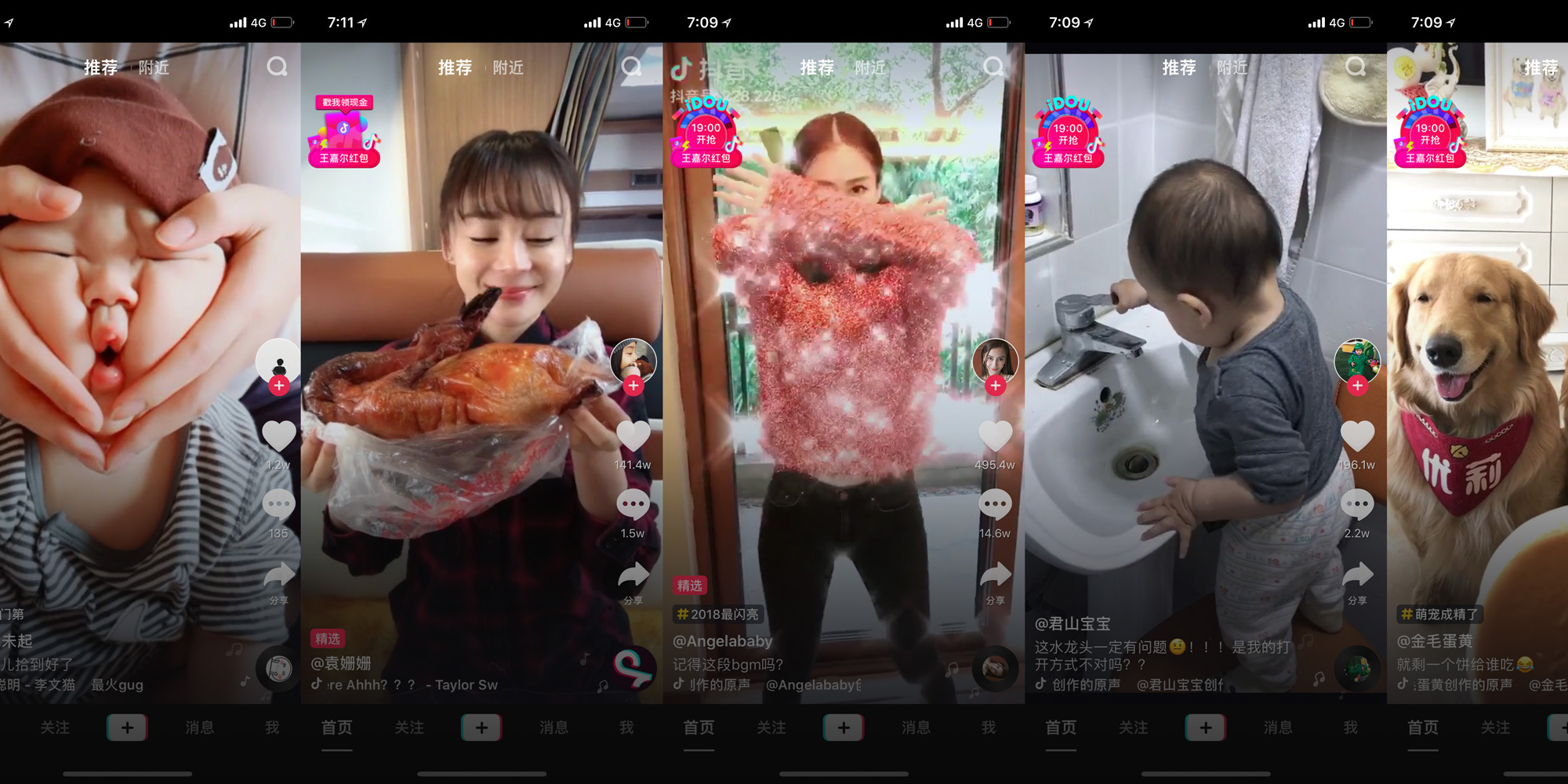 NEWS
The App That Launched a Thousand Memes
Short video app Douyin is giving millions of Chinese a shot at 15 seconds of fame.
Whether you want to bust a move, flaunt your sharp editing skills, or learn how to make a watermelon shark, Douyin has proven the place to be.
Micro video app Douyin — literally "shaky sound," or a trill in music — has taken China by storm in the last year, becoming one of the top free iOS apps in the country. In January, it even attracted international attention as the home of the wildly viral "Karma's a bitch" makeover meme.
Originally conceived as an app for user-made music videos, Douyin now hosts all kinds of clips, from pranks to pets to sport stunts. Every clip is up to 15 seconds in length, and the app offers myriad editing tools, filters, and effects, such as slow-motion and camera blurs. Viewers can swipe through the videos or search by backing track or creator.
Douyin was launched as A.me in September 2016, and later received multiple rounds of investment from the company behind news aggregator Jinri Toutiao, where Douyin's founder Liang Rubo also works as technical director. Despite entering a crowded market, it has already soundly beaten popular short video apps Kuaishou and Meipai on iOS, and is now challenging them for users on Android. And unlike Kuaishou, which counts working-class youth as its core user base, Douyin has won over the millennial market in affluent first- and second-tier cities.
By collaborating with popular TV shows and celebrities such as Kris Wu, Douyin's overall user numbers grew tenfold from March to December 2017, and it now boasts more than a billion daily video views. The app is aggressively pushing into international markets — where it has rebranded itself as "Tik Tok" — and has already topped iOS app charts in Japan and Thailand. The latest versions have added features like dance games, livestreaming, and even quiz shows.
Sixth Tone peeks into the comedy and creativity on offer in Douyin, looking at the eight main categories of videos.
1. Music Videos
Music videos — or MVs — are the platform's raison d'être. Most feature young people filming themselves at arms' length as they pose, lip-synch, and show off their creative editing. But though MVs were the platform's original purpose, they are now vastly outnumbered by other genres.
2. Dance
One of the most popular dance memes that went viral through Douyin last year was a routine set to "Panama" — or "C-li-C-li" as it is known in China — a 2013 song by Romanian reggae artist Matteo. People of every age and profession took part in the meme, turning the song into a nationwide hit that can still be heard in gyms, shopping malls, and fast food chains all over China.
Another was a shuffle dance set to "Seve" by Tez Cadey. Half a million videos on the platform use the song — some creative users even turning the dance into a flip-book animation or recreating it with video game characters.
3. Pets
Some of the biggest stars of Douyin are fluffy friends of every description — testament to China's booming pet market, which is growing at 20 percent annually. Videos range from the ordinary — dancing cats and sleeping puppies — to the extraordinary: flying squirrels, bowling cats, sexy dogs, and fowl play.
As on Instagram, pets can become celebrities on Douyin. "Butter," for example, is a pug whose videos of himself getting ready to go out in the morning or being bored at work have won over 610,000 fans.
4. Comedy
Comedy videos now make up the majority of the content on Douyin, with many highlighting common sources of millennial angst: being single, broke, or overweight. The platform has also given rise to viral pranks that are attempted by jokers across the country — such as catching people with clear tape strung across doorways.
One popular comic sound bite that features Taylor Swift's "I Knew You Were Trouble" interrupted by high pitched screams has spawned countless imaginative interpretations.
The platform has its own comedy stars, such as "Big Head," a user with close to six million fans who frequently posts videos of pranks he plays on his little sister.
5. Skills
Skill videos flaunting athletic and artistic feats — from dance longboarding and parkour to creating a billiards-based Valentine — reveal the range of activities now popular among young people in Chinese cities.
6. Instructional
More common to short-video app Kuaishou, instructional videos teach users all kinds of things, from how to make a watermelon shark to how to fake a magic trick.
7. Beauty
Though beauty videos are more the domain of Meipai, Douyin also has many accounts devoted to cosmetics or simply looking cute. In the summer, "Wicked Wonderland" by Martin Tungevaag became the soundtrack to over 850,000 videos — perhaps the most viral meme on the platform — most of which are "beauty transformation" videos.
8. Celebrities
Celebrities such as actress Angelababy occasionally make an appearance on Douyin, usually to promote a product or show. In one Douyin ad for Harbin Beer, U.S. hiphop artist MC Jin raps about being "happy" — a pun on the Chinese for "Harbin" and "Beer." And game developer Blizzard Entertainment promoted its team shooter game Overwatch using a clip of a character from the game doing the Panama dance.
Editor: Qian Jinghua.

(Header image: Screenshots of Douyin videos.)