At one of Shanghai's luxurious interior decoration exhibitions last year, Cai Shengwei learned — to his undisguised indignance — that a handmade silk rug made in Kashmir sold for more than 100,000 yuan ($15,700). "My company's Persian-style rugs," which, he insisted, were also made by hand with real silk, "are of superior quality and more than 10 times cheaper!"
Cai is the manager of Henan Yilong Carpets, a producer and retailer of handmade Persian-style rugs since 1987. Although these intricate carpets were traditionally produced in the Middle East, the city of Nanyang, in central China's Henan province, is one of the world's largest producers today.
Nanyang's modern history is richly interwoven with carpet-making. When the Chinese Communist Party (CCP) came into power in 1949, the national economy was in a sorry state because of the succession of wars. The country needed to increase imports from abroad in order to revitalize the economy and strengthen industrial output. However, there was a problem: China's lack of exports meant that it held scant reserves of foreign currency. So the government started selling domestic products to overseas buyers — sometimes even at a loss — just to bring in foreign currency to buy equipment from abroad.
In 1971, as relations between China and the United States began to thaw, the People's Republic of China was recognized as the sole legitimate China at the United Nations. In the same year, China saw the gradual demise of Cultural Revolution's philosophical underpinnings, according to which the export of Chinese goods was seen as equivalent to selling out the nation's interests for the benefit of the Western bourgeoisie.
Persian-style rugs made by peasants in China's villages are sold in high-end shops overseas. By Tang Xiaolan and Liu Jingwen/Sixth Tone
In order to seize the favorable international and domestic conditions, China's then-Premier Zhou Enlai called for the production of handmade goods for overseas export. Located in a region with long history in silk production, Nanyang heeded the call. In 1972, the counties of Xichuan, Zhenping and Nanzhao started building carpet factories. Instead of following traditionally Chinese designs, Nanyang's weavers emulated Persian styles that were popular in foreign countries.
Local farmers worked in carpet factories in their spare time for extra income. In 1974, the region was home to around 140 looms and 750 employees; by 1988, it had 20,000 looms staffed by tens of thousands of workers.
After graduating from high school in 1980, Yang Guangchun worked as a carpet pattern designer at the No. 2 Chengjiao Rug Factory in Nanzhao County. He reminisces about the boom years of the '80s, saying: "In virtually every household at the time, there were one or two women who would weave rugs."
Yang adds that business boomed during the Iran-Iraq War from 1980 to 1988, a conflict that decimated the Middle Eastern states' carpet industries. "When Iran and Iraq were too busy fighting to weave rugs, that's when the business truly flourished."
Unbeknownst to Yang, however, this burst of prosperity actually augured a crisis. Nanyang's Persian-style carpet industry is contract-based; workers weave rugs for foreign retailers, not for local brands. In addition, Chinese weavers design carpets based entirely on another country's artistic traditions. Despite their usually excellent handiwork, overseas consumers are often willing to shell out more money on Middle Eastern carpets they deem more authentic.
Though Chinese suppliers churn out vast number of carpets for export, each piece is sold at a much lower price than Indian, Iranian, and Turkish rugs, for example. Cai 's exasperation at the Shanghai exhibition thus reflects an industry-wide problem that has been simmering for decades.
Han Jianli is the president of Yilong Carpets. In the 30 years since his company's establishment, they have only ever produced rugs on a contract basis. "All of our rugs are made to order for clients in Iran, Turkey, and other countries," Han says. "They are then sold with the clients' logos on them." Sometimes, the difference in price is staggering: Han claims that Yilong rugs exported at $60 per square foot are sold on Fifth Avenue in New York City for $1,800.
Since 2011, Yilong has promoted its own brand of carpets on Amazon and eBay. The company has a physical store near Los Angeles, as well as online stores on Chinese e-commerce sites. So far, however, retail revenues have struggled to match that of international competitors with stronger brand power.
Hand-weaving silk rugs is an extremely laborious task. A rug with a thread count of 200 has 40,000 knots per square foot. Han says weavers in this industry generally make between 10 to 30 yuan a day, depending on how productive they are. As better wages can be found elsewhere, the number of farmers willing to weave rugs has already begun to dwindle.
Hu Zhao is a foreman at Yilong responsible for delegating work to and supervising weavers. "In 2010, I had more than 400 weavers," he says. "But now, I only have a little over 100." These days, Hu says, Nanyang's weavers are predominantly rural women aged between 30 and 50 years old, most of whom are either unable or unwilling to migrate to other cities in search of work.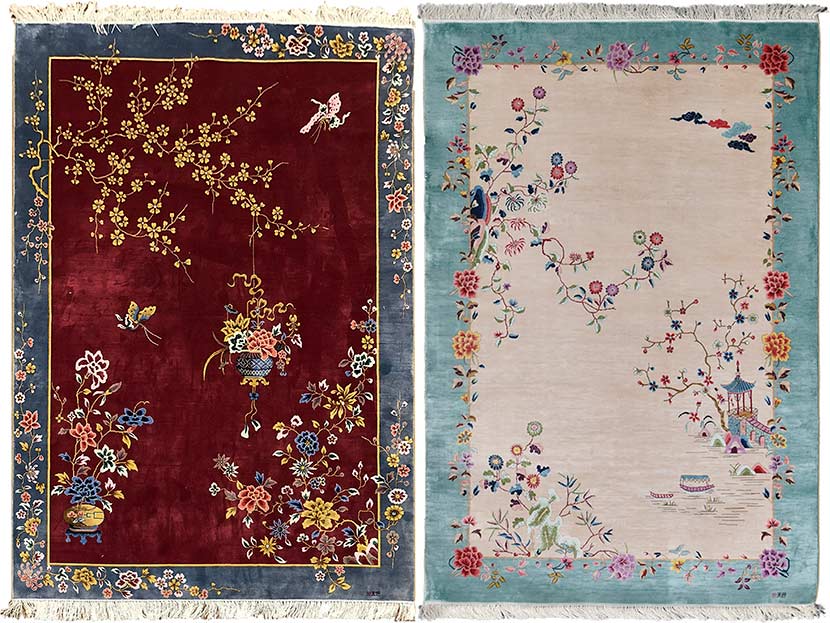 Detail of patterns on Henan Yilong carpets. Courtesy of Han Jianli
Nanyang's economy is still relatively underdeveloped; four of the counties under its jurisdiction are officially classified as "poor" by the national government. In 2016, the average disposable income of Nanyang's laborers was 975 yuan a month, while the national average for migrant workers was 3,275 yuan a month. The city's silk rug industry has survived largely because it is an important local employer, but the fact remains that more and more residents are earning higher salaries in other cities. 
Two years ago, Lu Shenghui decided to return from the Xinjiang Uyghur Autonomous Region, where she planted jujubes, to weave rugs in Nanyang. "Of course, I made more money working [in Xinjiang] than I do here," she says. "Working at home is a little more relaxed. But if it weren't for my old age, then I'd have no reason to come back."
However, carpet makers are trying to breathe new life into the industry by reviving traditional Chinese designs and adapting to the tastes of domestic middle-class consumers. When Yilong recently launched Chinese-style silk rugs through the Shanghai-based retailer Boluobanma, nearly all their stock sold out in just 10 days.
With their own designs, branding, and distribution channels, Chinese carpet makers could attain higher profit margins and eventually attract more weavers into the industry. "Chinese people used to be too poor to afford handmade rugs, but now the domestic market is booming," says Han.
Translator: Lewis Wright; editor: Matthew Walsh.
(Header image: Moment/VCG)