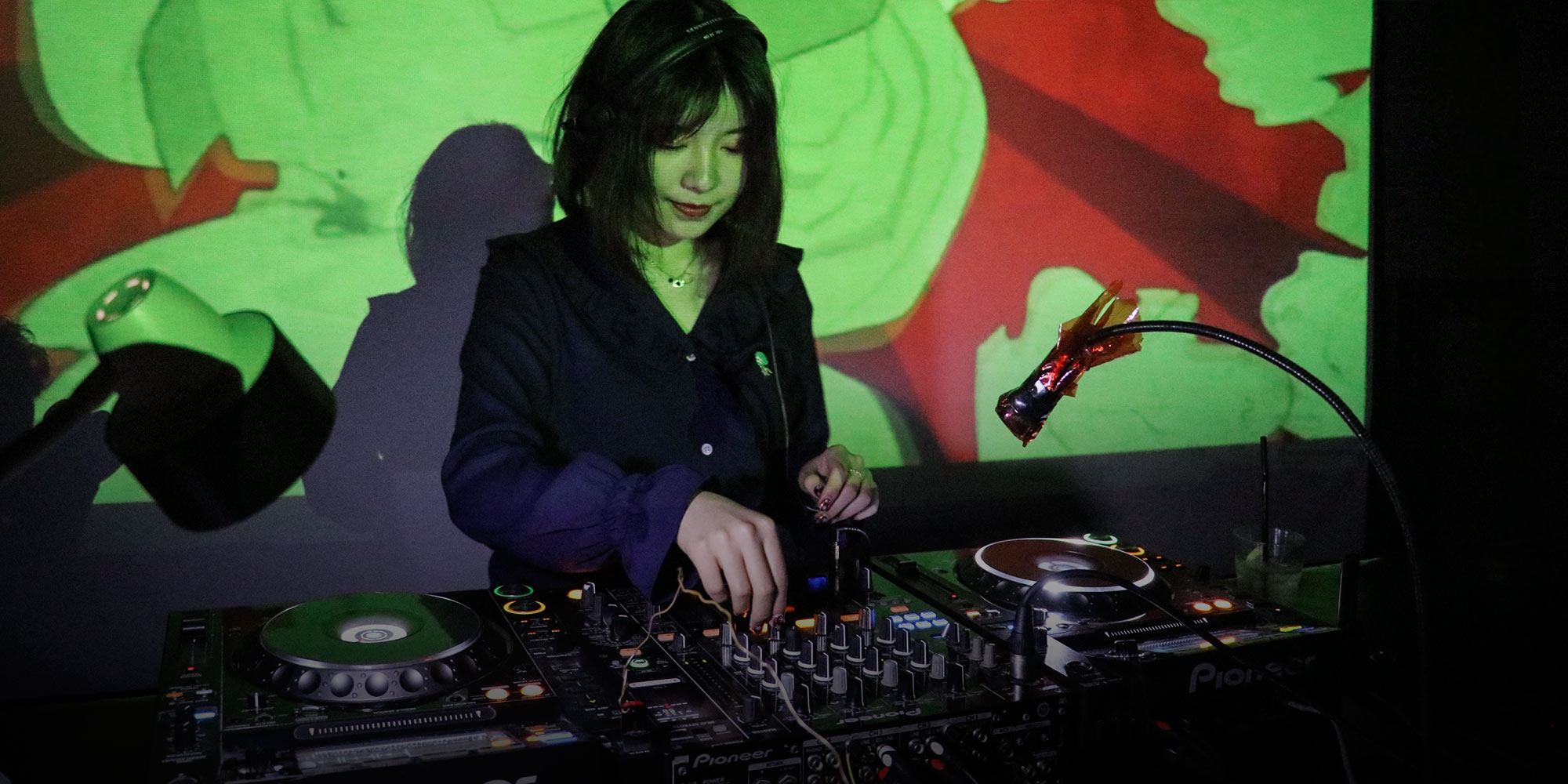 FEATURES
Starting From Scratch: China's DJ Kids
A growing number of young people are skipping piano and violin lessons in favor of modern hobbies.
SHANGHAI — On a Friday night in the depths of winter, frozen revelers shuffle into a dark downtown club to warm up with some booming basslines.
Onstage, up-and-coming DJ Gouachi sways with the rhythm as she seamlessly transitions through a carefully curated playlist, her pale, smiling face framed by a shoulder-length bob. Clubgoers gaze toward the stage and its master, nodding in time to her thunderous beats. Little do they know: Gouachi is only 16.
By day, she's a schoolgirl named Shi Jiayuan, but at night, she becomes Gouachi, who has already begun to make a name for herself in Shanghai's underground dance music scene. At 13, Shi began listening to electronic music, and by 15, she took a 10-week DJ course and would occasionally sneak out to clubs to listen to her favorite DJs. One chilly December night in 2016, when she was recovering from a fractured ankle, she stealthily scaled the courtyard wall surrounding her family's home and took a long and expensive taxi ride to downtown Shanghai. At 4 in the morning, she quietly hobbled back to her bedroom as if nothing had happened.
"I really enjoy seeing people dance to the music I put on," Shi says, "and I think that DJing is really cool, too."
Shi is one of a growing number of young Chinese people learning how to spin records at DJ schools. Chinese children have traditionally squeezed in piano or violin lessons on top of their intensive academic schedules to stay competitive when applying to middle or high school. But in recent years, a growing minority of parents want their children to not only have fun with music, but also be cool, confident, and stand out from their peers with a trendy and "exotic" skill, say Shanghai DJ instructors.
At Shanghai-based DJ academy beatspot, home to several white chinchillas and two cats that lounge on the turntables after the day's classes, founder Wang Chen has noticed dramatic growth among young students over the past two years. When his school opened in 2011, he only taught adults; now, over half of his current students are under 18, and almost half of these are under 10 years old. Last year, Wang taught over 140 children under age 6 in weekend classes at private schools around Shanghai.
One of his students is 8-year-old Qiao Jinpei, who stares intently at the digital turntable, his small fingers drumming out funky sound samples as they dance over brightly illuminated pads. He's been taking weekly DJ lessons at beatspot for over a year, ever since his mother, Li Jun, a Shanghai native married to a French expat, saw videos of child DJs on YouTube and decided her son would look cool doing the same. Through the classes, Li hopes her son will enjoy himself — and develop the enigmatic presence of a musician. He already takes piano — at the behest of his grandparents — and English lessons outside of school, neither of which he enjoys, so Li is relieved to take him to classes he looks forward to. When asked why he enjoys learning to DJ, a timid Jinpei replies that the classes are "fun."
Li also wants her young son to stand out from the crowd. "Right now, piano and violin and sports are very popular in China," she says. "I want him to learn something different from the other kids." When she posted videos of Jinpei DJing on social media app WeChat, her fellow mom friends were amazed and curious. "I got so much respect!" says Li, before bursting into laughter.
The culture of one-upmanship among well-heeled Chinese parents is one of the main factors behind the precipitous growth of children's DJ classes, says Jiao Ziqi, who goes by the artist name DUBJ. Jiao's DJ and hip-hop production school, EM MUSIC, has gone from having only one young DJ student a year ago, to over 20 today — and now, his youngest student is only 4 and a half. Jiao is used to meeting anxious parents who ask if his academy can quickly teach their child a piece for exams, the result of an education policy that allows music grades to contribute to academic test scores. But over the past two years, he has noticed an increasing number of parents who just want their children to enjoy themselves, meaning they're more receptive to a musical hobby like DJing that doesn't naturally lend itself to grades.
Li Wenjie, the petite founder of rock music school Dopamine, agrees there's an increasing number of parents who want their kids to learn instruments for a simple purpose: "To be cool," she says, wearing a novelty shark hat at her school, which is decorated with black-and-white graffiti. "Parents these days just want their kids to be cool."
But teen DJs are more motivated by dreams of sold-out stadium tours than the prospect of impressing their parents — or school admissions officers. In recent years, major international electronic music festivals like Ultra have come to China, and electronic music has become the second-most listened to genre in the country, according to a spokesperson from popular music app and website NetEase Cloud Music.
Zhou Yuren — a 16-year-old who prefers to be known as Zach — first encountered electronic music on the internet and was later inspired to take up the hobby at the recommendation of a friend. Zhou now practices DJing at beatspot and aspires to be like his idol and inspiration: DJ Warz, a Canadian-Chinese trap and bass producer who frequently performs in Shanghai. If Zhou shows potential, his parents will let him continue with his passion — they've already bought him a 7,900-yuan ($1,250) DJ controller, a digital turntable replete with sliders, knobs, and pads, on which he practices his sets after finishing his nightly homework.
Chinese youth today tend to be more vocal than previous generations about what they want to learn — and parents are more receptive, says Jiao. He points to the parents of one of his students, who moved over 2,000 kilometers from the southern island province of Hainan to Shanghai so their child could learn to DJ. But even if parents let their kids take up DJing, most would rather it stay a hobby than become a career, and studying remains the No. 1 priority, he says.
Cheng Jianyuan, a 14-year-old student at beatspot, is a case in point. He was lucky enough to have parents who agreed to let him DJ and pay for the course. He thinks most parents in China would probably still rather their child learn an ordinary instrument — at the mention of DJs, many parents will immediately think of "chaotic" bars and clubs. His parents are supportive of his hobby but don't think it should come at the expense of his grades in school.
When Shi, the 16-year-old amateur DJ, told her parents about the 5,000-yuan course at local music studio CTRL Sound Academy, they couldn't see the value in it and thought it would have a bad influence on their daughter. After many arguments and a long, heartfelt letter listing the reasons why she wanted to take the course, her parents finally relented and paid the fee. Her mother has since warmed to her daughter's hobby, buttered up by gifts Shi buys her using money from gigs. But not everyone has come around: Her father remains unimpressed, and at school, Shi feels some of her classmates see her as a "bad girl" and a "little punk" due to her hobby.
Despite rising interest, there's a limit to the growth of the DJ school trend. For many of China's young people, crippling academic workloads prevent them from taking on time-consuming hobbies just for fun. Shi studies fine art at a vocational school, as she doesn't have the local Shanghai hukou — or household registration — required to study at a regular high school, meaning she has more free time to practice and perform. Shi's cousin, in contrast, is up to her neck in schoolwork as she strives for a high score on the gaokao, the notoriously difficult nationwide college entrance exam. She has no time for nonacademic hobbies — and certainly not those that involve performing in bars late at night. Zhou, meanwhile, is studying for the SAT at a private school, in preparation for university abroad; the curriculum is lighter than preparing for the gaokao, giving him more free time to refine his craft.
There's another potential issue: Hip-hop, whose growing popularity Jiao suspects was one reason for the rise in DJ students, was recently banned from Chinese TV in a clampdown on unseemly popular culture. If electronic music — a genre that many still associate with bars and drugs, and that has suffered unexpected event cancelations in the past — provokes the ire of the government, the image of DJ artists could suffer. But the young DJ hopefuls think that's unlikely, pointing to the positive energy of electronic music and the lack of lyrics, controversial or otherwise.
For now, the newfound DJ school proponents aren't letting anything get in their way. Li Jun, the young mother of 8-year-old Jinpei, plans to continue taking her son to lessons — and would be open to him becoming one of China's future electronic music superstars.
"If he can be a DJ one day — a real DJ — of course I'll be happy for him," she says. "He could be up there playing music, and I'll be below dancing."
Correction: A previous version of this article misspelled Qiao Jinpei's given name as Jinpai.
Editor: Julia Hollingsworth.
(Header image: Shi Jiayuan DJs at a club in Shanghai, Jan. 26, 2018. Kenrick Davis/Sixth Tone)