JIANGSU, East China — On her first day at her new job, Jiang Yuanyuan saw a child die. It came as a shock — the trained nurse hadn't really known what to expect when she started at the Nanjing Rainbow Center for Children's Hospice and Palliative Care, one of only a few places that offer care for terminally ill children in China. But Jiang said she was deeply moved by a caregiver's treatment of the boy: how she held him until the end, then carefully bathed his body and dressed him in clean clothes.
"I realized being a nurse here is very different from my job at the hospital," said the 25-year-old, who had worked in the neonatal intensive care unit (NICU) at one of Nanjing's leading hospitals for four years.
In the Rainbow Center's therapy room, where she had just changed a patient's nasogastric feeding tube, Jiang explained that she started working here in September because the long hours and immense pressure at the hospital had started to take a toll on her health.
"A fundamental difference between my job here and back at the hospital is that at the Rainbow Center, our top concern is whether the children are comfortable. But in the NICU, we did everything we could to keep them alive," Jiang said.
At the start of 2014, the Nanjing Rainbow Center was established for orphans with severe and terminal diseases. The center offers palliative care — specialized medical care aimed at providing pain relief and psychological support to those with severe illnesses. This includes hospice services, or palliative care for those whose diseases are terminal.
The three-story center, located on the outskirts of Nanjing — a city of more than 8 million — is currently home to around 20 children. For every three kids, there's one caregiver, usually referred to as "Mama." The kids, aged between just a few weeks and 10 years old, spend most of their time playing games and watching cartoons in spacious recreational areas, and are given basic lessons on recognizing colors, shapes, and numbers.
Caregivers and children are pictured on a photo wall along with former residents. All of the young patients have been diagnosed with severe and often incurable conditions, like congenital heart diseases or severe hydrocephalus, a condition in which excess fluid causes the brain to swell. In the last four years, more than half of the 50 children whom the center accepted passed away.
"We can't save lives," Huang Fang, director of the Nanjing Rainbow Center, told Sixth Tone. "For most of the children we accept, there is no way to cure them. We believe what they need most in the remaining days of their lives is probably not to be isolated in the intensive care unit of a hospital. They do need pain relief, but they also desperately need care from those who are close or familiar to them."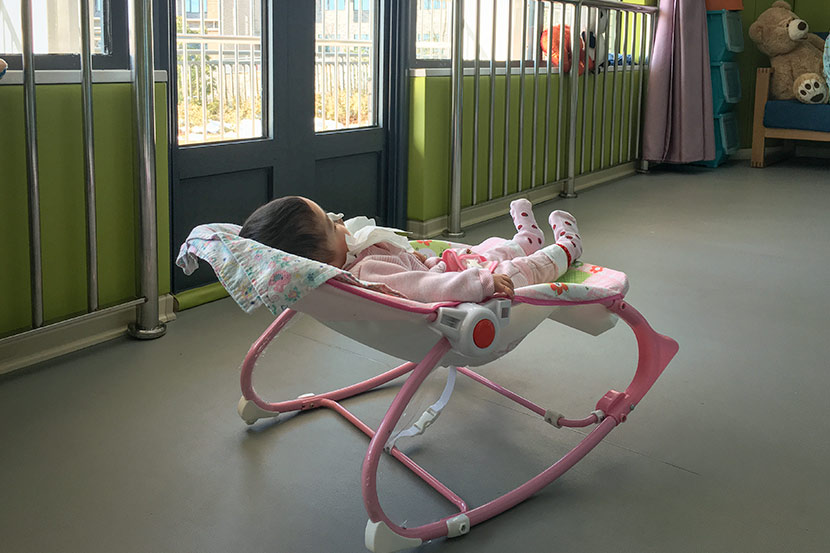 After lunch, a baby girl rests at the Nanjing Rainbow Center, Jiangsu province, Jan. 10, 2018. Ni Dandan/Sixth Tone
Even palliative care institutions for the elderly are rare in China due to cultural taboos around death, and the prevailing attitude is still to insist on aggressive treatment rather than accepting that end-of-life care would provide more comfort. In a 2015 study by The Economist that examined end-of-life care around the world, China ranked 69th out of 80 countries in terms of palliative and health care environment.
Similar services for children are even scarcer. As the Rainbow Center is operated by the Nanjing Children's Welfare Institute and financed by charities and private donors, only terminally ill children who have been orphaned or abandoned by parents end up at the center. Experts, however, believe that there are millions of children who could benefit from palliative services.
British nurse Lynda Gould was among the first to introduce the concept of children's palliative care in China when she started a program at an orphanage in the central province of Hunan in 2010. In a 2016 interview, she told Sixth Tone that around 500 children are receiving hospice care in China, as the service is only offered at a handful of children's hospitals in Beijing and Shanghai, the orphanage where she works, and the Nanjing Rainbow Center. A total of 4.5 million children are in need of palliative services to ease their suffering from severe illness, Gould estimated.
According to a 2016 report published in British medical journal The Lancet, congenital anomalies, preterm birth complications, and injuries were the leading causes of death for Chinese children under the age of 5, with a total of 35,700 dying in 2015 from congenital anomalies and around 827,500 born with them. Every hour, four children are diagnosed with cancer in the country.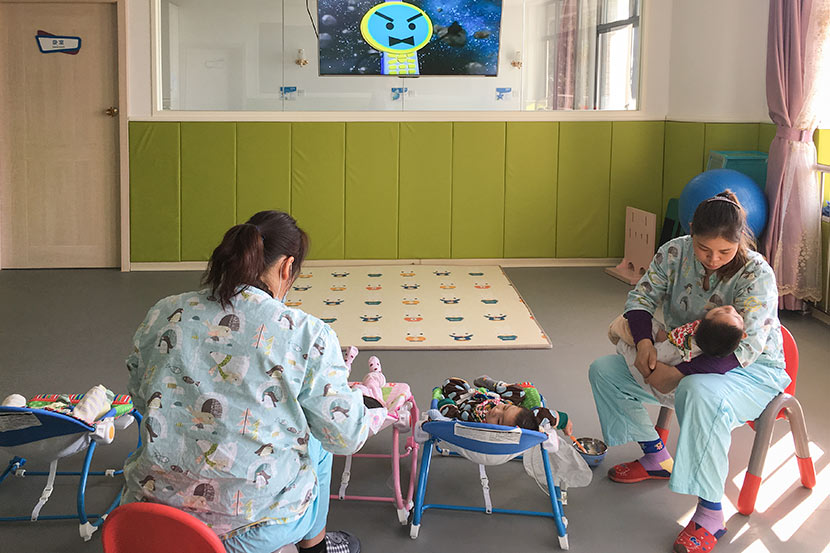 Caregivers and children enjoy afternoon leisure time at the Nanjing Rainbow Center, Jiangsu province, Jan. 10, 2018. Ni Dandan/Sixth Tone
In 2019, the Rainbow Center will expand to accommodate a maximum of 38 children, but it struggles to find caregivers, who receive basic training at the center and are paid between 2,200 and 2,800 yuan ($350 to $450) a month after tax for an emotionally challenging job.
Yet the continual expansion of the center is not the ultimate goal. Eventually, said Huang, the services must be made accessible to all of society.
In a way, working exclusively with orphans makes it easier for the center to offer palliative care. "We're not yet experienced enough in dealing directly with families. Domestic affairs can be extremely complicated in China," Huang said, explaining that she's offered advice to a couple of families faced with similar decisions in the past. "We would be under much more stress if we were dealing with families. But that is the direction we should move toward."
Most families, however, cling to even the faintest glimmer of hope, Huang said. "To persuade people to choose palliative care is like asking them to give up on treating their children. It also means they must accept their children's death long before it happens. That is extremely hard," she said.
A lack of health education and the fact that medical expenses for severely ill patients are unbearable for many rural families mean that some choose to give up their children soon after they're diagnosed. Prices for medical services vary widely but can quickly reach several hundred thousand yuan. In 2015, a father reportedly donated parts of his liver to his baby girl, who suffered from biliary atresia, a disease that affects the liver's bile ducts. By the time the girl was 6 months old, the family had already accumulated more than 300,000 yuan in debt and hoped for donations from the public to help pay another 150,000 yuan for the partial liver transplant.
Staff at the Rainbow Center said that almost all the children there had likely been abandoned due to mounting medical costs. That's believed to be the case for 3-month-old Xinyu, a chubby girl who was brought to the center with blue skin due to complex congenital heart disease. More than a month ago, Xinyu's left ventricle started to fail. She was rushed into surgery and saved by doctors at Shanghai's Xinhua Hospital.
Although doctors described her heart problems as too complicated to be fully addressed in a single operation, the surgery was a great success. Xinyu now has a shot at recovery.
"It's highly likely that Xinyu will be adopted by a foreign family," Wang Guofang, a caregiver at the center, told Sixth Tone, explaining that the three orphans who left the center previously had all been adopted by foreigners from countries where health care services are covered by insurance.
But these children are the exceptions.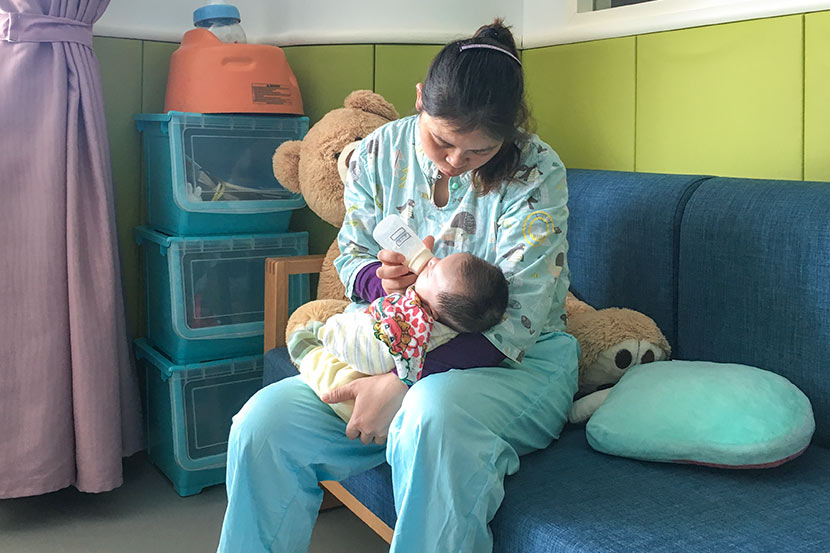 A caregiver feeds 3-month-old Xinyu at the Nanjing Rainbow Center, Jiangsu province, Jan. 10, 2018. Ni Dandan/Sixth Tone
Last year, the Rainbow Center received a 5-day-old baby who had been diagnosed with epilepsy and multiple organ failure. Only two hours after she arrived, her breathing started to fail. "We gave her [medication] to relieve her pain, and the only other thing we could do was hold her in our arms to make her feel comfortable," Huang recalled. "But just imagine, what if she had been held in the arms of her birth mother? That's what she needed most. Many of our staff said, 'What if her mother didn't give up on her?' All the time she could have spent with her baby girl was five days."
But in general, Huang said, palliative care is slowly gaining acceptance in society. The center now regularly receives university students who volunteer to read stories to the orphans and play games with them. "They are the young generation, and their attitudes will mean a new future for children's palliative and hospice care. And I think many of them are taking a very positive approach to the issue," Huang said.
At the end of October last year, the first Chinese hospital to focus exclusively on hospice care, Beijing Songtang Care Hospital, opened a new ward dedicated to terminally ill children. In addition to shared patient rooms, the private hospital also offers one apartment-style unit with a living room that provides more space and privacy for family members, for an extra fee.
At the moment, the hospital has five children. An administrative employee surnamed Bai told Sixth Tone that families can provide psychological support to their children, but they don't know how to physically relieve their pain. "That's why they need standardized medical help," he said, adding that the hospital also features a prayer hall where family members can go to seek solace.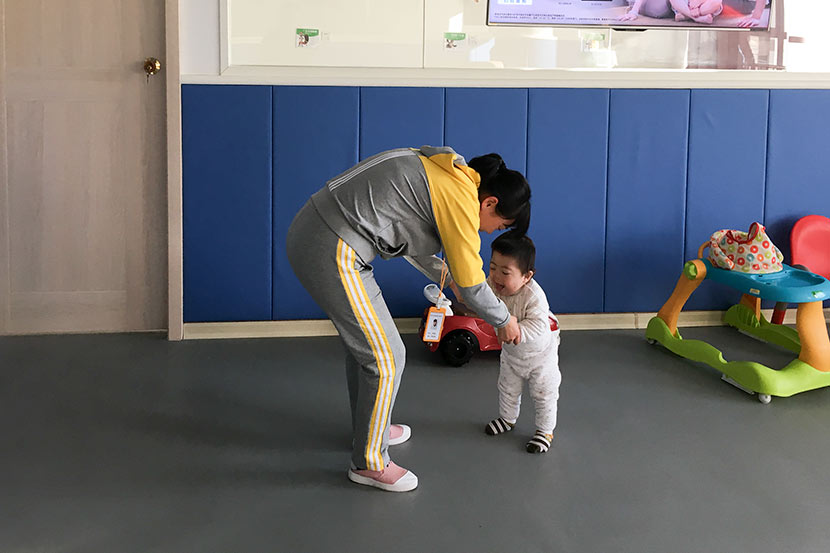 A caregiver helps a child walk at the Nanjing Rainbow Center, Jiangsu province, Jan. 10, 2018. Ni Dandan/Sixth Tone
Almost all the children the hospital has received so far have been referred here by various Beijing medical institutions — including the leading children's hospital in China, with which they have a partnership. Due to this referral system, there have been barely any conflicts with families, Bai said.
Most patients arrive at Songtang Care Hospital in their very last stage of life — the average stay is between 10 and 15 days, an indicator of how long families hold out hope even when their children have been diagnosed with a terminal disease. At the Rainbow Center, patients spend their final months in a comfortable, peaceful environment, with a typical expected stay of six months.
In many Western countries, palliative and hospice services for children have been around for decades. The first modern hospice opened in London in 1967, and the U.S. today has thousands of organizations that provide hospice care, of which the clear majority — almost 80 percent — also treat children.
Huang believes that eventually, palliative care will be as widely accepted in China as it is in the West. "People's understanding of life is changing," she said. "[Younger people] are thinking in depth about life, and eventually we'll develop the right attitudes toward death and hence ensure that terminally ill people are treated with respect and decency."
New staff at the Rainbow Center also need time to get used to the idea of palliative care. Wang previously worked as a shop assistant and had never seen someone die before. Just a few days after she joined the team of caregivers in mid-2014, she thought about quitting.
"Taking care of sick children means there are a lot of trivial things that you must pay attention to constantly throughout the day. There was so much for me to learn at the very beginning," she said, describing how she had to learn about conditions like biliary atresia and hydrocephalus, and how to take care of children with these illnesses.
Wang struggled to fall asleep at night for the first month after she joined the center — her mind was filled with the sound of babies crying. The sudden death of a child in her care was particularly devastating. "I still remember that it was raining hard that night. The boy was doing fine during the day, but he suddenly started vomiting blood during the night," she recalled.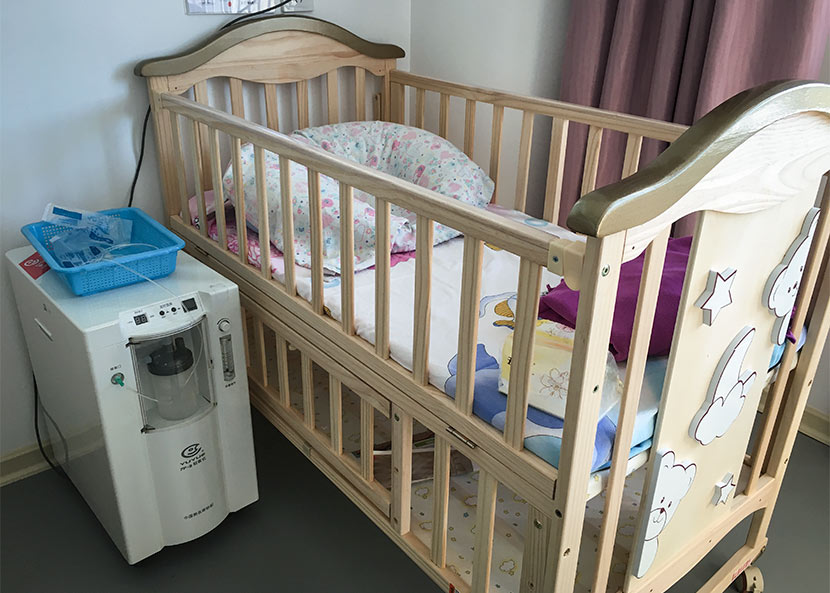 Medical equipment sits beside a crib for a child with epilepsy at the Nanjing Rainbow Center, Jiangsu province, Jan. 10, 2018. Ni Dandan/Sixth Tone
Wang immediately put an oxygen mask on the boy and alerted a trained nurse on call, who rushed to help. The boy passed away in Wang's arms that night.
Working at the center has transformed the 42-year-old's perspective on life, as well as how she treats her own child: She said she's become more positive and has changed from a "bad-tempered mother" who pushed her daughter to study hard to a mother who prioritizes her child's health and happiness.
Today, Wang is the head of caregivers at the center, but the job remains challenging. "You know that these are terminally ill children. You know they'll probably die soon. But when you take care of them on a daily basis, you gradually forget that," Wang said. "Even though deep down in your heart, you know they won't live long, confronting that reality is another thing altogether."
Editor: Denise Hruby.
(Header image: A caregiver puts milk into a young boy's feeding tube at the Nanjing Rainbow Center, Jiangsu province, Jan. 10, 2018. Ni Dandan/Sixth Tone)