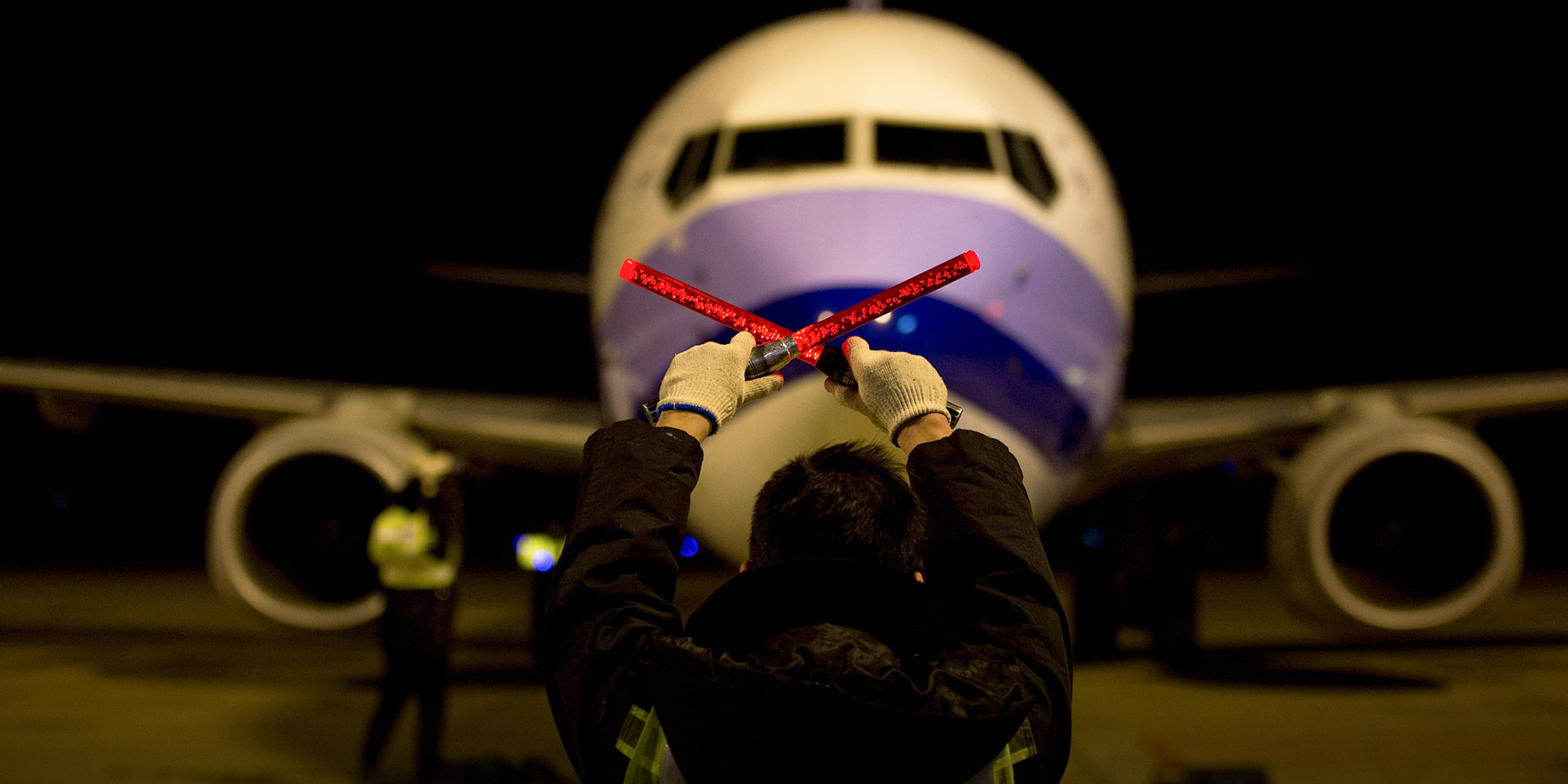 FEATURES
Chinese Travelers Set to See Mile-High Airfares
A new policy allowing airlines to raise ticket prices could push passengers toward train travel, experts say.
Flying during China's notoriously chaotic lunar new year holiday can be extremely expensive — and travelers on a budget like Liu Zheng know this firsthand.
This week, the 23-year-old new university graduate will join the millions of Chinese heading back to their family homes for the annual Spring Festival. But when Liu checked flights from Shanghai, where she works, to her hometown in central China's Henan province, she saw that the fares were much pricier than train tickets. Each year around this time, airfares skyrocket due to a surge in demand, as millions of people travel home in the world's largest human migration. During this year's Spring Festival travel rush between Feb. 1 and March 12, airlines are expecting some 65 million domestic trips, a 10 percent increase from last year.
"Flight tickets have increased to around 1,150 yuan [$180] — more than twice the regular one-way price," Liu tells Sixth Tone, adding that it would still take her more than an hour from the airport to reach home.
Airfares could soon become prohibitively expensive for frugal travelers like Liu. In December, China's aviation regulator said it would allow state carriers to increase their fares by up to 10 percent a year on more than 300 domestic routes served by at least five airlines. The policy came into effect over a month ago, but major carriers haven't yet commented on what changes they'll make as a result. Experts say the move shows authorities are giving airlines more leeway to adjust prices — a practice that was strictly regulated before — in a bid to help the domestic airline industry operate more competitively and be guided more by the market.
Starting in 2004, airlines were only allowed to charge 25 percent more or 45 percent less than the price set by the regulator, the Civil Aviation Administration of China (CAAC). This was seen as a way to give consumers price certainty, while allowing some market competition. But some state airlines — which receive subsidies from the government — broke the rules by offering heavy discounts, some up to 80 percent, making it difficult for others to compete. In 2013, the regulatory body amended the policy after almost a decade "to give customers more choice," a CAAC spokesperson told Reuters, while allowing the government to retain some control.
The latest move to relax state control over airfares — the third such move since 2013 — is expected to boost profits for some airlines and came as particularly good news for the country's "big three" carriers. Two days after the CAAC's public announcement in early January, China Southern Airlines saw its highest share prices in more than two years on the Hong Kong Stock Exchange, while stocks for Air China and China Eastern Airlines rose by 10 percent. But the change could pose a problem for cash-strapped travelers, who may have to ditch flights and spend more time on slower transport.
Considering the high demand, plane ticket and hotel prices for this year's Spring Festival period are likely to surge by 115 percent compared with the same period last year, according to a report by travel website Mafengwo. This holiday, Liu has already decided against flying, instead securing a 500-yuan train ticket for the five-hour-plus journey. "It's cheaper [than flying] and saves time," she says, factoring in possible delays and waiting time at the airport.
But while holiday travel prices might already be sky-high, many passengers aren't yet paying the extra 10 percent, as they bought their tickets ahead of time, according to some industry experts. John Grant, senior analyst at air travel intelligence company OAG, warns that travelers are likely to be slapped with higher fares during other peak seasons as a result of the policy changes. "I doubt there will be much impact [during this Spring Festival] as most of the travel planning has already been finalized by now," he tells Sixth Tone, adding that during off-peak periods, airlines will need to keep prices low to stay competitive. "It may impact major holidays further down the road, like the October [National Day] holiday."
As disposable incomes rise in China, more people now have the means to fly both nationally and internationally — and the government is helping to make such trips possible by adding more airports. By 2022, China expects to have some 500 general aviation airports and is likely to become the world's largest aviation market, according to the International Air Transport Association.
Meanwhile, the country's aviation sector faces stiff competition from the ever-expanding network of high-speed railways, which now covers over 22,000 kilometers — more than twice the distance from Shanghai to London. Officials estimate that Chinese people will take more than 389 million train trips during this year's Spring Festival travel rush — up by 8.8 percent from last year.
John Hu, an analyst at Shenzhen-based Morningstar Investment Services, says the external competition from railway services — as well as strong competition among airline companies — might put pressure on airlines as they set price caps under the new guidelines. Hu adds that while passengers will see a moderate price surge outside the holiday period, it's unlikely to be as high as the 5 percent hike some analysts initially predicted.
"It's going to be extremely competitive for the airlines on routes below 1,000 kilometers," Hu tells Sixth Tone, referring to the increased competition from the country's railway lines. "Some of the most popular routes, such as the Beijing-Shanghai one, are under more threat from high-speed railways than other airlines."
China's three major airlines didn't respond to Sixth Tone's requests for comment on how they'll implement the new policy or the extent to which it will affect passengers. But Zhang Wu'an, a spokesperson for the budget carrier Spring Airlines, tells Sixth Tone that the changes are unlikely to put a dent in customers' wallets, even during future holiday periods — although the airline is still reviewing the new policy. "I don't think ticket prices will increase a lot because there are still many restrictions in the policy — from how many routes we are allowed to change prices on, to how much we can increase the price," he says. "And because most domestic tickets are under 2,000 yuan, even if the fare rises by 10 percent, it won't be a big problem for most consumers."
Shanghai-based Li Xiang often travels by plane for work and only has time off during the Spring Festival. Considering her limited annual leave, the 32-year-old says the recent policy changes don't mean much to her.
"Given that I only have a few vacation days, I have no choice but to travel during peak periods, when flight tickets sell out quickly," Li tells Sixth Tone. "All I care about is whether there are still tickets left, not how much they cost."
But industry analysts say that while the pricing reform might prove profitable for airlines, carriers should take note of added expectations that might come with rate hikes in the cutthroat travel sector.
OAG analyst Grant says any price increase may raise traveler expectations, and airlines need to consider how to counter such issues. Earlier this year, several airlines lifted the ban on cellphone use on board, and certain carriers are now providing in-flight Wi-Fi to attract more passengers. Improving on-time performance, Grant says, will be another important consideration — Chinese airports are notorious for flight delays.
Travelers may not be willing to shell out the extra cash if they're not getting any additional benefits from the fare hikes. Experts say passengers now have more choices than ever, in terms of both destinations and carriers. Savvy travelers like Shanghai-based Kong Mingzhe, who takes several domestic and international flights each year, says he considers everything from punctuality to service when booking flights.
"If the ticket prices go up, I might switch a trip home for a jaunt abroad," says the 33-year-old, who works for an online video company. "I'll go to the Philippines instead of Sanya [in southern China] — after all, the travel service and quality of domestic scenic spots are only getting worse."
Additional reporting: Zhang Liping; editor: Julia Hollingsworth.
(Header image: An airport staff member guides a plane at Sunan Shuofang International Airport in Wuxi, Jiangsu province, Feb. 1, 2018. Wang Yu/VCG)