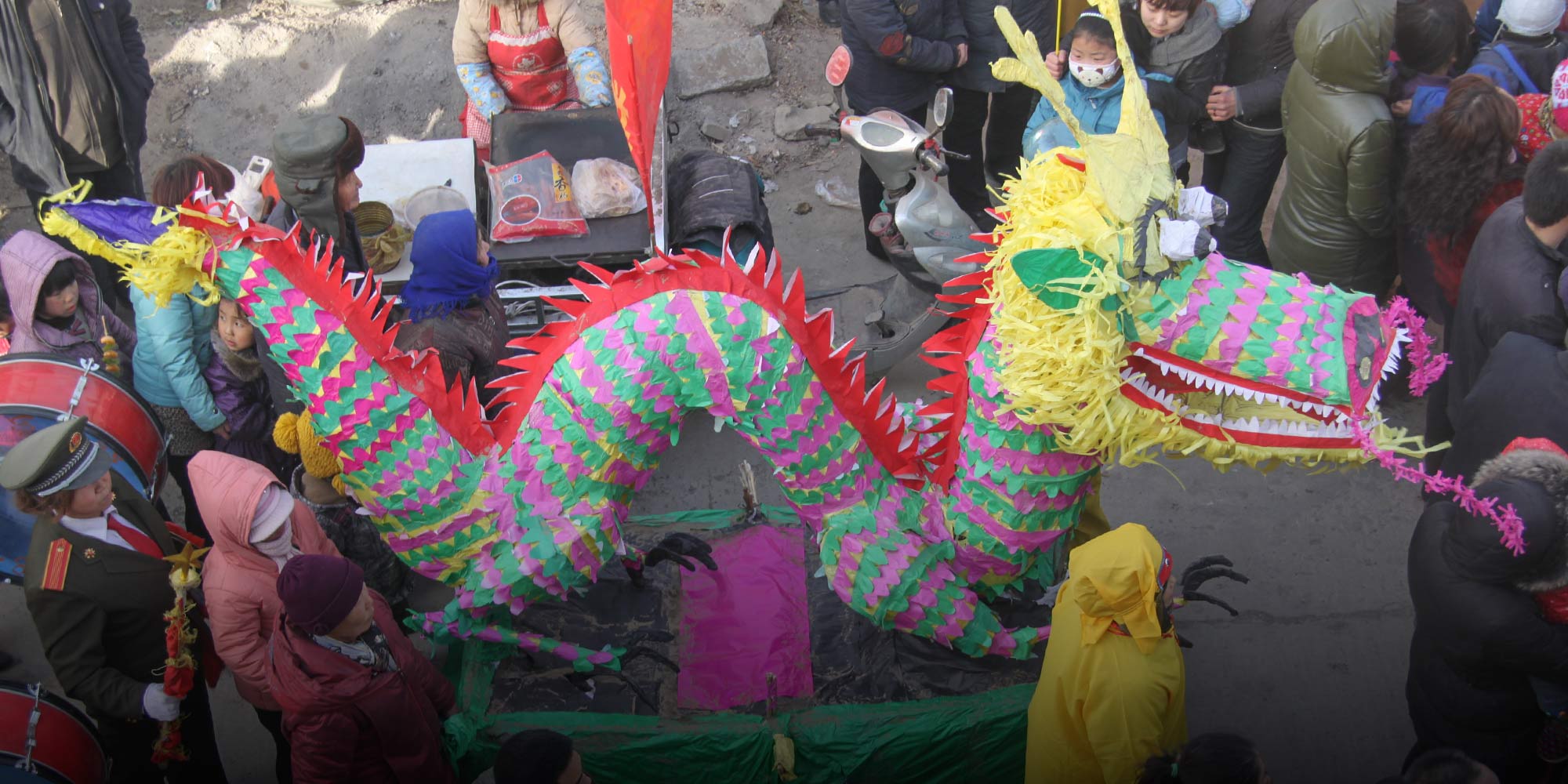 FEATURES
The Fading Embers of a Centuries-Old Fireworks Ritual
How a traditional fair in rural China risks being snuffed out.
HEBEI, North China — For centuries, in the depths of winter, a devout leader of a folk religion group has marched through a cornfield, wielding a star-shaped glowing pink lantern.
Wherever the man stopped, the villagers would ignite homemade fireworks attached to frames in a variety of shapes: a brightly colored cow, a mythological crane, a futuristic rocket. The sparks would light up the pitch-black sky of the countryside.
Practitioners claim the annual display may have even run for two millennia, but for the past two Chinese New Year celebrations, the skies in smog-shrouded Nanyangjiazhuang Village have stayed dark.
In February 2016, the group's 78-year-old leader, Yang Fengshen, was arrested only three days before the fireworks ceremony, held toward the end of the Chinese New Year celebrations as part of an annual fair to honor the deified legendary figure General Wudao. Ahead of the fair, Yang had collected the firework materials — sulfur powder, charcoal dust, and potassium nitrate — and cooked them according to a secret formula passed down from leader to leader through generations. But 2016 would be different. After being tipped off that someone was making unauthorized explosives in a residential area, local police caught Yang and confiscated his materials as evidence.
Yang — the head of the group since 1996 — was charged with illegally manufacturing explosives, an act written into the criminal law in 1997 that carries a sentence of anywhere between three years in jail and the death penalty.
Only four years earlier, the fair — complete with the fireworks display — was granted intangible cultural heritage status by the Hebei provincial authority, meaning that the practice is not only protected, but actively encouraged and even given financial support from the government. Yang himself was awarded up to 3,000 yuan ($480) annually by the authorities, and thanks to the official recognition, the town's Wudao fireworks show had previously avoided the drastic decline that has plagued many traditional Chinese customs. Nevertheless, Yang and his followers increasingly found themselves in a predicament: Under the intangible heritage law, Yang had a duty to preserve the custom, but aspects of it had become illegal under modern safety laws.
In small, dusty Nanyangjiazhuang, home to 400 households, people once lived off the land. Nowadays, many villagers head to cities for work, but their attachment to the soil runs deep. During the annual fair at the village's run-down red-colored temple, locals pray to Wudao and other folk gods, asking for a bountiful harvest, good fortune, and happy marriages. Yang says a few hundred people would gather to watch the grand fireworks — a tradition unique to Nanyangjiazhuang — and the main road would be packed with people. The homemade fireworks have never hurt anyone, as far as Yang can remember. "It would take you more than an hour to get through the crowd," recalls 62-year-old villager Du Zhenmao, adding that there have been fewer visitors to the fair in the past few years. "Fireworks are not allowed now," Du tells Sixth Tone. "Why would they come here?"
When Yang was first detained in 2016, he slept on a bare mattress on the concrete floor of his cell, with only plain buns and salted vegetables for food. Yang wasn't afraid, as he believed he was innocent. "I didn't kill anyone, so I didn't need to pay with my life," he tells Sixth Tone, saying he expected to be released within a few days. After 19 days, Yang confessed to the crime, and his family paid 10,000 yuan in bail. He says that the jail stint took a toll on his health, leaving him with a weak heart, high blood pressure, painful spinal discs, and stiff legs that didn't move as easily as before. After his first trial in April last year, Yang was sentenced to four and a half years behind bars. He remembers receiving the court notice as he lay in his hospital bed, believed to be at risk of a stroke.
With the help of a pro bono lawyer, his family appealed the decision, and Yang had his second trial at the end of December. Yang recalls sitting in his wheelchair, anxiously awaiting a verdict after two years of stumbling through China's intricate legal system to fight what he saw as an injustice.
But in the courtroom, Yang struggled to understand the judge's accent and mistakenly believed he'd been exonerated. On their way home to the village, his son explained that he was still considered guilty but was exempt from punishment, in part due to his advancing age. A court file seen by Sixth Tone outlined the reasons behind the decision. "His aim in making explosives was to fulfill his duty to perform for the temple fair as stipulated by law, and no actual harm has been caused by his actions," said the judgment. But it noted that he was still guilty under the law — forensic testing confirmed that the 292 kilograms of powder in clay pot firecrackers and other raw materials found at the scene were combustible and explosive. The main judge on the case declined Sixth Tone's request for comment.
Yang has decided against further appeals due to his age and deteriorating health. "I am happy, but deep down in my heart I am still unsatisfied with the result," he says. Before his legal battle, he enjoyed visiting his friends in the neighborhood. Now, he mostly keeps to himself, spending much of his time chain-smoking and watching TV in the sitting room. His poor physical health and state of mind keep him indoors. "I was found guilty," says Yang, who now feels ashamed of his tradition. "Why would I bother going out?"
But illiterate Yang, who once fed his four children by laboring in the fields and sweating on construction jobs, remains convinced of his innocence. He struggles to understand how he could simultaneously do his duty as the inheritor of the custom and be guilty of breaking the law. And Yang and his family don't understand why local authorities have suddenly cracked down on homemade fireworks — they believe authorities have known about the practice for years. "Every year, there were police and officials from the county present during the fireworks show to maintain order," says Yang, sitting in his wooden chair at home. "How come in 2016, I suddenly committed a crime?"
Sixth Tone made repeated requests to local police for comment on why they chose to arrest Yang in 2016, but received no response. Chinese officials have tightened control over fireworks in the past few years, both for safety and air quality reasons. Although Yang believes the fireworks are harmless, each year, dozens of Chinese people are killed in firework-related accidents. In 2015 alone, 39 accidents killed 79 people, according to the State Administration of Work Safety.
Yang also feels abandoned by the authorities who once supported him. During his detention, his family tried everything they could think of to get him out of jail without paying bail, starting with the county's cultural department. Zhang Jinli, chief of the county cultural center, had helped Yang apply to add the temple fair to the provincial intangible heritage list back in 2010. According to Yang, Zhang had even encouraged him to prepare an especially grand fireworks show the year of the arrest, as state broadcaster CCTV would be filming. But after Yang's arrest, Zhang became unreachable, says Yang's daughter Yang Ruixiao. According to the final judgment file, Zhang testified that he had never asked Yang Fengshen to set off fireworks — and when Sixth Tone asked Zhang if he knew about the homemade explosives, he said he didn't. "After the incident, they all ran away," Yang Ruixiao says bitterly.
Yang Fengshen will soon enter his 80s and desperately wants definitive answers: If he is guilty of a crime, can he still lead the Wudao fireworks show? And will his 50-strong group be able to make fireworks themselves?
Zhang says Yang Fengshen will retain his position as the representative inheritor of the Wudao fireworks tradition. He believes fireworks are important to the fair, but they're not everything — there's also a market and a song-and-dance performance, which have gone ahead since the arrest. Zhang has written a proposal to his supervising department, requesting a meeting to discuss the issue; he feels he's done all that he can.
The deputy director of the county's culture bureau, Qi Zhiping, tells Sixth Tone there is no perfect solution. After meeting with work safety, police, and fire departments, they've come up with one possibility: commissioning qualified factories to produce fireworks for the show. The culture bureau could cover some — though not all — of the cost to Yang Fengshen and his successors. "Unless there is a national policy [on intangible cultural heritage activities], there is nothing we can do," says Qi.
But the officials still haven't discussed the possible solution with Yang Fengshen. When asked whether his handmade fireworks could be swapped for commercially produced ones, Yang Fengshen said they would work for the ceremony but are well out of his group's price range and aren't easily found on the market.
Hebei's intangible cultural heritage department is also aware of the issue. There's a genre of traditions that require explosives; in Hebei alone, there are at least five intangible cultural heritage practices involving fireworks, the center's deputy chief, Xie Jianbao, tells Sixth Tone. Yue Yongyi, a professor at Beijing Normal University who specializes in the study of folk customs, says temple fairs are a prevalent folk event across the country. "Although the ancient tradition has had its ups and downs in history, it's still thriving today," Yue tells Sixth Tone, adding that fireworks help create a sense of ceremony — and often mean more donation money from believers. Xie says the center is working on guidelines, but he hopes to see national legislation governing the use of fireworks in traditional events.
So far, there's no set time frame for any policy changes around the coexistence of modern laws and ancient traditions — and no clear solution for the Nanyangjiazhuang Village fair believers. Yang Fengshen is the only one who knows the secret formula for the fireworks, and he has no successor. Before the court battle, his 65-year-old nephew Yang Guangqing agreed to carry the baton and began learning the fireworks-making process. But the case has shaken his resolve. Back in 2016, Yang Guangqing followed his uncle to the police station to make sure he was taken care of and ended up being locked up for 19 days as well. Now, he's frightened. "I dare not [make fireworks]," says Yang Guangqing. "No one dares."
In the workshop where Yang Fengshen and his fellow villagers once produced the fireworks, an iron pot gathers dust on the ground, and a pile of cardboard tubes leans against the wall. Outside the workshop, withered grapevines wind around bamboo stakes in the yard, and a cold winter wind blows. There's no sign of any dangerous materials.
Since the arrest two years ago, the absence of fireworks has dulled the festivities. No one knows when the night sky will be lit up once more — but it certainly won't be this year.
The aging Yang Fengshen isn't optimistic. "If the authorities don't resolve this issue, there'll be no way to solve it," he says. "Without a solution, who can [keep the fireworks tradition alive]? Who can inherit it?"
Editor: Julia Hollingsworth.
(Header image: Villagers prepare a dragon-shaped frame for the traditional fireworks show, Nanyangjiazhuang Village, Feb. 6, 2012. Courtesy of Yang Fengshen)