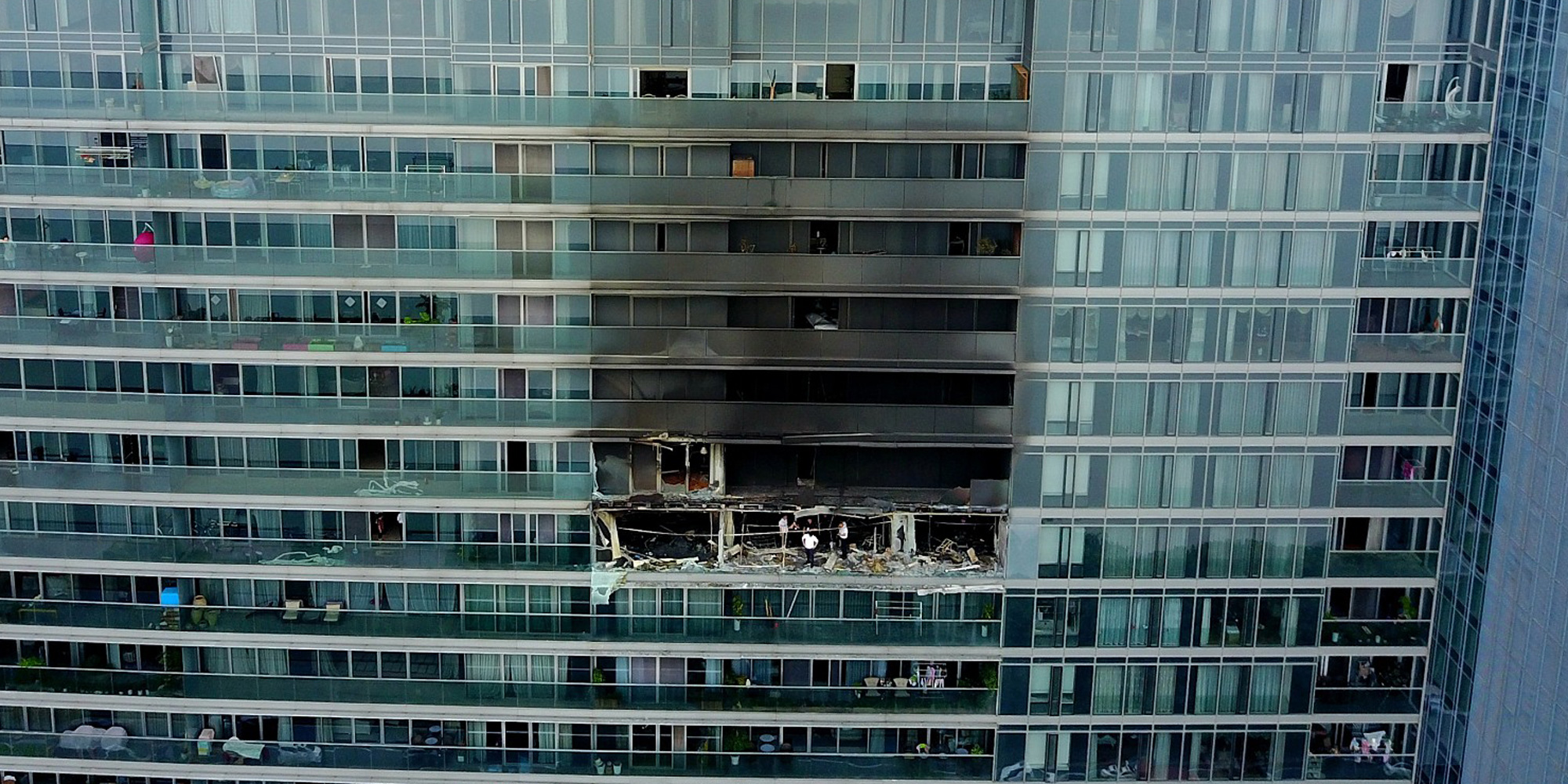 NEWS
Nanny Sentenced to Death for Fire That Killed 4
Closely watched Hangzhou court case reveals concerns of China's growing middle class.
A live-in nanny was sentenced to death on Friday for starting a fire last summer that killed a mother and her three young children in eastern China's Zhejiang province.
The Hangzhou Intermediate People's Court announced the verdict on Friday in a trial closely watched by domestic media.
In the early morning of June 22, 2017, 35-year-old nanny Mo Huanjing set fire to the family's apartment by lighting a book in the living room. According to the court's report, she had lost 60,000 yuan ($9,500) through online gambling the previous night, and hoped that if she put out the blaze, the mother, Zhu Xiaozhen, might lend her money out of gratitude.
But the fire quickly grew out of control, and Mo fled from the 18th-floor residence, leaving Zhu and the children — a 7-year-old girl and two boys aged 4 and 10 — behind. All four died from carbon monoxide poisoning.
"Mo Huanjing deliberately started a fire in the high-rise apartment in the early morning that led to four deaths and significant property losses," the court's report said. "The criminal motivation is despicable; the results are extremely severe and have seriously damaged public security and caused social harm."
The family had hired Mo, who comes from southern China's Guangdong province, through an agency in September 2016. Between March 2017 and the date of the fire, Mo pawned jewelry and watches stolen from the family for more than 180,000 yuan, and had also borrowed 114,000 yuan from Zhu, but lost all the money through gambling. According to her mobile phone records, Mo had searched fire-starting techniques and "Will arson lead to prison?" online before committing the crime.
The tragic case attracted attention nationwide as it highlights some of the core concerns of China's growing upper middle class, such as increasing demand for domestic help — typically migrant workers — and inadequate fire safety management.
The family's apartment was one of the most expensive in Hangzhou, the capital of Zhejiang, with a market value of more than 20 million yuan. Yet firefighting infrastructure at the compound appeared to be lacking: After Zhu called the police, it took more than two hours for firefighters to find them. Investigation later revealed that the compound's water pressure was insufficient, and that there was no suitable parking for fire engines that could reach the top floors.
Mo's defense lawyer argued that the property management company's negligence was partly to blame for the fatalities, and the court's report also acknowledged that the compound's poor emergency management had resulted in a prolonged rescue time.
The victims' grieving husband and father, Lin Shengbin, has also become a social media advocate for improved fire safety. "If the disaster had not happened, I might never have discovered that our lives and happiness were so vulnerable," he wrote in an open letter on Jan. 31. "We are living in an extremely fragile emergency response system, with safety measures that are full of loopholes."
In addition to the death penalty, the court sentenced Mo to five years in prison and a 50,000-yuan fine for theft.
After Friday's verdict was announced, Lin posted on his Weibo microblog "Wife and Kids in Heaven" that "the devil has finally received punishment by law, death penalty." He added that he plans to file civil lawsuits against the other parties responsible.
Editor: Qian Jinghua.
(Header image: An aerial view of the fire in Hangzhou, Zhejiang province, July 22, 2017. Shi Jue/VCG)