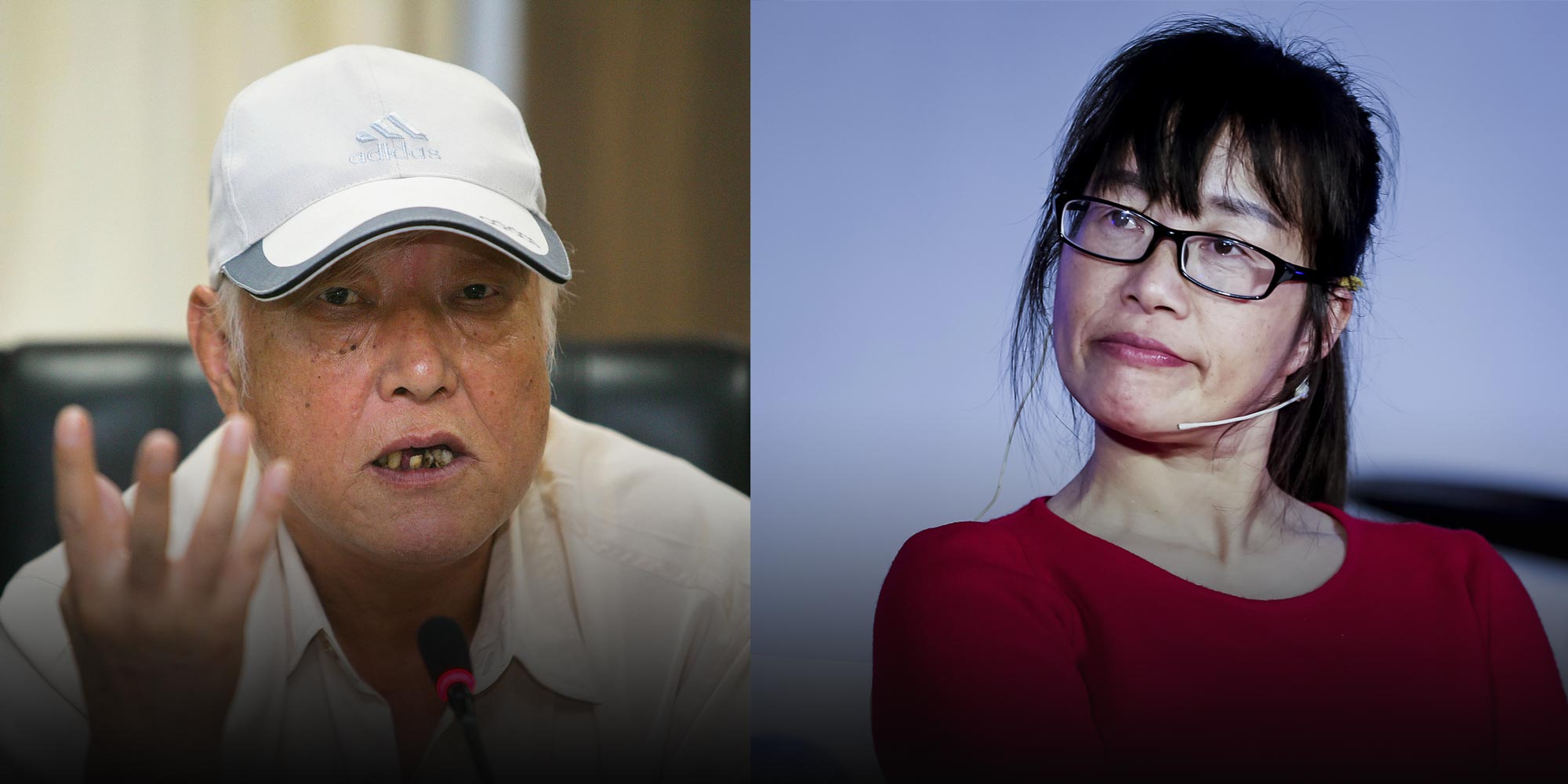 VOICES & OPINION
Two Poets' War of Words Shows China's Yawning Generation Gap
An ugly spat between two popular writers shows how Chinese literature is abandoning the collective spirit in favor of the individual.
When the then-20-year-old poet Guo Lusheng, better known by his nom de plume "Shizhi" or "Index Finger," completed his "Ocean Trilogy" in 1968, the Cultural Revolution was still in its infancy. Comparing himself to a drop of water in the oceanlike collective, his works marked the start of a period in which he composed some of his most influential poems. Today, Guo is known as a visionary whose work particularly inspired the so-called Misty Poets, a group of writers who, in the late 1970s, challenged the restrictions of the time on artistic freedom.
Fast-forward to 2015, when the Poetry Periodical, a literary magazine featuring the works of contemporary Chinese poets, published works by the then largely unknown Yu Xiuhua. Yu's rise to prominence was meteoric, partly because of the success of her poem "I Crossed Half of China to Sleep With You," and partly because she was a highly talented writer living with a disability: cerebral palsy, in her case. Yu has become one of the few poets to capture the public's imagination over the last 20 years.
Last month, Guo and Yu, who previously had nothing to do with each other, found themselves at the center of an unlikely controversy. At a Beijing book release on Jan. 13, Guo critiqued the current state of Chinese poetry, arguing for a re-emphasis on the masses and "national character." Uncharacteristically, he singled out Yu for censure.
"I watched a video in which Yu Xiuhua said her ideal afternoon would involve drinking a coffee, reading a book, chatting a bit, and having a screw," Guo said. "How can a poet not spend a moment considering the fate of humanity, or thinking about the future of her nation? How can a poet from the countryside not speak of the miseries of rural life or their dreams of prosperity? How can they just forget everything?" The elder poet concluded that Yu was abandoning her obligation to history, saying, "If we do not treat history responsibly, we will find ourselves mocked by it."
Yu soon struck back on her social media accounts. "Shizhi said I don't mention the miseries of rural life," she wrote, "but I've never felt rural life was all that miserable." Then a few days later, she added: "My fault lies in being on the bottom rung of society and yet still insisting on holding my head up high. My other fault lies in my inability to expose those idiots who think they're superior to me."
The spat is more than a war of words between two poets; it is a clash between two generations. The Cultural Revolution, ostensibly an ideological battle to purge Chinese society of all capitalist and traditional elements, left an indelible mark on Guo's work: Even as he sang the praises of the country's leadership and the collective spirit, he continued to leave room for individual will in his poems, never losing sight of each drop of water amid the surging ocean of the collective.
In the 1970s, a time when people were expected to sacrifice much of their individuality to Maoist ideology, Guo's ability to give voice to the individual was extremely rare and precious. In "Believe in the Future," a poem widely seen as critical of the Cultural Revolution, Guo writes:
When the spiders have mercilessly sealed my stove in their webs,
When the last wisps of ash-smoke sigh for the sorrows of poverty,
I am still stubbornly smoothing out the ashes of disappointment,
Spelling out in beautiful snowflakes: Believe in the future.
Unfortunately, Guo was diagnosed with schizophrenia in 1973, admitted to a mental hospital, and only re-emerged in the 2000s. With only a partial view of the dramatic social changes that shook China in the 1980s and '90s, his poetic sensibilities are now a relic of a unique point in time, and have been shaped little by the reform era.
In the '90s, Chinese poetry underwent major changes. Symbolic but ultimately unsuccessful social movements in the late 1980s, and the suicides of leading poets Hai Zi and Luo Yihe, combined to shape a generation of wordsmiths.
Many poets have since recognized that the experiences of the first decades after the Communist takeover — which were strongly shaped by collectivist values — have lost relevance. Because those who have lived through the last 20 years or so no longer share a common history, everyone must grapple with questions of the human condition from an individual perspective. This trend has given rise to more personalized styles of writing and a newfound focus on everyday life.
Yu's poetry fits into this broader context. It is replete with human life and suffering, and much of her work builds on her own personal experiences. Whereas Mao-era poets envisaged a responsibility to the nation, today, a poet's greatest responsibility is to their own life and experiences, even if they simultaneously offer partial reflections on broader social trends. "I Crossed Half of China to Sleep With You," for example, deals with both intimate sexual desire and life on society's lowest rungs, mixing imagery of erupting volcanoes, ignored political prisoners, and murdered elks and cranes with personal experiences of "braving a hail of bullets to sleep with you, squeezing countless nights into one dawn to sleep with you, gathering together all I am to sleep with you."
In the aftermath of this latest controversy, the poet Liao Weitang rallied to Yu's defense, noting that the misery of rural life permeates every detail of her work. "Only she doesn't weep over it or make accusations; she doesn't talk about how tragic her own life is," Liao said. "Rather, she is extremely stubborn, and she uses language to master her own world."
Guo's critique was not aimed purely at Yu. He was criticizing the broader trend of personal subjects manifesting in contemporary Chinese writing. Maybe he has forgotten that he is partially responsible for the emergence of this trend in the first place, thanks to the tiny sliver of space he left for the individual in an era of dogmatic odes to the collective. Or perhaps he has not forgotten at all, but believes that the preservation of individual voices should ultimately serve the collective. Although some collective poets capture the struggles of large social groups in their works, these struggles are no longer easy to spot because today's fragmented, granular society no longer requires everyone to sing in unison — and this is perhaps what upsets Guo the most.
Translator: Kilian O'Donnell; editors: Wu Haiyun and Matthew Walsh.
(Header image: Left: poet Guo Lusheng, or 'Shizhi' gives a speech in Beijing, July 10, 2010. VCG; right: poet Yu Xiuhua talks to audience in Beijing, March 26, 2016. Zhan Min/VCG)