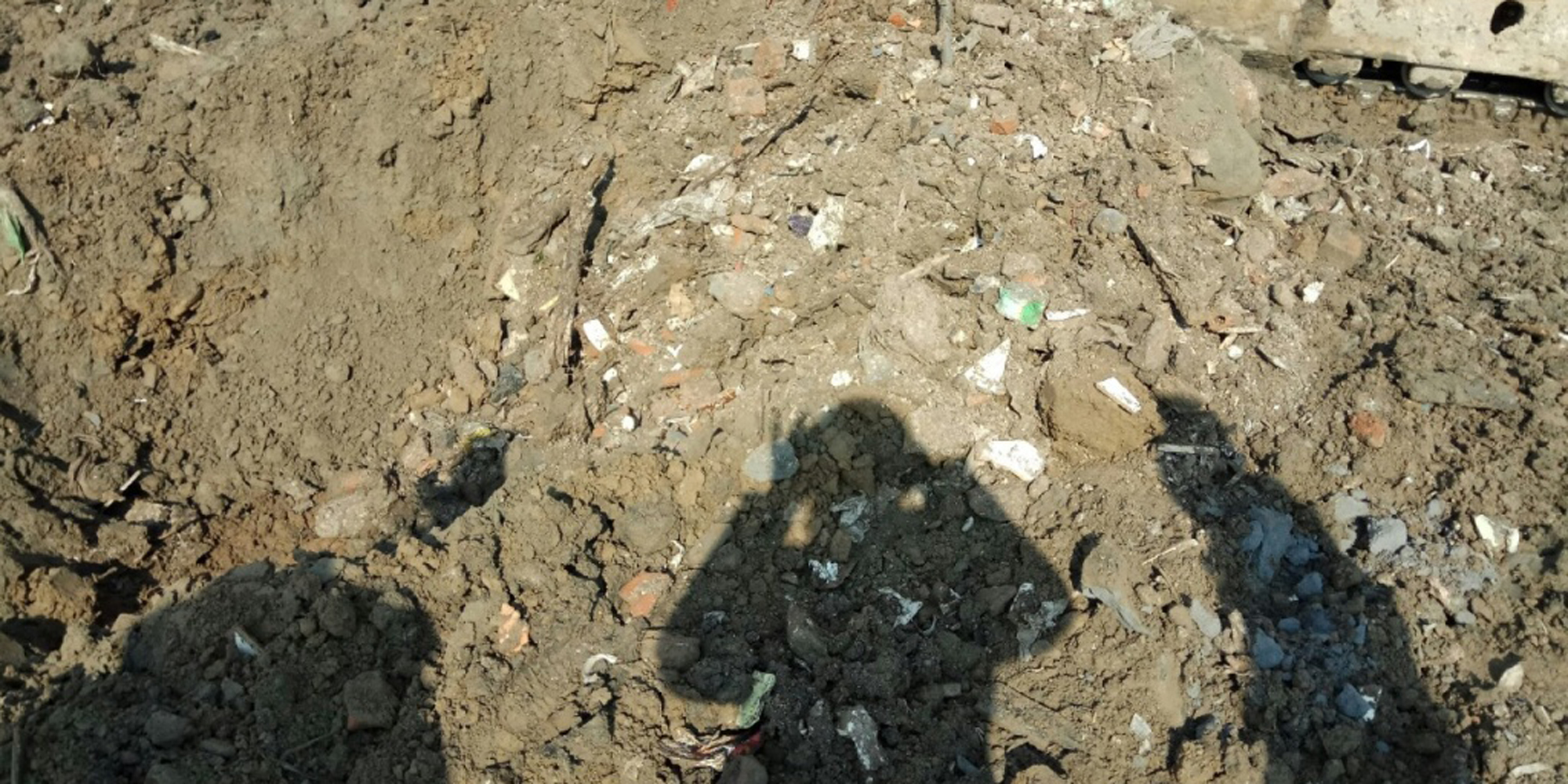 NEWS
Tons of Textile Waste Unearthed in Jiangsu Village
Flourishing clothing hub airs its dirty laundry.
Vast quantities of buried textile waste have been unearthed in eastern China's Jiangsu province, in a case that exposes official struggles to control illegal dumping.
On Monday and Tuesday, excavators descended on two areas of the city of Nantong after a local environment-watcher, Xu Yong, reported seeing exposed waste and smelling a foul odor emanating from the soil. Photographs published by online media outlet CQCB.com and subsequently shared on Chinese social media showed excavators parked next to freshly dug trenches in which household textiles, construction waste, and assorted unidentifiable objects protruded from the piled-up soil. Each trench was several meters deep.
In a neighborhood in Chuanjiang Township, diggers uncovered waste on land belonging to a local Party branch secretary. In the vicinity of the New Jianghai River, crops had been planted in soil used to cover industrial waste. In other areas, CQCB.com reported, waste had been dumped directly into aquaculture ponds, killing large numbers of fish. Xu estimated that up to 100 tons of waste have been excavated so far.
The person who answered the phone for the Chuanjiang local government told Sixth Tone that officials were in a meeting and unable to take questions. The local environmental protection bureau, meanwhile, referred Sixth Tone to an official response released yesterday evening stating that cleanup operations were in progress.
China now manufactures an estimated 65 percent of the world's clothing. The country also dumps 26 million tons of textile waste each year, reusing less than 1 percent of it, according to a 2016 report from state news agency Xinhua.
Nantong has been producing textiles since the turn of the 20th century, but breakneck economic development beginning in the 1990s — largely thanks to the city's advantageous position at the mouth of the Yangtze River, just north of Shanghai — transformed it into an industrial hub.
However, Nantong has struggled to deal with the increasing amount of waste generated by its textile industry. Often, waste treatment is outsourced to small businesses or individual households, making it difficult for officials to enforce guidelines for safe disposal. Over the past decade or so, this has led to the emergence of so-called garbage villages like Chuanjiang on the city's outskirts, where villagers live side by side with waste treatment workers. Here, textile waste piles up in residential areas, leading to environmental contamination, health problems, and fire hazards, according to a local broadcaster.
Li Enze, executive director of the environmental law center at Beijing Impact Law Firm, told Sixth Tone that illegal textile dumping is probably widespread in China. "There are no exact regulations concerning how to deal with waste textiles, which are not classified as hazardous," Li said. "While one option is to send the waste to factories for treatment, this can be very costly."
Punishments for dumping nonhazardous waste are less stringent than those for more harmful forms, Li continued. "But though textile waste is not as bad as, say, chemical waste, its impact on the environment is still heavy," he said, "as a lot of textiles contain complex components like zippers, leather, and plastics."
National laws governing solid waste should outline a clear system of duties and penalties so that damage to the environment can be reduced, Li concluded.
In recent years, China has struggled to manage its mounting waste, both from home and abroad. In July of last year, 60 government inspection teams swept across the country to root out illegal waste-importing operations. And on Jan. 1, the Chinese government officially banned companies from treating 24 types of waste produced in foreign countries in an effort to mitigate domestic environmental problems. Textiles are among those included on that list.
Additional reporting: Fan Liya; editor: David Paulk.
(Header image: Some of the buried waste discovered in Nantong, Jiangsu province, Feb. 7, 2018. From Weibo)