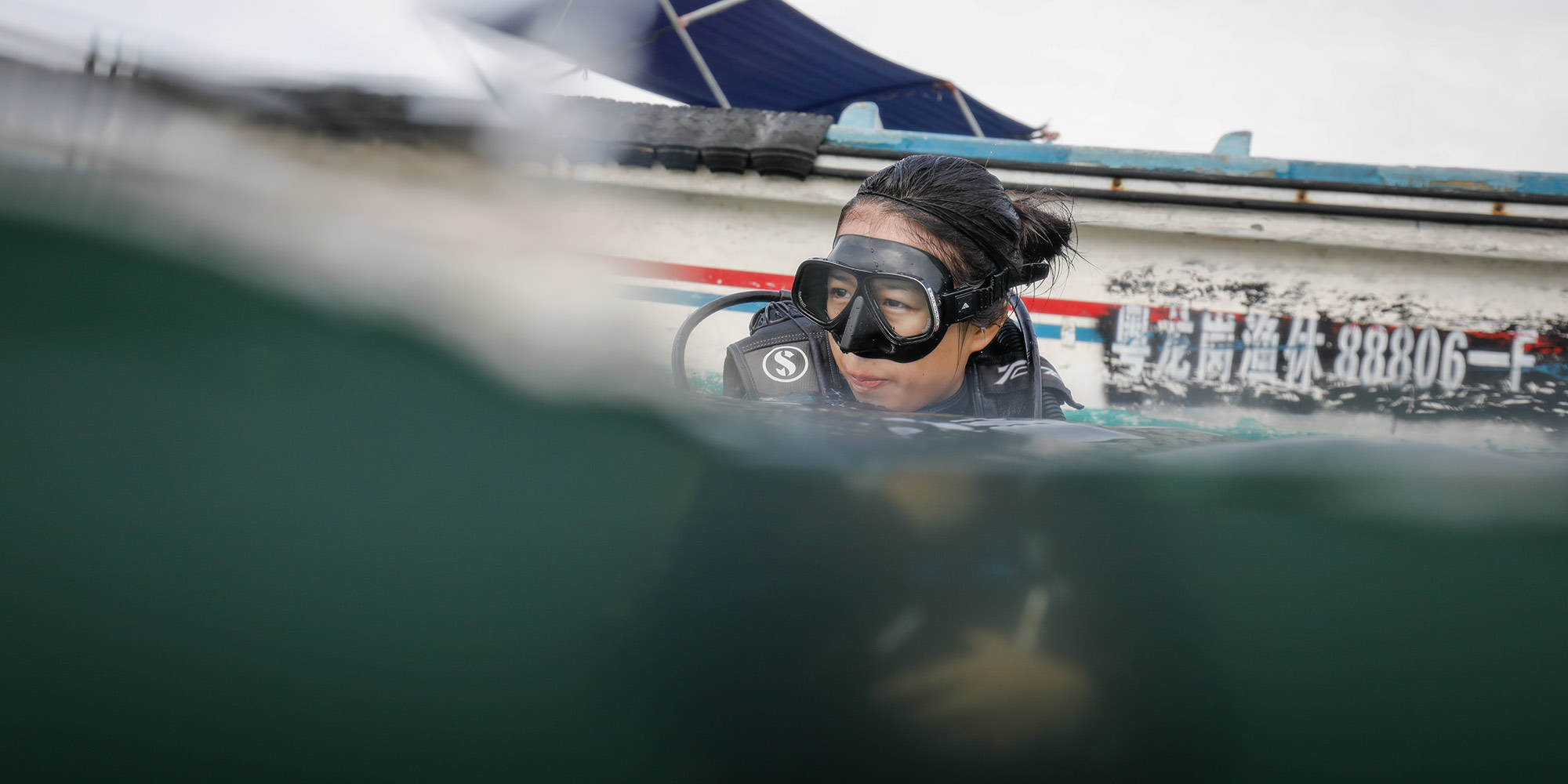 FEATURES
With Seabed Nursery, Divers Aim to Save Shenzhen Coral
Volunteers hope fourth time's the charm for project to protect part of the 'Amazon of the seas.'
GUANGDONG, South China — Under the sea, Feng Jianquan could only hear the sound of his own breathing as he tied two iron-and-plastic frames together. That day in early November, 45-year-old Feng and his fellow divers had braved the freezing water to help build a nursery for broken coral branches, an effort to restore the ecosystem in Shenzhen's Da'ao Bay.
Coral is the foundation of coral reefs — known as the "rainforest under the sea," as they are home to a quarter of all marine life. From fish and sea turtles to crustaceans and clams, millions of species wouldn't exist without coral reefs, but many are under threat from pollution and climate change. The coral communities off the coast of Shenzhen — China's southern tech hub of 12 million residents — face particularly heavy pressure from wastewater discharge, land reclamation, and overfishing.
This is where environmental organization Dive for Love and its volunteers, including Feng, come in.
Like similar groups across the world, the divers look for coral branches on the seabed that have broken off but are still alive. Without intervention, they'd be covered by more and more sand and eventually die off, but if they are picked up and stuck to frames with a special adhesive, they can slowly regenerate — at least, in theory.
"Coral communities are precious treasures of Shenzhen, but not many people have seen them," Xia Jiaxiang, secretary-general of Dive for Love, told Sixth Tone the night before the nursery project kicked off in November. Through an online campaign, they raised nearly 250,000 yuan ($40,000) to cover the project's costs, including boat and equipment rental and training for volunteers.
It's their fourth attempt — previous nurseries planted with coral seedlings for farming were destroyed by typhoons and strong ocean currents. This time, the team is using concrete to weigh down the frames made from iron and plastic pipes, which should help them withstand typhoons.
Located across the sea from Hong Kong, Da'ao Bay forms part of the northern edge of Southeast Asia's Coral Triangle, a tropical area so rich in biodiversity that it's referred to as the "Amazon of the seas."
However, the coral cover east of Shenzhen has fallen from more than 76 percent to 34 percent over the past three decades due mainly to human activities, according to Guangdong Reef Check, an annual survey of the reefs' condition.
Over the past century, global ocean temperatures have risen by an average of 0.1 degrees Celsius — far less than temperatures on land, but scientists have found that marine life is generally much more sensitive to even the slightest temperature change compared with land creatures. Rising temperatures have put coral under so much stress that it has started to expel the colored algae that lives in its tissue, turning the once-colorful marine life-form white.
The phenomenon is known as coral bleaching and occurs in reefs across the globe. As the algae provides the coral with nutrition, bleached coral is at risk of starvation. Experts believe that half of the coral in the Great Barrier Reef has died from coral bleaching. Coastline exploitation, pollution, coral poaching for trade, and unsustainable fishing practices have put further pressure on reefs worldwide.
"Our resources and environment are deteriorating. In the past decade or two, coral reefs have shrunk, and the coastal ecosystem has worsened," said Liao Baolin, senior engineer of marine conservation at Shenzhen Research Institute of Guangdong Ocean University, who also leads the Guangdong Reef Check survey.
In Shenzhen, said Liao, the decline in coral can be attributed in part to factors like pollution and construction. The area has seen a series of land reclamation projects, as well as the construction of the Hong Kong-Zhuhai-Macao Bridge.
While the Dive for Love volunteers say they feel supported by government initiatives to curb overfishing and pollution, the efforts have had little impact. A 2014 report by the Shenzhen Evening News found that despite a 30 billion-yuan campaign beginning in 2000 to restore rivers and mitigate pollution effects, the quality of rivers, streams, and other waterways running through the city was "extremely poor." Many of them discharge black, smelly water into the ocean. Half of the wastewater in Shenzhen had not been collected for treatment by the end of 2016, according to national environmental protection inspectors.
Overfishing is another concern, as it not only depletes marine life but also actively damages coral when misplaced nets and traps fall onto reefs. "If there are no conservation efforts, the decline will only accelerate," Liao said.
Dive for Love has enlisted 600 volunteers — from bank clerks to factory workers — since 2014, joining similar groups that work on ocean conservation in the region. In addition to helping with the nursery project, the volunteers attend monthly coral cleanups to pick up nets and traps, and teach environmental education classes at regional primary schools.
Volunteer diver Feng, a Shenzhen-based factory worker, has been attending cleanups since 2014. He became interested in Dive for Love's mission after seeing a leaflet from the group, and he earned a diving certificate so he could join the underwater missions.
The destruction he saw with his own eyes only reaffirmed his commitment to the cause: "Many fishing nets, plastic bottles, and pieces of plastic tape are out there in the sea," Feng told Sixth Tone during a short break from setting up the coral nursery.
Many Chinese learn to dive in the tropical waters of the Philippines, Thailand, or Indonesia, said Dive for Love's Xia, where coral reefs are plentiful and teeming with fish, and visibility in the light-blue water is high. In the murky sea around Shenzhen, however, the divers' underwater missions are "challenging," Feng said. Divers must stick together so they don't get lost, using hand signals to communicate.
"The visibility is low. When two people go underwater as diving partners, [one] can hardly see their partner clearly beyond a meter away," Xia said. "Some volunteers who learned open water diving in Southeast Asia, where the water is glassy, were so scared they cried here [in Shenzhen]." The low visibility carries real risks for the volunteers, as it obscures fishing nets that can trap and entangle divers.
Marine experts speak highly of Dive for Love's efforts to raise awareness of threats to coral reefs across the globe — especially due to climate change. "Through the events organized by the group, people can see the coral's environment and glimpse its beauty up close, which can raise their awareness and support," said Liu Sheng, an advisor to the Dive for Love conservation program and a researcher at the South China Sea Institute of Oceanology under the Chinese Academy of Sciences.
Yet neither Liu nor Guangdong Ocean University's Liao have much faith in the coral nursery project. Past attempts by Dive for Love to build such a nursery failed because the frames weren't suitable for the local conditions, Liao told Sixth Tone. "The area is prone to typhoons, which can overturn the grids," even if they are weighed down with cement, Liao explained.
According to researcher Liu, both the extreme coastal weather conditions and human activities — such as a single boat throwing an anchor on top of the nursery — make the environment unsuitable for building coral reefs. "Due to the area's multiple stress factors, man-made nursery beds are difficult to create," he explained.
Xia, Feng, and the other divers are trying not to get their hopes up — who knows if the coral will survive until next September, when the organization plans to release a report on the initiative's progress. But the Dive for Love volunteers aren't willing to give up, either. "Even if the nursery fails, at least we have raised awareness," Xia said.
Xia is encouraged by local fishermen who recently stumbled upon one of the group's events and later asked if they could help keep an eye out for boats that could harm the nursery. The more people learn about coral reefs, he hopes, the more they will contribute to conservation initiatives.
"Anything is worth trying so long as it can push [efforts] one step further," Xia said, "even if it's just a small step."
Contributions: Denise Hruby; editor: Denise Hruby.
(Header image: A volunteer diver in Da'ao Bay, Shenzhen, Guangdong province, Nov. 11, 2017. Courtesy of Dive for Love)