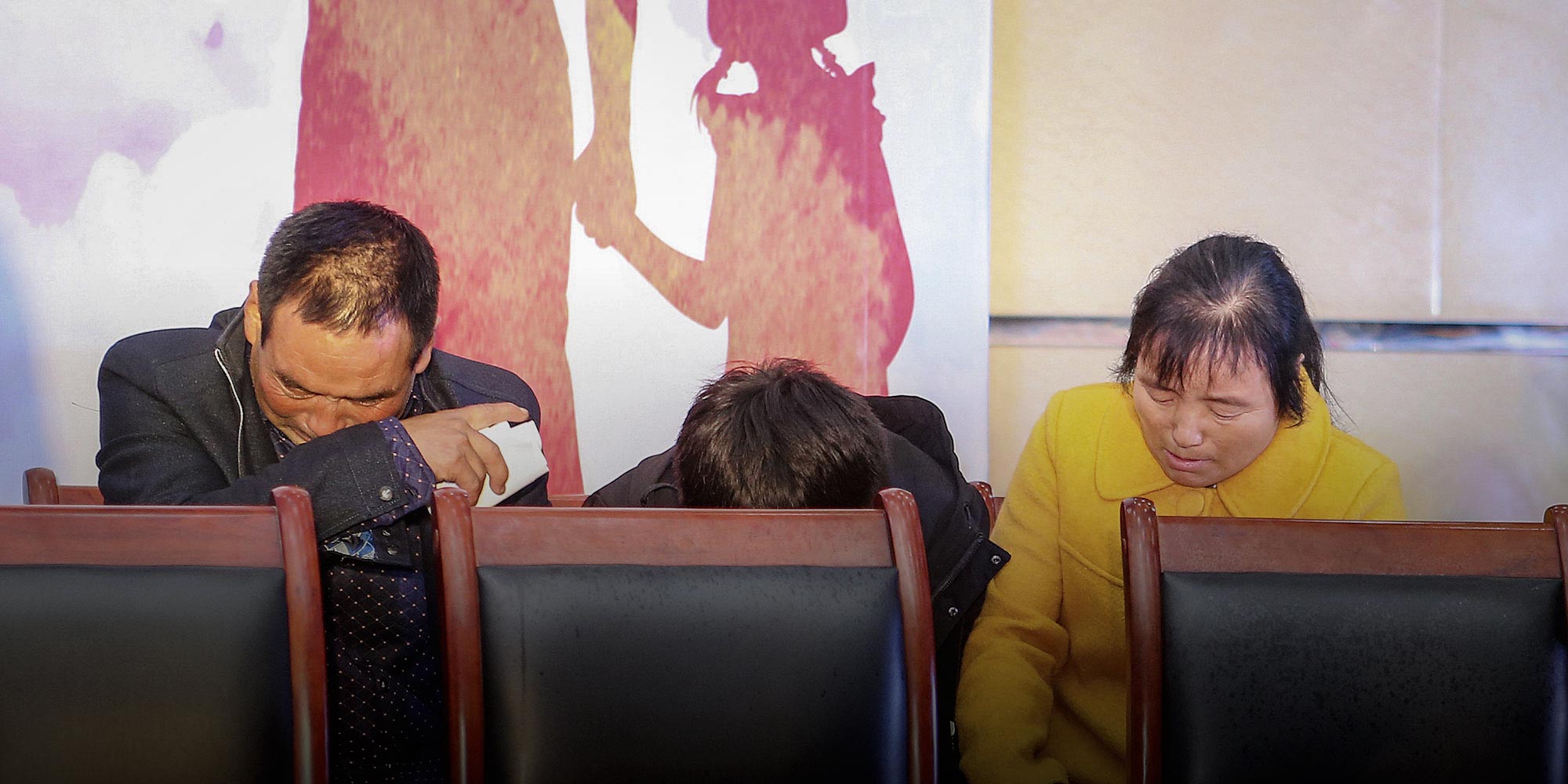 FEATURES
On the Cold Trail of a Child Trafficker
For years, children disappeared while their suspected kidnapper evaded Chinese authorities.
SHAANXI, Northwest China — Jing Xiaoxia never liked her brother-in-law, Wang, a smooth talker and slick dresser. One day in the fall of 1995, he was wearing a suit and tie with a leather bag slung over his shoulder when he showed up unannounced at Jing's home. He was on his way home from a job in the city, he said. Wang stayed for dinner and spent the night. He was family, after all. The following morning, once Jing's husband had gone off to work, Wang said he was going to take his 3-year-old nephew out to buy some instant noodles. At the time, Jing was inside cooking food and didn't think much of it, replying with an absent-minded "OK." And with that, Wang took off with her son.
Jing initially couldn't believe Wang had kidnapped her child. He had even left his leather bag behind; though when Jing went through it, she found nothing more than a toothbrush and a towel. With her husband, Liu Hongjun, she traveled to Wang's home in Ziyaowangjia Village, some 130 kilometers away in a different county. But Wang wasn't there, and nobody knew where he had gone. They frantically searched for their son, holding on to the memory of what he was wearing the day he disappeared: a red top, blue pants, and red canvas shoes. But unbeknownst to them, Wang had already brought their son to another province, and sold him for good money.
In subsequent years, Wang allegedly kidnapped at least five children in similar fashion before he was caught and imprisoned for one count of child trafficking. He managed to evade arrest in the other child kidnapping cases until last year, when he was finally tracked down by authorities and confessed. Through court documents and interviews with police officials, relatives of Wang's alleged victims, and Wang himself, Sixth Tone's sister publication The Paper reconstructed the more than two decades he spent trafficking children and evading the authorities. The given names of Wang and his alleged accomplices have been omitted as the investigation is ongoing.
Child trafficking is a grievous problem in China. Though official statistics are rarely made public, the U.S. State Department believes that 20,000 children go missing in the country every year. The illicit trade is fueled by traditional family values that place heavy emphasis on having children, as well as strict adoption rules, which mean that some people are willing to pay small fortunes to buy a child. Victims are usually boys because, many believe, only men can carry on the family bloodline. And boys won't "marry out" to other families as girls will, so they can care for their "adoptive" parents when they grow old.
Even though the parents of Wang's alleged victims reported their children's disappearances to the authorities, investigations led to nothing, partly because the various police departments involved were largely unaware of each other's cases. Most of Wang's alleged victims were too young to remember who their birth parents were or where they lived. In child trafficking cases, only when the child in question is found can public prosecutors formally charge a suspect, according to Ji Xiping, a member of Shaanxi province's Bin County police department, which eventually tracked Wang down. Therefore, if neither the parents nor police can find a trafficked child, and the child doesn't know their way home, it is near impossible to build a case. In many child trafficking cases, confessions from the perpetrator prove to be crucial in finding the victims, but Wang was difficult to locate. He often used pseudonyms, had no identification card, and would stay away from his home for years at a time.
Wang had met the Jing family in 1986, when Jing's father and Wang left prison on the same day. According to Jing's mother, her husband was arrested during a crackdown on gambling and sentenced to three years in prison. She didn't know the reason behind Wang's imprisonment. After they were released together, Wang didn't return to his own home. Instead, the then-22-year-old went to the Jing family home, where he became smitten with Jing Xiaoxia's younger sister, Jing Xixia.
With her elegant figure, Jing Xixia was the dream girl of many of the village's youngsters. Wang would come over often, bringing all kinds of gifts — tea, dates, and even clothes. Wang took care of his appearance, and had sophisticated looks that belied his rural background. Words like "brother," "sister," "aunt," and "uncle" dripped from his mouth like honey, but the Jing family wasn't very fond of him: He had never finished elementary school, had spent time in prison, and had a bad temper. "No one in the family wanted them to be together," Jing Xiaoxia's mother tells The Paper. Nevertheless, Jing Xixia and Wang started a relationship, and eloped in 1990, having neither registered their marriage nor held a wedding. The following year, Jing Xixia gave birth to a daughter, and three years after that, a son.
With two children, the young family was unable to make ends meet, and the couple started fighting. Wang had picked up a gambling habit, and owed money all over town. His brother's wife remembers a creditor once brandishing a knife and threatening Jing Xixia. "It was terrifying," she says. In the summer of 1995, when the family was in the middle of planting corn, Jing Xixia suddenly left. Wang returned from working in the field to find his wife gone and their 6-month-old son lying on the bed crying. She never returned to Wang's home to see her daughter and son, nor did she go back to her family home to see her elderly parents. To this day, nobody knows where she is.
A few years earlier, while laboring on a construction site, Wang had heard about someone wanting to buy a child, and from them he learned of buyers in Yichuan County, in central China's Henan province. He says he knew that trafficking children was illegal, but, being in debt, he could not resist the allure of quick money. The first child he sold was his very own son, then not yet a year old.
One day sometime after Jing Xixia's disappearance, Wang's son was crying loudly, refusing the sheep's milk that his aunt was attempting to feed him. Wang snatched up the child, saying that he was going to take him home to have his grandmother feed him. But instead, Wang rode in a car, a sleeper coach, then another car, and brought his son to Yichuan County. Several months later, he returned alone, but 5,000 yuan (then about $600) richer.
It wasn't long before he'd used up all the money, so he planned to kidnap and sell his sister-in-law Jing Xiaoxia's son, and later other children. Each time, he would call ahead to Yichuan and agree on a price before bringing the child over with him. He says that in the '90s, the going rate for a boy was up to 8,000 yuan, and around 3,000 yuan for a girl. To stop them crying or making a scene, he would ply them with snacks and toys for the entirety of the journey.
One day in October 1997, Chi Junlu was on his way to work at a coal mine in Shaanxi's Bin County when he bumped into Wang, with whom he had once worked. After hearing how Wang hadn't eaten in days, Chi took pity on him and invited him to his house for a meal. That night, Wang, Chi, and Chi's three sons slept together on the home's heated brick bed. In the morning, Wang walked away with the youngest son, 7-year-old Sanyang. Chi had already gone to work, and his wife, Li Xiaxia, was in the house making noodles. Wang told her he was taking Sanyang out to buy a few things. "They slept right there," Li says, 20 years later, pointing to the bed. "We gave him food to eat, a place to sleep, and he abducted my son. I hate his guts."
A month after he kidnapped Sanyang, Wang ran into another man he had once worked with, Zhang Hongyao, in Shaanxi's Long County. After staying a few days at Zhang's house, Wang told him he wanted to return home but had no money for the journey. Zhang gave him 10 yuan. The following year, during the early summer's wheat harvesting season when Zhang was working outside the province, Wang went back to Zhang's home to stay a night. In the morning, while Zhang's wife was reaping wheat in the fields and Zhang's mother was making breakfast, Wang walked away with Zhang's 4-year-old son, Shaofeng.
Zhang's daughter told her mother at the time that she had seen Wang take away her little brother with her own eyes. Later, villagers harvesting wheat also said that they had seen a stranger taking the boy away. They said Shaofeng was crying and screaming as he walked over the bridge at the village entrance, but the farmers had assumed the stranger was the child's uncle.
In October 1998, Yang Kangming was building a house in Qian County's Dayang Township. Realizing he couldn't finish the job alone, he went to the county seat to hire someone to help. Unfortunately for him, the person he found was Wang. He worked there for 10 days or so, then said he had some business to attend to back home and asked for his pay so that he could leave as soon as possible. Three days later, he returned to Dayang and abducted Yang's son on his way to school.
In January of 1999, Wang made his way to Jingchuan County in Gansu province, which borders Shaanxi, ostensibly to do business related to apples. There, he tricked a young girl to go with him by saying he'd take her to her father to get some treats. Instead, he kidnapped her, traveled to Henan province, and sold her for 2,100 yuan. Several days later, the girl was rescued — court documents don't explain how — and Wang was arrested. Wang admitted to kidnapping the girl, and the People's Court of Jingchuan County sentenced him to seven years in prison. A year later, Wang's contact in Yichuan to whom he had sold the girl, a man surnamed Ren, was sentenced to life imprisonment for the trafficking of 14 children. Ren was released in December 2016, after his sentence was commuted.
Wang's arrest ignited hope in the parents who had been looking for their lost sons for years. The news, however, traveled slowly, and was usually spread by word-of-mouth rather than through the authorities. Yang Kangming, who lived in the same county as Wang's family, heard of his arrest first. With the help of police, his son was then found. However, Qian County authorities say that, at the time, Wang was not charged for the additional crime because he denied having kidnapped the boy, and no other evidence was found. DNA tests, which can serve as proof in a child trafficking case, were also not conducted on Yang and his son.
It was two years after Wang's sentencing that Zhang Hongyao heard about his arrest. He then told local police about his kidnapped son. Authorities found a boy who had been trafficked, but Zhang and his wife thought he did not resemble Shaofeng. Zhang had a blood sample taken, but he never heard back.
Since their son was kidnapped in 1995, Jing Xiaoxia and her husband Liu spent about a decade combing through several provinces, using up all their savings. Liu sank into a deep depression, and later suffered a stroke, spending the days at home with his head hung in despair. Eventually, the couple divorced. When Jing Xiaoxia heard about Wang's imprisonment, his sentence had already been commuted because of good behavior. He had been released ahead of schedule in 2004.
After leaving prison, Wang assumed a new pseudonym and drifted around. There is no evidence that he kidnapped or sold any more children after 2004, but he nevertheless lived a life on the run, afraid that the police would come knocking. He stayed whenever possible within a few hours' drive from home, but did not return for long stretches of time, let alone dare register himself with the authorities in his hometown, as people are supposed to do after they are released from prison. Sometimes he would visit his mother and daughter during the wheat planting or harvesting seasons, when everyone at home was busy and most of the police would be off work. He usually stayed just a few hours. If he had to spend the night, he would leave before sunrise.
Then, in December 2016, police caught a break in the case. A national DNA database set up to reunite trafficked children with their birth parents matched Chi Junlu with a young man in Yichuan County. It was his son Sanyang, now 28 years old and surnamed Dong. On the day he was reintroduced to his birth family, the room was packed with people — "maybe 100 to 200," according to his birth mother Li Xiaxia. Everyone was ecstatic, and they took the newly returned son to see his grandparents and meet the rest of the relatives and family friends. They made him the treats he used to love when he was little.
Dong was only 7 years old when he was kidnapped, but he remembered his parents, his elder brothers, the house he lived in when he was little, and the bed where he used to sleep. He told his mother, Li, about what it was like in the Dong household. His "parents" there were very good to him and would never beat or scold him. But he always knew that he had been "adopted," and had never stopped wishing to find his birth parents — even entering his DNA into the national database. Now, he feels conflicted. He told police that he wants to go back to his birth parents' home, but also wants to spend time with the family that raised him.
Dong stayed with his birth parents for three days. The night before he left, Li cried throughout the evening, but said she didn't want to hold her child back. Feeling that he had a good life where he was, she didn't ask him whether he would want to live with them.
Because one of Wang's alleged victims had now been found, Bin County police could build a case against him — but they had yet to find him. Throughout the years, authorities would regularly check in on Wang's family, but they would always claim they didn't know his whereabouts. However, in the fall of 2016, Wang telephoned his brother's wife to tell her to sell some trees the family owned. She then passed his phone number on to the police, who used it to track down Wang's location. On April 12, 2017, he was detained in Shaanxi on a construction site in Fengxiang County. Wearing a camouflage-patterned jacket and a hardhat, Wang was detained by four police officers from Bin County as he mixed cement. "He was not in the least bit surprised," Huo Zhongqing, the officer in charge of the case, says. "He had one request: that we help him get the salary he was owed."
Through Wang's confessions, as well as further interrogation of his suspected accomplices Ren and his wife Fang, police were finally able to find Jing Xiaoxia's son and Zhang Hongyao's son. According to Wang, he would always contact Ren and Fang when he had a child to sell. When reached by telephone, Ren denies having seen Wang more than once. Because Ren and Fang were not listed in the initial police reports filed by the parents of Wang's alleged victims, the timeframe in which they could be charged had elapsed. As they are still potentially involved in a criminal case, they had to post bail after the interrogations but were otherwise free to go.
On Oct. 13, the Shaanxi Department of Public Security, Xianyang City, and Bin County authorities organized a reunion of the estranged family members. The trafficked children from the Zhang and Jing families were reunited with their parents. The Yang family, who were reunited in 2000, and Chi family also attended.
Liu Hongjun, Jing Xiaoxia's now-ex-husband, attended the reunion with 10 family members in tow. "We wanted to bring our kid back home in style," Liu told a reporter, adding that he took with him a small coat he had bought for his son before he was kidnapped. A tearful Jing Xiaoxia went up to hug her boy, but her now-adult son was somewhat reticent. As they ate together, Jing did not stop stroking his shoulder. "I couldn't eat a thing," she tells The Paper. "When he left I gave him an apple, but he didn't want it. I told him: You must take care of yourself outside, and dress warmly. He didn't once call me 'Mom.'" To this day, Jing Xiaoxia cannot make sense of her son's coldness. "We're his birth parents!" she says.
Faced with his parents' sudden appearance, Jing Xiaoxia's son seemed at a loss for what to do. To Jing Xiaoxia and Liu, he said he would have to work things out in his head before he could call them "Mom and Dad."
Wang, now 53, is awaiting charges in a detention center, a low-slung building behind the Bin County police office. He has confessed to trafficking his nephew and the Chi, Zhang, and Yang boys. Bin County police have handed over these four cases to the prosecutors, who have yet to charge Wang. He has admitted to police that he kidnapped two more children, but they haven't been located — neither has Wang's own son — and so Wang cannot be prosecuted for these cases.
Wang's only regret seems to be getting caught, and he says he doesn't feel guilty, not even about his own child. Wearing a blue vest that identifies him as a detainee, Wang tells The Paper that he had found his son a good home, that he would live a good life. He refuses to comment on his son's whereabouts and denies that he ever "sold" him. All he would say is that he had "accepted 5,000 yuan to have another family raise him." He never visited his son since then.
Neither does Wang have any qualms about kidnapping his nephew. To this day, he believes that Jing Xiaoxia and her husband abducted his wife and trafficked her — which they categorically deny. Nevertheless, Wang still gets angry talking about it. In his eyes, kidnapping their son was his vengeance.
During the interview, Wang claims he cannot remember how many children he has trafficked. At one point in the conversation, he claims it was three, then the next moment, four. "Haven't the police only found four?" he says with a sly smile.
Clarification: This article has been updated to better reflect Ren and Fang's legal involvement in Wang's case.
A Chinese version of this article first appeared in Sixth Tone's sister publication, The Paper.
Translator: Owen Churchill; editors: Kevin Schoenmakers and Lin Qiqing.
(Header image: A trafficked child is reunited with their parents during the reunion of the estranged family members held by the Shaanxi Department of Public Security, in Xianyang, Shaanxi province, Oct. 13, 2017. Huang Lijian/VCG)