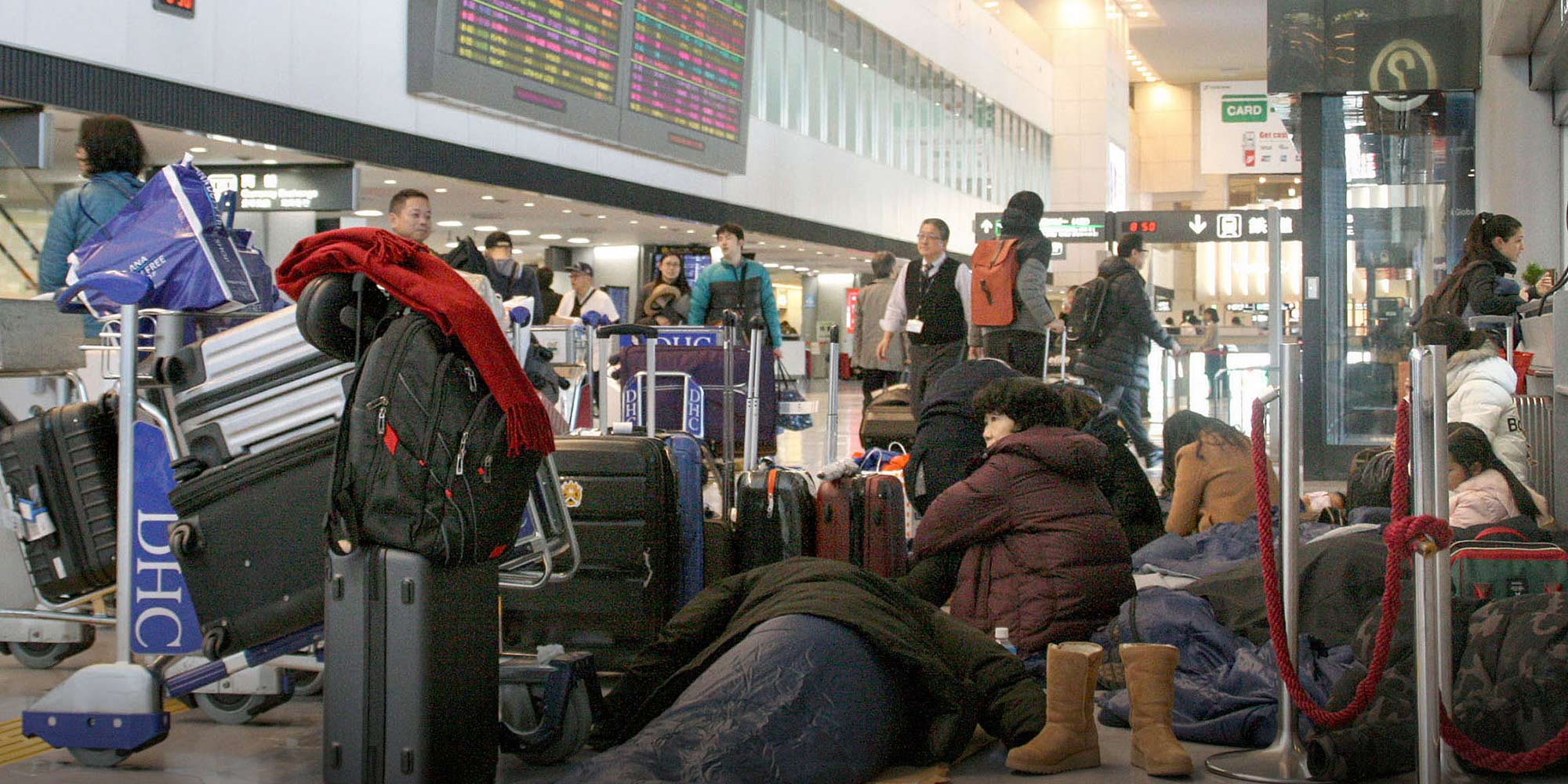 NEWS
State Broadcaster Tells Tourists to Stop Chanting 'China!'
CCTV commentary slams passengers for staging an impromptu display of patriotism as a form of protest.
China's state broadcaster has a stern message for tourists who invoke patriotism to receive special treatment in foreign countries: Do not take thy motherland's name in vain.
A commentary published Friday on China Central Television's website warned citizens against using the country as a "scapegoat" after more than a hundred Chinese tourists chanted the national anthem to protest their canceled flight. They were scheduled to fly to Shanghai on Jan. 24 but ended up stranded due to snowy weather at the destination.
"By putting on a 'Wolf Warrior' style of patriotism improperly and shouting 'China!' whenever you feel like it, you won't gain sympathy from either foreign airports or domestic compatriots," the CCTV commentary said. "Just because the motherland stands behind you when you're in trouble doesn't mean she will take the blame."
Last year, the military-themed blockbuster "Wolf Warrior 2" captivated Chinese audiences, with its protagonist risking life and limb to save Chinese nationals trapped in a war-torn African country. Many critics saw the movie as a projection of China's strength and collective spirit.
Meanwhile, the stranded passengers in Tokyo put their own melodic spin on strength and unity. China's national anthem, "March of the Volunteers," refers to the country's resistance against the imperial Japanese army's invasion during the Second Sino-Japanese War, which ended in 1945. A video posted to microblog website Weibo shows some people chanting, while others physically confront airline staff and police. A male passenger was arrested on suspicion of inciting violence and injuring two airline staff, Japanese media reported.
About 175 Chinese passengers were stranded at Narita International Airport after their flight was canceled, according to a statement from the Chinese embassy in Japan. The airport had agreed to let the passengers stay in the boarding gate area — which usually closes at 11 p.m. — but a scuffle broke out when one of the passengers tried to leave to go find food.
Following the incident, another passenger told a privately run WeMedia account that they were not informed of the cancelation in Chinese or given any transportation or accommodation vouchers. However, Jetstar Japan — a budget airline — told Hong Kong-based Phoenix Television that it is against company policy to provide accommodation to passengers in cases of flight delays or cancelations due to extreme weather.
The Chinese embassy in Japan has asked its citizens to pay close attention to airlines' terms and conditions when purchasing low-cost flights. "Please remain rational in cases of emergency, and avoid unnecessary legal disputes for unduly defending your rights," the embassy said in its statement.
The incident in Tokyo has prompted Chinese embassies in Iran and Sri Lanka to issue similar statements. The latter urged passengers to behave rationally in the event of unforeseen circumstances.
Since their homecoming, the passengers involved in the Tokyo airport drama have faced backlash from some of their fellow citizens. While some slammed the vacationers as "adult infants," others have accused them of abusing patriotism, explaining that invoking the national anthem is strictly regulated by law.
The commentary also noted that such problems have become a growing burden for embassies abroad, given China's increasing number of international travelers. "There is no problem with protecting your rights [if you're] following the rules," it said. "But if claiming your rights becomes excessive, then it will harm your own interests."
Editor: Bibek Bhandari.
(Header image: Passengers wait for their flights at Narita International Airport near Tokyo, Jan. 23, 2018. Kyodo News/Getty Images/VCG)