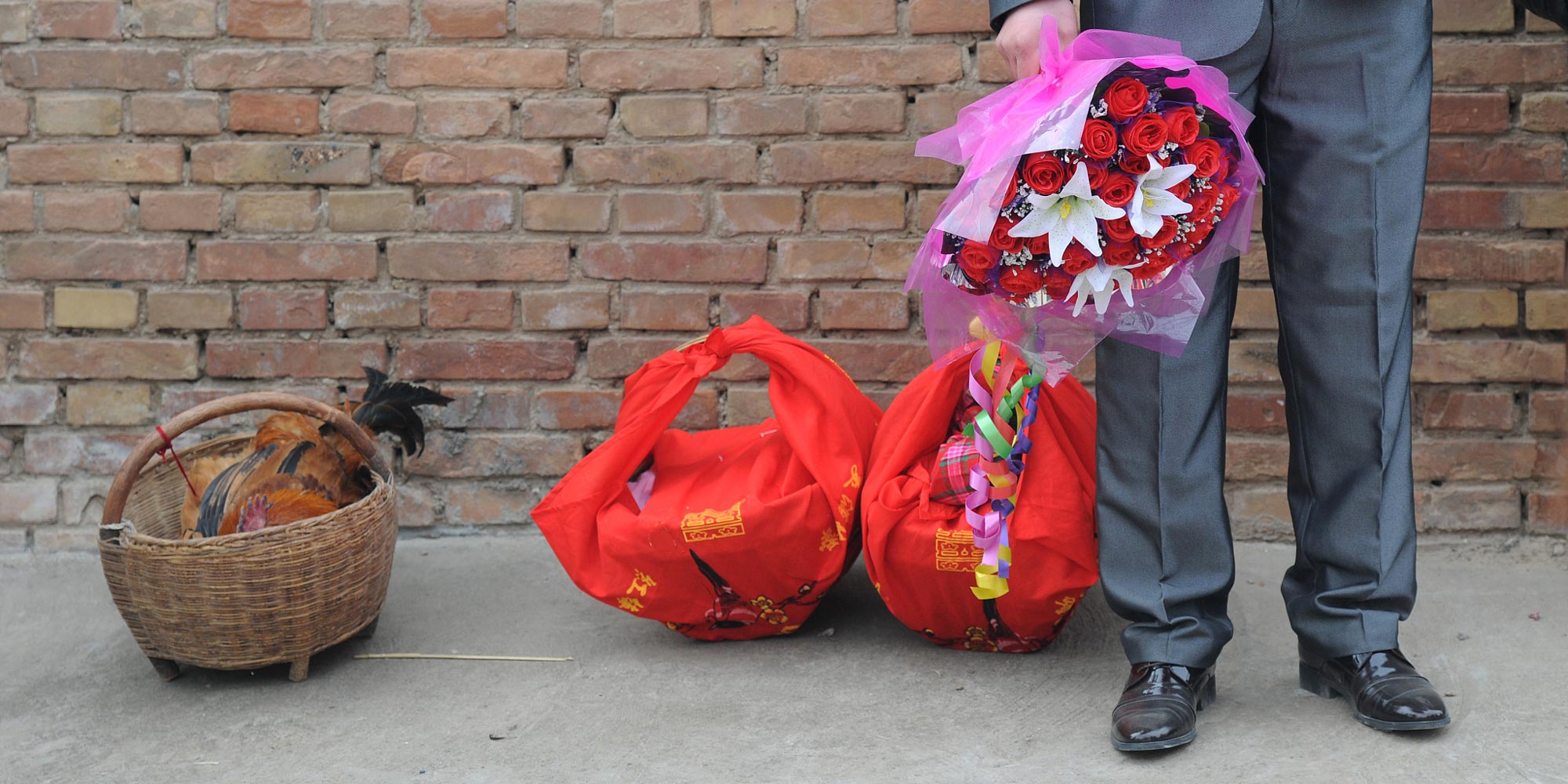 NEWS
Shanxi Couples Receive Cash Subsidies for Getting Hitched
China's pro-marriage agenda takes another step down the aisle.
Northern China's Shanxi province has launched the nation's first subsidy scheme for couples getting married, state newspaper China Women's News reported Monday.
Administered by the China Association of Social Workers, a national body under the Ministry of Civil Affairs, the program marks another maneuver in the country's pro-marriage campaign.
The scheme will subsidize a raft of wedding expenses for local newlyweds, from wedding photography, honeymoon travel, and reception costs to apartment redecoration and even household appliances. For example, applicants can get 5 percent cash back for the bride's wedding dress and 3 yuan ($0.48) for each gram of gold purchased as wedding jewelry.
But there's a catch: Applications must be filed within a year of registering a marriage, and newlyweds must provide proof of purchase from approved stores.
A spokeswoman from the foundation's office in Taiyuan — Shanxi's capital — told Sixth Tone on Wednesday that the foundation hoped the subsidy would stem luxury consumption and overpriced services in the wedding market by promoting "rational" spending on approved services. The scheme has already supported 1,000 couples in an unofficial pilot, and two cities in the eastern province of Anhui have trialed similar subsidies, she said.
"We want to promote this subsidy scheme to the whole nation," the spokeswoman said. She refused to give her name because she wasn't authorized by her superiors to talk to the media. In 2018, she said, Shanxi plans to dole out over 95 million yuan.
The foundation has launched an app for subsidy applications that encourages newlyweds to upload photos of their IDs and marriage licenses, submit bank card information, and file tax receipts for eligible purchases. Once approved, subsidies can be paid within 15 days.
When Sixth Tone tested the app, we found a one-stop shop for weddings. The homepage looks like a wedding gift registry — offering everything from tea and washing machines to Lexus cars and cosmetic surgeries — combined with a Martha Stewart-style wedding guide that covers topics like how to make a toast.
The move is part of a wave of pro-marriage measures that award perks and privileges to heterosexual newlyweds in the hope of spawning another baby boom. (Same-sex marriage is not legal in China.) In the face of a potential aging crisis, China in 2016 relaxed its family planning policies nationwide — but some experts say that this will not raise fertility enough.
With marriage rates falling and divorces swelling, governments across China are worried. Marriage registries now offer free counseling, and in one case last September, a court even barred a couple from divorcing because they scored too high on a relationship test. The head of the Supreme People's Court has said that courts should promote "domestic harmony," and the Communist Youth League has vowed to help young people develop "correct" attitudes toward marriage. Last week, one Beijing district even initiated a government-sponsored matchmaking service to help locals get a date.

Online comments are divided in response to the subsidy scheme. "I want to change my birth place to Shanxi and find a wife," one netizen wrote on microblog platform Weibo. But another commented, "Whether you give a subsidy or not, those who don't want to get married will stay unmarried."
"Something is better than nothing," newlywed Chen Jiali told Sixth Tone. The 31-year-old newspaper editor got married in January and said she would support a nationwide subsidy scheme.
However, Chen also said that she would make her decisions based on her own calculations rather than jump through hoops to be eligible for subsidies. "I don't know why the wedding service companies need to be approved," she said.
Contributions: Qian Jinghua; editor: Qian Jinghua.
(Header image: A bridegroom prepares for his wedding in Yuncheng, Shanxi province, Feb. 3, 2013. VCG)