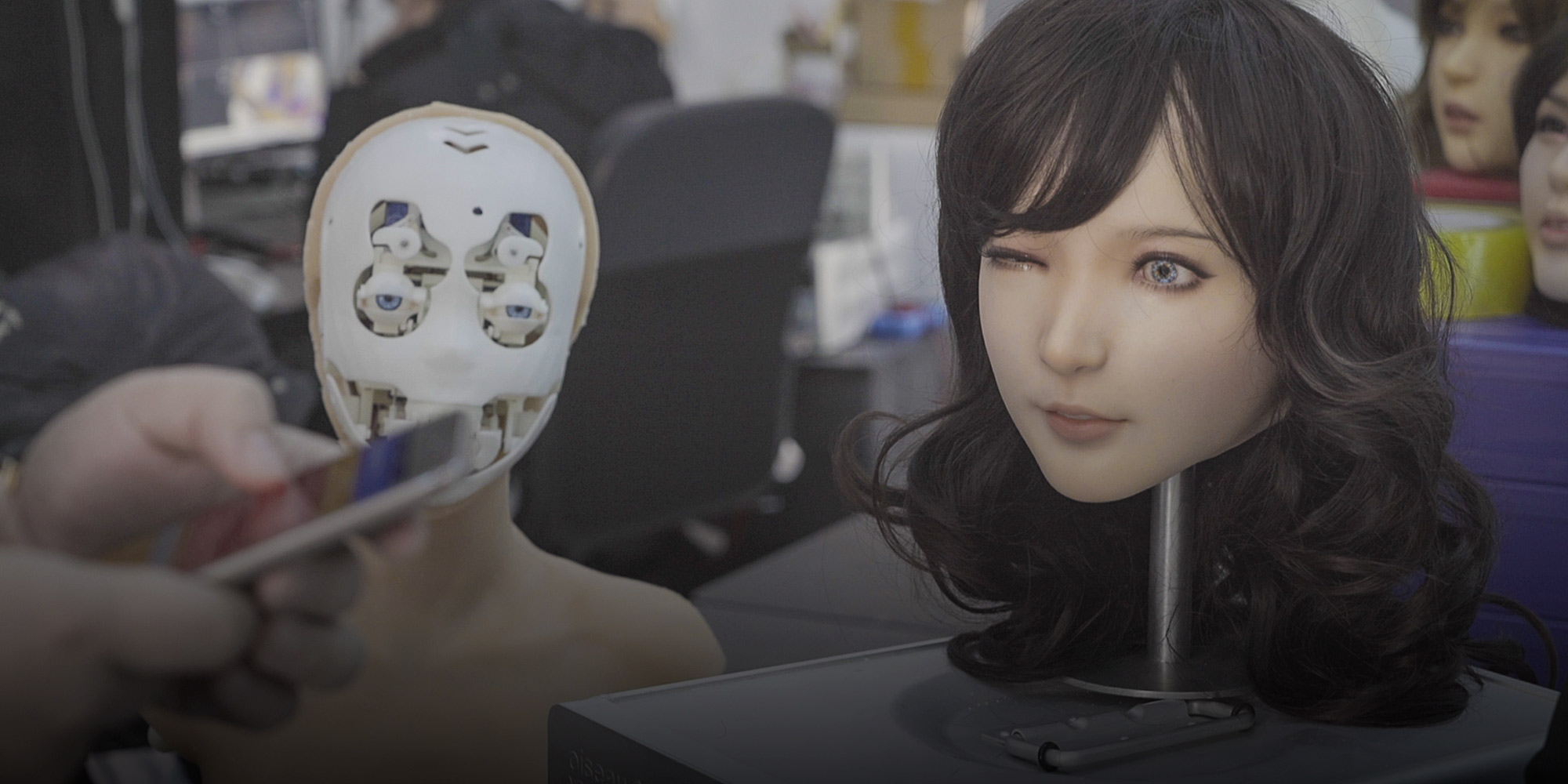 FEATURES
The Sex Doll Who'll Do Your Dishes
An erotic Chinese robot could mend the country's lonely hearts — but the jury's out on whether it will harm gender equality.
LIAONING, Northeast China — In a fluorescent-lit lab packed with headless silicone bodies, a Chinese company is creating a modern version of an age-old fantasy: a doting housewife who's always up for some action.
The product is a sex doll, but not your typical silent model. When Dalian-based EXDOLL launches its smart sex robots later this year, they'll be able to make small talk, turn on the dishwasher, and offer physical comfort, all for around 25,000 yuan ($4,000).
Visitors to the company's headquarters are greeted by one of the smart sex doll prototypes, a humanoid with large white elf ears protruding from her blonde bob. "What's the weather in Dalian like today?" EXDOLL chief technology officer Li Boyang asks the doll, named Xiaodie, during Sixth Tone's visit earlier this month. "It is partly cloudy, between minus 16 and minus 9 degrees Celsius," she replies in a synthesized voice, her jaw not moving.
Kneeling somewhat off-balance on a velvet chair, Xiaodie, whose name means "little butterfly," wears an oversized shirt just sheer enough to reveal her matching lace bra and panties. A few meters away, a 168-centimeter-tall prototype in an ultra-tight nurse uniform and black stockings bows every time people pass, her face so realistic that even her tiny pores are visible. She was modeled off a female staff member, who was fine with it, according to the woman's boss. Next to the prototype sits a desk covered with a miscellaneous collection of 3-D-printed body parts, including a robotic head that can wink, frown, and smile, and a torso that can move its shoulders and chest as if breathing.
Once the stuff of sci-fi movies, sex robots are fast becoming a reality. As artificial intelligence (AI) technology sweeps into numerous industries, sex doll companies are seizing the opportunity to breathe life into their once-silent and motionless silicone effigies. Companies are racing to create the world's first widely available sexbot. In the U.S., a humanoid named Harmony from California-based Abyss Creations has made headlines for her ability to flirt and quote Shakespeare, while Barcelona-based Synthea Amatus has created AI-powered Samantha, who responds to touch. And in China, hyper-realistic silicone doll manufacturer EXDOLL is going head to head with southern Chinese competitor WM Dolls to win the hearts of China's millions of single people.
Founded in 2013, EXDOLL is already partway there. Each year, the company produces around 5,000 customized dolls, priced from 4,000 to 20,000 yuan. Sold both locally and overseas, the company's products account for about half of the 5,000 to 6,000 sex dolls sold annually in China, says EXDOLL marketing director Wu Xingliang, a stocky man with arms covered in tattoos. Customers can choose their doll's eye and skin color — and even give specifications for pubic hair, which is attached by hand. Once the dolls are made, they're shipped off in coffin-like cardboard boxes, their heads and genitals separated from their bodies for users to assemble themselves. Currently, the company's most popular model among Chinese customers is UT145, who at 145 centimeters tall has the body of a grown woman but the stature of the average 10-year-old Chinese girl. There are also full-size dolls with a similar weight to a real woman, male sex dolls, and 100-centimeter-tall "dream girl" dolls — popular due to their lighter weight.
In six months, customers will even be able to choose their doll's personality: "cute" or "mature." (Xiaodie, perhaps unsurprisingly given her appearance, is cute.) This will determine the doll's tone of voice and speaking style. What's more, smart sex doll models like Xiaodie will be able to do basic chores. Like Amazon Echo and Google Home, Xiaodie will use Internet of Things technology to connect to users' smart home appliances, allowing the doll to turn on lights, close the curtains, or power up the dishwasher as her owner commands — and the more users talk to her, the better her answers will get, notes the company's CTO Li, an immaculately dressed engineer with neatly combed hair. EXDOLL worked with leading voice-recognition company iFlytek, based in eastern China's Anhui province, to develop the dolls. All this tech carries a hefty price tag: A model with a voice-recognition system will cost up to 6,000 yuan more than a regular model, while those with changing facial expressions will be even pricier. And that's just the start — Li wants to upgrade the technology to use the dolls in other ways, like as sexy museum guides or medical assistants.
The concept appeals to 25-year-old Cheng, a single graphic designer who lives in Jinan, the capital of eastern China's Shandong province. Cheng, who asked to be identified only by his surname for privacy reasons, stumbled upon sex dolls online while in college and was immediately captivated by their beauty and accessibility. "I just felt happy looking at them, imagining that one day I could dress them in different costumes and take pictures," he tells Sixth Tone.
Cheng spent years chatting with doll owners online and saving up money. Finally, in December, he shelled out 23,800 yuan with some help from his supportive parents to purchase a no-frills EXDOLL model named Mohan. If smart dolls enter the market in the future, he'll definitely save up to buy one, he says. "No offense, but isn't it convenient to have a doll who will open her legs on my command?" asks Cheng, who doesn't see himself getting a human girlfriend in the near future. "It's already impressive that sex dolls can talk now. It'd be even better if they could do chores. Housework plus girlfriend — at least single men won't be upset if they don't find a wife."
But many lonely hearts want more than just sexual satisfaction. EXDOLL marketing director Wu says the company was surprised to discover that only a small proportion of customers used the dolls only for sex — the vast majority of users find that the dolls also provide a sense of companionship that they can't get by talking with other humans. "To their owners, each doll has her own personality and identity," Wu adds.
Others don't have sex with their dolls at all. Prominent sex doll collector Yu Zhenguo, a 59-year-old retired biochemist living in southwestern China's Guizhou province, says he treats his 11 dolls — nine of which were made by EXDOLL — as daughters. Yu, who's better known as "Uncle Detached" among the doll owner community due to his online persona, drives around with his mute dolls when he's out running errands. "It doesn't sound like a bad idea to have someone you can talk to in the front seat," Yu tells Sixth Tone, referring to the new AI-powered models. "Now, even though you know she [the sex doll] is there, you can't really talk to her."
The idea of a smart doll also appeals to Xu Wenting, a 26-year-old publicist from Shanghai who is one of EXDOLL's few female customers. She purchased the UT145 model in December, and unlike most male buyers, Xu sees her doll simply as a piece of art. "I'm not like most doll owners who imagine a personality for their dolls," says Xu. "For me, it's just a model I can play with and take beautiful pictures of." Nonetheless, a doll that can talk and move fascinates her, although she thinks the current prototypes aren't advanced enough. "One day, when a doll with exquisite silicone skin can really think and learn like a human, then it can really be called a 'smart doll,'" Xu says.
The growing number of single people — and growing acceptance of sex dolls in general — will allow AI-powered sex dolls to really take off in China, says EXDOLL's Wu. "We believe that in the short term — maybe five, 10, or 20 years — robots will slowly enter our daily lives and become part of our social circles," he says, sitting in the company's factory where unfinished sex dolls hang like carcasses at a slaughterhouse. "We want to make dolls that can serve people in the future."
It's the companionship aspect that makes prominent sexologist Li Yinhe — no relation to Li Boyang — think sex robots might actually be a good idea. As China grapples with a growing shortage of women, sex robots might provide a solution for lonely men, she says. According to the National Bureau of Statistics, there were 32.7 million more men than women in 2017. Some bachelors take dating classes to improve their luck, while others turn to sex dolls or toys to fulfill their sexual desires. Sales of sex toys on internet giant Alibaba's online shopping platform Taobao surged an average of 50 percent year-on-year from 2010 to 2015 — and over 60 percent of buyers were men. "Where there is a demand, there is a supply," says Li Yinhe. "With no immediate solution to the gender imbalance, sexbots might — to some extent — reduce the need to find a wife."
And sex dolls could ultimately help young women, too, says Li Yinhe. Changing attitudes toward sex have seen more young single women buying vibrators and dildos to satisfy their sexual desires, which could mean male sex dolls aimed at women will become more common as well, she explains. "A female sex doll is essentially a masturbation device wrapped in a silicone body," Li Yinhe says. "If men can have that, it's reasonable to expect that companies will put vibrators in a male sex doll for women."
But female sex dolls designed to do their mostly male owners' bidding in both the bedroom and the kitchen could reinforce traditional gender roles, cautions Peng Xiaohui, a sexology professor at Central China Normal University in Hubei province. "Gender stereotypes are already deeply entrenched in our society," Peng says. "Men are expected to be the breadwinners and take control in the bedroom, whereas women are expected to serve as homemakers and be passive when it comes to sex. A sex doll that can perform domestic chores and is always available for sex won't help free women from existing gendered social constraints."
Back at the factory, questions of gender and sexuality don't worry EXDOLL staff. Wu doesn't feel that their products — even the sex robot that can do housework — objectify women to satisfy men, and he points to the company's two male sex dolls as an example of gender equality.
Instead, the company has other concerns: The mission to bring a sex doll to life hasn't been as easy as CTO Li expected. According to the company's financial report for the first half of last year, EXDOLL lost more than 984,000 yuan, partly due to increased spending on research and development. Still, the smart dolls' facial expressions and speech leave a lot to be desired. It's something sex doll collector Yu has noticed in media coverage of the new models: "It seems eerie that the doll can make sounds without her lips moving."
Unfortunately, limitations in the robots' speech appear to be a particular problem when it comes to their primary function: sex. Xiaodie can respond to questions about her favorite food or color, as well as her name ("You can call me 'Xiaodie' or 'baby,' but I won't answer if I'm moody"). But when Sixth Tone asks the petite, blonde smart doll to tell a naughty joke, her answer is less impressive: "Sorry, I don't understand your question."
Editor: Julia Hollingsworth.
(Header image: Head and torso prototypes designed by EXDOLL are seen at the company's headquarters in Dalian, Liaoning province, Jan. 17, 2018. Daniel Holmes/Sixth Tone)