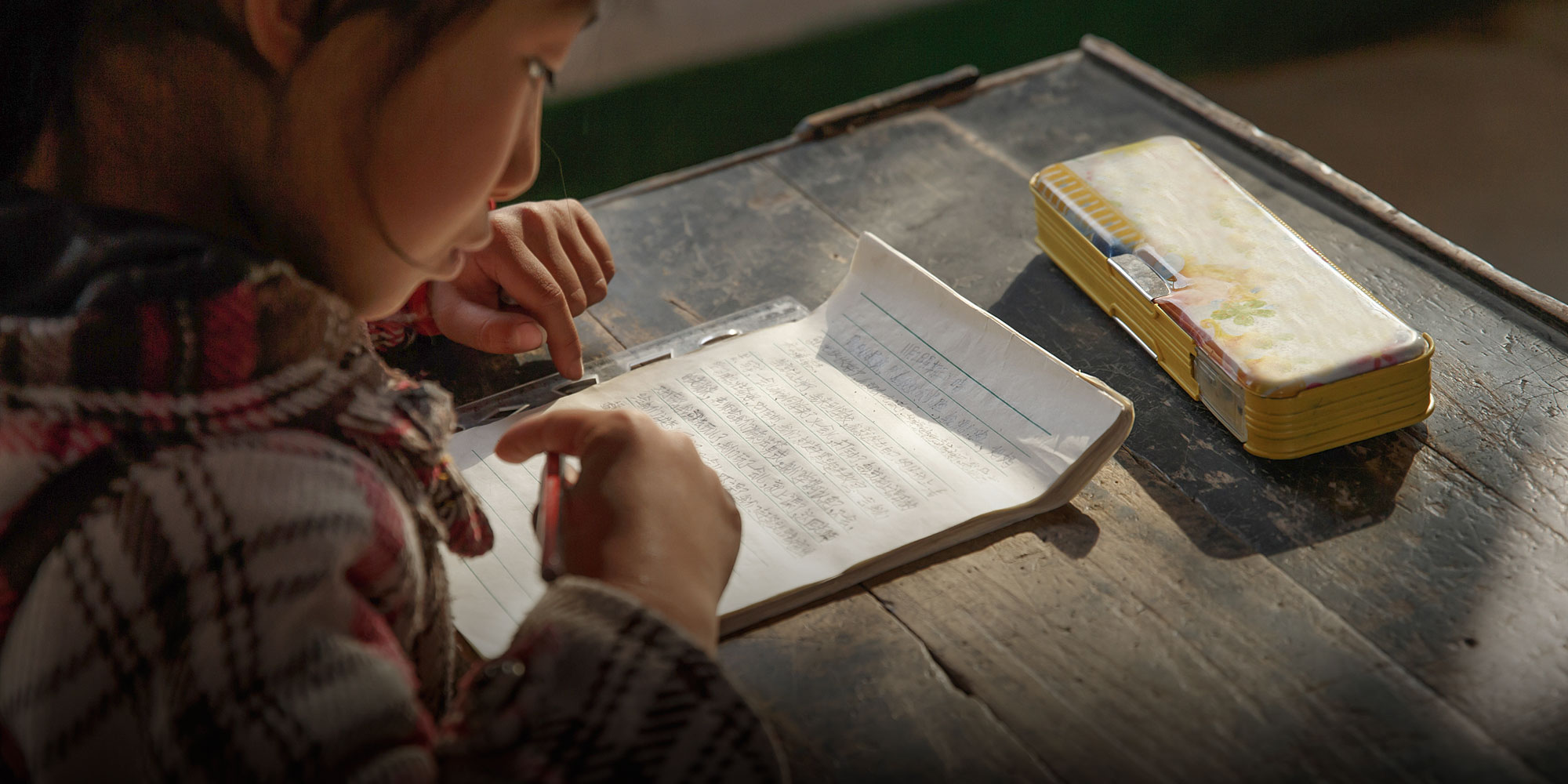 VOICES & OPINION
Rural School Closures Are Leaving Young Students Out in the Cold
Countryside shutdowns are forcing children to travel long distances and live in unfamiliar boarding schools.
Last weekend, Jack Ma — the founder of Chinese e-commerce giant Alibaba and educational philanthropist — suggested that schools with less than 100 students should merge with other shrinking schools in China's vast rural hinterland. Left-behind children should be offered accommodation where possible, he continued.
Official statistics estimate that China has almost 50,000 schools with less than 100 students, spread across 14 contiguous regions — mostly in the countryside — that the government defines as suffering from extreme poverty. Small schools struggle to attract highly qualified teachers and provide students with an adequate education.
Ma's recent proposal was partly inspired by the story of Wang Fuman, also known as "Frost Boy." On Jan. 8, pictures of the 8-year-old student arriving at his elementary school in southwestern China went viral. In the photos, Wang's hair and eyelashed were covered in frost after his 4.5-kilometer trek from home in below-freezing temperatures.
Many of China's left-behind children travel long distances to attend school. Wang spends almost an hour trudging along remote mountain roads to get to class each day. According to Song Dehua, the assistant director of the local education bureau, Wang's school has a total of 167 students enrolled in grades one through six, all of whom hail from nearby villages.
In 2016, a think tank affiliated with Peking University released a report on the development of rural schools. According to the report, rural elementary school students live an average of 5.4 kilometers away from their schools, while the average middle school student lives 17.5 kilometers from their school. Some rural students must spend four to five hours travelling to and from school every day.
There is a deeper and more serious problem behind this phenomenon. As birth rates have dropped and urbanization has accelerated, the number of children living in the countryside has declined. Consequently, rural areas have seen a steady stream of school closures and mergers, part of an educational reform designed to redistribute the spread of elementary and middle schools. From the late 1990s, local governments closed thousands of rural elementary and middle schools and relocated their students. The policy itself remained in effect until 2012.
Along with the economic changes taking place in China's countryside, the move to close and merge schools seems to reflect the so-called hollowing out of rural villages. As students have left the countryside and followed their parents to China's cities, educational resources — even at primary school level — are increasingly concentrated in urban areas. The number of village schools, however, is dwindling.
Local governments have come to realize that by closing and merging schools, they can capitalize on economies of scale. Fewer public schools means that the state bears fewer costs for their maintenance and allows derelict buildings to be put to better use.
According to a study conducted by the Chinese Academy of Social Sciences, the first round of closures and mergers was a largely successful response to conditions on the ground. The policy largely affected villages suffering from material poverty and a paucity of students. However, the report also condemned the lack of focus in the second round of closures, claiming that local governments competed to see who could merge the most schools in order to meet quotas and obtain funding for future boarding schools. Between 2009 and 2012, the number of schools in the southwestern province of Yunnan was halved, as more than 9,000 primary schools and 112 middle schools were closed and their students moved elsewhere.
In September 2012, the State Council — China's cabinet — was scrambling to reassure people that it opposed the mass closure of public primary and middle schools. However, many regions continued the practice.
Generally, the policy has faced four main criticisms. First, governments save money if they run fewer schools, but these costs are often passed on to remote families who then have to spend more on, say, boarding schools far from home. Second, closures contribute to the collapse of China's countryside and the withering away of rural culture. Third, forcing young students to leave their families and live at school puts them at higher risk of developing mental health problems. Finally, replacement bus services designed to ferry children to and from more distant schools have a track record of being unsafe.
Admittedly, the provision of rural education is a difficult issue to resolve. While Ma's abovementioned plan raises awareness of China's schooling problem, it nonetheless fails to take into account the psychological impact of boarding school life on young children. This is why I say that any effort at school restructuring must emphasize the revival of rural "micro schools" — those whose student numbers are in the dozens, not the hundreds. A one-size-fits-all policy of mass closures fails to account for rural China's great diversity of communities and terrains.
According to a study from the Research Institute of Rural Education, affiliated with the Northeast Normal University based in northeast Chinese city of Shenyang, three out of every four school-aged children in China now live in a city or town. Any rural resident enough money to do so now sends their child to a city to study.
The closure and merger policy has been taken as far as it can go and has achieved noticeable results in the process. But we must now respond to its aftereffects. Put simply, as rural schools continue to disappear, students must spend more time commuting to and from school. In remote, mountainous areas, this presents parents and students with serious challenges.
At least for now, the only viable resolution to this issue is to improve the country's boarding school system while we consider ways to revive schools on a smaller scale. Exposing elementary school students to boarding school life at a young age can be cruel, but at the moment it is the lesser of two evils. Otherwise, the only option left for families like Wang's is to move away.
Population forecasts suggest that by 2030, China's rural population will shrink by more than one third, as a further 300 million villagers settle in the country's cities and towns. While academics and officials disagree about how to confront the challenges of mass migration, any policy shift must bear in mind the wellbeing of schoolchildren in the countryside. If we are too dogmatic in our approach, we will do them more harm than good.
Translator: Kilian O'Donnell; editor: Matthew Walsh.
(Header image: Viewstock/VCG)