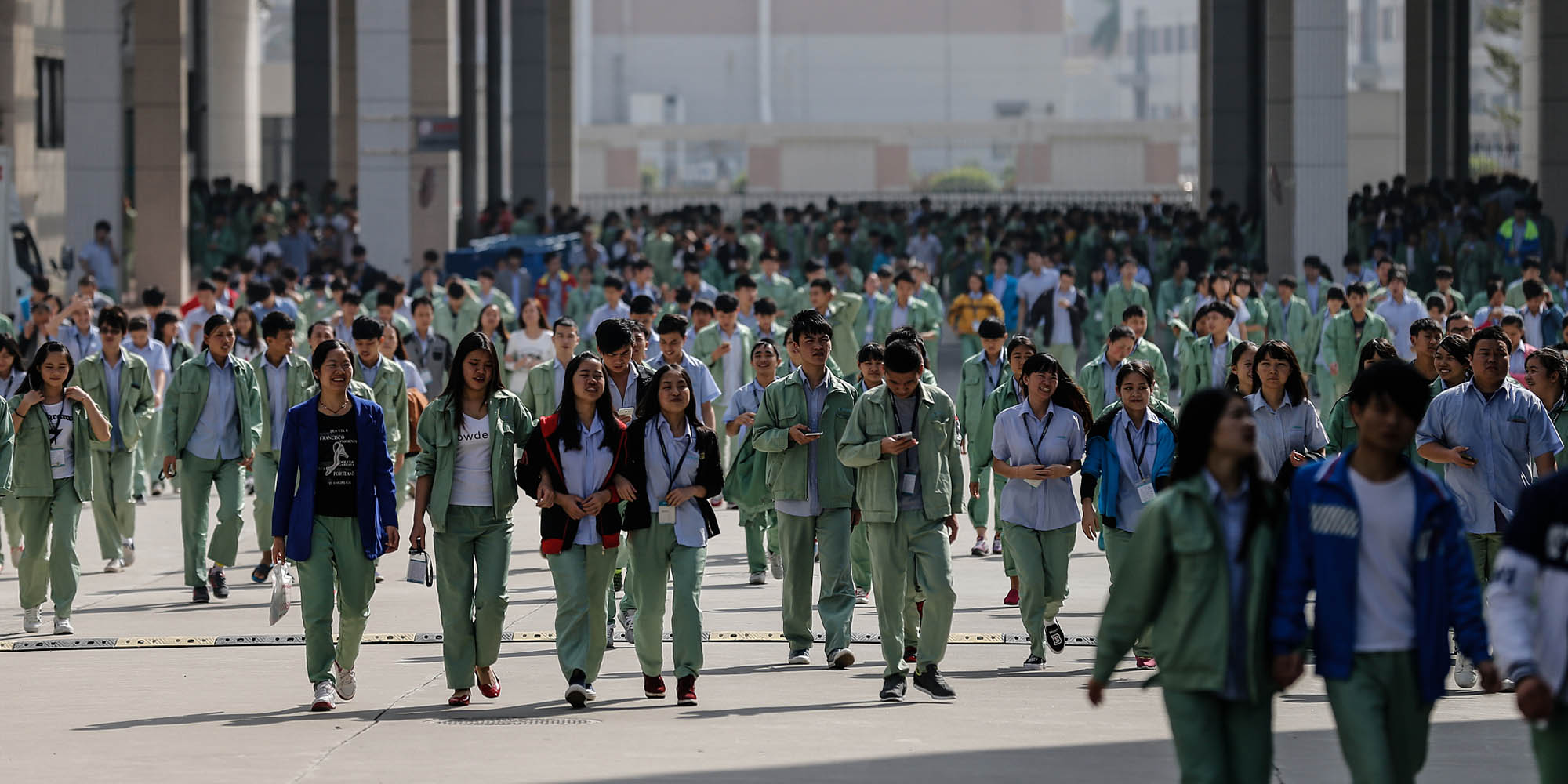 NEWS
Students Fight Back Against Forced Factory Labor
Compulsory 'internships' had university students working 13-hour shifts at an electronics plant.
Hundreds of seniors at a university in eastern China have accused their school of exploiting them as cheap factory labor under the guise of internships.
Though Liaocheng University in Shandong has since terminated the internship program, the incident has again thrust student exploitation into the spotlight, less than two months after Apple discovered illegal student labor at an iPhone X factory in China.
"It is 9:52 p.m. Beijing time, and we just got off work," one senior said in a video published by Sixth Tone's sister publication, The Paper, on Wednesday. "Our teacher forcefully sold us to this place as winter labor."
In a second video posted Thursday, a student says: "They call it a 'winter internship,' but really it's a partnership between the company and the university. While the factory is short of staff [leading up to] Chinese New Year, we help them maintain production."
From Jan. 14, about 300 seniors from Liaocheng University were sent to two electronics companies in Jiangsu province, more than 800 kilometers away, for their winter internships. But soon the students found that the work was not what their teachers had described.
Though they were promised easy jobs and standard shifts of no more than 10 hours, they were required to work an average of 13 hours every day on the factory production line, for lower pay than the facility's staff. "We were like corpses after we finished," said a student in the first video.
Several students fell ill with colds and fevers, and photos of their bandaged fingers and blistered hands circulated online. One student reported suicidal thoughts, according to China National Radio. But when they complained to their teachers, they were told to persist.
Though the students felt the work was not relevant to their majors in communications engineering or environmental health and safety engineering, they were told they had to complete the internships to graduate. The university's complex rules made it almost impossible for students to organize alternative internships themselves, a student told The Paper.
On Tuesday, Liaocheng University published a notice stating that it had acknowledged the students' complaints and terminated the internship. The university will arrange other internships for these students and prevent similar issues from recurring, the notice said. But some students were not satisfied, and demanded an apology.
In an interview with The Paper, the director of the school's education administration office, Zhao Changlin, denied that the institution was treating students like commodities. He said that an internal investigation had shown no evidence that staff were profiting from student internships through commissions.
In the meantime, the topic "no internship, no graduation certificate" began trending on microblog platform Weibo, attracting more than 27 million views by Thursday. Many users shared similar experiences in their comments.
Several cases of intern exploitation have been reported in the past. In July last year, Shenyang Urban Construction University apologized for forcing its students to intern at electronics giant Foxconn for three months. And in September 2016, vocational schools in several provinces were reported for forcing students to work at assigned factories.
In response to cases of student labor exploitation, the Ministry of Education issued a regulation in April 2017, stating that vocational colleges and companies that accept intern placements have to protect students' rights. In addition, internships could not be arranged through a labor agency or other intermediary that charges a commission.
However, a commentary published by Party-backed newspaper People's Daily on Thursday said that the problem has remained pervasive despite repeated prohibitions, and spread from vocational schools to universities.
"If universities and schools transform from institutes that educate and cultivate people to agencies in pursuit of revenue through student internships, [then] student interns will become the biggest victims in this conspiracy for profit," it said.
Editor: Qian Jinghua.
(Header image: Young workers leave a factory at the end of their shift at Gionee Industrial Park in Dongguan, Guangdong province, Dec. 24, 2015. Liu Xingzhe/Sixth Tone)