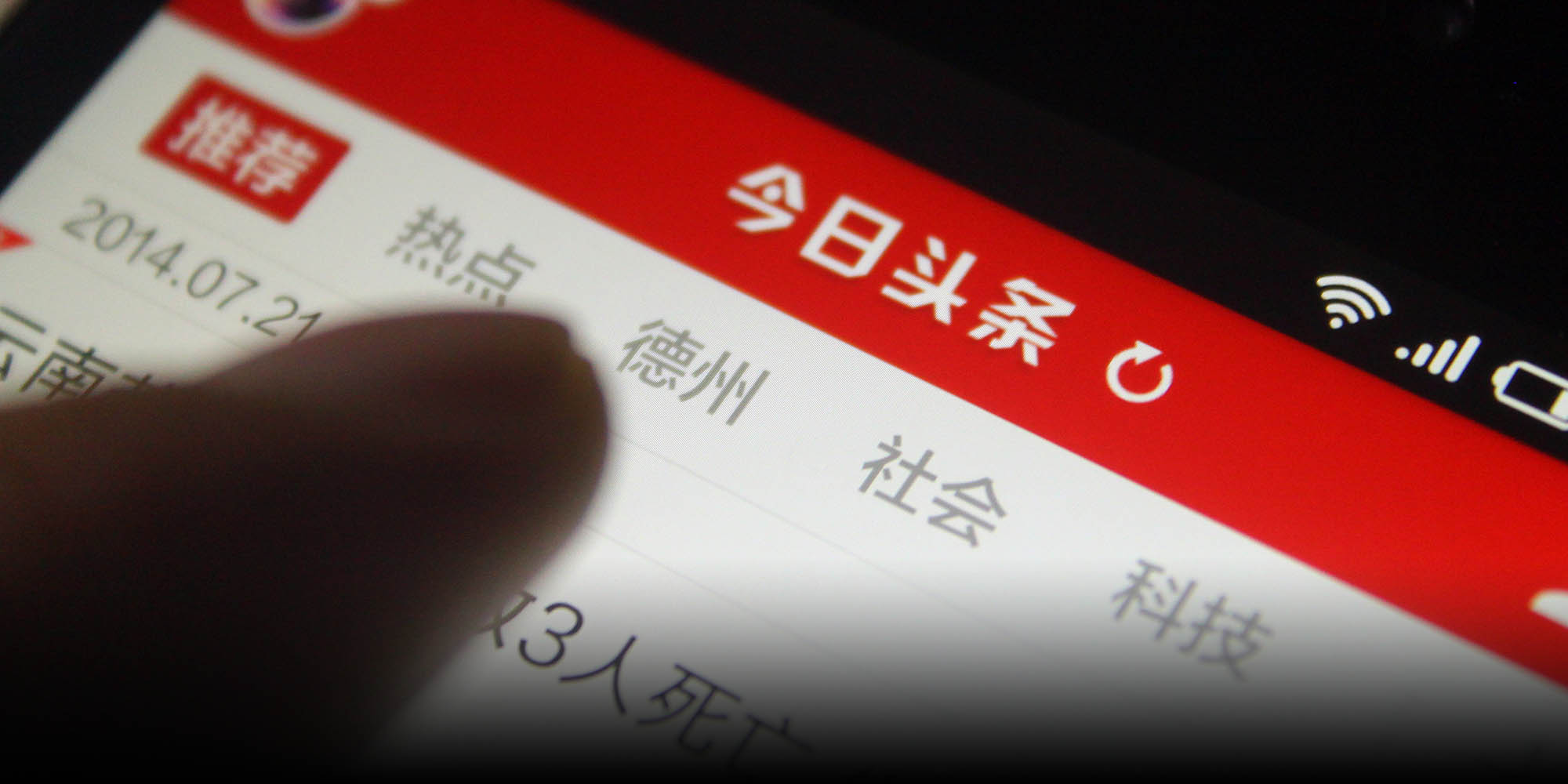 NEWS
Chinese News Aggregator Promises More Transparent Management
Jinri Toutiao will soon publish details of how it reviews content.
In the interest of transparency, Chinese news aggregator Jinri Toutiao will publish a white paper on its content management policies next week, a public relations representative for the company told Sixth Tone. The platform had announced a mammoth purge of content earlier this month, after government took it to task for promoting vulgarity.
Toutiao launched its website in 2012, along with apps for iOS and Android. It has never created original content — rather, it relies on algorithms to extract and display content from media outlets ranging from state news agency Xinhua to tabloid gossip columnists. According to online consultancy iResearch, the app had 192 million monthly active users in December 2017.
"The white paper will focus on introducing the principles, standards, and mechanisms of the vetting that Toutiao's content quality management center conducts," the representative told Sixth Tone. "The purpose is to make both our recommendation algorithm and review mechanism public."
Besides offering a stew of information, Toutiao's algorithm also tracks users' every move, its website advertises, in order to generate customized feeds for each individual.
However, some users say that artificial intelligence is no arbiter of good taste. "Their so-called smart feeds are so unreliable," Su Yongqiang, a 32-year-old tech engineer in Beijing, told Sixth Tone. Su said he used to subscribe to Toutiao before deleting the app because his feed was full of entertainment news that he doesn't care for.
Toutiao has also come under government criticism. In April 2017, the Beijing office of the Cyberspace Administration of China found that a lack of oversight had led to a flood of vulgar content on the platform, and a few months later, in December, officials met with Toutiao's management to discuss the issue. Six channels — including pictures, hot topics, and finance — were suspended for 24 hours.
In response to official pressure, Toutiao purged a raft of content providers: According to a statement posted on its website on Jan. 2, the platform banned or censored 1,413 accounts in the first two days of the year.
Independent new media outlets — termed "WeMedia" because they are often hosted on platforms like Weibo and WeChat — have mushroomed in China in recent years. Yet many have attracted attention from officials alongside their substantial popular followings. Last July, numerous accounts were shut down. For many young journalists, the regulatory environment creates a conundrum: On the one hand, new media outlets can offer more freedom, along with some pressure to create sensational clickbait; on the other hand, traditional media promises old-school rigor, but also more restrictions.
While Toutiao had once proudly broadcast that it employed no reporters or editors, the government's demand for more extensive media monitoring means that it is now recruiting editors to vet and censor violent, sexual, or gruesome content.
Party members are preferred candidates for the positions, according to the company's recruitment ad, which was published in a report from Sixth Tone's sister publication, The Paper. Hiring is still ongoing, the company's spokesperson told Sixth Tone.
Additional reporting: Fan Liya; editor: Qian Jinghua.
(Header image: A mobile user accesses the Toutiao news aggregator app, July 21, 2014. Mu Yizhou/VCG)