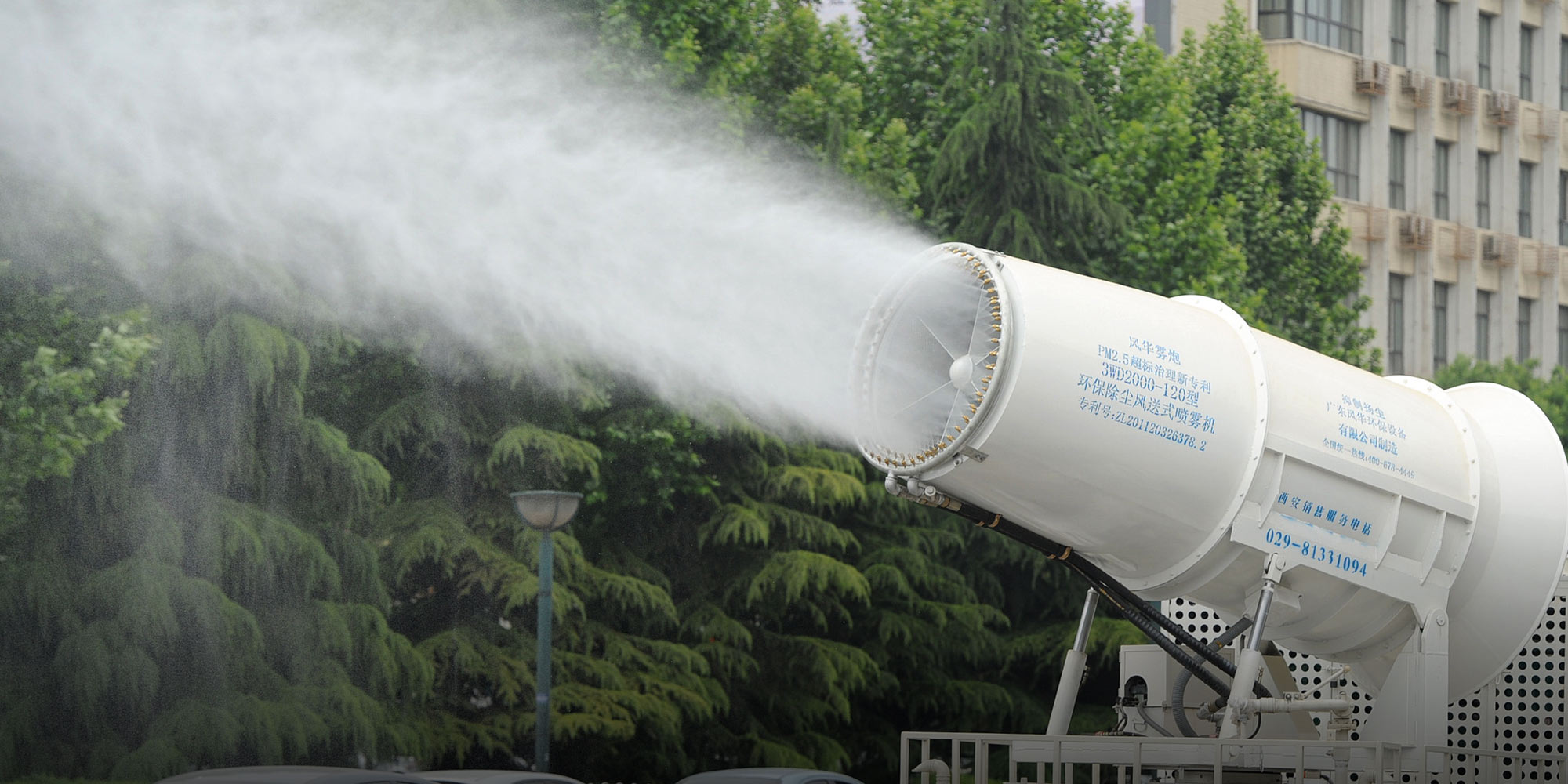 NEWS
Officials Try to Water Down Air Pollution, Freeze Building
Two environment bureau cadres receive formal warnings and a lesson in thermodynamics.
Environment officials in northwestern China have found themselves in hot water after a plot to unscrupulously improve air quality readings was foiled by an overnight freeze.
Photos circulating online show a so-called anti-dust truck spraying its mist cannon onto the red walls of the environmental protection bureau in Shizuishan, a city in the Ningxia Hui Autonomous Region. The work was carried out under cover of night, but the next morning, the seven-story building looked like it belonged at the famous Harbin Ice and Snow Festival: The walls were covered in ice.
Though the case occurred in early December, it was not widely discussed until photos began circulating over the weekend on social media.
Since 2014, some cities in northern China have used mist cannons on particularly smoggy days. The small water droplets absorb airborne pollutants before settling on the ground, thereby improving air quality in the immediate vicinity. According to China Daily, engineers estimate that mist cannons can reduce PM 10 and PM 2.5 — harmful particles in the air — by 20 percent and 5 percent, respectively.
The Beijing Times reported Sunday that an anonymous net user had accused the Shizuishan government of spraying a mist cannon at the environmental protection bureau to get better readings from its air quality sensors.
The provincial-level environmental protection bureau responded in a statement on Jan. 16, saying that the anti-dust truck was "irregularly" deployed, that the water had directly affected the monitoring site, and that "normal monitoring activities" had been obstructed.
The statement added that the director and deputy director of the local sanitation station — which is responsible for the anti-dust trucks — were held accountable for the incident and given "public warnings."
Despite the Ningxia environment bureau having already acknowledged the use of mist cannons, an on-duty employee at the Shizuishan municipal bureau told Beijing Times on Saturday that the "ice sculpture building" was the result of broken water pipes.
The "irregular" deployment of mist cannons has raised concerns over whether they should be used at all. On Sunday, Party newspaper Guangming Daily published a commentary criticizing cities that relied on mist cannons as a Photoshop-like effect to improve air quality.
"The high monetary cost far exceeds the practical effect," the author wrote, explaining that mist cannons do not solve the problem of PM 2.5, and that their effect is limited to a small area.
In recent years, environmental protection has become an important factor in evaluating officials' job performance, and efforts by businesses and governments to distort or falsify air quality readings often make headlines. In 2015, there were over 2,600 cases involving suspicion of inaccurate water, soil, and air quality readings.
In October 2016, an environmental protection bureau in Xi'an, capital of northwestern China's Shaanxi province, used cotton insulation to decrease air quality sensor readings. In the aftermath, seven government officials were given prison sentences of up to 22 months. In January 2017, authorities ordered apps that report the air quality index to cap their readings at 500. And in April 2017, inspectors found sulfur dioxide readings at a factory in central Henan province to be below zero — a practical impossibility.
Editor: David Paulk.

(Header image: A mist cannon used to reduce airborne dust and pollution is seen on a street in Xi'an, Shaanxi province, May 9, 2014. IC)