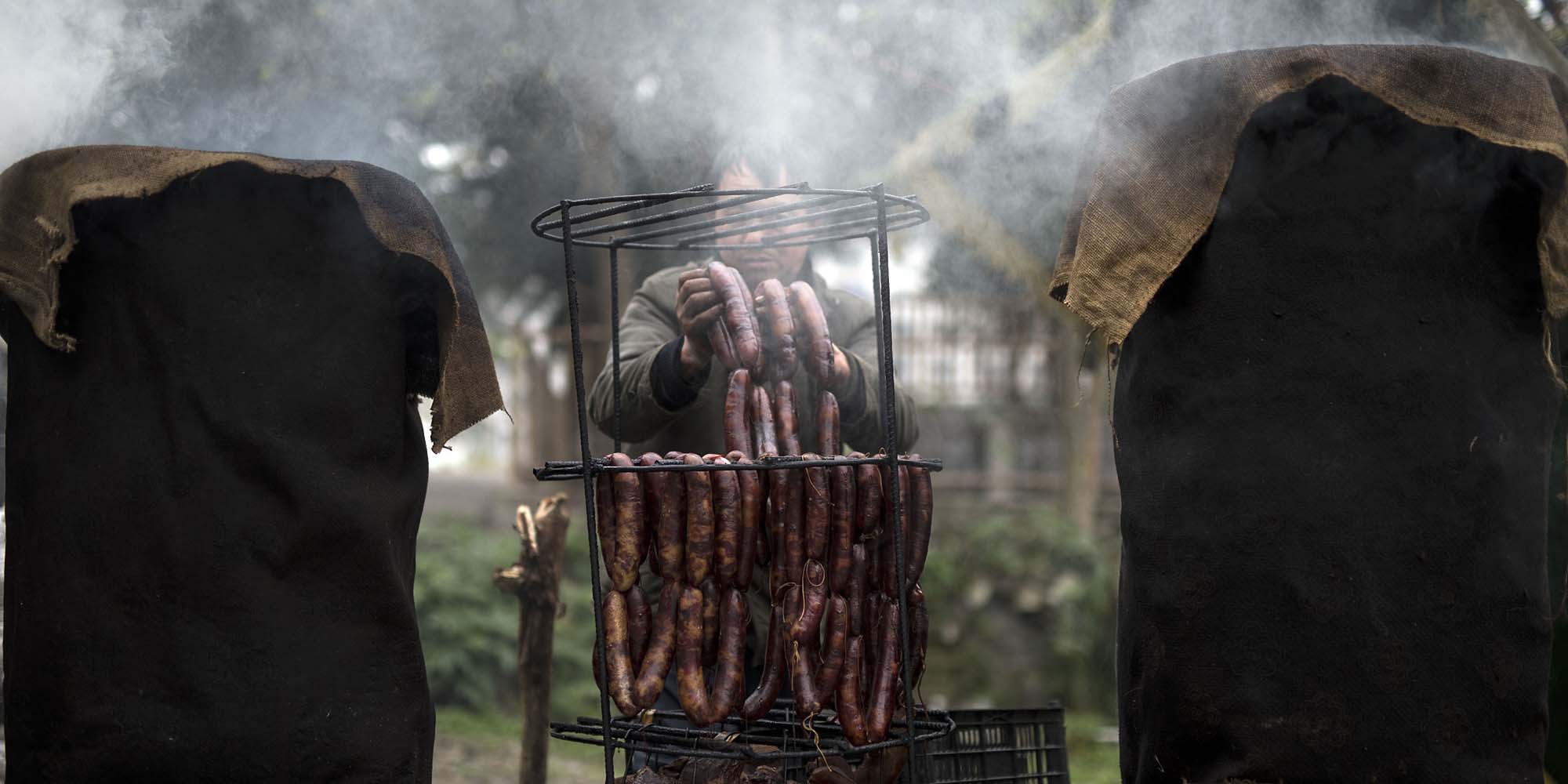 NEWS
After Bacon Ban, Clean-Air Pork Smoker Rekindles Tradition
Chongqing residents relieved to once again ring in the new year with smoked meat.
The southwestern city of Chongqing has come up with a novel way for residents to make their beloved smoked pork without the environmental consequences, state news agency Xinhua reported Wednesday.
During the run-up to the lunar new year holiday in late January or early February, eating homemade smoked pork was a longstanding tradition in southwestern China — especially in Chongqing and its neighboring provinces of Sichuan and Guizhou. People would typically hang their sausages or slabs of bacon above a metal bucket, into which they loaded kindling and firewood that could be set alight.
But meat-smoking became a scapegoat for pollution problems, to the point that Chongqing authorities prohibited the practice in January 2015. The smoking ban ignited heated debate, with many netizens fuming at having such a time-honored tradition curtailed.
Three years later, as the February lunar new year holiday approaches, local authorities have extended an olive branch in the form of a smoking method that doesn't pollute the air.
According to Xinhua's report, the apparatus consists of three parts: a metal smoking box, a cooling system, and a purification system. In cooling and purifying the smoke before releasing it into the air, its density is reduced to next to nothing.
Smoking stations will be set up in 90 locations — including markets, residential communities, and other public areas — in Chongqing's Yubei District. To use the stations, which can hold up to 250 kilograms of meat at a time, residents will be charged 4 yuan ($0.62) per kilogram.
Dan Xuemei, a 58-year-old resident of Ba'nan, Chongqing's other main district, has been smoking pork for over three decades. "Eating this meat is our tradition," he told Sixth Tone. "After the ban, I had to venture out to suburban areas each year in search of villagers who were still smoking their own meat."
In announcing the ban, Chongqing's environmental protection bureau explained at the time that it had taken into account residents' complaints about air pollution, as well as the harmful effects of burning biomass fuels like pine straw and firewood.
"The ban was strict in the central districts," explained Wang Ying, a resident of suburban Beibei District. "There was no big impact on Beibei; I still smoked bacon and sausages every year," the 49-year-old told Sixth Tone. "But recently I've felt that our neighbors are becoming more environmentally conscious. So this year, we found a place far away from people's homes to smoke our meat."
Zheng Jian, head of the Bayu NPO Development Center, an environmental protection group based in Chongqing, was one of the voices appealing for a creative solution as an alternative to the all-out ban.
This new method, he told Sixth Tone, "is a good way to encourage people to live a green and environmentally friendly lifestyle."
Editor: David Paulk.
(Header image: A man smokes pork sausages in Chongqing, Dec. 30, 2014. Bing You/VCG)