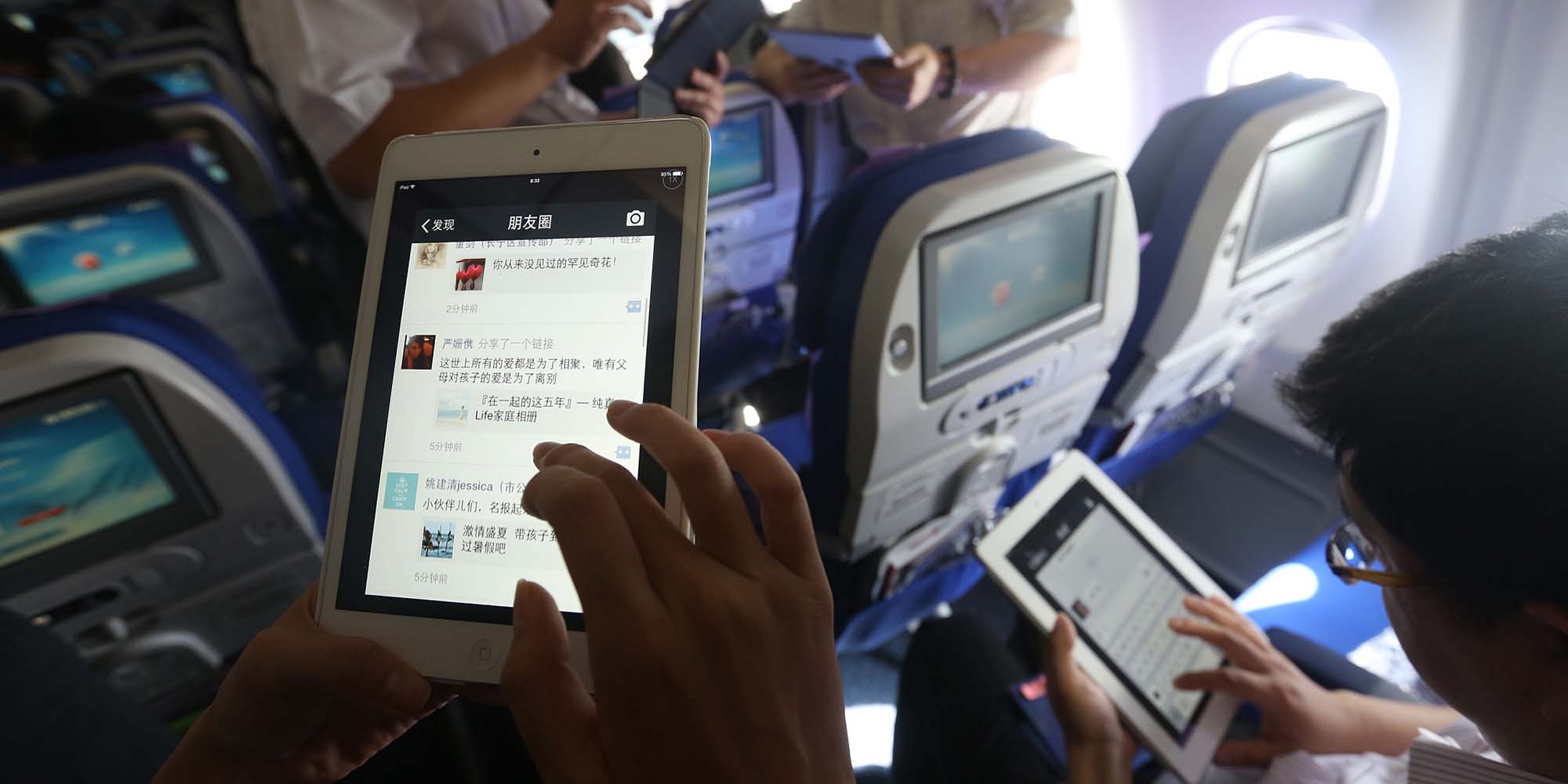 NEWS
Phones on a Plane OK, Chinese Airlines Say
Chinese passengers told they can use devices in flight mode after aviation authority relaxes rules.
Passengers on several Chinese airlines are finally able to use their smartphones during flights — five years after international airlines began making similar moves.
On Wednesday, the country's largest private carrier, Hainan Airlines, and the country's second-largest carrier, China Eastern Airlines, announced that they would allow passengers to use smartphones on all domestic flights, as long as the phones were switched to flight mode. The following day, Xiamen Airlines and Spring Airlines followed. In total, the four airlines carried 220 million passengers last year.
The announcements follow the Civil Aviation Authority of China's move on Monday that lifted its ban on using portable electronic devices such as mobile phones and remote-controlled toys.
Hainan Airlines' new rules came into force on Wednesday, while China Eastern implemented the change on Thursday. In a statement, Hainan Airlines said it had made the change in response to "growing demand from the public," noting that its overseas competitors had already adopted the changes as technological advancements now protect plane communications from cellphone interference.
Zhang Wu'an, a spokesman from Spring Airlines, told Sixth Tone that regulators were still cautious about security issues. "The rules will be relaxed step-by-step," he said.
All four airlines require passengers to use their phones only in flight mode, meaning that while they'll be able to take scenic shots, passengers will still need to wait until they land to make a phone call. Phones with no flight mode function will have to stay off during the whole flight.
Some airlines, including China Eastern Airlines and Hainan Airlines, already offered in-flight Wi-Fi services for select aircraft, but only for laptops and tablets, not smartphones. With the implementation of the new rule, passengers on these services will also be able to surf the internet and use messaging apps on their smartphones.
China has witnessed the world's fastest growth in air travel: In 2016, Chinese carriers transported 488 million passengers, up 12 percent from 2015. However, China's aviation authority has been slow to make changes around smartphone usage compared with other countries. In 2013, U.S. and European Union aviation regulators relaxed prohibitions on the use of electronic devices on flights. Most U.S. flights now allow passengers to access the internet using Wi-Fi while onboard.
Yuan Chao, a 32-year-old photographer and frequent traveler from Shanghai, praised the moves. "Chinese airlines have taken a step toward catching up with international companies," she told Sixth Tone. "I'm looking forward to a future where passengers will have more diverse ways to entertain themselves onboard."
But Li Huaiqiu, a Guangzhou office worker, said the changes would make little difference as most passengers still weren't able to access the internet. Li also said she was concerned about safety, pointing out that many customers probably wouldn't know how to turn on flight mode — or would just ignore the rule altogether.
"I sometimes see people playing on their phone even after the flight attendants have told them to turn them off," she told Sixth Tone.
Editor: Julia Hollingsworth.
(Header image: A passenger checks their WeChat social media feed using a tablet on a China Eastern flight, Shanghai, July 23, 2014. VCG)