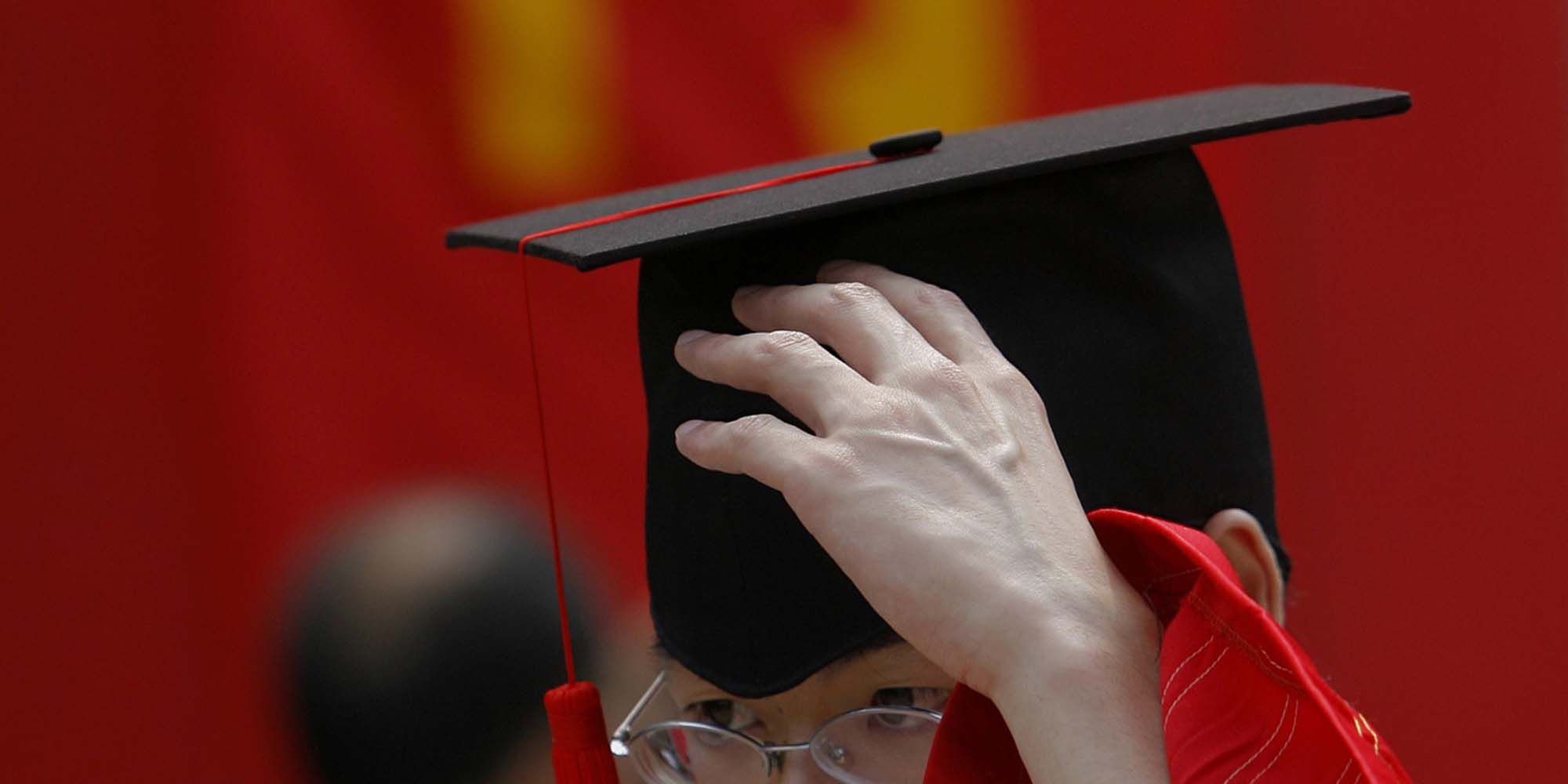 NEWS
Exploitative Professor Blamed in Doctoral Student's Suicide
Girlfriend of Ph.D. candidate says supervisor made him run her personal errands.
The suicide of a pharmacology student at a prominent university in northwestern China has once again highlighted concerns of professors exploiting their students.
On Christmas Day, Yang Baode, a 28-year-old second-year Ph.D. candidate at Xi'an Jiaotong University in Shaanxi province, was found drowned in a river 10 kilometers from campus, China Youth Daily reported Wednesday. While local police determined the case to be noncriminal, Yang's girlfriend, Wu Jing, told Sixth Tone that she and Yang's family believe it was his professor who drove him to despair.
Wu said that Yang had been under great pressure because Zhou Jun, his dissertation supervisor, failed to guide him in his research, and had instead burdened him with administrative tasks and her own personal affairs. Screenshots of text messages Wu posted on microblog platform Weibo show that Zhou frequently asked Yang to accompany her to the supermarket and social activities — and even water her plants and clean her home on weekends.
"Since changing supervisors, I've lived in pain every day," Yang wrote in a message to his former master's degree supervisor in September, according to a chat screenshot.
Wu said the school has vowed to investigate the matter, and that it voluntarily paid 75,000 yuan ($12,000) in "humanitarian compensation" to Yang's family on Jan. 8.
Yang also tried to kill himself in May, Wu said, after Zhou reprimanded him for doing work for another teacher. Wu remembers Yang being unusually quiet at dinner that night. Afterward, he drove into the Qinling Mountains, swallowed pesticide, and threw himself down a rocky hill. He returned home, Wu recalled, with cuts and bruises all over his body.
"As soon as I heard about it, I called Zhou," Wu said. She asked the professor to reconsider her communication methods and said she hoped Yang would survive through graduation. According to Wu, Zhou said she would mend her ways.
Zhou did not respond to emails Sixth Tone sent Thursday afternoon.
Wu said she tried to persuade Yang to change to another supervisor, which Ph.D. candidates who have completed at least one year are entitled to do, according to school policy. But Yang said that in practice this was impossible, as the teachers within his department were former classmates and close friends who "wouldn't dare accept a student from another professor, even if they applied for it."
"In China, it's very hard to change one's Ph.D. supervisor," said Yao Rong, a lecturer at Nanjing Normal University's School of Education Science. "Teachers don't want to offend their colleagues by accepting their students, and I'm not sure I've heard of a successful case," he told Sixth Tone.
"Yang's situation reflects a problem of how to balance supervisors' power and responsibility," Yao added. "Currently, a supervisor's power in the dissertation process is not well-regulated, and they can have a huge impact on whether students pass or fail." Yao suggested that dissertation committees should function more democratically, and that laws and regulations should more clearly define supervisors' responsibilities to ensure academic integrity. In relation to campus sexual harassment, too, commentators have said that unequal relationships between professors and students create fertile ground for abuse of power.
Another of Zhou's students told Sixth Tone that Yang was a "kind and lively" young man, and that "too much pressure" had likely driven him to suicide. Coming from a family of migrant workers in central China's Hubei province, Yang had hoped to become a professor, and was working hard toward this goal. The student would not comment on Yang's relationship with Zhou or agree to be identified by name, citing fears of repercussions from Zhou or the university.
Calls to the publicity and pharmacology departments at Xi'an Jiaotong University on Thursday and Friday went unanswered. In a statement to media on Jan. 9, the school said it would "take the incident as a warning" and "strengthen management."
That was 10 days ago, and still the university has not announced the results of its investigation. "We want the teacher to be held accountable and face punishment," Wu said. Yang's brother, Yang Baojia, also told Sixth Tone that the family wants Zhou to "tell the truth" about all the things she was having Yang do for her.
Cases of professors treating students like secretaries are common in Chinese higher education, even at elite universities. In January 2016, a master's student at Nanjing University of Posts and Telecommunications jumped from the ninth floor of a building after repeatedly voicing concerns that his former supervisor was going to prevent him from graduating. The school eventually canceled the professor's position and suspended his work. A few months later, in May, a graduate student at East China University of Science and Technology in Shanghai died in an explosion at his professor's private factory. The sister of the deceased accused her brother's supervisor of forcing him to work there and preventing him from publishing academic papers.
The online forum Zhihu also sees numerous complaints about student exploitation, though few who post use their real names. One graduate student recounted how she began working for her supervisor during the first year of her master's program, only to receive a single payment of 200 yuan for her efforts. Another anonymous poster wrote that his supervisor had asked him to deliver packages and look after babies.
"In the U.S., I never witnessed or heard about any supervisors bothering students with their private affairs," Tan Hong, who earned a Ph.D. in biomedical sciences from an American university, told Sixth Tone. "The boundary is clear. If there is harassment, they can talk to the department head or call the school's supervisory body, and the school will deal with it quickly." Professors calling students on nights and weekends, she added, would be strictly forbidden.
While others celebrated Christmas with their friends and family, Yang was hard at work in the lab. After missing two calls from Zhou, he replied to her in a text message.
"Professor Zhou, I am still in the lab," he wrote. "I'll visit you in the afternoon." It was the last message he ever sent.
Correction: A previous version of this story said that Yang's master's supervisor confirmed receiving a distressed message from him. The supervisor declined to comment when contacted by Sixth Tone; rather, Wu posted a screenshot of the message on Weibo.
Editor: David Paulk.
(Header image: A Ph.D. student touches his cap during a graduation ceremony at a university in Nanjing, Jiangsu province, June 17, 2007. VCG)