Francis Coquelin, a French midfielder who until recently played for London-based soccer team Arsenal F.C., is probably more used to honing his athletic prowess than perfecting his Chinese.
But Coquelin is one of a handful of players who has featured in the team's video clips on Weibo, China's answer to Twitter, entertaining fans and nonfans alike through upbeat greetings delivered in heavily accented Chinese.
Each day, Arsenal pumps out multiple posts to its 4.6 million Weibo followers, with content ranging from basic match updates to videos of diehard fans — such as Grandma Liu, a 79-year old Arsenal fan whose house is packed to the brim with team-branded items.
When China's social media platforms kicked off in the late 2000s, few foreign sports teams had official accounts, according to Gu Tong, Arsenal's director of international business development for China and Asia. Local fans would use VPNs to access Facebook, Twitter, and Instagram, and then share content from their favorite teams to their China-based networks.
But in the past few years, an increasing number of international sports teams have cottoned on to the value of connecting with their huge Chinese fan bases — and potential future supporters, Gu tells Sixth Tone. Now, some of the top names in sports, from U.S. basketball team Los Angeles Lakers to New Zealand rugby team the All Blacks, are jostling for fans' attention on Weibo and China's most popular social media app, WeChat. American former basketball player Kobe Bryant regularly posts family photos and uplifting English-language quotes to his 5 million Weibo followers.
Every week, Andrew Collins, CEO of Shanghai-based sports digital marketing agency Mailman Group, gets calls from foreign sports teams of varying size and fame, asking whether they should be doing social media on China's platforms.
For many teams, Collins' answer is simple: Yes.
"Everything starts with a strong audience," says Collins, whose agency boasts 45 foreign sports clients, including soccer teams and individual players such as Bryant. "If you don't have that, then it's very hard to engage broadcasters, sponsors, and partners here, negotiate shirt deals — everything." He says that one of the first questions a potential sponsor will ask is how many fans a given team has on Weibo.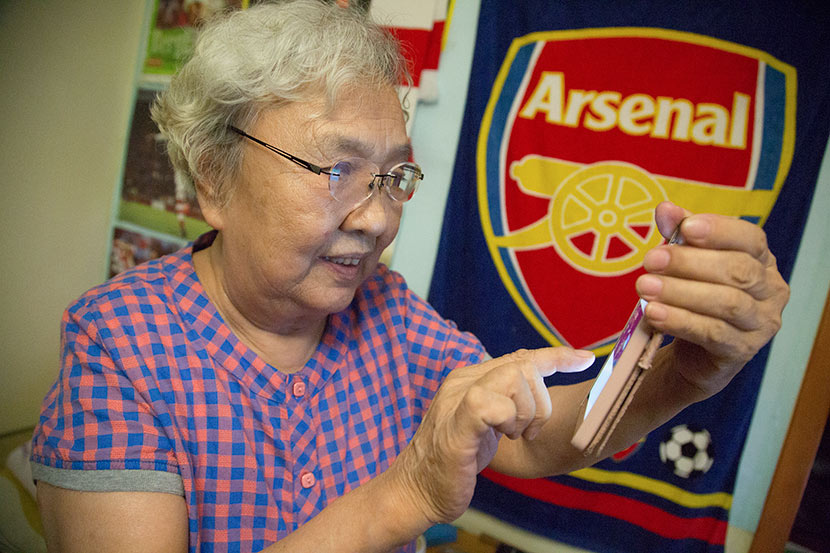 Liu Hongwen, a 79-year-old Arsenal fan known as Grandma Liu, checks Weibo at her home in Beijing after a soccer match, May 28, 2017. VCG
If foreign sports brands can build a solid fan base in China, they could see a huge payoff, including broadcasting rights, sponsorship agreements, and partnerships to start local sports academies. China's sports market, worth 1.5 trillion yuan ($233 billion) in 2016, is expected to see huge growth, in part thanks to President Xi Jinping's grand plans to get 435 million people doing regular physical exercise by 2020 and develop the world's biggest sports sector by 2025.
The lure of China's expansive market has led a wave of lesser-known teams to start fishing for fans in China, says Zhou Wuji, a social media manager at Super Sports Media Group, which holds exclusive TV rights for the Premier League, England's top soccer league, in China. But while big names like Arsenal and Bryant can count on brand recognition to score fans, smaller players trying to enter the market face more of an uphill battle.
Derby County F.C., an English soccer team that is little-known in East Asia, is on the verge of starting its official WeChat and Weibo accounts. The team has been involved in multiple Chinese business ventures in Hefei, in eastern China's Anhui province — since Derby and Hefei became "twin cities" a year ago.
Faye Nixon, the team's head of global engagement, tells Sixth Tone that the team is planning to win over Chinese audiences in Hefei through a diverse range of localized content not necessarily related to soccer, such as fitness videos and an interactive game show-style esports competition. "We're not a big brand in football currently; we're not a Real Madrid or a Manchester United," she says. "We don't have those key players within our team currently that excite the global market, [so] we've got to do things differently."
Yu Linbo, a 22-year-old student from the southern city of Guangzhou, runs a Derby fan page on Weibo that now has over 6,000 followers. He's looking forward to Derby's entry into China's social media space, adding that it will relieve the burden of managing the fan page as people can head to the official one instead. And while the team doesn't have the same name recognition as its more popular peers, he hopes that a growing number of Chinese soccer fans will be won over by Derby when it opens its Weibo account, pointing out that many Chinese sports enthusiasts prefer to support niche teams.
Another reason athletes are flocking to Chinese social media is the flurry of Chinese investment in foreign teams in recent years: Between 2014 and 2016, Chinese buyers invested 2.2 billion euros ($2.7 billion) into the global soccer industry, including a raft of Western soccer teams, according to a 2017 report from a London-headquartered mergers and acquisitions firm. Zhou thinks the soccer team shopping spree has boosted interest in lower-tier teams among Chinese soccer fans, resulting in a spike in foreign teams opening social media accounts to win over China's untapped sports fan market. "European soccer teams have discovered that the Chinese market is like a big cake," says Zhou, referring to how the teams are hoping to grab a slice of the market for themselves.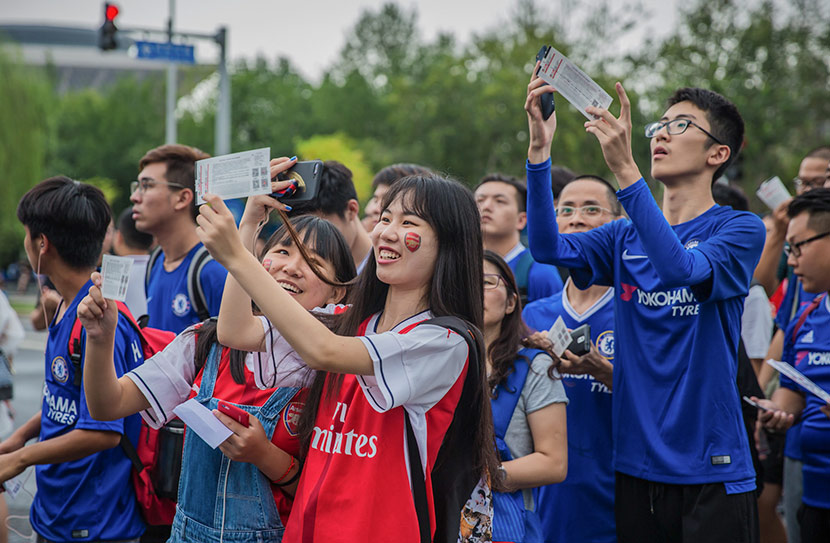 Fans of English soccer teams Arsenal and Chelsea wait to enter the stadium before a match in Beijing, July 22, 2017. Qin Ran/IC
But as more teams venture into Chinese cyberspace, the nation's fans are becoming a harder crowd to please. "Foreigners speaking Chinese aren't that interesting anymore, you know?" says Ding Ziquan, an Arsenal fan in northwestern China's Shaanxi province who runs a Weibo account dedicated to the team. The account — which now has 1.6 million fans — was started in 2011, two years before Arsenal launched its official page on the same platform. Nowadays, Ding is won over by more creative, humorous content such as a 2016 video from English soccer team Manchester City showing players nervously sampling regional Chinese snacks, like duck tongue.
But foreign sports teams' forays into China aren't always smooth sailing. In July, Brazilian soccer player Robert Kenedy Nunes do Nascimento, who plays for English team Chelsea, invoked the fury of Chinese soccer fans and online media during the team's China visit. In an Instagram post, Nascimento captioned a selfie with a Portuguese-language swear word followed by the word "China," and posted a separate picture of a sleeping Chinese security guard with the words "Wake up China, idiot." Nascimento later apologized, but netizens were unhappy and spectators could be heard booing him at a match against Arsenal in Beijing, according to media reports. Zhou, a Chelsea fan himself, believes the incident may prevent Chelsea from being invited back to China for a while.
Social media accounts that rely too heavily on promotional posts can also run into trouble. Stephen Curry, an American basketball player with 3.1 million Weibo fans, is known for sending out more promotions than regular content, leading fans to jokingly refer to him as an "ad warehouse."
Other foreign players and sports squads have had better luck tailoring their posts to appeal to Chinese fans. Tottenham Hotspur, a famous British soccer team whose Chinese social media account is run by Mailman, posts enthusiastic messages littered with cute emojis — a very different style from the team's global communications. When fans follow the team on Weibo for the first time, an automated message sent to the user's inbox introduces the team using the Chinese slang word doubi, which means "endearingly silly." Mailman CEO Collins says he had to reassure the client — who were alarmed at seeing such childish-sounding messages from the account — that this was a normal practice in China.
The trend of foreign sports teams and athletes entering the Chinese social media landscape may be in its infancy. Collins points to American basketball player LeBron James, Swiss tennis player Roger Federer, and Spanish tennis player Rafael Nadal as sports stars who could be connecting with Chinese fans, but aren't. According to Collins, less than 7 percent of NBA athletes and less than 2 percent of Premier League players currently on starting rosters are using Weibo — but all of them are on global social networks. "That just doesn't make sense," says Collins.
For now, soccer team Arsenal's approach to Chinese social media seems to be working for Wang Zhengyang, a 26-year-old media and catering entrepreneur who lives in northwestern China's Ningxia Hui Autonomous Region. Wang was first introduced to Arsenal last year by her friend, the head of a local fan club. Soon after joining the club in November, Wang was nominated to serve as the group's official zuqiu baobei, or "soccer babe," a mascot-type role that involves the odd sexy photo shoot. The fan club meets regularly to watch games and recently held a charity activity to donate sports equipment to a rural school.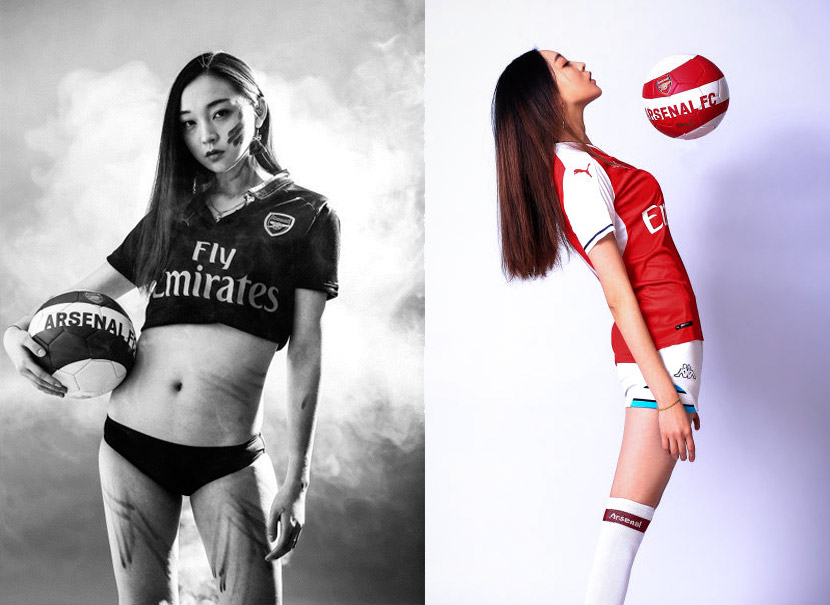 Wang Zhengyang, an official 'soccer babe' for an Arsenal fan club, poses for photos with branded gear. Courtesy of Wang Zhengyang
Arsenal's social media efforts boost fans' enthusiasm for the sport and show how important the Chinese market is to them, says Wang. "For us, Arsenal is not just a team," she says. "The values and spirit that it gives us are more important than results and scores."
But social media manager Zhou warns that no matter how well-known or beloved, teams and athletes need to tread carefully when commenting online or risk having their reputations permanently dented. "For foreign teams or stars that enter China's market, one slip can cause endless regret," he says. "One little comment — so long as it touches upon a sensitive topic for Chinese netizens — might be magnified to another level."
Correction: A previous version of this article said Francis Coquelin plays for Arsenal F.C. He transferred to another soccer team on Jan. 11 and is no longer with Arsenal.
Editor: Julia Hollingsworth.
(Header image: Liu Hongwen, a 79-year-old Arsenal fan known as Grandma Liu, celebrates her team's victory at her home in Beijing, May 28, 2017. VCG)