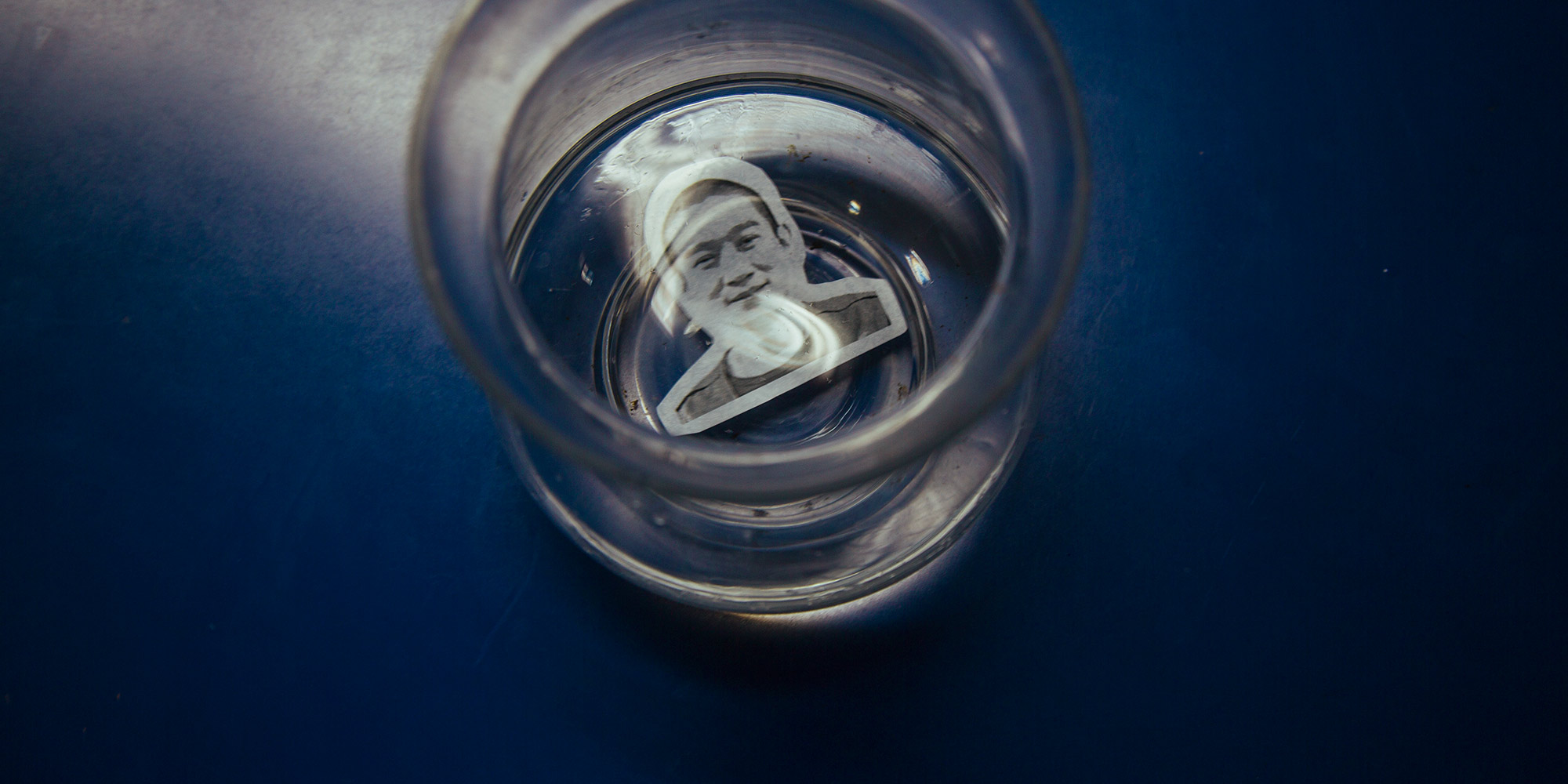 FEATURES
The Rise and Fall of China's Science Superstar
Han Chunyu retracted disputed 'breakthrough' research but still enjoys support from university and local government.
HEBEI, North China — Even though Han Chunyu's car was parked just outside his lab, the scientist wasn't available to talk. "Professor Han is not here," his staff insisted during a recent visit to his lab at Hebei University of Science and Technology (HEBUST) by Sixth Tone's sister publication, The Paper.
Just a year and a half ago, Han was basking in the spotlight. In May 2016, scientific journal Nature Biotechnology published his research on NgAgo, an enzyme he claimed was capable of snipping DNA sequences like scissors to modify genomes. Several years earlier, the scientific community had started using another enzyme, Cas9, to cut sequences of a genome, which would in theory make it possible to create designer babies or identify cancer-causing genes.
NgAgo, Han claimed in his research, was more efficient and precise than Cas9. The novel results thrilled geneticists both in China and abroad. As the leader of the project, Han was quickly hailed as China's new science superstar. Some even said he could be the country's next Nobel Prize winner.
Yet the scientific community has since come to the conclusion that Han's paper was a fraud.
Still, as doubt, criticism, and strong suspicions of scientific misconduct grew in the months after the findings were published, Han's university as well as the local government stood by his contested research, showering him with prizes, awards, and a new research center.
Since Han retracted his thesis from Nature Biotechnology in August 2017, little has changed. Han continues to hold his positions at HEBUST, which said it was not willing to comment for a story on the making of the Han Chunyu scandal.
In December, Gao Fengyan — the Party secretary in Han's department, the College of Bioscience and Bioengineering — refused to speak about the academic review of Han's work. Hu Yongqi, the director of the school's academic board, also declined to comment. An official from the Hebei Association for Science and Technology — a scientific organization led by the provincial Party committee — recently confirmed that Han is still vice chairman of the association.
Before his findings on NgAgo, Han hadn't published any significant research in the almost 10 years since he joined HEBUST in 2006. Among colleagues in the field, he was largely unknown, and HEBUST ranked a mere 274th out of China's top universities.
But when the results of the NgAgo research were published in May 2016, Han's name appeared everywhere — from state newspapers and TV to online science platforms. Experts praised the triumph of an assiduous scientist who struggled through lack of funding. Many likened him to Tu Youyou, who won the Nobel Prize in medicine in 2015 for creating an anti-malaria drug. While most successful Chinese scientists spend a significant amount of time abroad, both Tu and Han had received all their education and training in China.
China's leading universities invited Han to give speeches, and HEBUST included Han in applications for several special awards and allowances, which significantly increased his income and access to funding. Han was also touted as a role model: The university's Party committee awarded him the May 4th Youth Medal, the highest distinction for young people aged 14 to 40, even though Han was already 42 years old. The Hebei Education Bureau selected Han as one of the 10 "most virtuous teachers of Hebei" in 2016.
Even after Nature Biotechnology initially announced in August 2016 that it would investigate Han's work, HEBUST recommended him for some of the country's most prestigious science programs, some worth several hundred thousand yuan in stipends.
Research expenses had put Han 300,000 yuan ($47,000) in debt before he published the NgAgo findings. Yet in many media interviews, he thanked HEBUST for giving him financial support and academic freedom and said he would never leave the university, despite receiving offers from more highly renowned institutions. "It is rare in China that an associate professor like me has labs for exclusive use," Han told Party newspaper Guangming Daily. He also repeatedly mentioned the 250,000 yuan that HEBUST awarded him when he transferred there in 2006 from Hebei Medical University.
When Han came to HEBUST, he oversaw three labs. But after publishing his findings — and amid the subsequent controversy — he was allocated an entire floor for his research, where he reigned over 19 rooms. Giving Han his own floor was just a small part of the university's plans: On the back of Han's accolades, HEBUST received government authorization to build a 224 million-yuan research center dedicated to genome editing on its new campus, funded by the provincial government.
Yet several former students told The Paper that they have little respect for the disgraced professor, and that nobody wants to work in his lab anymore. Han, they claimed, had even tried to recruit new students for the lab under false pretences, saying that they'd be working for a colleague instead.
In an audio recording obtained by The Paper, Han speaks with a student about the services he used to offer as a ghostwriter. For a doctoral thesis, Han says, he used to charge 7,000 yuan, and 4,000 to 5,000 yuan for a master's thesis. In the same recording, Han offers money in exchange for having his wife's name added to a paper as a co-author.
Like HEBUST, the provincial government was eager to sing Han's praises: He was elected vice chairman of the Hebei Association for Science and Technology in July 2016, while HEBUST's bioengineering program was listed as part of the provincial government-funded "double first-class" initiative, which aims to develop world-class universities and academic programs in Hebei.
The National Natural Science Foundation of China (NSFC), which provides funding for scientific research, granted Han 1 million yuan for a two-year research project on NgAgo, to begin in January 2017. Although the NSFC had received reports that Han's work was "not real and not reliable," the foundation neither carried out an investigation nor reconsidered its funding.
To others in the scientific community, however, Han's findings were suspicious almost from the start. By June 2016, a month after the research was published, domestic labs had begun raising concerns over their inability to replicate Han's results.
Soon, respected scientists in China and abroad were questioning the findings. When questions gave way to suspicion, the international scientific community asked Han to publish all the original data and experiment conditions. Even with the additional information, the community still could not replicate his results.
After the August 2016 announcement of an investigation by Nature Biotechnology, Han insisted that other researchers had replicated his findings successfully. Yet there were fluctuations in the number of labs he claimed had succeeded, and he refused to reveal their names. HEBUST promised to prove the legitimacy of Han's findings to the public, saying that Han would verify the results in the presence of a third party. But the university never followed through.
There were also discrepancies regarding Han's account of how he initially discovered NgAgo's potential, a breakthrough he dated to May 2014. His staff, however, said they were unaware of the enzyme's functions at the time. His colleagues had other complaints, too, including his disregard for hygiene: He often declined to wear gloves in the lab, a former employee said, and on two separate visits to HEBUST, journalists from The Paper noted that cooking utensils had piled up in the lab.
Provincial paper Hebei News rushed to Han's defense, criticizing scholars' call for an investigation as hasty. "Han Chunyu is not obligated to reveal the core technology to anyone, nor is there a necessity for him to do so," read the commentary, which was later removed from the news outlet's website. According to regulations from Nature, however, authors are "required to make materials, data, code, and associated protocols promptly available to readers without undue qualifications."
HEBUST then issued an official response, saying one independent institute had successfully replicated Han's work and was in talks with Han over a partnership. "A new scientific discovery usually requires a longer verification period," the HEBUST statement said. The name of the independent institute was never revealed.
In November 2016, leaders of 20 labs around the world questioned the NgAgo findings in scientific journal Protein & Cell. Speaking to Nature's news division, Han said he believed he had discovered things other scientists had overlooked, but that he needed "a little bit of time" and wouldn't give details "because the media in China jumps on everything I say."
Soon after, Nature Biotechnology issued an "Editorial Expression of Concern," generally published ahead of an investigation when serious concerns over research have surfaced — often leading to a full retraction. Seemingly unaffected by the controversy, Han expanded his team and moved into his new lab floor.
In January 2017, HEBUST announced a partnership between the not-yet-constructed 224 million-yuan center and Novozymes, a biotech company based in Denmark. According to the announcement, the center and Novozymes will work on the application and development of the NgAgo technology. The company itself was more cautious, saying that there were signs that the technology could be applicable, but that it was still at a very primitive stage and would require "a lot of work."
On the same day as the Nature Biotechnology retraction in August 2017, HEBUST announced that it would conduct a peer review of Han's research — some 18 months after doubts about its legitimacy started to spread. The university has yet to publish any results of the review.
HEBUST has instructed students and teachers not to speak to media about Han or his research. The only publicly visible sign of repercussions for Han at the university is that a poem praising his achievements was quietly pulled off HEBUST's official website. The poem, published in June 2016, characterized Han as a trailblazer who had climbed the career ladder for years and had finally reached the top: "Sir Nobel," the poem read, "is beckoning to one who was once ordinary."
A Chinese version of this article first appeared in Sixth Tone's sister publication, The Paper.
Additional reporting: Han Shengjiang; translator: Wang Yiwei; editors: Denise Hruby and Wang Yiwei.
(Header image: Wu Huiyuan and Ding Yining/Sixth Tone)