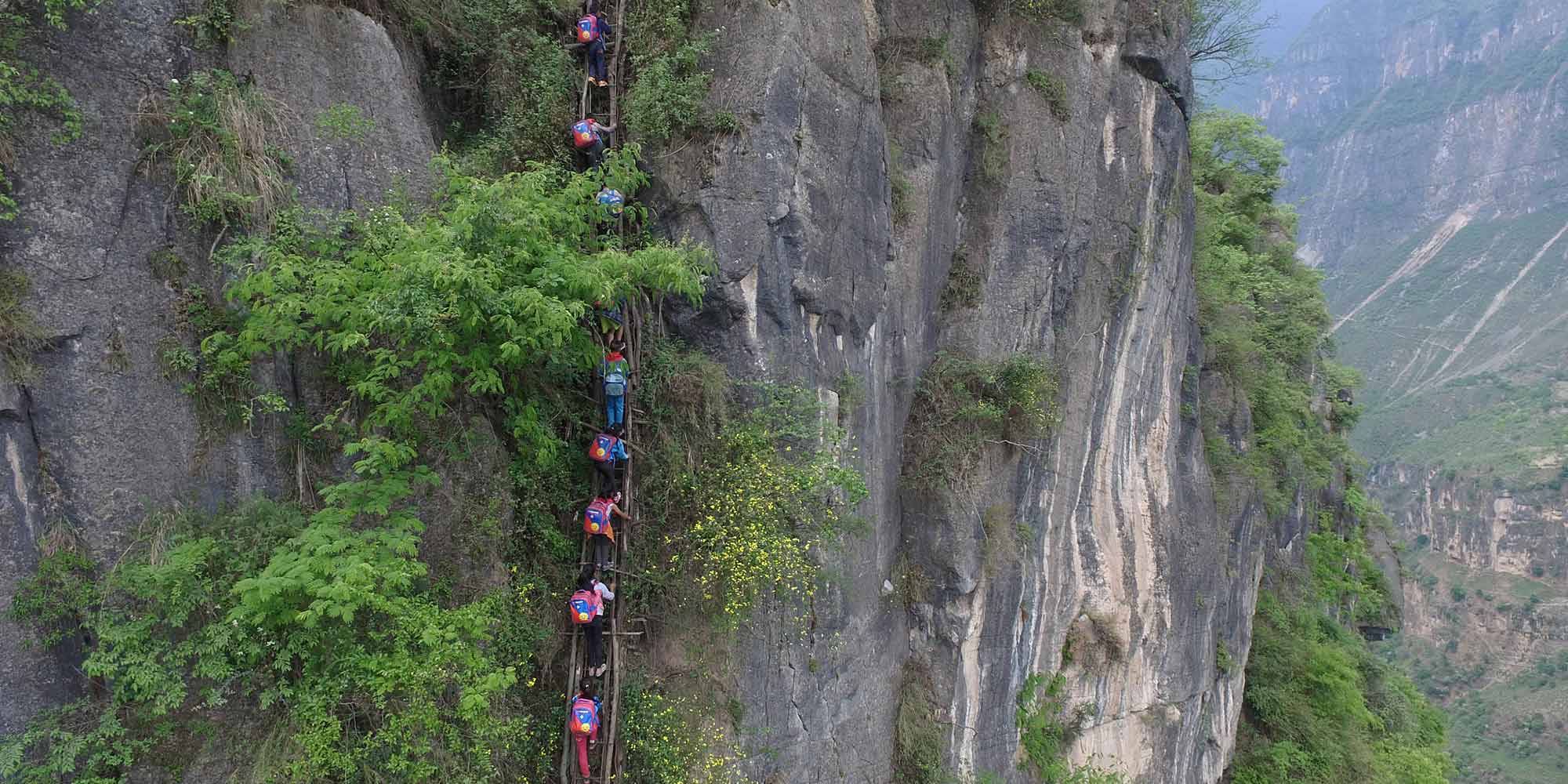 NEWS
Sichuan to Inject $100 Million Into 'Cliff Village' Tourism
While new jobs in tourism will be a welcome change, experts say greater accessibility is more important for improving livelihoods.
A small village in southwestern China whose deadly cliffside path attracted wide media attention in 2016 is set to undergo a radical transformation, with the local government hoping to cash in on what it hopes will become a popular tourist attraction, local media reported Sunday.
The new plan will invest 630 million yuan (nearly $100 million) into tourism projects in a place Chinese media have dubbed "Cliff Village" in Zhaojue County, Sichuan province. Construction will be spearheaded by a newly created government-owned company called Sichuan Provincial Investment Group, in cooperation with a local tourism enterprise. By 2020, the now-rustic locale will have a mountain resort, activities and facilities dedicated to the culture of the local Yi people, one of China's 56 ethnic groups, and an exhibit dedicated to tourism's potential role in alleviating poverty.
When Sixth Tone called Sichuan Provincial Investment Group on Monday, an employee who answered the phone would not transfer the call to a department authorized to comment on the project.
Cliff Village first entered the national spotlight in May 2016, when The Beijing News published a photo essay on 15 children who climbed an 800-meter cliff to get to and from school every day. The stomach-churning collage — showing the youngsters clinging to flimsy-looking vine ladders for dear life — struck a chord in the hearts of many netizens.
Following the eye-catching story, the local government stepped up its efforts to improve the villagers' livelihoods. In February 2017, authorities replaced 17 vine ladders along the cliff with sturdy steel pipes. And in November, a number of other infrastructure-related additions — including a cable car for transporting construction equipment, a renovated preschool, an ATM, and a cell tower — were introduced.
Wang Yonggang, a professor of tourism at Fudan University in Shanghai, told Sixth Tone that the key to developing a successful tourism industry in Cliff Village is to solve the problem of accessibility for locals and tourists alike: Anyone coming in and out of the village still has to navigate an old, winding road through the mountains — a route nearly as perilous as the cliffside ladders. "630 million yuan doesn't seem like enough," he said.
While Wang acknowledged that the village would likely attract tourists from nearby cities, he also suggested that certain problems would remain. "The steep cliff makes the tour site unfit for the too young and too old," he said.
"One can't expect tourism to be a panacea that fixes all the problems," Wang said. While 630 million yuan could certainly prop up the local economy, he added, whether tourism can stave off poverty in the long term remains uncertain.
Editor: David Paulk.
(Header image: Schoolchildren use wooden ladders to scale a cliff face near an isolated village in Liangshan Yi Autonomous Prefecture, Sichuan province, May 14, 2016. VCG)