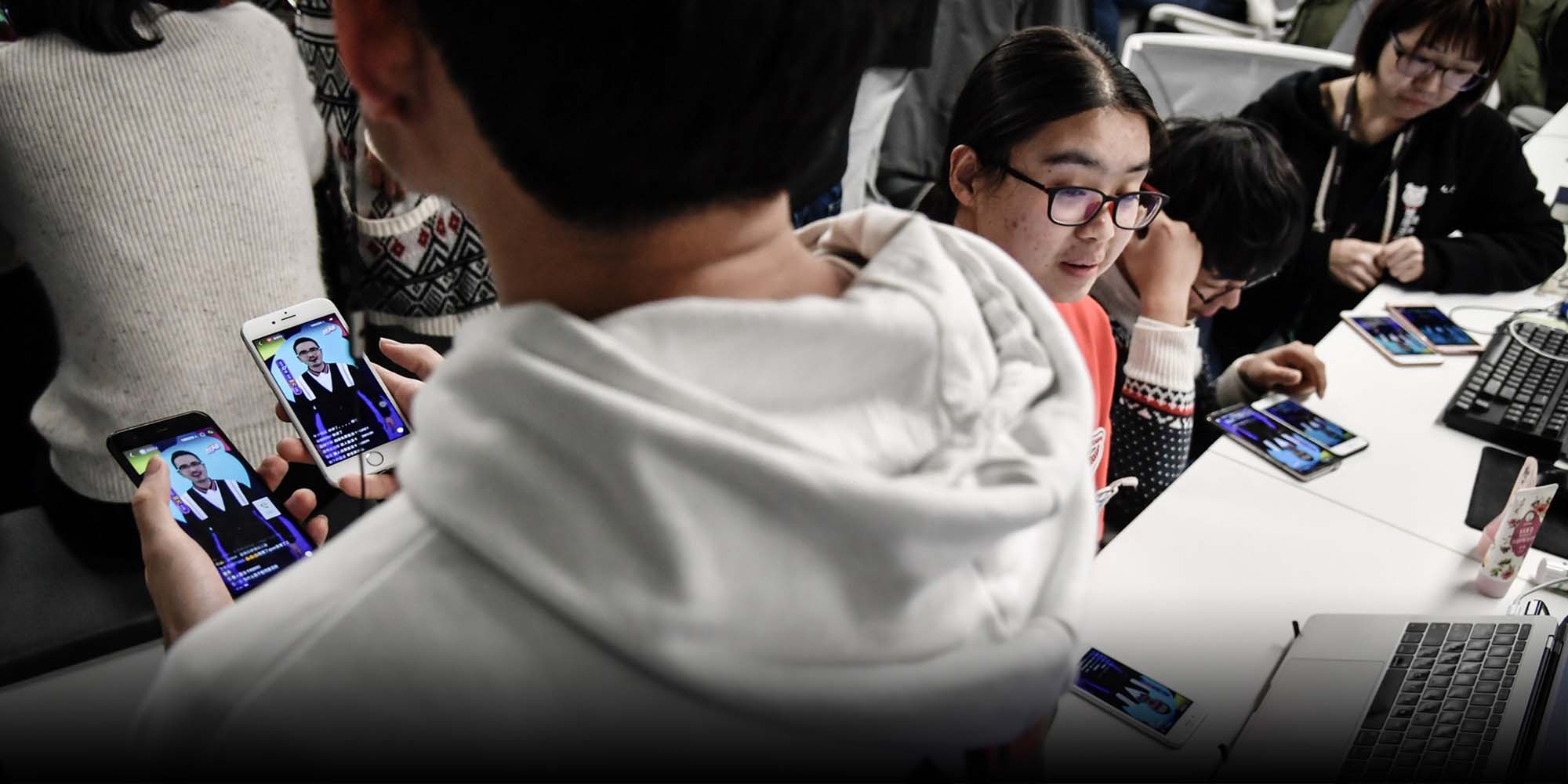 NEWS
Handheld Game Shows Charm China's Wannabe Millionaires
Livestreaming quiz apps have reeled in hundreds of thousands of users hoping to make it rain — and spawned a market for cheating aids.
Some netizens are starting the year off with a windfall, thanks to a spate of new apps that take the television quiz show format and transform it into a livestreamed mobile game.
With celebrity hosts, hundreds of thousands of live players, and millions in prize money up for grabs, mobile game shows — livestreamed on dedicated apps like "Millionaire Hero" — have exploded in popularity since the beginning of the year. The apps have attracted such a mammoth audience that businesses selling cheats and tricks have also popped up, The Beijing News reported Monday.
The premise is simple: Each app broadcasts a few games at set times during the day. An unlimited number of contestants can join to compete for as much as 3 million yuan ($466,000). The live host presents multiple-choice questions — on topics ranging from ancient Chinese history to world geography — that users have 10 seconds to answer. Incorrect answers mean immediate elimination, while those who answer all 12 questions correctly split the prize pool.
Users are encouraged to share their results on social media and invite their friends to play so they can earn "resurrection coins" that allow them to overcome an incorrect answer once per game — a feature that encourages the game's virality.
The mobile quiz game genre took off in early January after business magnate and online personality Wang Sicong invited his 23 million Weibo followers to play "Rush to the Summit Rally" — an app he invested in — for a chance to win 100,000 yuan of his own money.
The platform proved to be so popular that within days, multiple large internet groups were burning money through their own hastily created apps. Some recruited stars to promote and even host games, including Wang Junkai of boy band TFBoys and Chen He, an actor who recently starred in a celebrity gameshow based on the hit game "Honour of Kings."
In a million-yuan game hosted by "Millionaire Hero" on Jan. 6, only 23 players out of over 1 million answered all 12 questions correctly, earning them 43,000 yuan ($6,700) each, according to state-owned China News Service — which also reported that an elderly retiree who grew addicted to the game won close to 8,000 yuan in five days.
But the livestreamed trivia phenomenon has led to the proliferation of services and programs that help contestants cheat, says The Beijing News. Examples include answer databases, voice-recognition search programs that enable users to search for answers on the fly, and plug-ins that analyze search results to give likely answers in a semi-transparent pop-up box superimposed over the game screen. On e-commerce platform Taobao, some vendors sell "resurrection coins."
China's gamers have recently been making headlines for their high rate of cheating in the massively popular survival free-for-all PlayerUnknown's Battlegrounds. In December, data from anti-cheating software provider BattlEye found that 99 percent of rule-breakers were from China. Some in the international gaming community even protested by requesting a region lock to quarantine Chinese players from the rest of the world.
The mobile trivia game hype may not last, as industry analysts are questioning the long-term profitability of the business model. Li Junhui, a professor at China University of Political Science and Law in Beijing, suggested that putting ads into quiz questions may be one way forward. The Beijing News article anticipates that the difficulty of the questions and little money earned by most players may eventually discourage them from playing.
Some apps have also suffered technical issues. The server for one game crashed on Jan. 5 when over a million players crowded onto the platform at once, and fans and experts have raised security concerns over how the apps handle users' financial information.
Extravagant mobile app game shows may also soon find themselves under the same state scrutiny that broadcast and online programming faces. Media watchdogs recently warned television stations from chasing ratings with celebrity-driven content that lacked "ideological understanding" and tightened rules for imported reality shows — though shows that celebrate knowledge, even with a dash of covetousness, might fall on the right side of political correctness.
Editor: Qian Jinghua.
(Header image: Mobile users play the quiz app 'Millionaire Hero' at an office in Beijing, Jan. 10, 2018. IC)