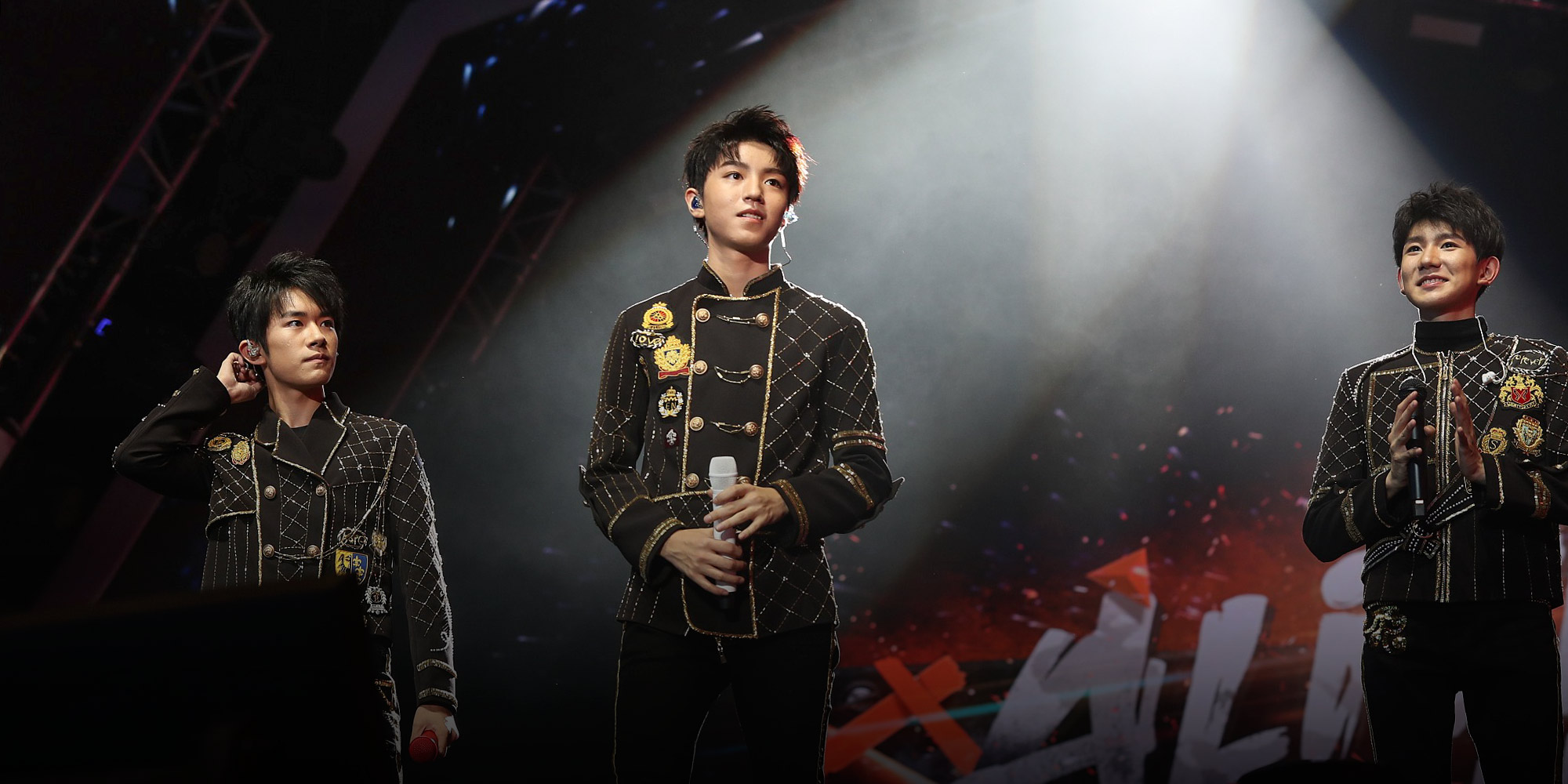 NEWS
Teen Stars and Red Films: What China Baidu-Searched in 2017
The most searched online terms in China last year ranged from balding millennials to addictive mobile games.
This article is part of a series looking back at some of the most noteworthy China stories of 2017.
If China's largest search engine is anything to go by, 2017 was a year of crushing heartbreak and gripping political dramas.
Last year, the nation's 750 million internet users took to Baidu for information on everything from premature hair loss to fresh celebrity couplings, according to the company's annual list of top search terms published last month.
Here are some of the top searches from Baidu, providing insight into what had Chinese netizens in stitches, gnashing their teeth, or reaching for tissues over the past year.
Heartbroken Netizens
Pop star Lu Han — who's often referred to as China's Justin Bieber — already holds the Guinness World Record for most comments on a Weibo microblog post (more than 100 million for a post about English soccer squad Manchester United, in case you were wondering). So it was no surprise when the former member of K-pop band EXO broke the Chinese internet again in October with a revelation that crushed fans: He had a new girlfriend, Chinese actress Guan Xiaotong. Weibo crashed temporarily as heartbroken netizens swamped the website.
While some fans threw their support behind the relationship, others reacted with dismay and disbelief. "Please like my comment if you think this is not real," reads the most upvoted comment, which attracted over 3.8 million likes.
Fan Warfare
Teen boy band TFBoys has been immensely popular since its founding in 2013, and last year was no different for the disarmingly sweet trio, who sport matching bowl cuts. The three members — Wang Junkai, Yi Yangqianxi, and Wang Yuan — spent much of the year appearing on reality shows, fashion magazine covers — and in Wang Junkai's case, even a poster for a Hollywood blockbuster that he didn't actually star in. But 2017 also saw a deepening tension among each of the boys' fan factions, or weifen — a Chinese term for fans who exclusively support a certain member of a group.
Since the band first hit the stage four years ago, each member's weifen have harbored grudges against the other members and their respective fans, accusing the other band members of receiving more support from agents and stealing the spotlight from their most beloved member. The rifts came under the microscope in September when the trio's agents announced plans to set up separate studios for each boy to give them more personalized development. TFBoys' agents insist the trio are still together and haven't gone the way of other disbanded pop groups. But the news provided some relief for weifen, who could take comfort in knowing the teens wouldn't have to be joined at the hip.
Corruption Hunters
China's anti-corruption drive against its leaders shows no sign of abating, so it's fitting that last year's most searched TV series was "In the Name of the People," a 55-episode political drama featuring a prosecutor who attempts to unearth corruption.
Sometimes compared to American series "House of Cards" for its depiction of fictional political leaders, the Chinese series represented a rare green light from authorities to tackle a topic usually considered off-limits: corruption. The fictional show, which was produced by the office of China's top prosecutor, attracted attention for its strong resemblance to President Xi Jinping's ongoing anti-graft campaign.
Since it debuted in March, the series has been viewed nearly 7.7 billion times on video-streaming website iQiyi. In several cities and state-owned enterprises, Party officials were even forced to watch and write reviews of the show.
King of the Skies
It might have seemed like just another flight to the outside world, but to Chinese netizens, the maiden flight in May of China's first homegrown passenger jet — the Comac C919 — was cause for celebration. Although some parts of the plane were produced by foreign companies, Chinese plane enthusiasts saw the symbolic flight as a significant step for the country's airline industry in its bid to become self-sufficient and challenge the dominance of Boeing and Airbus in the global jet market. "China's soaring to the sky!" wrote one optimistic aviation fan on Weibo. "Everything will become better and better."
Developed by state-owned aerospace manufacturer Commercial Aircraft Corporation of China, the jet can carry up to 168 passengers and aims to take on Airbus's A320 and Boeing's 737-800, two of the most popular airliners in the world. The Comac C919's second prototype successfully completed its maiden flight in December, and the jet maker has already secured 785 orders.
Balding Millennials
Once the little emperors and empresses of their parents' hearts, the generation born in the '90s are now struggling with school, careers, relationships — and hair loss. In September, a Weibo topic titled "The first batch of post-'90s are going bald" went viral. The post was apparently rooted in reality: During last year's Singles' Day online shopping festival, one imported anti-hair loss shampoo sold out on e-commerce giant Alibaba's online bazaar Tmall in less than half an hour.
Doctors say Chinese people are losing their hair earlier than ever before, according to an August report in state-owned magazine China Newsweek. A survey conducted by Tsinghua University in October found that 60 percent of student respondents suffered varying degrees of hair loss.
Faced with evidence of their fading youth, some members of the post-'90s generation have given up trying to stay young altogether, instead adopting a monkish lifestyle. Rather than obsessing over staying current, some millennials are now embracing habits typically associated with the elderly: Eating lighter meals, drinking less alcohol, wearing warmer clothes, and going to bed early.
Box Office Warrior
Chinese blockbuster "Wolf Warrior 2" took local audiences by storm last summer, becoming the biggest box office success in mainland Chinese history. Directed by martial artist Wu Jing — who also starred in the film — the patriotic action movie tells the story of a former soldier who saves Chinese citizens and local factory workers from mercenaries in an African war zone.
Since it premiered in July, the movie has raked in 5.68 billion yuan ($878.2 million), more than 10 percent of China's total box office takings last year and twice the earnings of the runner-up, U.S. action movie "The Fate of the Furious," according to the State Administration of Press, Publication, Radio, Film, and Television. While the film's patriotic tone struck a chord with Chinese moviegoers, the movie came under fire for reinforcing stereotypes and generalizations about Africa.
But China is hoping the film's winning streak will continue: "Wolf Warrior 2" has been submitted in the best foreign-language film category at the 2018 Oscars.
Poisonous Yet Popular
With 200 million users, "Honour of Kings" was a shoo-in for game of the year. Developed by tech giant Tencent's game division and launched in 2015, the multiplayer mobile game saw users select a historical Chinese persona and battle to take over the other team's base.
The game — which is similar to Tencent-owned "League of Legends" — attracted both male and female players and became a cultural phenomenon. But it didn't win over everyone: State-run newspaper People's Daily slammed the game as a "poison" and "drug" that was addictive to teenagers. Another Party newspaper criticized the game for inaccurately representing the country's historical heroes. Tencent has implemented restrictions for younger players, limiting children under 12 to one hour of play a day, and those between 12 and 18 to two hours.
Tencent is hoping the buzz around the game will continue this year. In December, the company launched an international version of "Honour of Kings" under the title "Arena of Valor" in North America. In the global iteration, characters named after historic Chinese heroes have been eliminated to avoid putting off international players.
Editor: Julia Hollingsworth.

(Header image: Teen boy band TFBoys give a performance in Nanjing, Jiangsu province, Aug. 11, 2017. VCG)