Recently, Wang Hai, one of China's best-known professional fake-goods hunters, claimed that a judge had ruled against him in a fraud lawsuit he had filed against a food company, Hebei Yangyuan Zhihui Beverage Co., Ltd. Wang alleged that the company had falsely advertised a walnut-based product as having intelligence-enhancing properties. The court, however, ruled that the product's quality met the required nutrition and safety standards, and therefore, there was insufficient evidence to merit a lawsuit.
To no avail, Wang counterargued that whether the product met the standards bore no relation to the question of whether it was falsely advertised. Distressingly, his defeat in court suggests that authorities are gradually closing off legal paths available to professional fakes hunters.
Fake-goods hunters earn money by buying consumer products they suspect to be unsafe, counterfeit, falsely advertised, substandard, or past their expiry dates, and then suing sellers or manufacturers for compensation. Hunters may work alone, in small groups, or in large commercial firms. They all have one thing in common, however: They are extremely knowledgeable about consumer law.
China's fakes hunters first appeared around 1995, a year after the government issued the country's first consumer rights protection law (it was later revised in 2009 and 2015). The law, which outlined both the rights of consumers and the liabilities of businesses, came to form the basis of the fake-busting profession.
Article 49 of the consumer rights protection law states that if a business is found to have committed fraud while providing a good or service, the customer is legally entitled to compensation equal to twice the amount they paid for it. In 1995, Wang took advantage of this rule and won 8,000 yuan (then around $960) in compensation over the course of just five months. At a time when China's urban dwellers had an average annual disposable income of around 4,300 yuan, Wang's success paved the way for a long line of copycat fakes hunters. Over the last two decades, their work has evolved into a full-fledged industry. As laws governing food safety, fair competition, and arbitration were implemented, the scope of their work has expanded, too.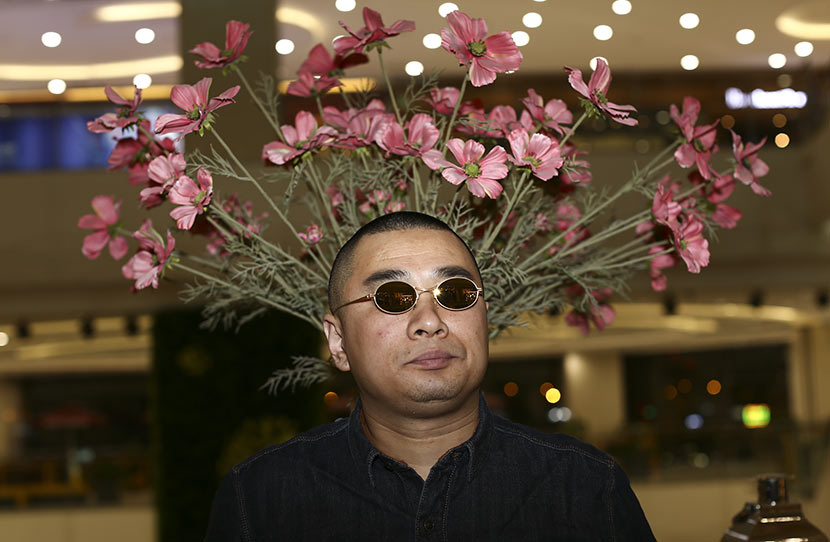 Wang Hai, always wearing a pair of sunglasses, poses for a photo in Beijing, March 11, 2015. Pu Feng/VCG
China's Ministry of Justice issues regulations safeguarding consumer rights in order to protect injured parties and tackle the country's well-documented problems of selling substandard and counterfeit products, with the eventual goal of improving market efficiency. Yet in order for laws to function properly, they must exist within a comprehensive legal framework that includes judicial precedents for the industry to learn from and refer to.
At present, however, consumer rights laws are only partially enforced. This puts consumers at a strong disadvantage compared to businesses. As a result, many Chinese consumers who have had their rights violated rarely pursue legal redress, because they are put off by the time, energy, and costs involved in taking their cases to court.
Fakes hunters have therefore stepped into the breach, frequently forcing the authorities to investigate claims of wrongdoing. Yet the results of their work cut both ways, and sometimes the hunters can harm honest business owners.
Soon after Chen Xiao (a pseudonym) opened her clothing store in the eastern Chinese city of Hangzhou in 2015, a fakes hunter came in and made several purchases. Later, the customer claimed that there was a problem with the clothing tags and demanded compensation totaling five times the amount that they had paid. Before the case went to trial, Chen decided to pay the fakes hunter a number of out-of-court settlements, including several in excess of 50,000 yuan. She eventually had to shut down her business.
Legally speaking, however, the responsibility for faulty tags lies with the manufacturer, not the seller. Chen was not liable, and therefore could have sought recompense, in turn, from the factory that produced the substandard products.
Cases like Chen's show that while fakes hunters are adept at ferreting out illegal products, removing them from the market, and claiming compensation, they do not always ensure that each case is justly handled. Consequently, in August last year, the Hangzhou Internet Court officially defined professional fakes hunters as "individuals, corporate entities, or other organizations that profit by knowingly purchasing fake goods and then seeking punitive damages from producers or sellers."
To the Hangzhou Internet Court, the above clarification was necessary because the actions of fakes hunters make it unclear what constitutes a consumer purchase. Because hunters earn an income by purposely buying fake products, their motivation differs from genuine consumers, and they therefore should not be considered part of the same group.
In reality, however, vendors are often unaware of their legal liabilities. Also, if their stores are in shopping malls, the mall will often pressure them into accepting responsibility for selling subpar goods, in order to maintain their reputations as good places to shop.
In China, when the plaintiff files a suit in court, they must pay litigation costs. In addition to the costs associated with the trial itself, this money covers the transport, housing, and living expenses of the witnesses, experts, translators, and claims adjusters involved in the trial, as well as compensation for missed work. If the plaintiff wants to hire a lawyer, they must pay an additional exorbitant fee. Unlike many Western countries, these fees are paid by the plaintiff prior to the trial and not by the losing party after its conclusion.
As a result, poor people are largely unable to file lawsuits or defend their legal rights. This is why Chen was the only one held liable in the abovementioned case: After paying the initial settlements, she could not afford to defend herself in court.
Professional fakes hunters are so good at extracting compensation because they possess the necessary legal expertise and experience to know the likelihood of success with each claim they make. Although litigation costs are high, the best hunters understand that they will probably win back much more money in the long run — even if, sometimes, the party compensating them is not legally responsible for the faulty products.
The Hangzhou Internet Court's decision to deny professional fakes hunters the same legal status as consumers ostensibly arose from a desire to protect vulnerable small-business owners like Chen. But what the court failed to realize was that fakes hunters are not the main reason Chen and her peers so frequently have their rights and interests infringed upon. Rather, it is the excessive costs associated with legal proceedings.
If the court's legal reasoning gains widespread acceptance, it will be the end of professional fakes hunters. More worryingly, society will lose a valuable force capable of holding manufacturers and businesses to account. In the long term, a law that intended to protect consumers will be rendered worthless, and the market for counterfeit and inferior products will flourish once again.
Translator: Kilian O'Donnell; editors: Lu Hongyong and Matthew Walsh.

(Header image: A policeman checks counterfeit watches in Guangzhou, Guangdong province, April 23, 2013. VCG)