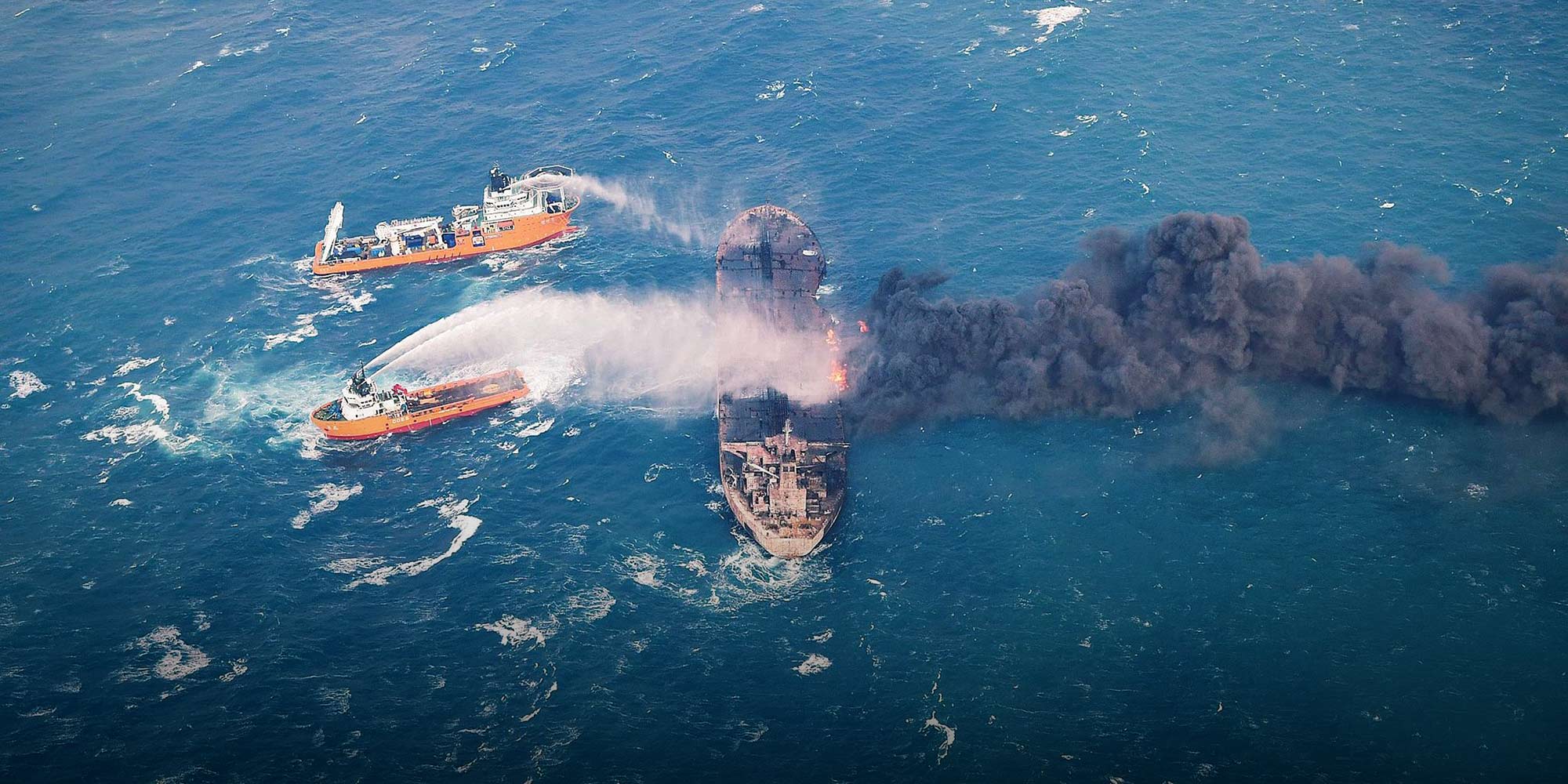 NEWS
Oil Tanker Collision Ripples Through Marine Fisheries
Firefighting efforts resumed Thursday in the East China Sea following Sanchi collision.
SHANGHAI — Captain Zheng Lei plans to set off on Friday for another two-week voyage in the East China Sea. But the last time that he and his fishing crew set sail, they netted an unexpected catch: Instead of fish, they rescued 21 crew members from a Chinese cargo ship that collided with an oil tanker on Jan. 6.
The Sanchi, a Panama-registered, Iranian-owned oil tanker, was set ablaze in the collision. Of its 32 crew members, 31 are missing, and one is dead. As of Thursday, the fire was still burning, fueled by condensate — a light crude oil — leaked from the tanker.
Experts are divided on how the incident will impact the marine ecosystem and fishers like Zheng. Though some expect limited environmental impact since condensate easily evaporates, and little leakage can be seen on the water's surface, others worry that the incident could still hurt one of China's most important fishing grounds.
The collision took place 160 nautical miles from the Yangtze River estuary, near Shanghai, in the East China Sea fishing ground that supplies 40 percent of the country's marine fish harvests, according to Li Shengfa, a researcher at East China Sea Fisheries Research Institute.
Li told Sixth Tone that the area is a key habitat and migration corridor for fish and other wildlife. "The spill will impact habitat and migration, depending on its distribution and expansion, and further affect fishing production," said Li. "If the fish in the area become contaminated by oil, they won't be edible."
Further monitoring and analysis are needed, as well as strict supervision over fish markets to ensure food safety, Li said. He mentioned that the incident reminded him of the 2011 Bohai Bay oil spill involving U.S. company ConocoPhillips that led to marine pollution and suspected deaths in fish farms.
The worst-case scenario — which authorities have not yet ruled out — would be if the tanker explodes and sinks into the sea. If that were to happen, "the outcome could be very severe," said Li.
Firefighting operations on the water resumed Thursday, China's Ministry of Transport reported, after efforts were suspended Wednesday when part of the oil tanker exploded. As of Friday, the vessel remains afloat, though toxic fumes have harmed rescue workers.
"There is a high possibility that the fishing grounds will be shut down for a short period," Wu Qunhe, an environmental science professor at Sun Yat-sen University in Guangdong province, told Sixth Tone.
According to Wu's research, though condensate can normally evaporate within a couple of days, especially in sunny, windy weather, the substance is still toxic to marine life. When spills kill life-sustaining plankton, this affects all higher species that consume it, and it can take months for the plankton population to recover, Wu said.
On Thursday, Shanghai's fish markets saw their usual flow of foot traffic, and seafood traders who spoke to Sixth Tone said they had not witnessed any market impact. Zhu Ming, a fishmonger, said he had not heard of the collision. "The price is expected to rise in the coming weeks," Zhu said, "simply thanks to Chinese New Year [in February]." It is customary to eat fish as part of Chinese New Year festivities, as the dish is a symbol of abundance and good fortune for the coming year.
Captain Zheng will follow authorities' advice and bypass the incident area. Asked if he expected any changes, he said: "Not much — the fish harvest still depends on luck."
Editor: Qian Jinghua.
(Header image: Rescue ships spray water on the burning oil tanker Sanchi off the coast of China, Jan. 10, 2018. China's Ministry of Transport/VCG)