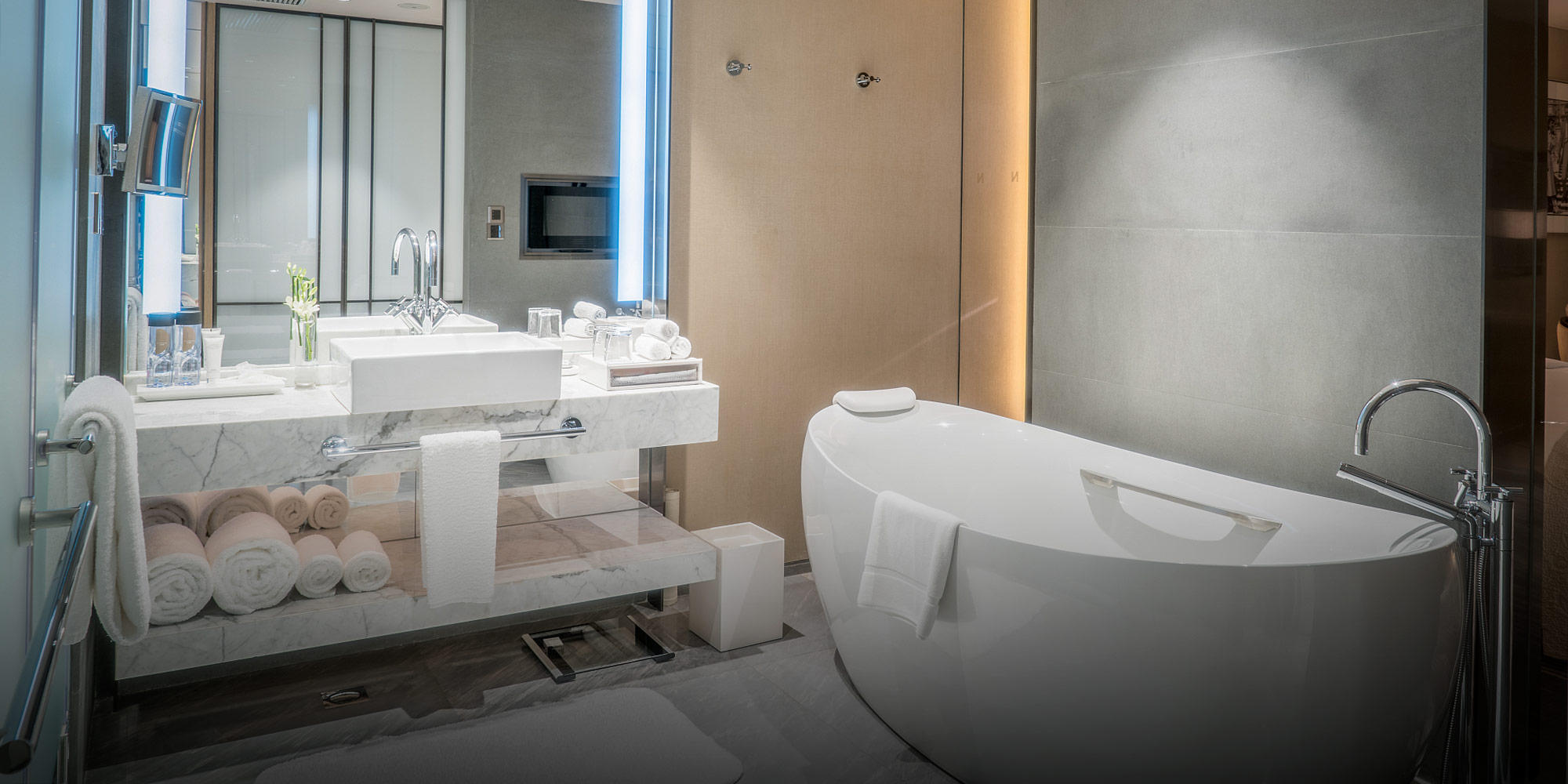 VOICES & OPINION
Why China's Five-Star Hotels Often Give One-Star Service
With large hotel chains incentivizing cleaning staff to do more work than they can accomplish in a day, it's no wonder standards are slipping.
As the consumption power of China's middle class continues to grow, the country's tourism industry is experiencing a golden age. Yet with consumer expectations also on the rise, the country's hotels have largely failed to keep up with the demand for higher standards.
In late December 2017, the popular short video platform Pear Video released footage from three five-star hotels in the northeastern city of Harbin: the Kempinski, the Shangri-La, and the Sheraton Harbin Xiangfang Hotel. In the video, employees were shown engaging in a number of stomach-turning activities, such as using the same brushes to scrub toilets, sinks, bathtubs, and teacups; washing towels in the toilet or dipping them in lavatory water before using them to scrub bathroom floors; and folding fresh bath towels on the floor. Rooms at the three hotels cost anywhere between 791 and 2,788 yuan ($122 and $423) per night. The video went viral on the Chinese internet and prompted hotels and regulators to investigate.
But such behavior shouldn't surprise us when it comes to the Chinese hospitality industry. In September, the third-party testing organization Lanmei Test released a report claiming that a number of five-star hotels in Beijing, including the W, the Intercontinental, the Hilton, the JW Marriott, and the Shangri-La, were not changing bed linens completely or cleaning toilet seats and bathtubs after clients had checked out.
If this happens in five-star hotels, what must the rest of the industry look like? In the same month that the Lanmei report surfaced, state broadcaster CCTV reported on the results of a series of budget hotel inspections carried out over the summer by the Beijing Health Inspection Institute. Of the 691 budget hotels inspected, 46 did not meet industry standards, including branches of well-known chains like 7 Days Inn and Super 8.
The most frequently cited problem was a failure to disinfect items meant for shared use. Employees at almost all substandard hotels did not promptly sterilize bedding, sinks, and towels. As a result, traces of coliform bacillus — a type of bacteria commonly found in feces — and other bacterial agents exceeded prescribed guidelines.
The issue of cleanliness extends to China's restaurant industry, too. In August 2017, Haidilao Hot Pot, a restaurant chain highly regarded nationwide for its high levels of customer service, came under scrutiny after an online video showed rats running around in the kitchen of a Haidilao branch, employees using the same sink to clean trash cans and eating utensils, and soup ladles being used to clean clogged pipes.
It goes without saying that the despicable disregard for human health at the abovementioned hotels and restaurants breaches both legal standards and employee codes of conduct. In reality, however, many establishments in China fall below these standards, partly because the majority of their employees have an "out of sight, out of mind" mentality.
In hotels, for example, room attendants rarely interact with either guests or management. Additionally, the quality of the service they provide is more difficult to appraise at first glance than would be the case for physical goods. Under such circumstances, all attempts to maintain or improve service quality depend on three following factors: employee income, employee discipline, and social customs.
Last May, China's National Bureau of Statistics released data on the average salaries for various jobs, based on information collected from 16 industries and about 960,000 business entities. Employee salaries in the accommodation and catering industries fell near the bottom of the list. In September, the popular magazine Southern People Weekly revealed that room attendants at a five-star hotel in southern China were paid a basic wage of just 2,000 yuan a month — a derisory sum that meant that many new employees lasted just two or three months before leaving.
In addition to low wages, hotel staff in China are often incentivized to do slapdash work. During a later CCTV investigation, a worker at the Kempinski Harbin said that employees were expected to clean 12 rooms a day — a number broadly recognized in the industry as the maximum that any worker can be expected to clean without compromising health and safety standards. However, Kempinski employees were informed that any additional rooms they cleaned would net them an extra 12 yuan each in their pay checks, stretching cleaners to their physical limits and making it impossible to ensure quality in their work.
The second factor affecting cleanliness is discipline. In the absence of constant external supervision, can hotel staff maintain high standards while they clean rooms? The answer to this question is not only tied to individual company training practices, but also to the broader social environment in China.
While Chinese people are traditionally polite to the person they are serving, there remains a longstanding social prejudice against workers in the service industry, who are often thought to occupy a much lower social status than the customer. This inequality causes many service personnel — particularly those who have worked in their industry for a long time for little compensation or respect — to lack empathy with customers and do the bare minimum while on the job. Unless the values of both sides change, customers will continue to look down their nose at servers, while servers will resent the haughty attitudes of customers — a conundrum that stops service personnel from seeing the point of high standards and professional ethics.
Lastly, China has long been a society in which good treatment is reserved for preferred friends and acquaintances. As modern lifestyles make interactions with strangers more common, more traditionally minded people find it difficult, if not downright unnecessary, to understand the need for courtesy and good manners when interacting with people they don't know.
In the restaurant and hotel industries, strangers make up a majority of the clientele, but most employees feel little moral obligation to treat them with sincerity, courtesy, and empathy. In less stringent working environments, this attitude results in rife corner-cutting: What does it matter to service workers if the food is a bit off, or the room a little dirty, as long as it doesn't do lasting damage to the customer's health?
Star-ranked hotels are assessed on more than just their appearance and the quality of their facilities; their management and service are equally important. As the slew of hygiene problems at Chinese luxury hotels shows, it's easy enough to install glamorous new bathtubs, top-of-the-line king-size beds, and marble flooring. The hard part is maintaining high standards of professionalism on a daily basis.
The solutions seem simple enough, though it remains to be seen how many companies will commit to them. First, hotels and restaurants must pay employees a wage commensurate with the high standards they expect of them, and avoid schemes that promise extra money for poor work. Second, businesses must invest real time, money, and effort in staff training, encouraging workers to see the value of meeting industrial and managerial safety standards. Finally, we must reconsider our treatment of China's put-upon service staff, and understand that when talking to an overworked, underpaid fellow human being, a little kindness can work wonders.
Translator: Kilian O'Donnell; editors: Zhang Bo and Matthew Walsh.
(Header image: Sino Images/VCG)