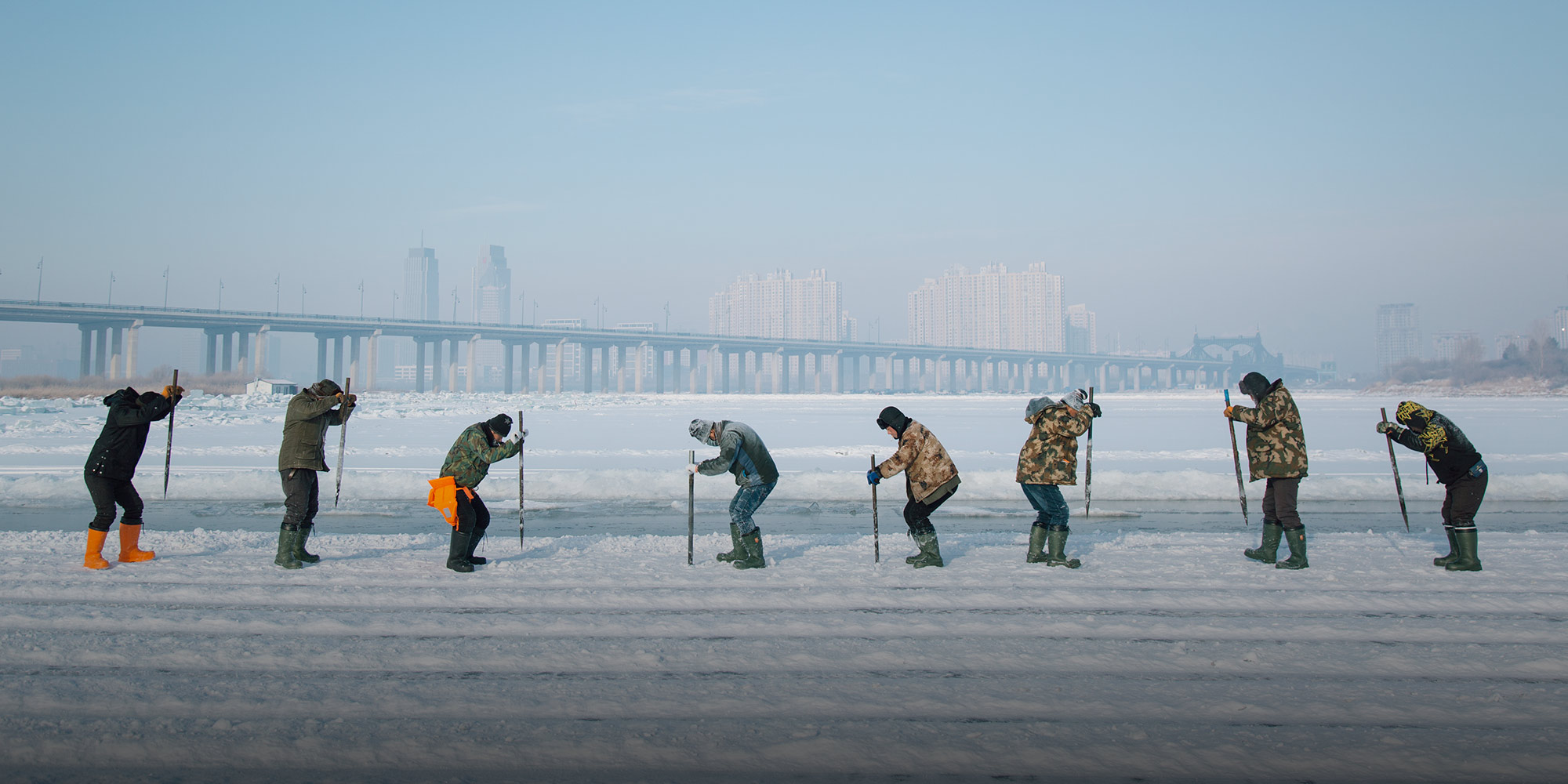 NEWS
The Farmers Who Carve Frozen Rivers for the Harbin Ice Festival
Meet the men behind the building blocks for China's biggest winter wonderland.
HEILONGJIANG, Northeast China — At 4 o'clock in the morning, with the temperature hovering around minus 27 degrees Celsius, the Songhua River flows quietly under a thick layer of ice. Suddenly, a beam of light appears in the distance, accompanied by the humming of a forklift to signal the start of the work day for the ice cutters.
Five kilometers from the Songhua River, ice sculptors are building a 600,000-square-meter winter wonderland. In 20 days, 180,000 cubic meters of ice will be collected and then transported to construct Harbin Ice and Snow World, one of the world's largest winter theme parks and the main attraction of the annual International Ice and Snow Festival in Heilongjiang, the northernmost province in China.
Preparations for the extravaganza started months in advance, with around 300 workers cutting huge ice blocks from the frozen river. They rise at 3 a.m. and work up to 13 hours a day. This has been 48-year-old Tang Weidong's job for 18 years, and this year, he is a team leader and safety supervisor. "The biggest challenge for us is the low temperature, especially at dawn, the coldest time of the day," Tang told Sixth Tone.
At 6:30 a.m., the sun rises above the Songhua River as the subzero temperature causes a heavy mist to descend over the frozen surface. By now, the ice cutters have already been working for over two hours. Out on the vast expanse of ice, they can't stand still: It is imperative that they move around to keep their blood circulating and their bodies warm.
Most of the ice cutters are farmers from nearby villages, ranging in age from 30 to 55. Nobody younger is willing to take up the job. "The work is too difficult," Tang said. "[Young people] can't deal with the hardship. They don't need to do this to make money."
Like Tang, 44-year-old Qu Yimin is an ice cutter. He has to stand on the drifting ice to cut it into blocks. For safety reasons, he is required to wear a life jacket and be tethered to a cable. Even with all the precautions, he has fallen into the river twice in the past 10 days. "It's dangerous, but I am very lucky," Qu said. "I can earn 250 yuan [$38] for a day's work. It's not much, but to me, it still matters."
For Qu, even though other jobs might be safer, that doesn't necessarily make them more suitable. After he carves out a block of ice, two workers use hooks to lift it out of the river. Another four people drag it over to the shore. After that, forklifts load the ice onto a truck. A single block weighs between 400 and 700 kilograms. On any given day, a team of 10 people can cut around a thousand cubic meters of ice.
The Harbin Ice and Snow World officially opens at the end of December and closes at the beginning of March, when the temperature starts to warm up. Over a million visitors are expected to attend this year. In 2016, the festival attracted over 1.3 million tourists from all over the world and generated over 300 million yuan in revenue.
Tang hasn't been inside the park in years. "The ticket costs 330 yuan, which is too expensive for us," he said. But he still remembers his last trip there: "Around a decade ago, I drove a truck loaded with ice there. It was still under construction then."
Tang hopes that the Ice and Snow World will make a sculpture of ice cutters like him, so that when a visitor asks where all the ice comes from, they won't have to look far for the answer.
Editors: Ding Yining and Doris Wang.
(Header image: Workers use chisels to carve rows of ice on the Songhua River, Harbin, Heilongjiang province, Dec. 16, 2017. Wu Huiyuan/Sixth Tone)