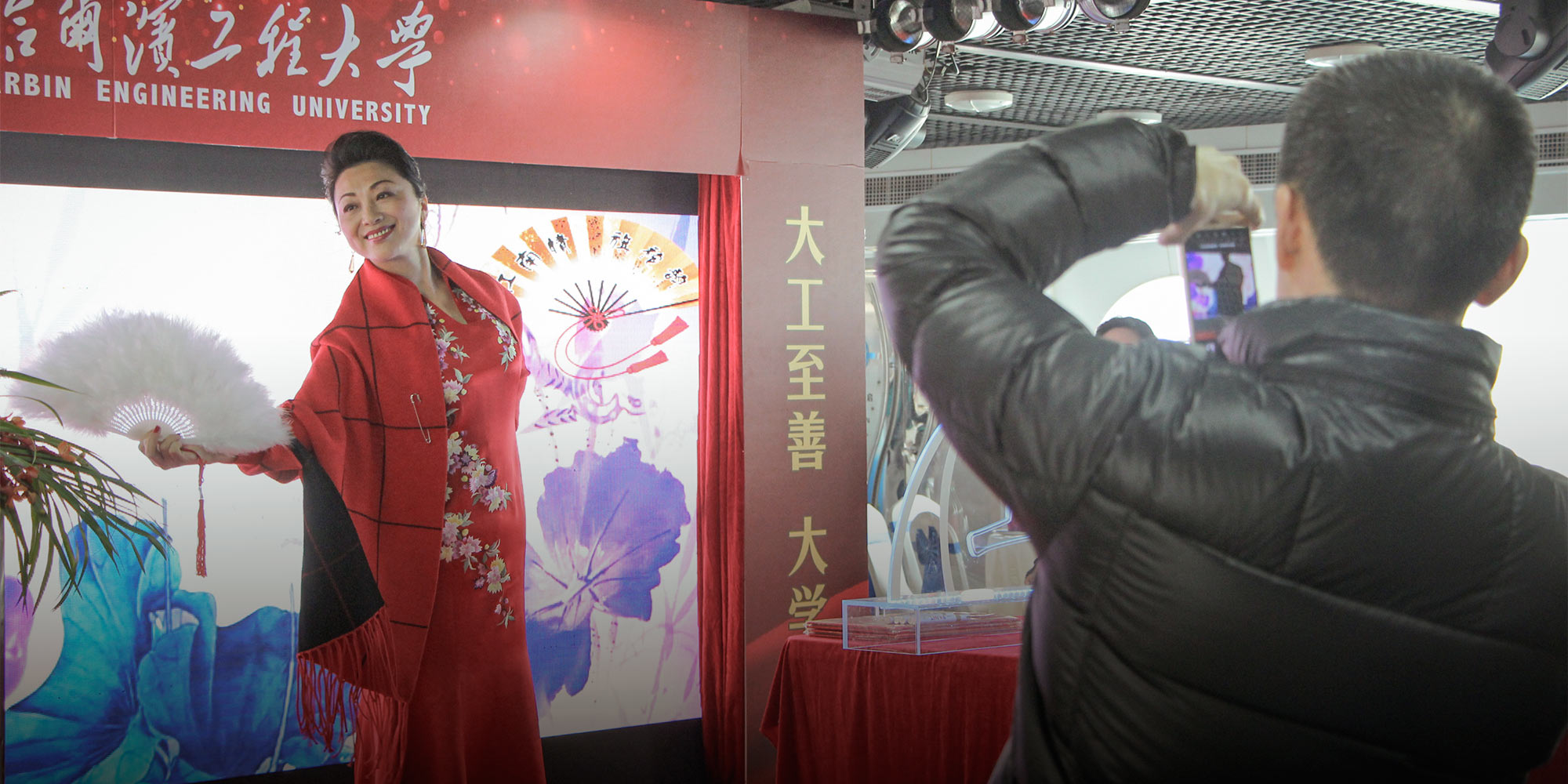 FEATURES
Vintage in Vogue: Patriotic Ladies Revive 'Qipao' Dress
The Chinese fashion symbol from the '20s and '30s is making a comeback at the hands of affluent middle-aged women.
SHANGHAI — Eight women, all in their 50s, crowd a pier at the Huangpu River on a cold morning in December. With rollers in their hair and makeup half done, they rush to board a three-story cruise ship, each hauling a suitcase filled with costumes, props, and wigs.
The women are professors and CEOs, researchers and engineers, who graduated from Harbin Engineering University in the '80s and are here to perform a fashion show at their 30-year college reunion. But the real star of the runway is the iconic silk getup that each woman dons in a rainbow of colors: the qipao, a formfitting traditional Chinese dress from the 1920s and '30s.
Once considered a status symbol particularly among Shanghai socialites, the dress fell out of favor after it was labeled "bourgeois" during the Cultural Revolution of the '60s and '70s. In recent years, it's staged a comeback as part of a national push to revive traditional Chinese culture and showcase it overseas.
Wang Quan, the founder of the China Qipao Global Association, tells Sixth Tone that he launched his organization in 2012 after hearing Chinese leader Xi Jinping's repeated messages to bring back traditional culture beginning at the 18th Party Congress that same year. Wang went to work persuading fellow enthusiasts, Party officials, and wealthy patrons that spreading qipao culture as a symbol of national identity could raise awareness and understanding of China on the world stage.
In the years since, the association has spawned chapters across China and the globe — though Wang isn't sure of the exact number, as there's no official registration process for setting up new branches. The chapters operate like sororities, holding weekly meetings, etiquette workshops, and salons. Some 100,000 people worldwide entered the 2016 edition of the organization's annual qipao pageant — 60 percent from the Chinese mainland — reported state news agency Xinhua.
In fact, the government's use of cultural traditions like the qipao as a soft power tool can be traced back to the '90s and early 2000s — when the Chinese economy was growing rapidly — says East China Normal University Ph.D. student Dai Wangyun. Dai was sent by the Confucius Institute, an organization affiliated with the Ministry of Education, to teach Mandarin in Hungary in 2008; the 35-year-old says the institute provided a qipao for her to wear to work on national holidays, along with cultural training in activities like paper-cutting and Chinese knot-tying.
Outside of formal qipao organizations, small amateur hobby groups like the Harbin Engineering University grads have popped up around the nation to champion the patriotic fashion symbol. "Many of us have lived abroad, absorbing [other nations'] advanced knowledge, and have now returned to China to contribute to the country," says the group's leader, 52-year-old Ni Hong.
By day, Ni works as a student affairs director at a vocational college in Shanghai. A year ago, she assembled the team of eight and convinced them to hire a professional choreographer, whom they paid 4,000 yuan ($600) for qipao modeling lessons. They gave their debut performance at another college reunion over the summer, in dresses custom-tailored for 1,500 yuan apiece.
Such an artistic, materialistic pursuit as an amateur fashion show would have been laughable when Ni was growing up in a poor eastern Chinese village in the early '70s. Her gym teacher at school had previously performed with a Beijing opera company but was sent to Jiangxi province to teach after the group was disbanded at the start of the Cultural Revolution. This teacher sparked Ni's love of music and theater, interests she explored in university at annual schoolwide showcases. But fashion wasn't a focus for her and her classmates, who spent most of their time bundled up in thick cotton-padded jackets and pants to brave the freezing temperatures in the northeastern city of Harbin.
For Ni, the qipao has always stood as a symbol of mature feminine elegance. She believes the dress is particularly well-suited to women over age 45, who possess a "golden-age" charm that one only accumulates over years of life and work experience. Two years ago, Ni had two qipao tailor-made to wear at formal occasions — where, she says, she's often the only one in such traditional attire. "Regardless of what other people think, I wear qipao," she says. "Everyone admires me, but they can only admire; they don't dare to wear it."
Young women have little interest in the qipao due to a disconnect from traditional Chinese fashion and beauty culture, says Wang of the China Qipao Global Association. Wang estimates that 62 percent of association members are over 45 years old, while only 10 percent are 27 and under. He attributes enthusiasm from the middle-aged demographic in part to their spending power, as the hobby doesn't come cheap: A reasonably sophisticated qipao made with quality material costs around 1,500 yuan, while truly high-end pieces go for more than 3,000 yuan.
Yet not all modern-day qipao enthusiasts are well-off, well-educated women like Ni and her former classmates. The trend has also spread to China's da ma, middle-aged or elderly ladies known for dancing in public squares and acting as nosy neighborhood security monitors. Ni looks down on these women — who she says hold similar qipao showcases — for lacking taste and education, and therefore damaging the prestige of qipao culture. "We are not square dancers; we are qipao models," Ni repeatedly reminds her own team during rehearsals.
On the morning of their December performance, the women slip into their dresses, fiddling with the intricately knotted buttons that run from the chest up to the stiff collar. Each dress is a different color, embellished with floral patterns stitched on the silk fabric. Ni directs the women's hair and makeup styling, including a thin, high-arched eyebrow look that was all the rage among wealthy Shanghai women in the '30s. "Even at this age, we can still receive many compliments," says one performer, retired ship engineer Xu Weiting. "Everyone likes being praised; it gives us confidence."
By 10 a.m., the boat is full of reunion attendees. A cheerleading performance precedes the qipao showcase: As the squad of recent female graduates clad in short pink skirts step off the stage, a classical Chinese tune rings through the room, signaling the qipao models to begin their fashion show.
Ni is the last to walk the runway. She wears a confident smile, winning the audience's attention from the moment she struts onstage and receiving a loud ovation.
After the performance, Ni goes from table to table chatting with alumni chapter heads from different cities, who invite her qipao team to perform at their upcoming events. Delighted, she graciously accepts. "Qipao shows are stepping out of Shanghai and heading into the world," she says.
Editor: Jessica Levine.
(Header image: A man takes a photo of Ni Hong during a 'qipao' fashion show dress rehearsal in Shanghai, Dec. 10, 2017. Joyce Siu/Sixth Tone)