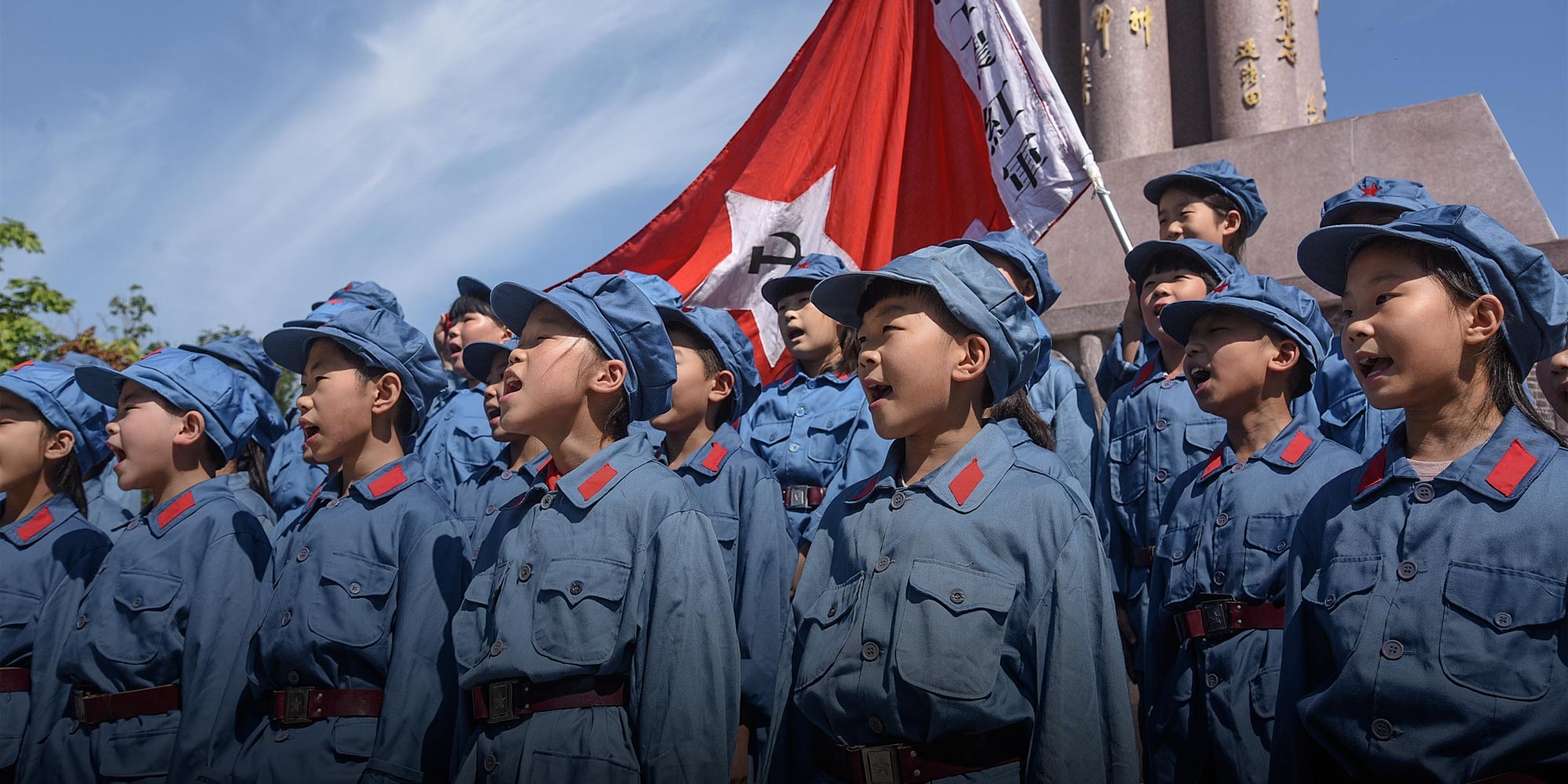 NEWS
China Wants Students to Inherit 'Red Gene'
Jiangxi to roll out school textbooks reinforcing Communist Party's revolutionary values.
An eastern Chinese province wants its students to learn the Communist Party's core values from an early age: kindergarten.
In August 2018, Jiangxi province will introduce a set of "red culture" textbooks at a wide range of educational institutions, from preschools and primary schools all the way up to vocational colleges and universities, local media reported Wednesday.
"Red culture" is a phrase often used to describe the Communist Party's revolution, leading up to establishment of the modern People's Republic and onward.
Chen Ziji, director of the education and development research center under the Ministry of Education, said the initiative will be the largest and most systematic red culture textbook push the country has ever seen. Chen added that the move will help students inherit the "red gene" — an express responsibility of his department.
"By including the local history and stories, the textbooks are intended to make students more readily accept — and become more attached to — the revolutionary tradition," Chen told Sixth Tone.
Written and published by the Ministry of Education, in partnership with Jiangxi's education bureau, the six textbooks will consist of readings about noteworthy events in the Party's history, as well as famous revolutionary leaders and war heroes who are from or have stories set in Jiangxi.
The textbooks will be used for students' compulsory "moral education" courses, the official said. While kindergarteners will learn red culture through songs, primary schoolers and university students will learn it through stories and "advanced theories," respectively.
The ministry chose Jiangxi for its pilot program because of the province's links to important incidents in the Party's history, Chen said. Jiangxi is home to more than 250,000 martyrs, and it boasts over 2,400 historical sites associated with the communist revolution.
In 2016, President Xi Jinping said that students should be educated in a way that helps them "develop firm beliefs and confidence in lofty communist ideals, and socialism with Chinese characteristics." Throughout the past year, Chinese educational institutions have been heeding this call.
China's education ministry has previously promoted new textbooks and school curricula to instill "Core Socialist Values" in the country's youth. In September, it introduced new liberal arts textbooks for primary and middle school students nationwide that emphasized traditional culture, revolutionary history, and ideology. The same month, the eastern province of Shandong made classes in traditional culture mandatory for all primary and secondary school students.
Huang Xiaohua, an education official in Jiangxi, told local media that publishing such textbooks is a step toward integrating Xi Jinping Thought — a guiding political and social ideology now enshrined in the Party's constitution — into both academia and the minds of the people. Huang added that red culture should be similarly ingrained in the hearts of the country's children and teens.
Editor: Bibek Bhandari.
(Header image: Children wearing Red Army uniforms sing the Chinese national anthem in Linyi, Shandong province, Sept. 1, 2017. Du Yubao/VCG)