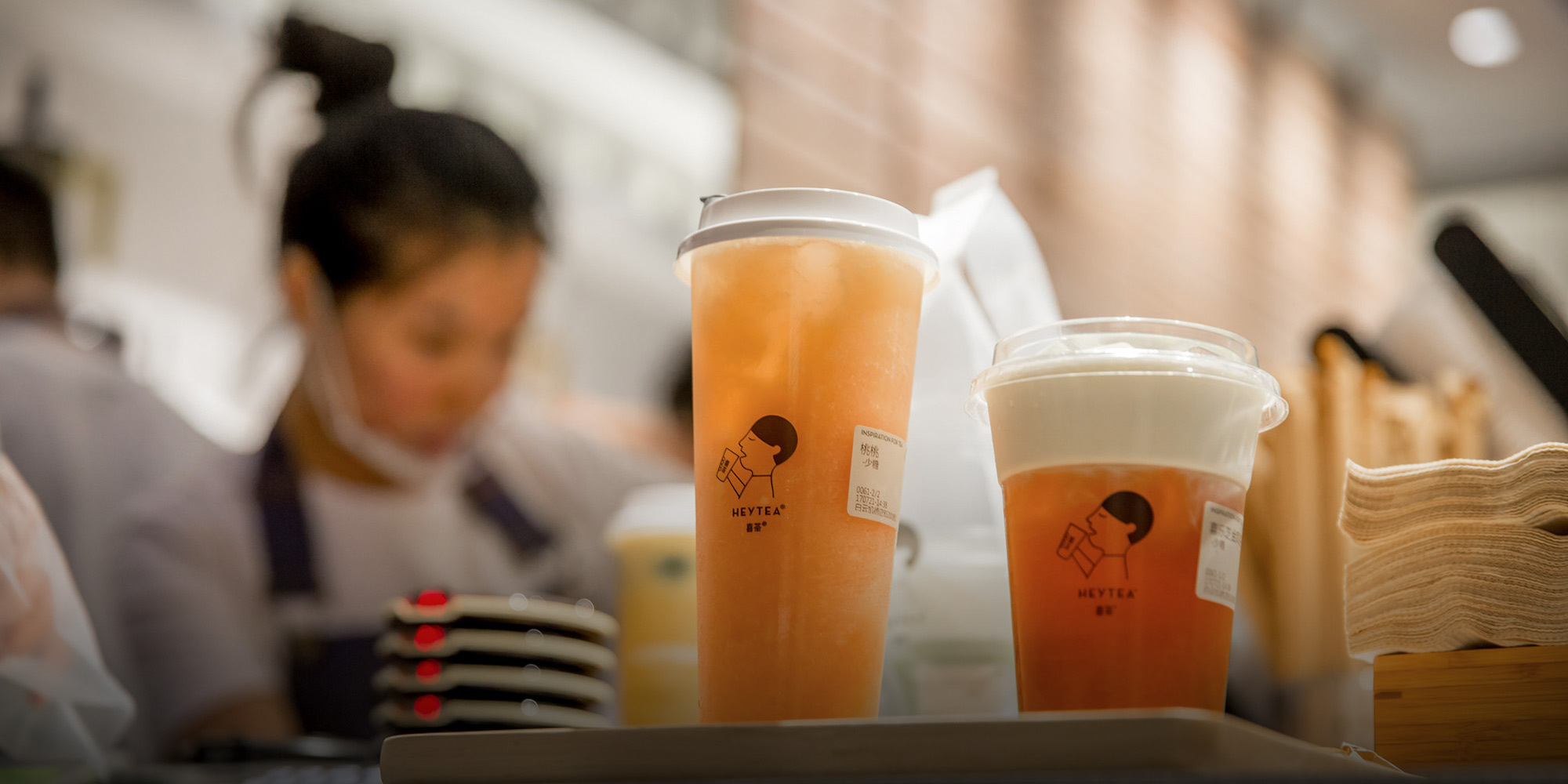 VOICES & OPINION
Why Change Is Brewing in China's Tea Industry
As more and more consumers opt for high-quality, innovative tea-based drinks, growers and sellers have to rethink their methods.
In the past year, China's tea aficionados have embraced a new trend, one that is encapsulated in the growing popularity of the milk tea brand, Hey Tea. Originally sold in a tiny alleyway in Jiangmen, southern China's Guangdong province, the brand went viral on social media because of its signature "cheese" series — a cup of hot tea topped with light cheesecake mix. Since then, Hey Tea has developed into a franchise with more than 80 outlets in 13 cities across the country. In large urban centers such as Shanghai and Beijing, customers routinely wait for hours to get their hands on a cup of cheese tea.
Hey Tea's cheese-inspired beverages are just variations of the same milk-topped teas available at many urban teashops in China. Fresh milk, skimmed milk, and cream cheese are blended and poured on top of iced tea to create a layer of creamy froth about 3cm thick.
The brand's success is partly due to its innovative selection of beverages and partly to the quality of its ingredients. Its teas are made from the finest Taiwanese leaves and fresh milk is used in the cheese toppings. The company touts itself as a luxurious and fashionable brand, tapping into China's growing pool of consumers eager to embrace healthy living. Its outlets feature the kind of Scandinavian minimalist design that evokes a Brooklyn coffee shop rather than a milk tea joint.
The widespread popularity of Hey Tea's products is a vivid example of the so-called viral economy that has emerged in China in recent years. On one hand, customers come for the tasty drinks; on the other, they're also there for the selfies, photographing themselves cradling their cups and posting them on social media before they actually get around to drinking it.
The emergence of a greater innovation and specialization in tea-drinking culture demonstrates that China's tea industry is breaking down certain long-held conventions. Until now, China's tea producers have been highly factionalized: The majority of tea strains are named after the region where they produced and vendors merely have to develop personal ties with suppliers in a particular region in order to gain a foothold in the industry. However, the fact that all teas bear the name of the region where they were grown has made it difficult to standardize their quality, because the taste also varies significantly depending on the grower and the local area.
However, the diversification in preparing and consuming tea has created a demand for standardized, high-quality products. This degree of precision makes products more recognizable to consumers, allowing brands to achieve national recognition and attract investment.
In August 2016, Hey Tea announced investment totaling more than 100 million yuan ($15 million). Another southern Chinese brand, Nai Xue Tea, went even further, attracting a 120-million-yuan investment. But Yi Dian Dian Tea blew them all out the water, amassing 700 million yuan in investment to date.
An established example of new-wave tea culture is inWe Tea, a brand operated by Miao Qin, the former vice president of McDonald's in China. Unlike Hey Tea, which retains certain trappings of traditional roadside tea vendors, inWe seeks to compete toe-to-toe with Starbucks and other major café chains.
With its stylish design, revolutionary sales methods, and unique packaging, inWe has carefully cultivated an image of urban sophistication. The brand defines itself as a "tea salon and designer goods store," tailoring every outlet's interior design according to the needs of the local clientele. According to the brand's "anything you see, you can buy" sales strategy, everything in the store is for sale, from the teas to the chairs to the accessories. The production of the beverages also feels hi-tech: Shop assistants tap away on iPads linked to electronically operated tea-infusing machines. These machines save shop managers the hassle of training tea-brewing specialists and ensure that each drink has a consistent flavor.
From an economic standpoint, the replicability of new-wave tea outlets has earned them a measure of success. Shops utilize space and staff more efficiently than traditional vendors and take advantage of the latest technology to develop diverse products with unique flavor combinations. This all makes it easier for companies to create viral trends and attract the young people who make up their key consumer group.
The emergence of this new tea-drinking culture has forced traditional tea producers and wholesalers to adopt new strategies; for instance, diversifying their customer bases and actively collaborating with emerging businesses on new products. Yet overall, the size of the market for new tea-based beverages has remained roughly the same for the past few years. The milk tea craze is still largely limited to China's prosperous coastal cities, while the industry's potential for rapid emulation has made it easy for copycat competitors to oust previously well-known teashops from the market.
Be that as it may, China's changing tastes for tea have served as a catalyst for great change in the tea industry. In the future, new-wave tea vendors will continue to transform their products from a simple agricultural item into a lucrative commodity with immense commercial, and even cultural, value.
Translator: Lewis Wright; editors: Wu Haiyun and Matthew Walsh.
(Header image: An employee mixes a milk tea at a Hey Tea branch in Guangzhou, Guangdong province, July 20, 2017. IC)