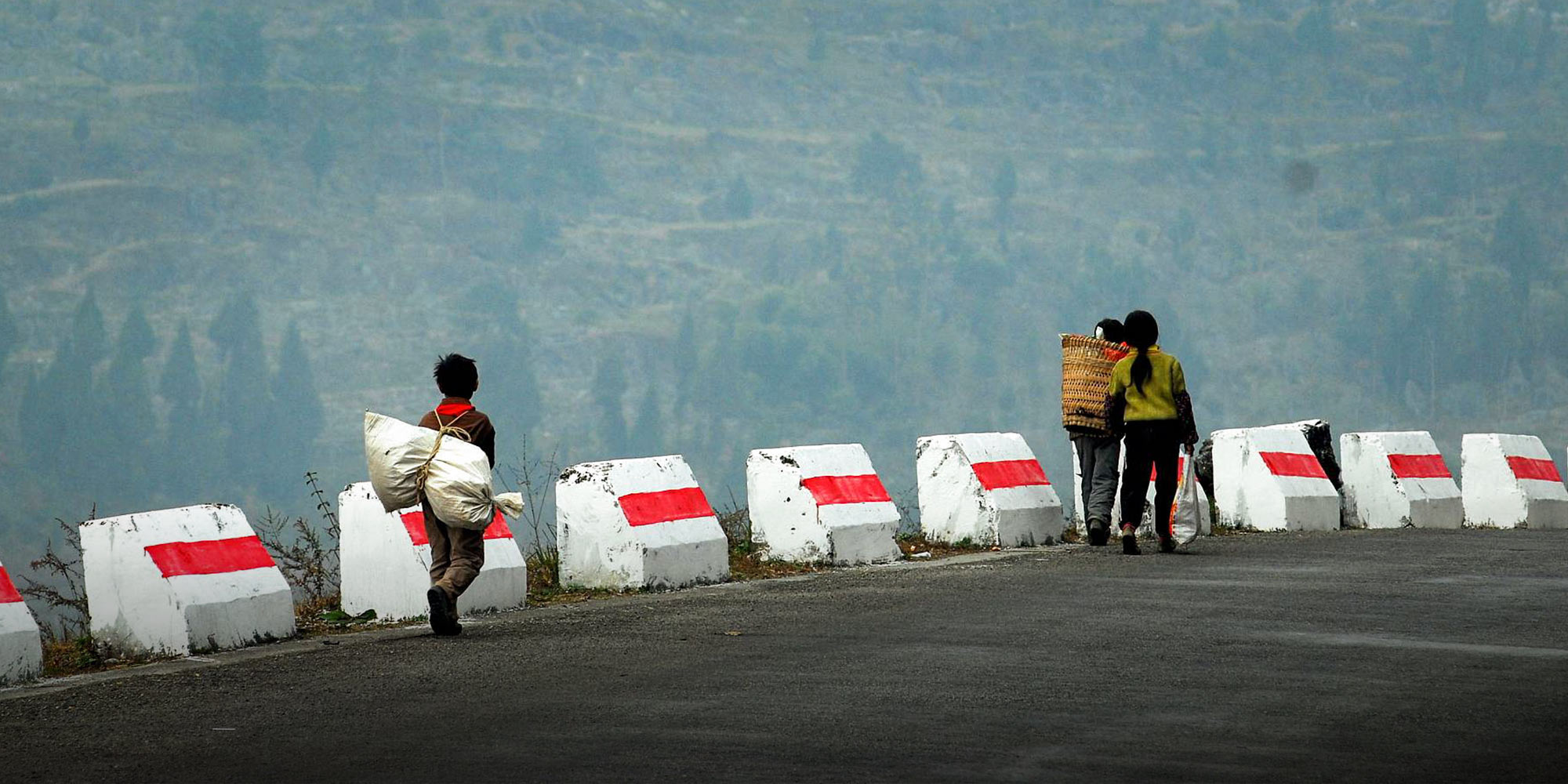 FEATURES
The Thieves of Yanhe County
Police struggle to curb frequent burglaries in one of China's poorest regions.
GUIZHOU, Southwest China — He Zuping has three sons, all of whom are convicted thieves.
The eldest is the worst, he says. He Jianghong, who is 31 years old, spent most of the last 10 years in jail serving two five-year sentences — both for theft. Months after his most recent release, he went back to his old ways. In July 2017, police issued an order for his immediate arrest for another robbery. Police found him within six days, shirtless and emaciated, hiding in his hometown.
Yanhe Tujia Autonomous County in Guizhou province, where the He family lives, is one of the poorest places in China. Most of the 680,000 residents work as farmers or in the tourism industry, earning an average yearly income per household of around 7,000 yuan ($1,075) in rural parts of the county and 22,000 yuan in more developed areas. Every year, approximately 200,000 Yanhe residents travel to urban centers for jobs and better living conditions.
Poverty has been linked to the frequent break-ins and robberies in the area, which landed Yanhe County on the Ministry of Public Security's national list of "focal zones for the abolition of regional crime networks" in March 2016. The county's crime rate is not available to the public.
Li Hui, deputy chief of the Yanhe County Public Security Bureau, calls the rampant crime in Yanhe "a loss of face." "Every time I see on the news that someone arrested for robbery is a resident of Yanhe County, I feel upset," he says.
Poor-quality education and widespread poverty often leads migrant workers from the county to get involved in crime networks when they move to urban centers, explains Li. "After they steal enough money, some come back and build homes, while others abandon crime and start their own businesses," Li says. "This arouses envy from the young people who feel that school is a waste of time and making money is all that matters — which inevitably leads them down the path of robberies and break-ins," he adds. "By that point, a culture of crime has developed."
Convicted thief He Jianghong belongs to a gang of burglars, with 7,760 members living in Yanhe, according to the county police. Having dropped out of school in the third grade, He Jianghong began looking for part-time work in nearby cities with his father when he was a young teenager. As he got older, he started leaving Yanhe by himself. "I didn't have a clue where he was going or what he was doing," his father says.
He Jianghong says he was pulled into the burglary "industry" by a fellow villager when he was 16. "It's so lucrative that I can never control myself," he says. His brothers followed in their older sibling's footsteps, dropping out of school and starting their careers in robbery. One of He Jianghong's brothers was arrested in May 2016 for theft in the eastern province of Jiangxi — where many Yanhe residents migrate to — while the other was sentenced to 18 months in jail around the same time. He Jianghong, who was first arrested in 2007, boasts that he can scale a 20-story building and has, on two occasions, successfully fled arrest.
Li of the Yanhe public security bureau explains that people in the county spend their childhoods running around in the mountains, and as a result, they are fast runners and strong climbers. These abilities — on top of the fact that very few burglary-proof windows and surveillance cameras have been installed in urban residences — make it relatively easy for them to get away with theft.
To curb crime in the area, the Yanhe treasury department spent 500,000 yuan on building a DNA database that law enforcement officers can use for genetic analysis. In criminal investigations, police can look for suspects among the 7,760 people in the system who have previously been convicted of theft.
According to the Jiangxi police, criminals often break into apartments in groups of two or three. They target the most affluent communities, travel there by taxi, and scale the pipes on the outside of residential buildings with their bare hands. When they come across unlocked windows, they slip in and take all the valuables they can find. Sometimes, they rob dozens of apartments in one night, hitting whole neighborhoods at once.
In May 2017, the Yanhe security bureau announced a bounty for 107 people suspected of theft, extortion, or fraud. The bounty notice offered 1,000 to 3,000 yuan in reward for aiding in an arrest, and urged fugitives to turn themselves in.
Within the first month following the release of the bounty notice, more than 30 fugitives gave themselves up to police. "Fugitives' families feel ashamed when they see [their pictures on 'wanted' posters]," says Li. "They urge their relatives to turn themselves in."
He Zuping has encouraged his sons on multiple occasions to turn their backs on the life of crime and stay in Yanhe instead of traveling to other cities — but to no avail. Months after He Jianghong's release from jail in August 2016, he was at it again. According to the police officer responsible for his most recent arrest, he is currently wanted for over 100 robberies.
"You can nourish a child's body, but you can't control his mind," He Zuping says with a hint of despair. The 54-year-old has been a migrant worker all his life in China's urban centers. Fifteen years ago, while he was working part time on a construction site in the eastern city of Hangzhou for 30 yuan a day, he was injured in a car accident. A steel rod was implanted in his leg, to be removed after the leg fully healed. No longer able to perform strenuous labor, he could barely afford the procedure with his meager income from farming and working various odd jobs. He hasn't yet had the rod removed.
Now, He Zuping raises pigs and grows produce in Quanba, a town in the western corner of Yanhe County. The four rooms in his house have yet to be painted or decorated; aside from the doors and windows, they are virtually bare.
In the town of Banchang, around 50 kilometers from the He family's home, the police are also focusing their efforts on reducing theft. To this day, a bounty notice for over a hundred people is posted at the entrance to Banchang's police station, displaying the fugitives' photographs, names, and home addresses. Notices have also been placed at other busy venues around town, including the local school and hospital. Some have even been pasted on walls next to fugitives' homes.
In the town of just over 38,000 residents, more than 900 burglars have been apprehended with the help of the Yanhe DNA database — 258 of whom had previously been convicted of similar crimes.
The secretary of the Banchang Committee of Political and Legal Affairs, Zou Hao, explains that the town of Banchang has already launched programs in the local school curriculum to prevent children from becoming burglars. By educating the younger generation, he says, Banchang hopes to rectify and prevent criminal behavior. The town government has also designed posters with slogans reading, "No Drugs, No Theft," which will be distributed to households that have not been associated with criminal activity as a means of encouraging villagers to lead by example.
In Quanba, He Zuping is still waiting for his sons to return home from jail. He will need thousands of yuan to get the steel rod removed from his leg. "When my kids come back," he says, "I'll see if they'll be generous to their father."
Other families are eagerly anticipating Chinese New Year in February, when their children will return home to celebrate. But He Zuping says he has little to look forward to. "No one comes to visit me," he says.
A Chinese version of this article first appeared in Sixth Tone's sister publication, The Paper.
Translator: Lewis Wright; editors: Doris Wang and Fan Yiying.
(Header image: Students walk along a road in Yanhe County, Guizhou province, Dec. 2, 2007. Long Rui/VCG)