HAINAN, South China — As he walks along the island shore, Feng Zhichen pays no attention to the brilliant December sun flooding the palm-fringed beach. Instead, his eyes are trained on a sign across the street.
The signboard trumpets the Sunshine Coast Shanty Area Renovation Project, which has cast a shadow over the 74-year-old's life since March — when the local government told him his apartment would be seized as part of national efforts to improve living conditions. Feng is still struggling to understand: Why has his seaside retirement property been labeled a shanty?
The government redevelopment plan involves the compulsory acquisition of more than 900,000 square meters of land along the eastern side of Sanya Bay: a 20-kilometer stretch of beach known as one of China's most popular tourist destinations. Around 31,000 residents — from low-income families in derelict housing to middle-class retirees in new apartments — will have to relocate.
An apartment purchase contract in Feng's hand shows that his neat, nine-story building was only constructed in 2010. An elevator runs up to the 42-square-meter flat that Feng and his wife, 69-year-old Liu Shiming, bought for 256,000 yuan ($39,000) in 2013. Though the apartment is small and simply furnished, it has everything the couple needs for a comfortable and convenient life. Best of all, it's only a 10-minute walk from the beach.
The property cost Feng and Liu the bulk of their retirement savings, but they thought the warm weather here in Sanya, one of China's southernmost cities, would be better for Liu's recovery from spinal surgery than frosty Beijing, where they spend most of the year. Now every November, the couple flies thousands of kilometers from Beijing to Sanya alongside other "migratory birds," as Hainan natives call the out-of-towners who flock to the island each winter to escape the cold and smog in northern China. Estimates suggest that there are more than 400,000 such part-time residents in Sanya, mostly retirees.
According to a government notice, Feng won't receive any compensation for relocating, as the construction contract for his apartment building — a partnership between a property developer and the Hainan native who holds the deeds to the land — is illegal under a 2008 government ban on such deals between developers and local citizens. "If it's illegal, why did government departments authorize our water and electricity?" Feng asks. "That's the past government's negligence — elderly people shouldn't pay the price for it."
Many of Feng's neighbors are in the same boat and echo his confusion and frustration at the redevelopment plan. Compulsory land acquisition is one of China's most controversial issues: As local governments usher in the tides of urbanization, residents complain that their property rights are not being protected. In Sanya, opposition to the project has united disparate residential groups, from retired seasonal residents to slum-dwellers.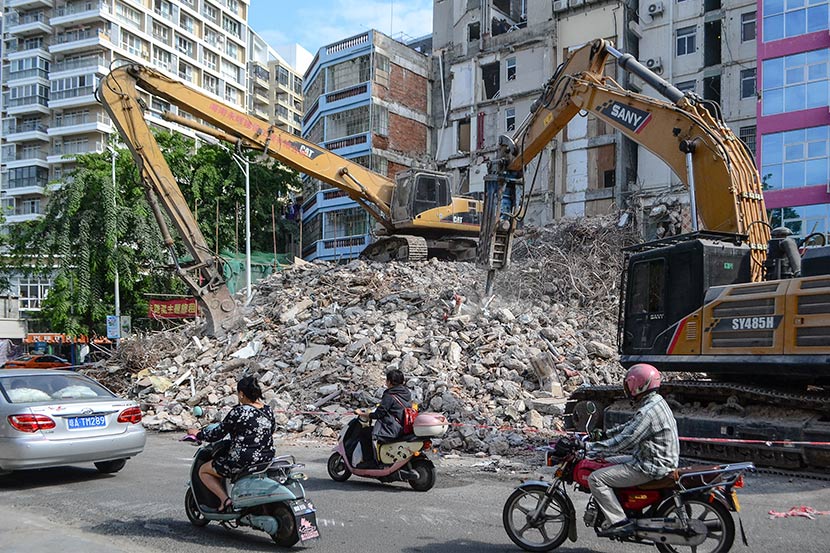 A demolition site near the coast of Sanya Bay, Sanya, Hainan province, Dec. 5, 2017. Fan Liya/Sixth Tone
All through Sanya's Tianya District, the character chai — meaning "demolish" — is spray-painted in red on buildings old and new. The renovation project is part of a national urban renewal campaign: In 2013, the State Council, China's cabinet, pledged to revamp shantytowns housing a total of 10 million families by 2017. "The shanty area renovation effort sustains the hope of tens of millions of impoverished families," Premier Li Keqiang said in 2015.
Official statistics show that between January and October 2017, renovation projects had commenced in areas covering 6 million households, and investment in the campaign from the central government totaled 1.68 trillion yuan. The Ministry of Finance has also offered preferential taxation and lending policies to participating local governments. However, the vague definition of what constitutes a shantytown has led to controversy.
Shanty areas typically feature rough construction, dilapidated buildings, and poor infrastructure — but there are no national criteria for determining which areas qualify, according to Han Gaofeng, an urban planner and researcher on shanty area innovation at the Urban Planning Design Institute of Ganzhou. Instead, local governments decide whether an area needs revamping and then consult residents, says Han.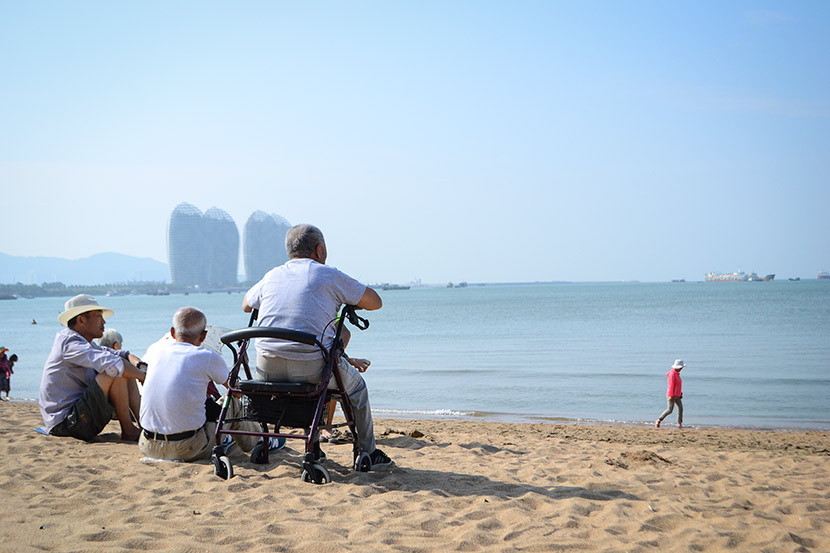 Elderly people enjoy the sunshine on the beach in Sanya, Hainan province, Dec. 8, 2017. Fan Liya/Sixth Tone
Lu Xinhai, a professor at Huazhong University of Science and Technology who specializes in land and property issues, tells Sixth Tone that the process can be open to manipulation: "For the sake of government performance, the city's image, or economic development," he says, "local authorities could classify an area as a shantytown when it isn't." Some cities set more specific criteria — for example, the age of the buildings — or have a third-party assessor determine structural damage. In Sanya, however, the local government told Sixth Tone that it did not have formal criteria for identifying shanty areas to redevelop.
In July, Feng and 206 other residents filed lawsuits against the Tianya District government, questioning the legitimacy of the renovation project and requesting that the land acquisition orders be overturned. Around 400 people attended the court trial on Oct. 27, which lasted more than 10 hours. According to the plaintiffs' attorney, Jia Qihua, the government had to send police to keep order outside the court building.
During the trial, Jia argued that the project violated regulations because the area was not in fact a shanty and was being redeveloped for commercial purposes. Compulsory acquisition of property should be in the public's interest, Jia said, according to court records seen by Sixth Tone. In a written response to Sixth Tone's queries, the Shanty Area Renovation Office of Tianya District denied the accusation of commercial interests, saying: "No land will be used for commercial real estate development. The renovation will follow official requirements to build an international coastal tourism city."
The redevelopment office told Sixth Tone that the project aims to address decrepit infrastructure, high resident density, and fire hazards. During the trial, the government's defense lawyer stated that more than 80 percent of local households surveyed consented to the renovation project.
Some residents, however, argue that the survey was deceptive.
Hainan native Fu Yong lives just one street away from Feng's apartment building. Since his family moved in during the late 1970s, they have transformed their property from a single-story house into a five-story building with 30 rooms. After Fu and his brother were laid off in 1990, renting out the extra rooms became the only source of income for their family of 14. For Fu, relocation would mean losing not only the family's livelihood, but also their precious connections to neighbors.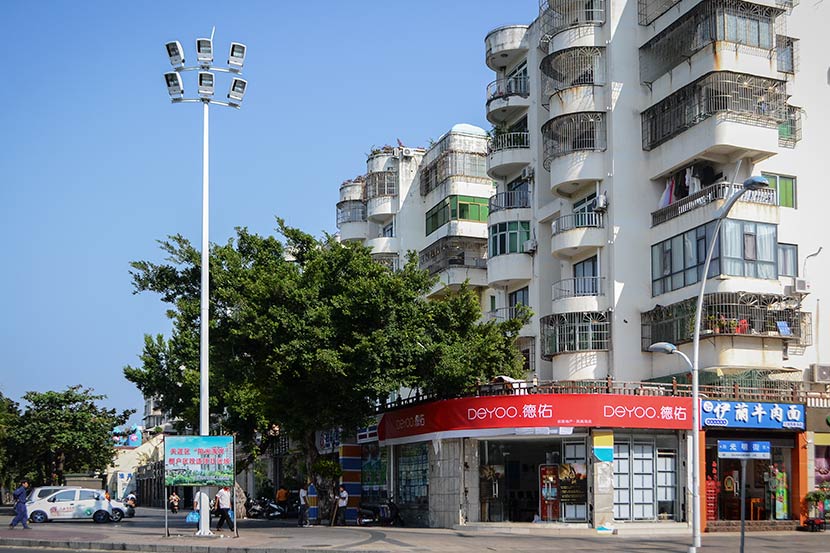 A Sanya neighborhood marked for redevelopment in the government's shanty area renovation project, Hainan province, Dec. 8, 2017. Fan Liya/Sixth Tone
In March, officials visited the neighborhood to collect residents' opinions on the development plans along with signatures of approval. "They didn't explain how the survey would relate to the redevelopment project, nor did they explain the compensation and relocation details," Fu recalls. He adds that the officials told him, "Whether you sign or not, you cannot resist the expropriation."
Fu was anxious about testifying at the Oct. 27 trial — it was the first time in his 50 years that he had ever spoken in front of a large audience. Holding stacks of survey sheets, Fu told the court that the poll was rigged: The survey counted 34 families in the building next to his, though only the landlord's family will receive compensation, according to a proposal released in May.
"Even if the government wants to seize our property, it should at least explain the process to us," Fu says. "I understand that a city's development will inevitably come at the expense of some [individual] entitlements, but the sacrifice shouldn't be too great."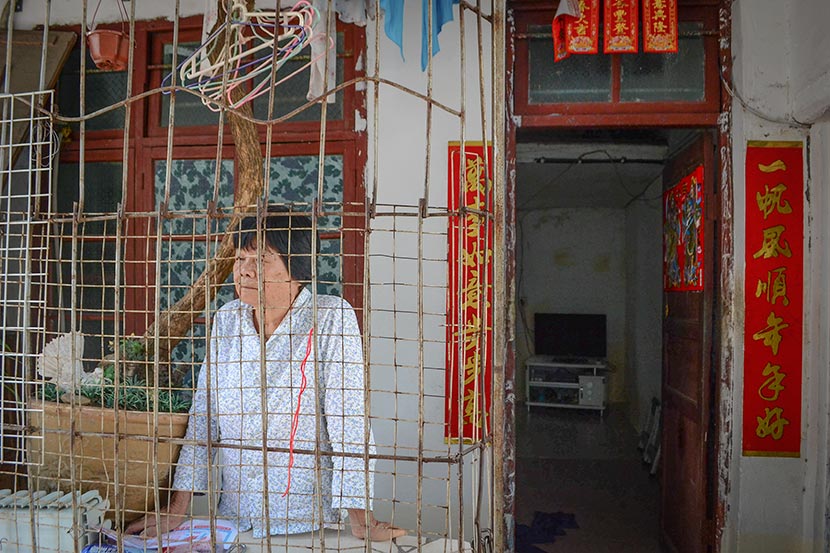 Retiree Yi Peilan gazes into the distance from her balcony in Sanya, Hainan province, Dec. 8, 2017. Fan Liya/Sixth Tone
Some residents were delighted with the redevelopment project when it was announced. Retiree Yi Peilan was the first in her neighborhood to sign the consent form when officials visited in May, promising her a new apartment. "When the news of the shanty area renovation arrived, I jumped for joy," the 75-year-old tells Sixth Tone. "I would finally have an apartment to live in."
Compared with Feng and Fu, Yi and the 11 families on her block live in shabby conditions. In 1989, Yi and her colleagues — all cleaners at a farmers market — purchased the land together and built their houses, each no larger than 20 square meters. Nearly 30 years later, the properties have fallen into disrepair, with peeling paint, crude sheet-metal roofs, and kitchen wastewater running over the unevenly paved lanes between homes.
Two months after she signed the agreement, however, Yi and her neighbors were told that they did not qualify for free relocation because their homes were illegal constructions, built without government permission. "Nobody told me that when we built it," Yi says. "Why are they only bringing this up now?"
The lawyer for the defense said during the October trial that final details of the relocation plan — including the number of free homes available to relocated residents — had not yet been confirmed. According to the redevelopment project office, around 1,500 households had chosen free relocation over monetary compensation as of mid-December.
Yi's hopes were further dashed when the district government went back on its initial compensation proposal: This time, the government offered her just 400 yuan per square meter, rather than the original promise of 15,000 yuan per square meter. With a monthly pension of just 2,200 yuan — and property prices in Sanya averaging over 20,000 yuan per square meter — Yi has spent many sleepless nights wondering where she is supposed to go.
"I was the first to sign the agreement because I wanted a home, not to sell my house for profit. Now I worry, waking up each day not knowing whether I can stay," Yi says.
The dispute highlights the importance of public engagement in government redevelopment projects, says Ren Yuan, a professor at Fudan University's School of Social Development and Public Policy. "Only with active social engagement and discussion can we prevent an imbalance between [private] interests and [government] needs," says Ren, stressing the necessity of procedural justice and warning against taking shortcuts for efficiency.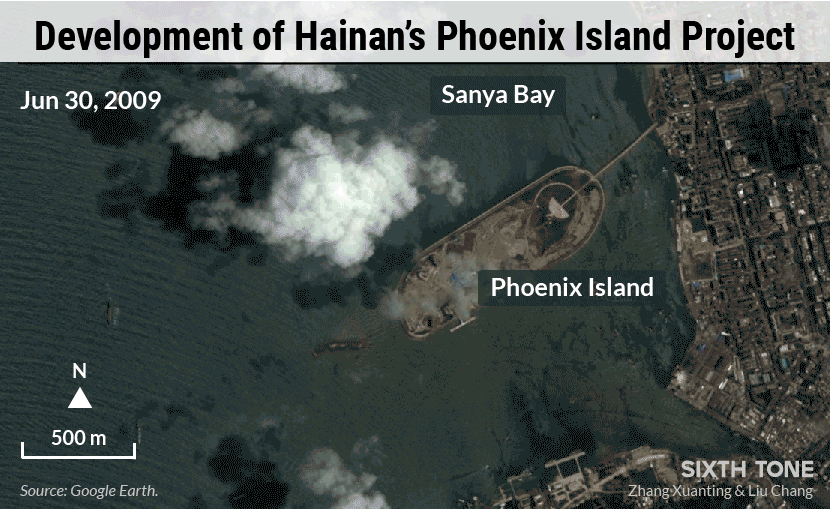 At the Sanya renovation project office, large charts covering the walls trace the initiative's progress, and blueprints map out the area's transformation into high-end service and recreational zones. The zones will surround man-made Phoenix Island, a major cruise ship port that has already come under fire for illegal land reclamation: In December, the Ministry of Environmental Protection criticized the Hainan government for colluding with property developers on unauthorized residential and resort construction, which has damaged the coastal ecosystem in western Sanya Bay.
On Dec. 14, Feng and Fu received the verdict in their shanty area renovation suit: The court ruled in favor of the government. "I am very disappointed, because so many people are dissatisfied with the project," Feng says. More than half the plaintiffs have decided to appeal.
None of the residents Sixth Tone spoke to have heard detailed redevelopment plans yet, including timelines and final compensation amounts. "President Xi said officials should conduct their work with delicate care, like embroidery, but nobody has bothered to find out the actual condition of our house," says Feng. He does not know when he will have to leave the place he calls his second home — while Fu and Yi wonder if their days in their native Sanya are numbered.
Editor: Qian Jinghua.
(Header image: Seasonal residents pose for a group photo on the beach in Sanya, Hainan province, Dec. 8, 2017. Fan Liya/Sixth Tone)