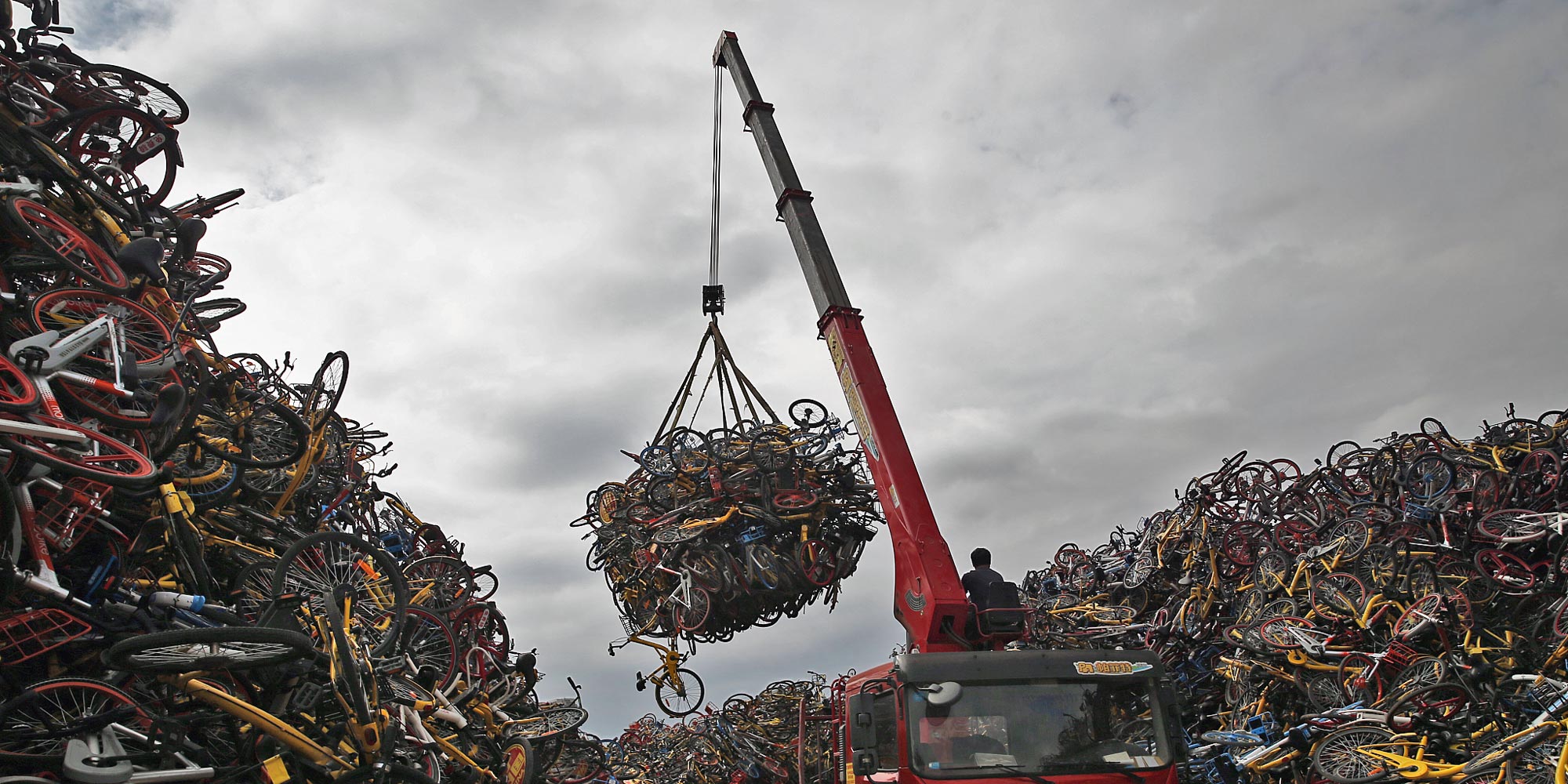 NEWS
Wins and Losses in China's Bike-Sharing War
From mergers to fleeing CEOs, China's bike-sharing industry has heated up as companies battle for control.
This article is part of a series looking back at some of the most noteworthy China stories of 2017.
A battle has been raging in China's bike-sharing market this year, with two industry giants reigning supreme and small startups becoming casualties — and the war is not over yet.
China's bike-sharing craze kicked off in late 2016 and, since the beginning of this year, companies and investors alike have been pouring cash into the flourishing market.
At the start of the year, a number of companies were vying for a slice of the bike-sharing pie, but now two major players have risen above the others to dominate the market and the sidewalk: orange-colored Mobikes and yellow Ofos.
Both Ofo and Mobike reported 3 million bikes ridden each day in the second quarter of this year — significantly more than their competitors, which each had no more than 1 million daily users, according to internet consultancy iResearch.
But as Ofo and Mobike rose to the top this year, other players in China's bike-sharing market were rattled by lack of funding, government crackdowns, or stiff competition. The industry has also copped criticism for dumping bikes, as piles of broken, disused bikes pile up in suburbs, creating bike-sharing graveyards.
But the future remains bright for Ofo and Mobike, with Zhao Xiang, a bike-sharing analyst from online consultancy Analysys, telling Sixth Tone that the two bike sharing giants would most likely retain their leading positions in the market in the future, leaving their peers far behind.
Zhao stressed that smaller companies would need to find ways to diversify into different services or seek new partners to merge with if they are to survive.
The industry has been rife with speculation that bike-sharing giants Ofo and Mobike will merge, but Zhao believes that could be some way off.
"Ofo and Mobike won't merge in the short term, but with the push from the capital market, their merge is highly possible in the future," Zhao said. If the pair merged, they would have a monopoly on the market, and the whole structure would shift. Even before they merged, it would only get harder going forward for smaller players to raise capital, she said, as most investment would flow to the leading companies.
Taiwan-born Lai Yinghsuan, who moved to Shanghai last year after living in Paris for nine years, says Mobike has helped her save money and get around town efficiently. Every morning, she commutes between her office and apartment on a Mobike, spending only 2 yuan ($0.30) per month to use the service — a much cheaper choice than other forms of public transportation.
"I really think it is convenient being able to get a rental bike anywhere," she said, adding that she enjoys the gentle breeze on her face as she rides, which makes her feel like a heroine in a music video.
But if there's a near-monopoly in the market, rider fees could exceed that of public transport — at which point Mobike would lose her as a customer, she said.
The Highs and Lows of the Bike-Sharing Industry in 2017
March
A 4-year-old child in Shanghai is run over by a bus while riding an Ofo after cracking the bike's lock. The incident sparks public outrage, with netizens urging the government and shared-bike companies to impose better regulations and upgrade their technology.
June
The cutthroat bike-sharing market witnesses its first casualty as Chongqing-based Wukong Bike is squeezed out of the market after only six months in business.
Beijing-headquartered 3Vbike ceases operation after nearly 99 percent of the company's bikes are stolen.
Mobike receives 60 million yuan in its ninth round of financing from investors led by internet giant Tencent.
July
Ofo scores 70 million yuan in its 10th round of fundraising from a group of investors led by e-commerce giant Alibaba.
August
The founder of Nanjing-based Dingding Bike is arrested and investigated by local police for illegal financing and fraud.
October
Beijing-based Deerbike — a shared electric bike provider — is suspended by the local government for safety issues.
The industry sees its first merger, when Hellobike and a subsidiary of Yong'an Bike join forces. In December, the company, which still goes by the name Hellobike, garners around $5 million in two rounds of financing, becoming the only bike-sharing company to score funds from domestic sources in the past three months.
November
After Beijing-based Bluegogo declares bankruptcy, consumers struggle to retrieve their 199-yuan deposits. To make matters worse, the company's CEO disappears when things go south.
Another struggling shared-bike company, CoolQi, makes its users travel to Beijing if they want to recover their deposits .
December
Guangzhou-headquartered Xiaoming Bike becomes the first among its peers to be taken to court over unreturned deposits. The case is rejected by the local public prosecutor, but the company is now facing legal action over user deposits in Beijing.
Mobike's overseas subsidiary partners with Japan's biggest social messaging app, Line.
Editor: Julia Hollingsworth.
(Header image: A crane lifts shared bikes in a shared-bike graveyard in Xiamen, Fujian province, Dec.12, 2017. Liu Tao/VCG)