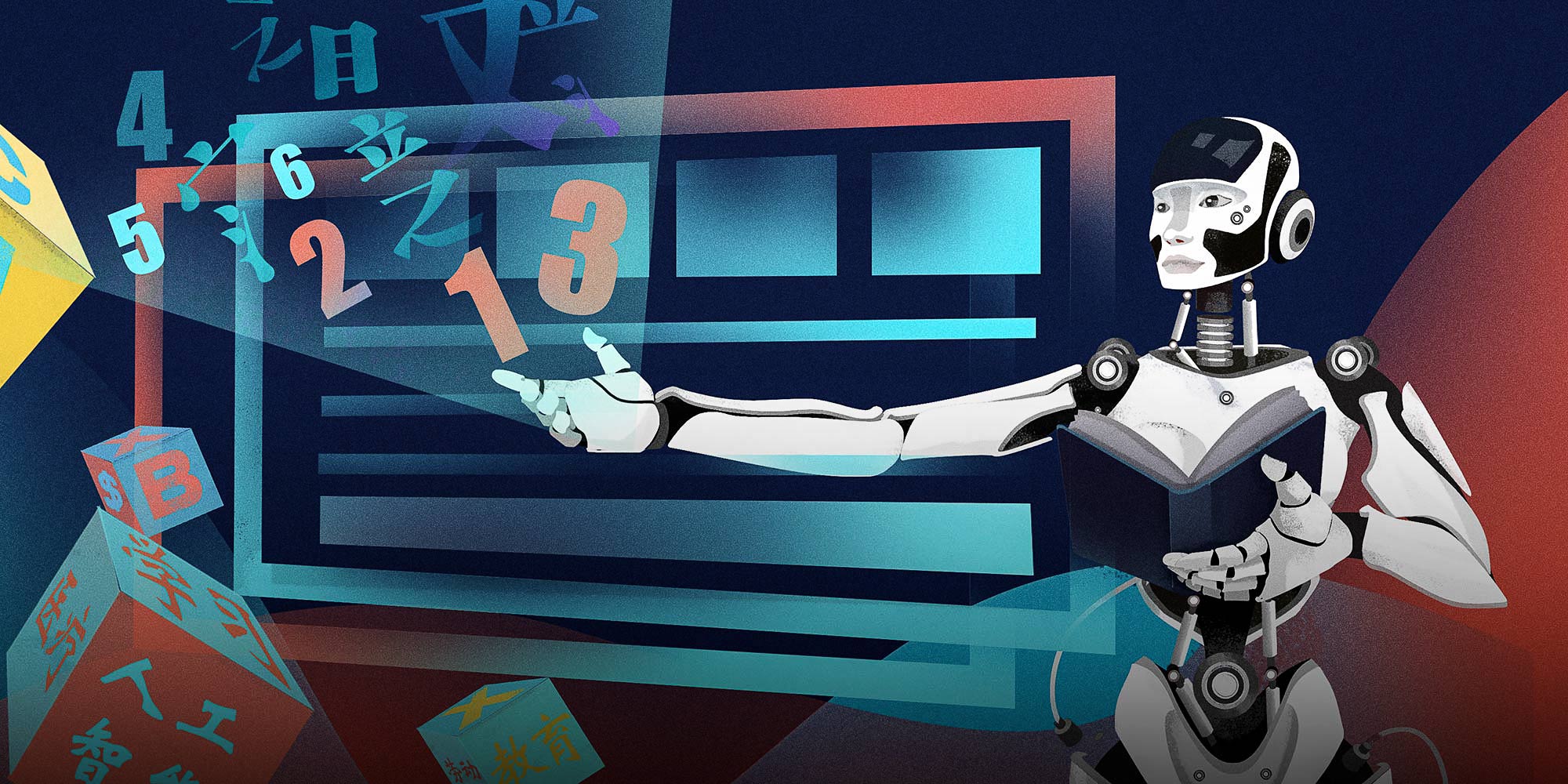 FEATURES
How AI Could Teach Chinese Kids Their ABCs
Robot educators could revolutionize the way children learn — but is the current technology good enough to justify the hefty price tag?
This article is part of a series that explores how artificial intelligence could change life in China.
Lü Weibin's smiley 4-year-old has a new favorite playmate. But there's a catch: His companion isn't human. 
Lü moved to Shanghai in 2014 from his hometown in central China's Henan province, one of the country's poorer provinces, to work at an app development company. A year later, his wife joined him, leaving their son back in Henan with his grandparents. Living some 800 kilometers away is not an ideal situation, says Lü, but it's a necessary compromise to give the whole family a better life.
Because he's only able to visit his son around six times a year, Lü spends generously on whatever he thinks will help the boy's intellectual development — from cheap toys and storybooks to a 1,200-yuan ($180) robot playmate named Ledi, who's powered by artificial intelligence (AI). 
Around the same height as a Barbie doll, the brightly colored, airplane-shaped Ledi is not your typical toy. Ledi, manufactured by Beijing tech startup Turing Robot, is well-versed in poetry, basic math, and Chinese fairytales — in other words, it has the intelligence of a well-educated 12-year-old, according to the company's CEO, Guo Jia. Ledi's smarts are thanks to AI, which allows the robot to respond to children's speech.
One thing Ledi won't do is swear, according to Guo. "We want to build wholesome technology for children without vulgar and dangerous content," he explains. The company — named for English computer scientist Alan Turing, who developed a test for machine intelligence in 1950 — launched Ledi in 2015 as an "older cousin" for young children to play with. In the past year, Guo claims they've sold over 100,000 robots priced at 1,198 yuan each — and he expects sales to be even higher next year.
There is no data on the number of education robots currently on the market, but China's AI industry is growing fast. The education and companion robot sector could be worth 3.75 billion yuan in 2019, according to Feng Chao, an analyst with internet consultancy Analysys. Feng expects the market for AI education robots — which are already being used by thousands of Chinese families and even some schools — to grow and potentially revolutionize the way Chinese children learn, both in the classroom and at home. 
While there's a similar level of enthusiasm for education robots in the U.S., the Chinese market is unique. Robots like Ledi are expected to take off in China due to factors like the poor quality of education among its large rural population, a rising birth rate, and a keenness from consumers to spend on anything and everything that could help children excel in school. In contrast, says Feng, American consumers are more willing to shell out for high-tech products in general, not just those that will help children succeed academically.
In 2015, the Chinese government relaxed its one-child policy nationwide, allowing couples to have two children. As a growing number of families take advantage of the policy change — 7.9 percent more babies were born last year compared with the year before — there's even greater market potential for child companion robots, Feng says. She adds that these children will be raised by the millennial generation, who tend to be more generous spenders compared with older generations. 
But it's not just families who are welcoming AI educators. In Suzhou, a blossoming tech hub in eastern China's Jiangsu province, teachers at Shunhu Kindergarten work alongside 1-meter-tall humanoid robots called iPal, powered by AI. 
When Sixth Tone visited a classroom earlier this month, Wang Lan, a teacher with 19 years of experience, was busy gathering 30 preschoolers and their parents for a dance party. In the center of the group, a smooth, white robot with glowing purple eyes broadcast a catchy, upbeat number well-known in China. The kids swarmed around it, mimicking their robot teacher's every move. 
In time with the beat, the robot — from Nanjing-headquartered manufacturer AvatarMind and priced at nearly 8,700 yuan — can raise its arms and wave them in the air. At other times, it bends its knees or spins around. One of iPal's eyes contains a camera that captures its surroundings, allowing the kids to see themselves dancing in real time on a screen embedded in its chest. 
But the robots can do more than just dance. Each lunch break, they are wheeled into the classroom to tell the children folk stories and ask follow-up questions in their childlike voices to test the students' listening comprehension. In the future, iPal will be able to recognize children's emotions by analyzing their facial expressions and gestures, the company claims. 
Wang is grateful for the classroom robot: It helps get the children interested in the curriculum and allows her to spend more time actually teaching instead of trying to keep her young charges focused. 
At the moment, the iPal robot is more of an assistant than an educator — but in the future, similar technology could bring about the end of the current teaching system, says Ma Liang, a senior consultant from government-affiliated nonprofit Chinese Institute of Electronics. Students may one day be able to stay home and get all the education they need by merely interacting with AI systems in a computer that can customize teaching to their needs — a significant change for China, where homeschooling is currently illegal. 
Wang Kaifeng, a senior investment manager focusing on education at Blue Elephant Capital, agrees that education robots could have a major impact on the Chinese school system. Currently, AI-backed education technology is mostly used to assist teachers by distributing textbooks or supervising kids in class. But Wang Kaifeng — of no relation to teacher Wang Lan — thinks the technology in development is promising enough to take on the teaching aspect of education as well.
This could be a game changer in rural areas, according to Wang Kaifeng. China has around 34,000 rural primary schools with fewer than 10 students, according to a China rural education development report published by the National Bureau of Statistics. In remote schools, there might be only one teacher to educate a dozen students on a range of subjects, Wang Kaifeng says; in cases like these, AI could save the day. Wang Kaifeng describes a future where each student learns on a tablet using courses tailored to their individual needs through AI technology. In Wang Kaifeng's vision, the teacher's role in the classroom would become less about educating and more about solving minor tech issues. 
Although schools and parents might be ready for educational AI, the robots themselves seem unprepared. This year, domestic tech startups have struggled to finance children's education robots. The market began cooling in the second half of last year, when the number of projects receiving financing each month slipped by more than 50 percent between July and December, Wang Kaifeng tells Sixth Tone. 
Investors are being put off because most child companion robots still don't meet customers' needs or expectations, according to analyst Feng. Some robots can't understand children's simple sentences, let alone carry on a more advanced conversation with an adult. Naturally, she adds, parents are unwilling to pay thousands of yuan for a robot that isn't much smarter than a hundred-yuan electronic storybook.
But underdeveloped technology isn't the only concern. "It's insane to let your kids be taught only by a robot," says Xiong Bingqi, deputy dean of the nonprofit 21st Century Education Research Institute. Xiong stresses that, aside from passing on knowledge, a teacher should look out for students' mental health and emotional well-being and guide them in developing strong social and communication skills — tasks that can't be accomplished by a robot teacher, he says.
In fact, the education robot craze could negatively impact children's mental health, according to child psychologist Xu Qian. The rise of companion robots could lead to parents spending less time with their kids, says Xu, but these robots can't meet the emotional needs of a young child. "If parents relinquish their obligation to spend time with their children," she says, "the children will feel abandoned."
Fellow child psychologist Sun Aijun tells Sixth Tone that long-term use of robots could damage children's social skills and cause them to develop a more rigid way of thinking. Kids aged between 2 and 6 are particularly vulnerable, as this is a crucial period for social development, Sun says. 
But for now, Lü's son seems perfectly happy to spend time with his robot-turned-playmate. In a video Lü showed Sixth Tone, the little boy cheerfully plays a math game with his robot companion, Ledi. "One plus five is?" the boy asks in clear Mandarin. "Six," Ledi immediately responds in its monotone voice, prompting the little boy's face to break into a wide smile.
Editor: Julia Hollingsworth.
(Header image: Zhang Zeqin for Sixth Tone)