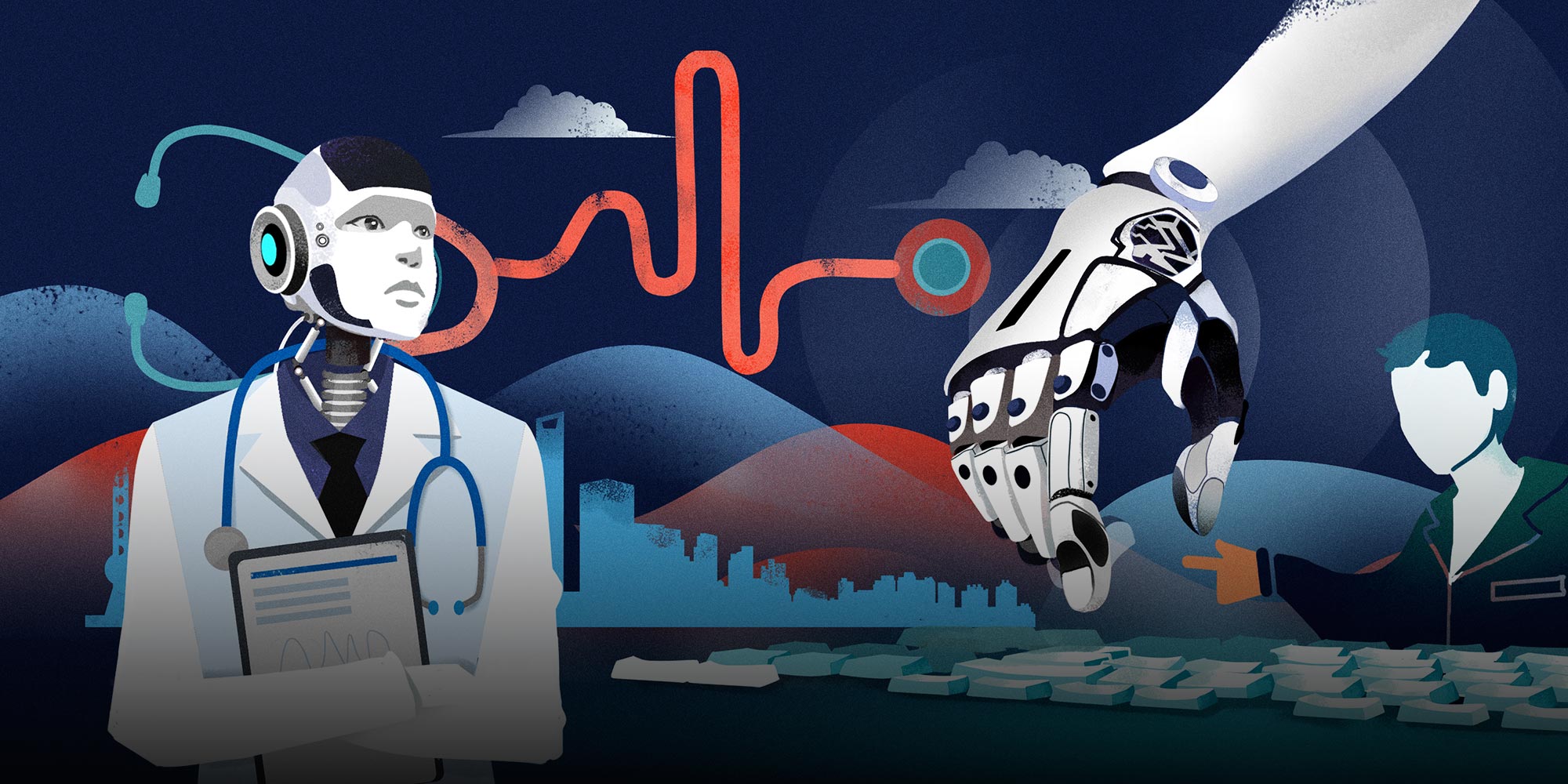 FEATURES
Could AI Be the Cure for China's Medical Crisis?
The country has robot-doctor fever — but some think the possibilities for AI in health care have been misdiagnosed.
This article is part of a series that explores how artificial intelligence could change life in China.

SHANGHAI — It's Monday afternoon at one of the city's top hospitals, and a group of 10 doctors from various departments are sitting around a conference table, vigorously discussing a particularly challenging case of bowel cancer.
The doctors at Ruijin Hospital are soon joined by another "doctor" who works quickly and silently. Within three seconds, he has recommended a treatment plan as good as the one that the other physicians took 10 minutes to create.
The silent doctor isn't wearing a white coat and won't be sticking around for idle chitchat after the meeting. Instead, he's an artificial intelligence (AI) system called "Watson for Oncology," developed by top American technology company IBM — a major player in China's burgeoning AI industry.
Ruijin Hospital — which boasts a 110-year history and is one of the country's top hospitals for oncology — is among the first in China to introduce the Watson system, which has now been rolled out in 50 hospitals across the nation. Another 300 medical institutions are planning to follow suit.
While human doctors toil for years in medical school, Watson has devoured more than 300 medical journals, 250 textbooks, and over 15 million pages of research materials in the past six years alone. In the nine months Watson has been at Ruijin Hospital, he's assisted with more than 200 colorectal cancer cases, according to Hu Weiguo, the hospital's vice president and director of the AI project. Over 90 percent of the time, Watson's recommendations match those of the hospital's top oncologists; for certain diseases, the match rate can reach 97 percent.
Watson's diagnosis accuracy rate means he's not as reliable as a human doctor and needs further training to be used in a clinical environment. But for many of Ruijin Hospital's doctors, using and training Watson is mutually beneficial — and not at all a chore. "Watson is like a dictionary," says Sun Jing, a Ruijin Hospital surgeon and one of the 10 doctors at the Monday afternoon meeting. "I constantly learn from him when I compare our recommendations for treating the same patient."
IBM's Watson is among a number of AI systems in China aimed at reducing doctors' workloads and improving the quality of medical treatment. In total, there are over 100 medical AI companies in the country, all united by a single belief: AI will drastically change China's health care system. Some see a future where AI supports doctors, for example by helping them read medical images or develop treatment plans faster. Others — like Kerry Blanchard, senior vice president of China drug development at global pharmaceutical giant Eli Lilly and Company — predict a world where hospitals, pharmacies, and doctors are no longer necessary. "I think doctors as we have today we won't need in 20 years [in China]," Blanchard said during an innovation forum in Shanghai last month. "Medicine will show up with drones."
The reason for the excitement is simple: Investors and startups alike are convinced AI could be the answer to China's double threat of an aging population and a desperate shortage of qualified doctors. By 2020, the number of Chinese people over 60 will exceed 255 million — around one-sixth of the country's population and more than the total population of Brazil.
The growing medical demands of the country's elderly will only increase pressure on already overburdened city hospitals. Fewer than half of China's doctors have a university-level education, according to data from the National Health and Family Planning Commission, and the best-educated doctors head to higher-tier hospitals above the community level, which account for only 3 percent of the country's medical institutions. Another 94 percent of China's medical institutions are staffed mostly by doctors without a university degree. Desperate patients in rural areas flock in droves to city hospitals, where they must wait in line for hours to be seen. The hospitals can be rife with tension — and some patients even pay a tip to move up in the line. In 2013, top-ranked hospitals in Beijing saw around 700,000 patients from outside the city each day, according to government statistics.
Such challenges could prove lucrative for Beijing-based health care startup Airdoc, which uses AI to screen patients in community hospitals, among other services. "The gap in health care resources between urban and rural regions is where AI comes into play," Airdoc's vice president, Zhang Jinglei, tells Sixth Tone. The 44-year-old former doctor and medical group marketing director is convinced AI can contribute to medical services in rural areas, sparing patients visits to distant and costly urban hospitals. Recent health care reforms have aimed to improve health care at community-level hospitals, but the dearth of qualified doctors persists.
Among industry experts, Zhang is not alone in his belief that the future of medical AI lies in less developed cities and community hospitals. Top urban hospitals are already well-resourced and prefer to vie for leading human talents that perform better than the current AI technology. "For China's top hospitals, AI still cannot compete with doctors; it is used to double-check and provide a second opinion," says Ruijin Hospital's Hu. "But for second-tier or community hospitals, [where doctors] are incapable of treating patients with more complicated conditions, AI like Watson can be an important reference."
But while rural communities have the most to gain from AI right now, they're also largely the ones missing out. As AI requires huge amounts of data to train its systems, many emerging AI companies are choosing to cooperate with big urban hospitals where they have access to more patients and complex disease cases.
Airdoc began working with community hospitals over the summer, helping them diagnose eye problems and chronic diseases at an early stage. But the company has encountered roadblocks: There's a lack of awareness among doctors about health care AI, and some grassroots hospitals and clinics can't even access the internet.
The patients themselves seem open to the new technology — although they, too, know little of AI developments. Wang Cuiqing, a 48-year-old farmer in northern China's Hebei province, was diagnosed with cervical cancer four years ago and says she would have been willing to try an AI-devised treatment plan if it was free, although she hadn't heard of the technology before. "If you have cancer, you are willing to try anything that could work," she says.
But Wang says she still trusts doctors over machines. "Medical treatment is a matter of life and death, and I would not risk my life without a doctor's recommendation," she says. "A machine might be good at analyzing data, but it cannot observe a patient like a human doctor does."
Nevertheless, AI health care technology is attracting plenty of investment. According to Yiou Intelligence, a Chinese think tank that focuses on AI, more than 18 billion yuan ($2.7 billion) in domestic AI health financing went to 104 startups in the first half of this year alone. "Many investors would rather risk investing in the wrong field than miss the opportunity to enter the market," says Zhang Ying, the health care investment director at GF Securities. The Chinese AI health market topped 9.6 billion yuan in 2016 and is expected to exceed 13 billion yuan this year. And medicine made up a significant chunk of China's overall AI market this year, with around 8.4 percent of the country's AI startupsin the health care sector.
Behind the medical AI fever, some are concerned that the promise of an AI revolution in medicine could take longer to realize and encounter more challenges than expected.
Many AI companies have struggled to figure out what doctors need, or how to use the data generated from China's 7.7 billion hospital visits per year. Many data sets are meant for administrative purposes only, meaning they're often incomplete and unstructured — making them impossible for AI to read — while other hospitals don't use digital systems at all.
And there's an even bigger issue: There are currently no comprehensive guidelines or regulations on how AI can be used in medicine. "Doctors don't dare take the risk of trusting AI in clinical practice without approval from the China Food and Drug Administration," says Airdoc's Zhang, adding that it has been difficult for companies to develop without much policy support.
With medical institutions hesitant to roll out AI in practice, many companies provide their technology to hospitals for free. IBM's Chinese partner, Hangzhou CognitiveCare, would not reveal whether it charged hospitals to use Watson, saying the information was commercially sensitive. This highlights an industry problem, says Zhang: Many AI companies have yet to figure out who will actually pay for their services.
Despite the challenges, Hua Songyuan — the CEO of Hangzhou CognitiveCare — remains optimistic, telling Sixth Tone that the Chinese government is putting its full force behind the AI industry. In March, the government established the first national AI lab, and in July, China's cabinet said it expected AI to help establish an intelligent health care system to diagnose diseases. "With strong national support, our country is likely to surpass advanced countries like the U.S. in AI," Hua says.
Yet Ruijin Hospital's doctors are unlikely to be forced to hang up their lab coats any time soon. Hu, the hospital's vice president, compares Watson to a navigation app, which might give the fastest route but won't necessarily help a traveler meet their emotional needs, like taking a small detour to enjoy beautiful scenery. "Technically, it offers the most efficient solution," he says of AI, "but that does not mean it will be the most suitable for the patient."
He adds that medicine is not just about technology and skill — it's also about communicating with patients. "Ethics, family values, and financial circumstances all need to be taken into consideration for a final treatment decision," Hu says. "That's what Watson can't accomplish, so it can only ever be an assistant."
Clarification: This story has been updated to reflect that it was IBM's Chinese partner Hangzhou CognitiveCare that was asked whether it charged hospitals to use Watson.
Editor: Julia Hollingsworth.
(Header image: Zhang Zeqin for Sixth Tone)