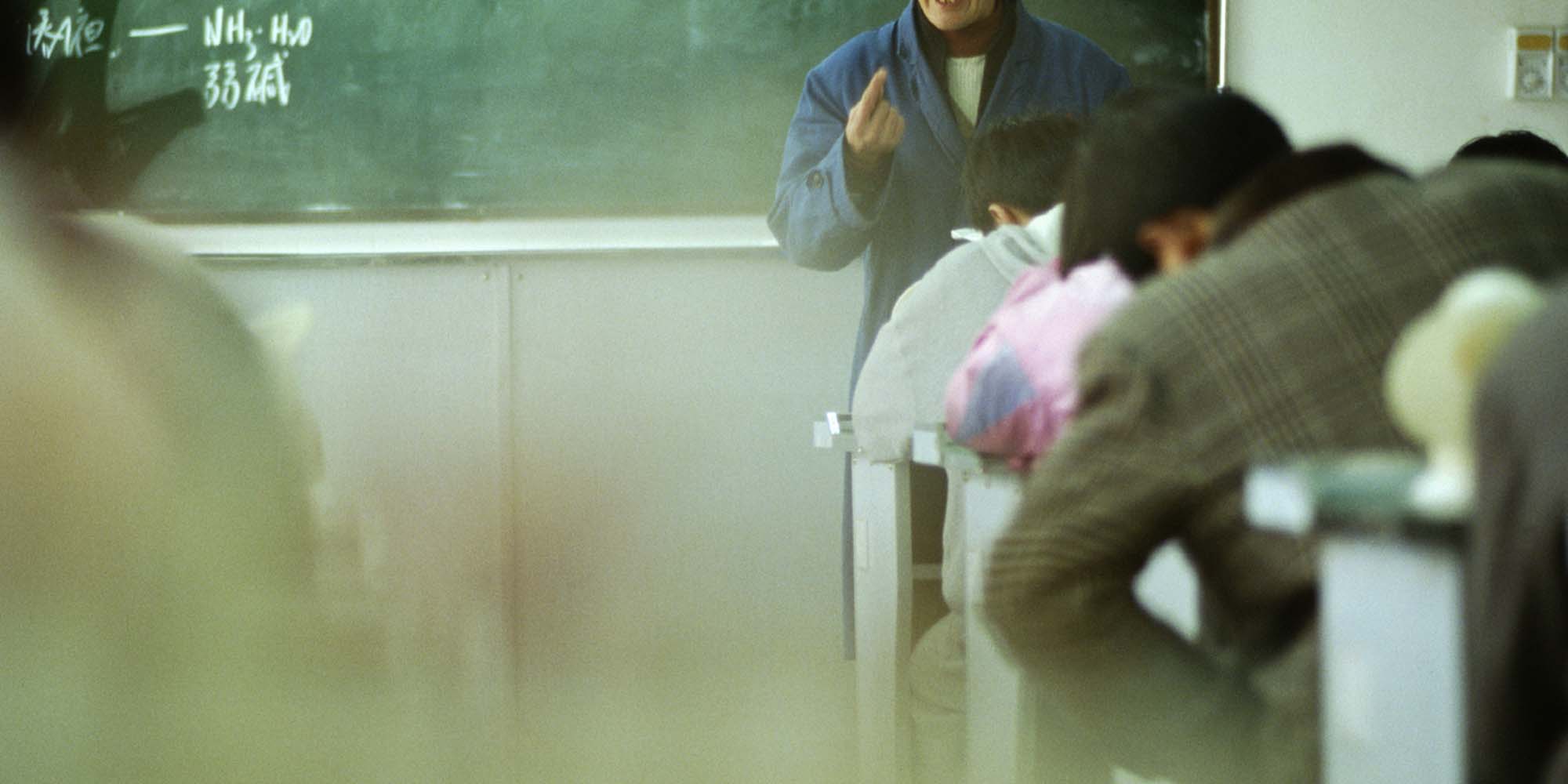 NEWS
Morality Teacher Accused of Molesting Male Students
Sexual assault accusations are becoming increasingly common on Chinese social media.
A student at a vocational high school in southwestern China has alleged that his "moral education" teacher molested him, and that the school tried to cover it up.
On Wednesday, Chen Zexuan, a 24-year-old from Chengdu, the capital of Sichuan province, posted allegations on his Weibo microblog that Zhu Chengjun, a male teacher at Shuxing Vocational High School in Chengdu, had sexually assaulted several male students including Chen's friend, a 17-year-old. Zhu lives alone and is believed to be in his 30s.
The school announced on Thursday that it had suspended Zhu and would investigate the allegations. A conversation thread on messaging app WeChat seen by Sixth Tone appears to show Zhu saying to Chen on Dec. 19, "I feel I did something wrong, but the facts are definitely not what you described."
The student, who asked to be referred to by the pseudonym "Xiaohai," told Sixth Tone that he met Zhu shortly after enrolling at the school in 2016. Though he was not a student in Zhu's class, the teacher lavished affections on him, calling him "darling" and "baby." Taking the intimacy for kindness, he did not resist when Zhu touched his hands and legs.
In May, Xiaohai says, when he stayed over at Zhu's home after they went to a film together, Zhu sexually assaulted him, kissing him and touching him against his will. "I didn't know what to do," said the student. "I felt shaky and could not resist." He added that Zhu had intentionally booked a late-night screening of the film "Dangal," which he told Xiaohai was a feel-good story.
Xiaohai said he felt too afraid and ashamed to tell anyone, including his parents. When he eventually brought it up with his homeroom teacher, the teacher just told him to steer clear of Zhu, which he did thereafter. "I was reluctant to go to school because it reminded me of that awful experience," Xiaohai said.
Asked why he did not report Zhu to police or find a lawyer, Xiaohai said that he was afraid and felt that speaking to the media was the only option. Following the Weibo post, blogger Chen says several students contacted him to say that they had witnessed similar assaults by Zhu.
The school called Xiaohai and his parents on Thursday, asking them come in and meet with police — but the only officer present turned out to be a "legal representative" of the school, according to Xiaohai. "The police officer last night told me not to speak about the case or I'd face legal penalties," he said, adding that the school principal had asked him to delete the online posts.
Zhu's phone was switched off when Sixth Tone tried to contact him on Friday, and the school principal did not respond to an interview request. According to Sixth Tone's sister publication, The Paper, both the police and city's education bureau have said they are investigating the case.
The age of vocational high school students in China ranges from 15 to 18, while China's age of consent is 14. When boys aged over 14 are sexually abused — even by a teacher — the typical charge is indecent assault, a lesser crime than rape, which only applies when the victims are female.
According to Ma Youquan, a lawyer at Shanghai Rejuvenation Law Firm, the penalty can increase if there are many victims and the assaults are serious, but the teacher-student relationship would not typically affect the verdict.
Ma told Sixth Tone that if the allegations are true, the most likely charge will be indecent assault, which usually results in prison terms of up to five years. He said that it was the police's responsibility to investigate, and that victims can turn to the public prosecutor's office — the authority charged with overseeing the police — if officers are negligent in their duties. Ma added that if the student had indeed been threatened, the school would also be held liable for intimidation.
In Ma's opinion, the case also shows that sex education for students is inadequate, as many teens are unaware of how to protect themselves physically, or legally. "Sex education classes should be more prevalent at schools," said Ma.
Sixth Tone has reported several previous cases where students have used social media to voice sexual assault allegations. On Wednesday, two professors in Jiangxi province were removed from their posts after rape allegations were published on social media.
Editor: Qian Jinghua.

(Header image: The Image Bank/VCG)