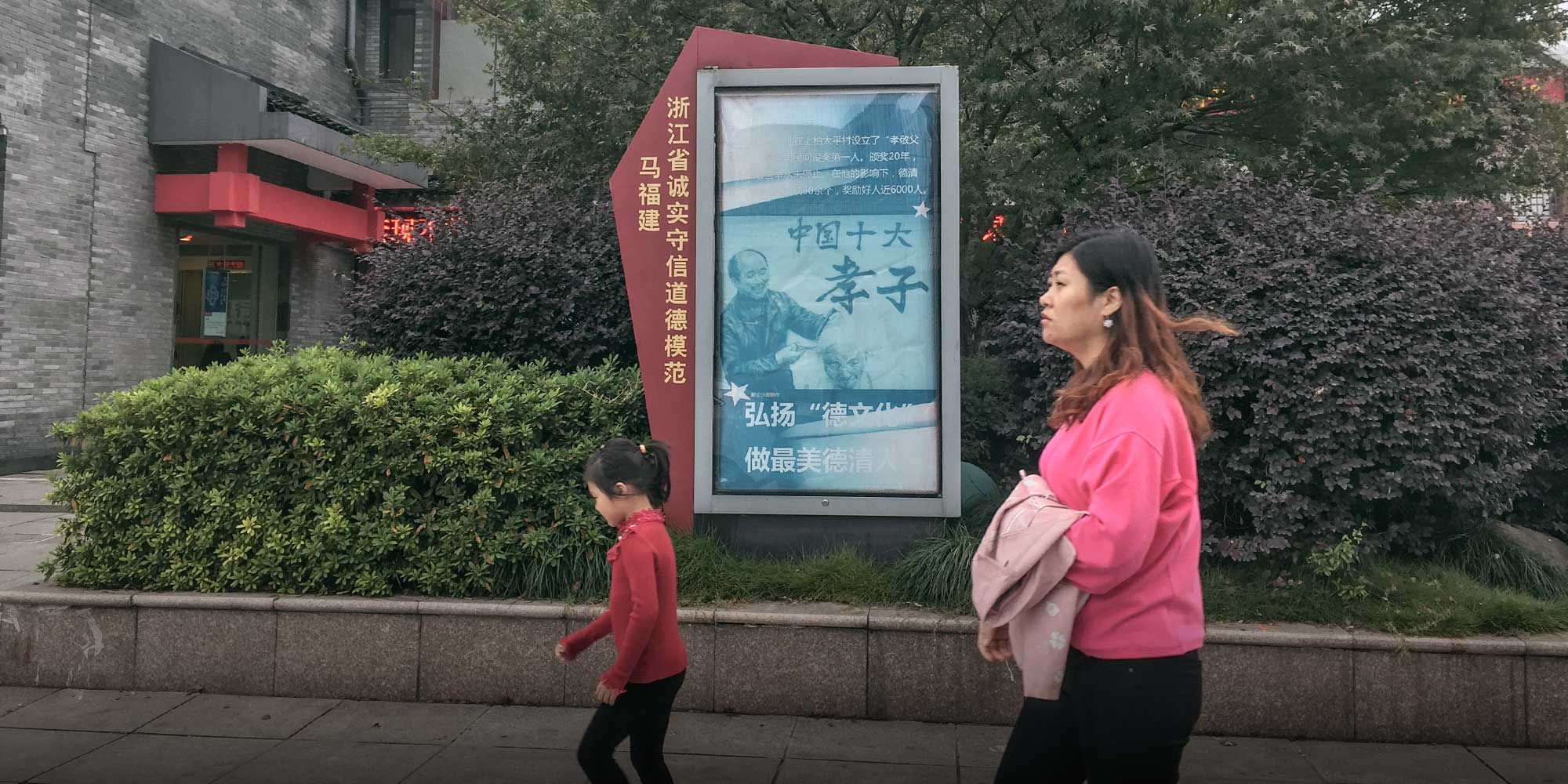 FEATURES
'Moral Awards' Abound in China's Best-Behaved County
Two decades after fish seller decided to encourage filial villagers, thousands of prizes have been given out.
ZHEJIANG, East China — To outsiders, Deqing County is known as the home of lush bamboo forests on Mount Mogan, but the area's real pride and glory is the exceptionally strong moral fiber of its residents.
Morality is somewhat of a local obsession: Over the years, residents have privately funded dozens of different awards, bestowed upon thousands of ethically upstanding citizens. Throughout its towns and villages, portraits are on display of Deqing's most virtuous individuals, and there's an extra smattering of propaganda posters reminding people to be kind and helpful.
The person with perhaps the most finely attuned moral judgment is Ma Fujian, the recipient of so many awards that he has lost count — definitely more than 200, he says. Dressed in blue overalls, the 58-year-old former seafood merchant sits in his office, the walls of which are barely visible behind oversized photos of ceremonies held in his honor: Top Ten Dutiful Sons in the Nation, Morality Model of Zhejiang Province, and countless others. He keeps piles of clippings from newspaper articles written about him.
Twenty years ago, Ma established Deqing's first award for the most moral citizen, and since then, there has been a non-stop flow of local imitators setting up their own awards. The Deqing government has wholeheartedly embraced this morality drive by its citizens. The county calls the abundance of grassroots awards the "Deqing Phenomenon." The county's ubiquitous slogan is "The people's moral behavior is as clear as water," a play on the name Deqing itself — de means "moral," and qing means "clear."
Ma's inspiration, he tells Sixth Tone, comes from witnessing several incidents of young people disrespecting their elders — a grave misstep according to traditional Confucian mores.
On an autumn morning in 1996, Ma recalls, he was at his booth in the local wet market when an elderly man declined to buy a fish because, he said, his son and daughter-in-law hadn't given him enough money. Not long after, he saw a young woman quarreling with and cursing her mother-in-law. "I told the young woman she should not speak in such a way to elderly people, but she said it was none of my business," Ma says. He attributes such immoral tendencies to villagers' lower economic status back then.
After witnessing such unfilial behavior, Ma thought about what he could do to improve the moral standards of his fellow villagers, and decided to start giving out awards. He shared his idea with the Party secretary of Taiping, his hometown in Deqing County, who approved. Ma put 10,000 yuan (then about $1,200) into a savings account and used the interest to fund awards for the most filial young couples in the village. "I wanted to criticize people who didn't treat their parents well by encouraging those who did," he says. The local newspaper was called in to help publicize the award, and all the Taiping villagers voted for the winners in a secret ballot. In January 1997, a ceremony was held in which four couples each won 500 yuan, a certificate, and a red sash.
From then on, the awards were given out every two years, and Ma says he noticed their effect on the community. After an elderly woman's son received the award, she told Ma that her other son's wife had improved her behavior. "It's very important to have role models in life," Ma says.
In September, the Deqing government and state news agency Xinhua jointly organized a conference in Beijing that brought together scholars, officials, and other self-professed morality experts to celebrate the 20th anniversary of Ma's award. "The Deqing Phenomenon shows us that people are capable of moral behavior and the powerful impact it has," Wan Junren, dean of the department of humanities at Tsinghua University in Beijing, and chairman of Chinese Ethics Society, said at the event. He called on the national government to take note and hoped the Deqing Phenomenon could soon be spread to all corners of China.
Moral awards handed out by governments are common in China and the practice is deeply rooted in Chinese history, according to Chen Yihua, liberal arts professor at Jinan University in the southern city of Guangzhou. He wrote in an article in March that governors in ancient times also praised individuals who stood out in their adherence to Confucian morals. The most well-known example from the last century is the Communist Party's propaganda campaign promoting the "Lei Feng Spirit," referring to a soldier whose supposed selfless deeds were discovered after his death. Lei Feng's name and legacy can still be seen all around China, including in Deqing County. The focus on morality can even be seen in present-day government programs such as the far-reaching social credit system initiated by the Chinese government and private companies, which rewards people for "moral" behavior ranging from paying rent on time to being well-behaved on social media.
In Deqing, moral awards are also given to outstanding individuals in various fields of work — such as culture or education — and specific groups, such as military wives or people with disabilities. The most recent tally shows that there are now 62 different grassroots awards in the county.
In 2004, a local watch shop owner, Zhu Tianrong, funded the Tianrong Environmental Protection Award for people who recycled used batteries. Some 400 people have since received the award, and over the years more than 1 million batteries have been recycled in the county, according to the Deqing County Committee for Guiding and Building Spiritual Culture, a local Party organization set up to promote good behavior.
Four years later, an elderly Deqing native with a modest income, Lu Songfang, donated 10,000 yuan to relief efforts for areas hit by 2008's Great Wenchuan Earthquake in southwestern China's Sichuan province. With support from the local government, Lu was selected as a candidate for "Touching China," a program on state broadcaster CCTV that honors people's good deeds. He also won several national and local moral awards and used the prize money to fund the Helpful People award in Deqing.
According to the Deqing spiritual culture committee, individuals like Ma and Zhu have influenced a large group of people — a snowball effect of morality. Besides awards, other grassroots initiatives include "love fridges" that provide free bread, and "love umbrellas," which can be used for free. The central government recognized Deqing as one of the first counties to be given the distinctions of "National Civilized County" and "National Safe County."
Locals like to boast that Deqing people have high suzhi — a term that means inner quality or civility. Debates about the suzhi of the Chinese population as a whole flare up frequently, especially after incidents where people in need were ignored, such as when a 2-year-old girl was run over by two cars and ignored by 18 passersby in 2011. Earlier this year, the Chinese government proposed a solution to this so-called bystander effect by introducing the good Samaritan law, which promises people who lend a helping hand that they won't be held liable for any damages. It came into effect in October.
A recent Deqing award initiator is 74-year-old Sun Xinsong, who was recognized in 2014 for his efforts in organizing acting and music classes for his fellow villagers. Earlier this year, he himself started an award for people who had contributed to village culture and entertainment.
Contrary to Ma's theory that the economic hardship of yesteryear made people unfilial, Sun tells Sixth Tone that better living standards also brought with them lapses in morality: gambling and a rise in divorce rates. In his opinion, awards can counter such trends. "Being recognized by everyone really touched me deeply, and I felt I should be more active to do better," Sun says about the award he was given. "So, I also wanted to set up similar awards to encourage our villagers."
Ma, the recipient of hundreds of national and local awards over the last two decades, has become a small-time celebrity, who, at least in Deqing, is recognized on the street. He has been written about in domestic media, his life story has been turned into a book, and the provincial TV station has profiled him. Nine years ago, Ma gave up his job as a fish merchant. Funded in part by his awards money, he now runs a retirement home. He says that his status as an upright citizen par excellence has put him in good standing with the government, which helps with running a business.
But Ma has soured a little on the awards craze he initiated. Some of the awards are only given out once and are funded by businessmen who are only in it to get exposure, he says. "The government pushed for this, encouraged people to set up awards," Ma explains. "The more, the better."
Editor: Kevin Schoenmakers.
(Header image: A woman and a girl walk past a poster of Ma Fujian in Deqing County, Zhejiang province, Nov. 17, 2017. Fu Danni/Sixth Tone)