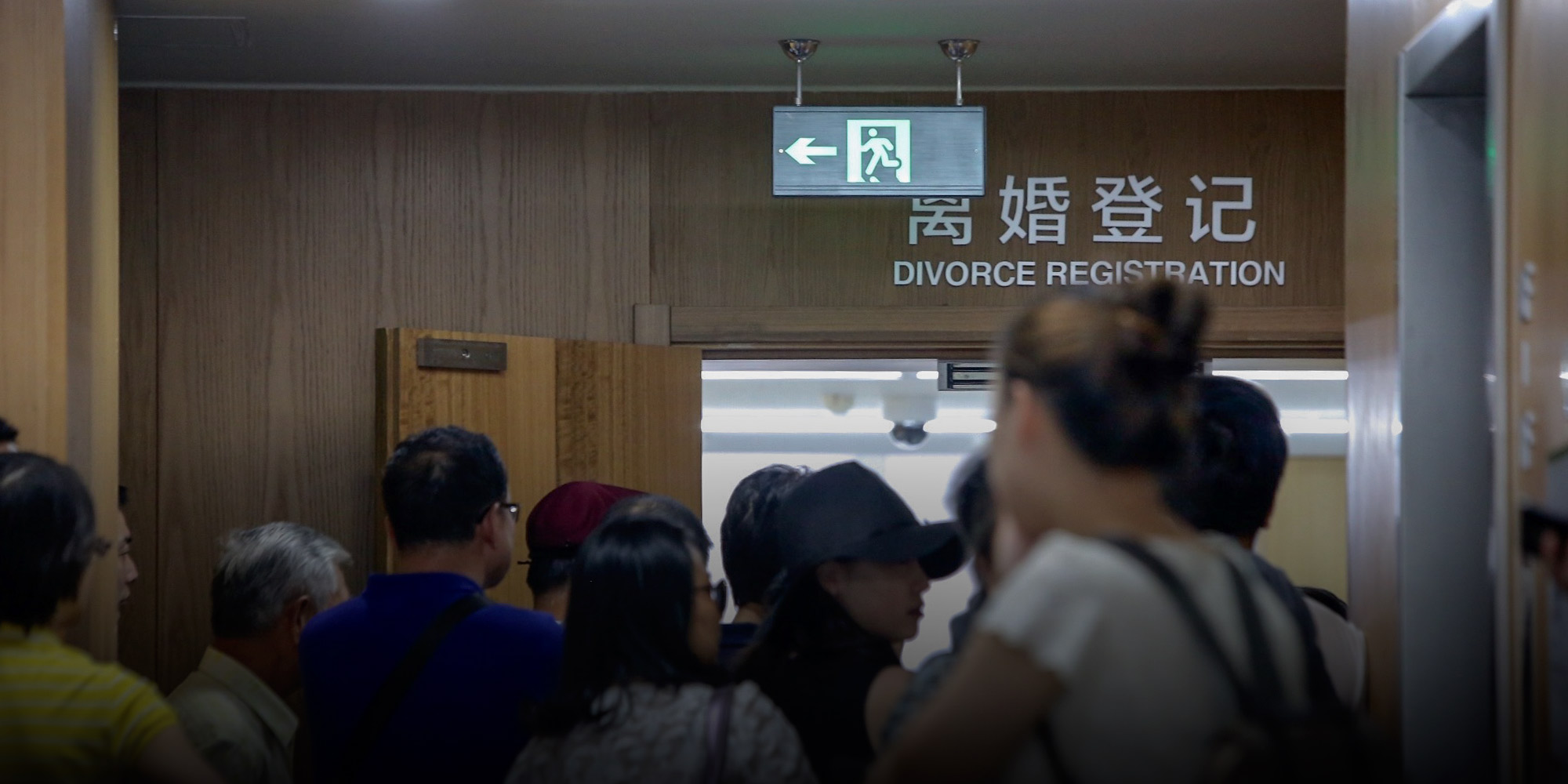 VOICES & OPINION
How I Help Chinese Couples Get 'Fake' Divorces
Temporary separations allow wealthy couples to sink more money into the urban property market.
In China, like many other countries across the world, divorce rates are rising. Here, though, many couples arrive at their local registry office with smiles on their faces. Why? They've come to arrange a "fake divorce" — one that legally ends their marriage, but by no means signals the end of their relationship. Indeed, many such couples would choose to remarry later.
As a lawyer, I have handled my fair share of fake divorces in recent years. Some couples choose divorce in order to evade debt obligations. Others separate because the local government has put their home up for demolition, and by splitting up, the couple can re-register as two separate households and thereby receive more money in compensation. However, the majority of couples who get a fake divorce do so to circumvent regulations limiting the number of properties they can buy.
Distinctions between fake divorces and "authentic" ones — those that occur due to marital breakdown — don't exist in the eyes of Chinese law. Before ending their marriages, couples often seek legal advice in order to ensure that each partner will commit to remarriage when the time is right.
Most fake divorcees want a clearer understanding of their relationship with their partner after the divorce goes through, especially when it comes to child custody and the division of any jointly held real estate. In economic terms, it makes sense that the person earning the least amount of money and holding the fewest individual assets should receive a large percentage of their partner's property. This means that, later, the financially stronger party will have a greater incentive to remarry.
On May 20, the municipal government of Changsha, a city in central China's Hunan province, beefed up its property regulations, limiting each registered household to a maximum of two property purchases. Soon afterward, a spate of couples filed for divorce. Clients I worked with mostly said they did so to qualify for buying a third or fourth residence. Following their divorces, these couples would usually divide up their assets equally, giving each former spouse one property. That allowed both parties to purchase one more apiece.
A few months ago, a couple came to me for consultation. They had a combined annual income of more than 500,000 yuan ($75,800) and jointly held two properties in their name, but they wanted a divorce so that they could purchase two more. The wife, whose name cannot be mentioned for confidentiality reasons, was especially worried that her husband would refuse to remarry her later, and wanted a lawyer to draw up a contract stipulating that she and her husband would get hitched again as soon as he had purchased one more property. Eventually, her husband signed a divorce settlement requiring him to pay exorbitant fees for child support every month, which made it financially problematic for him not to remarry.
In the fake divorce cases I've handled, both partners tend to be well-educated, affluent, and family-oriented. However, they are also driven to accrue more wealth and see the legal institution of marriage as a barrier to doing so. To them, sham divorces are necessary for improving the livelihood of their own families.
Many media commentators and online personalities have condemned fake divorces, claiming that they harm the sanctity of family and marriage, reducing the latter to a tool wielded for personal gain and something sacrificed for financial reward. Others claim that fake divorces brought about by government policy are damaging to social equality, because they predominantly involve people who already have a lot of money, but want even more of it.
As a lawyer, I cannot change the advice I dispense to my clients if I suspect them of getting a fake divorce — it's still perfectly legal, after all. Fake divorces occasionally become real, but this usually happens to couples whose marriage is already fraught with problems. For me, the real issue at hand is this: To some degree, our public policy is failing its constituents.
It is no coincidence that fake divorces abound in China's big cities, where the real-estate market continues to grow and strengthen. The preponderance of fake divorces in any given city indicates the failure of real estate policy at the local level. After all, the right to buy property should never be contingent upon an individual's marital status. Although the Chinese government claims to uphold the sanctity of marriage and harmonious family relations, property laws in many of the country's cities serve as a disincentive for married people.
Putting an end to fake divorces requires us to think of better policies, not to denounce the morals of those who take this course of action. Until we find a way to control the impulse to sink capital into real estate and create a truly pluralistic system of guaranteed housing for all, we will essentially be compelling citizens to use their own marriages, families, and reputations as bartering tools for a better life.
Translator: Katherine Tse; editors: Lu Hua and Matthew Walsh. 
(Header image: Chinese couples queue up to divorce at a marriage registration center in Shanghai, China, Aug. 30, 2016. VCG)