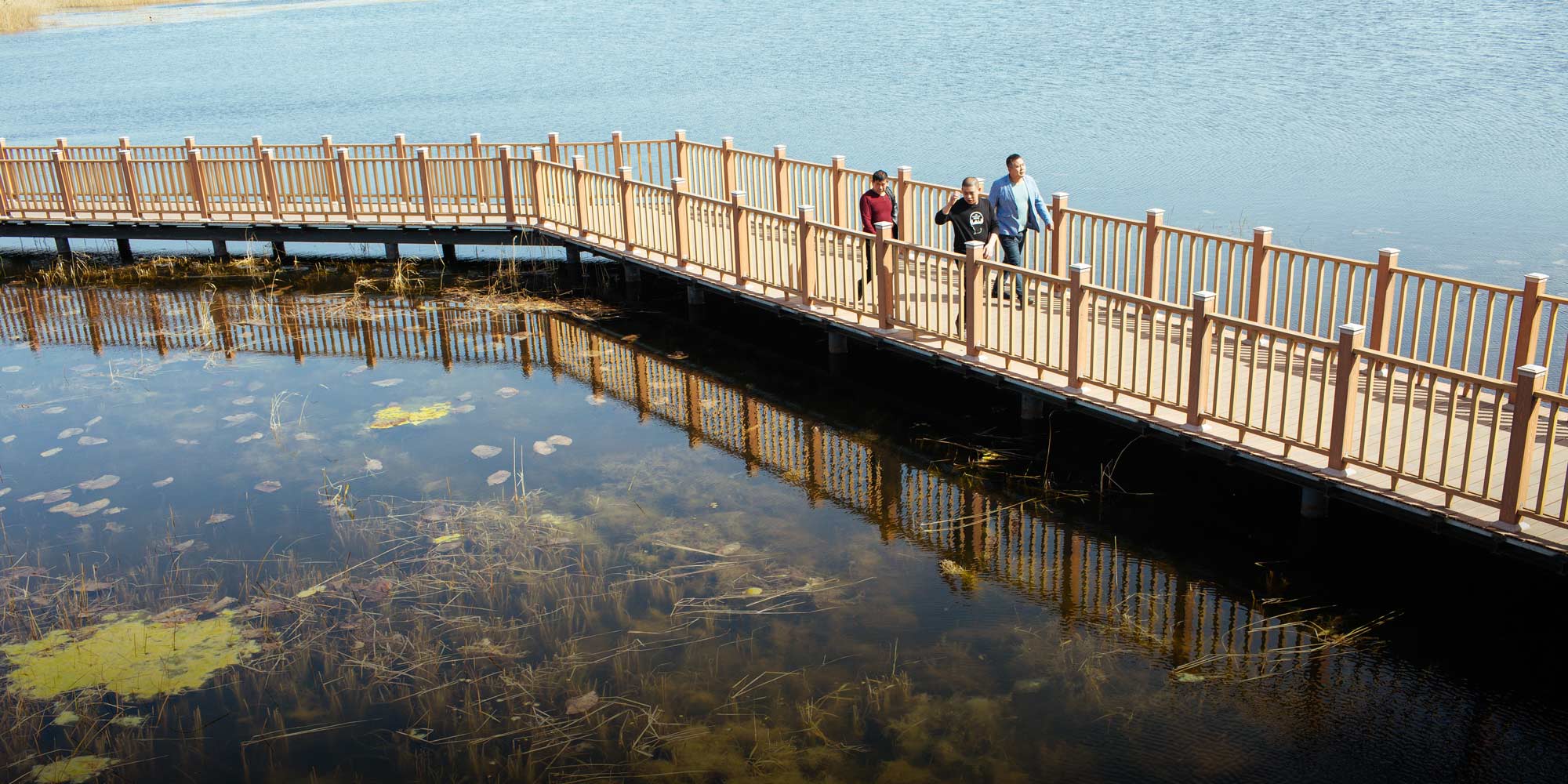 NEWS
Farmers Still Waiting for Details on Baiyang Lake Pollution Plan
Xiong'an New Area cleanup sows apprehension among aquaculture-dependent communities.
This article is part of a series looking back at some of the most noteworthy China stories of 2017.
Chen Heli has set himself a deadline. By the end of the year, the fish and crab farmer will decide whether he'll take the plunge and invest hundreds of thousands of yuan into his farm on Baiyang Lake, in northern China.
But the 50-year-old farmer is hesitating: He's unsure of what the future will hold. Like thousands of others like him, Chen is waiting to see what specific anti-pollution measures the government has in store for the area where he lives on the outskirts of Xiong'an New Area, a proposed "second capital" that urban planners hope will relieve some of the population strain on Beijing.
In April, the central government announced its plans to develop Xiong'an, along with nearby Baiyang Lake, one of the largest bodies of water in northern China. Xiong'an New Area will be comprised of land in what is now Xiong, Anxin, and Rongcheng counties in Hebei province. The site is about two hours' drive from central Beijing, and it is expected to develop into a megalopolis more than 30 times the size of Manhattan.
But the ambitious development plan has prompted calls for a crackdown on pollution, which would affect lakeside farms such as Chen's. Typically, these farms discharge food and animal waste into the lake, which leads to algae covering the surface, restricting sunlight and oxygen and limiting biodiversity.
Chen worries that a crackdown on aquaculture could come out of blue, and so believes his livelihood is at risk.
The conservation and pollution control program for Baiyang Lake is led by the Research Center for Eco-Environmental Sciences at the Chinese Academy of Sciences (CAS). Qu Jiuhui, head of the center's Baiyang Lake conservation program, told Chinese media in May that the plan was to establish a smart monitoring network that would assist in managing the lake's air and water, flora and fauna.
In July, Baiyang Lake was listed as one of the "three new lakes" earmarked for national-level attention for pollution control. Other lakes include Erhai Lake in southwestern China's Yunnan province and Danjiangkou Reservoir in the central Chinese province of Hubei. In the same month, Xiong'an authorities announced that they had shut down almost 4,000 businesses, and some 84 people were also detained for pollution-related violations.
In November, a water diversion project to channel water from the Yellow River to shallow Baiyang Lake began trial operations. The project is expected to divert 110 million cubic meters of water — roughly the amount Beijing uses every 10 days — to the lake every year, which will both improve the ecosystem and mitigate the water shortage caused by agricultural use and overexploitation of groundwater in the region.
Liu Cunqi, an ecology professor at Hebei University, described the conservation task as "arduous." He told Sixth Tone that the fish farms should not fall under a blanket ban, arguing that there's scope for the farmers to pursue more sustainable and eco-friendly practices.
News about pollution control is fueling anxiety among the villagers who depend on Baiyang Lake, especially since specific plans have yet to be published. Qu of CAS told Sixth Tone that everything was still up in the air, as the plan is still being reviewed by the central government.
Liu Zhenlan, a duck farmer who lives in another village on Baiyang Lake, expressed how all of this uncertainty is affecting his day-to-day life. "I have complicated feelings," he told Sixth Tone. "My family has been raising ducks for generations. I don't have a good education or other skills, so I won't be able to start another business if I've got to move somewhere else."
"But I also know the current duck-raising methods cannot be justified," the 40-year-old father continued. "Small-scale businesses [like mine] discharge excrement at will — it's bad for the environment."
Chen, the fish and crab farmer, said he has no choice but to continue making a living the only way he knows how, despite his worries. "There's still no clear policy, and I'm quite confused [about whether to invest more money in my farm]," he said. "I hope the policy will be revealed soon."
Editor: Colum Murphy.
(Header image: Locals walk along a boardwalk at Baiyang Lake in Anxin County, Hebei province, April 11, 2017. Wu Huiyuan/Sixth Tone)