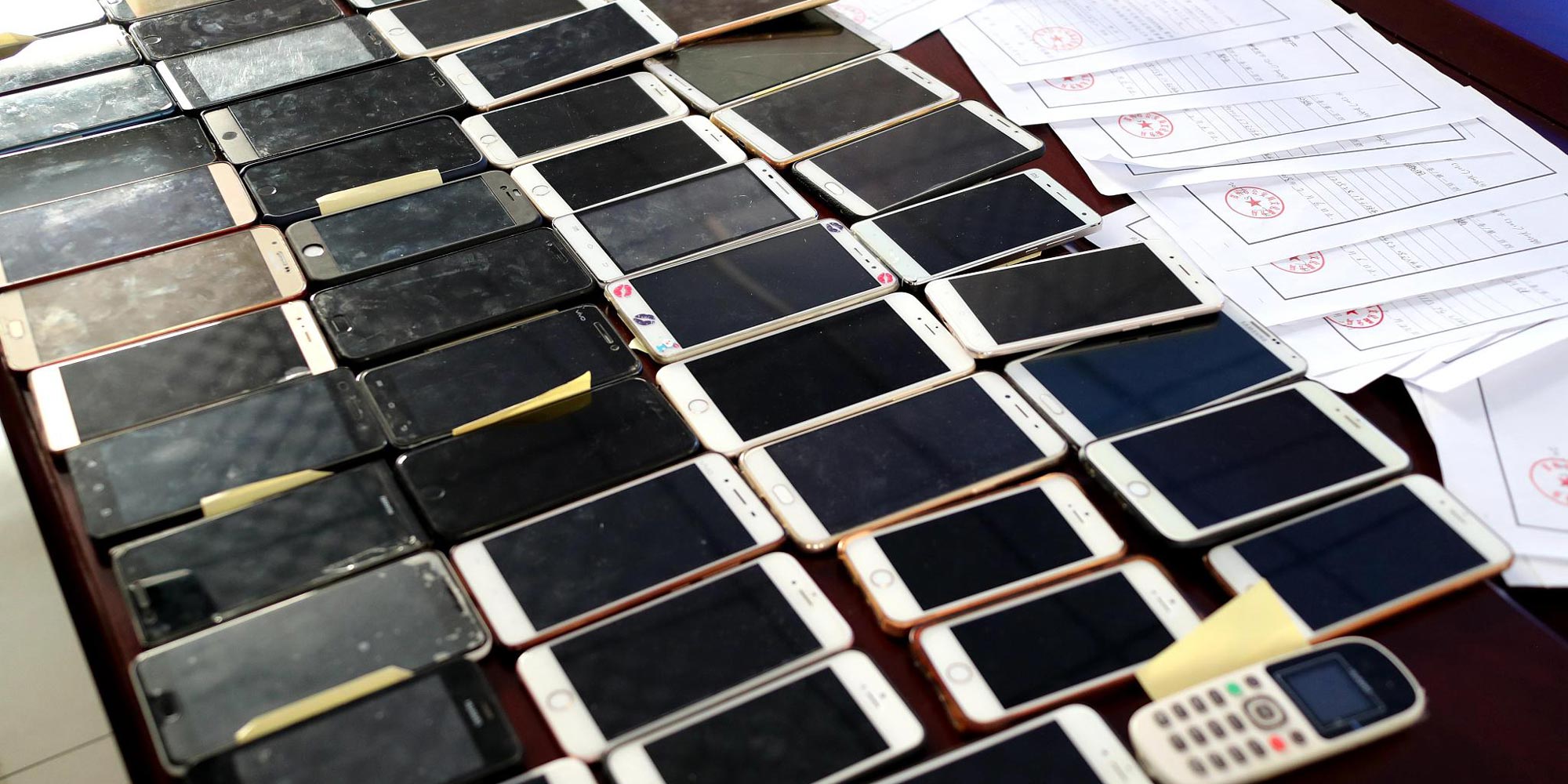 NEWS
China's Year in Scams
Despite tougher laws, Chinese citizens continue to get swindled in a surprising variety of ways.
This article is part of a series looking back at some of the most noteworthy China stories of 2017.
A 68-year-old elderly woman left homeless in Beijing, a divorcée in her 50s lured by the prospect of love, and a 23-year-old man found dead in Tianjin have one thing in common: They were all victims of scams in 2017.
Despite growing public awareness and more stringent government measures, fraudulent activities have become a front-page fixture for Chinese media. In the first three quarters of 2017, authorities busted 870 pyramid schemes, a 2.7 percent increase from the same period last year. In August, four central government ministries put pyramid schemes in their crosshairs by initiating a three-month "special crackdown."
Fraud cases can mean huge financial losses — even loss of life. Sixth Tone has closely monitored this common yet complex topic throughout the year. Here's a sampling of our coverage.
At-risk elderly
In April, a group chat on social messaging app WeChat promised members they could earn 50,000 yuan ($7,700) by paying a 10-yuan "registration fee" and attending a gathering at the Bird's Nest stadium in Beijing. On the appointed day, crowds of senior citizens thronged the Olympic stadium hoping for a gold rush, only to realize they had been swindled.
In another incident, 68-year-old Li Shuda found herself out on the streets of Beijing after falling victim to an investment scam. Li told Sixth Tone in August that lenders persuaded her to take out a mortgage on her apartment and invest the money into a "wealth management plan." In addition to losing her home, Li accumulated 2 million yuan in debts.
Wang Xinliang, a lawyer from Jinan, capital of eastern China's Shandong province, told Sixth Tone in January that seniors are easy targets for scammers because they're more likely to believe false advertisements and exaggerated claims. "They tend to follow the trends: Once they see others speaking highly of the products and buying a lot of them, they won't want to miss out," Wang said.
Students on shoestring budgets
Over the summer, pyramid schemes were blamed for a spate of tragic and untimely deaths. One victim, 23-year-old Li Wenxing, was found drowned in a pond in the northern city of Tianjin in July. A recent graduate from Shandong, Li had hoped to become a computer programmer. When someone claiming to represent a Beijing-based software company contacted him about a job in May, Li agreed to move to nearby Tianjin for training.
The police report indicates that Li was taken captive as soon as he arrived, his contact with the outside world cut off. On July 8, Li sent his mother one final message: "Don't give anything to whoever calls asking for money."
As cash-strapped students look for easy money to finance their education or their expensive tastes, they can become easy prey for loan sharks, who entice them with deals that seem to entail no conditions or collateral. In May, 19-year-old student Den Zhenzhen went missing; it was later revealed that she owed several online lenders a total of 340,000 yuan, including interest. In another campus scam, 40 students were obliged to pay off loans taken out in their name by a trusted classmate.
Liu Junhai, a law professor at Beijing's Renmin University of China, told Sixth Tone in May that university-age victims are not entirely blameless themselves, and that seeking legal remedies comes with its own set of complexities. "This is mainly about students lacking any awareness while being too eager to make easy money," Liu said. "Schools should be educating students on the law, and specifically on issues related to scams."
This year, the country's banking sector has stepped in to shield students from predatory loan sharks. In April, China's Banking Regulatory Commission banned online lenders from offering services to students, while state banks were permitted to resume offering loans to students after an 18-year prohibition.
Lonely hearts clubs
There are more than 200 million single people in China, and no shortage of professional matchmakers eager to profit from their search for love.
In December, a Beijing court sentenced six people to prison for squeezing 4 million yuan from dozens of people hoping to find romantic partners through a matchmaking agency. One female client surnamed She shelled out nearly 500,000 yuan to find a partner following her divorce. The matchmaking agency targeted single women and men, promising "high-quality" dates for premium fees of up to 100,000 yuan.
Even people hoping to find lucrative jobs as dating coaches were left high and dry. In the southwestern city of Chengdu, two men who attended a weeklong "pickup artistry" master class that purported to mold them into well-paid dating gurus ended up out of pocket 30,000 yuan in course fees. The company, meanwhile, blamed the two men, saying they were unable to offer coaching positions to individuals who had trouble dating themselves.
To regulate the matchmaking industry, the central government in September ordered dating sites to keep better records and require users to register under their verified names. A few months earlier, in May, the youth arm of the Communist Party of China had announced that it would shoulder the civic responsibility of helping singles find that special someone.
Scams in the name of health
Con men aren't the most sympathetic bunch, as a case in December demonstrated. More than 100 leukemia patients at the Hebei Yanda Lu Daopei Hospital, a top-tier medical facility in northern China, were swindled out of a grand total of 10 million yuan. The hospital was accused of being in cahoots with a fraudulent charity program that claimed to match patients' donations.
In another scheme, a private hospital in a Sichuan village extorted a group of mostly elderly people for over 11,000 yuan in what started as a free health screening. The so-called medical practitioners convinced nine villagers to accompany them to a nearby hospital, where they were diagnosed with reproductive organ problems. The villagers were charged hundreds of yuan for medical procedures and drugs they didn't need.
Yin Huanwen, a village doctor based in the province, told Sixth Tone that free health checkup scams are common in rural communities, and that they usually target children and the elderly. For every "patient" brought in, he said, the scammers will receive a cash kickback.
All-expenses paid vacation
As more and more Chinese people develop a taste for globetrotting, travel insurance has risen in demand. Beginning in 2016, one opportunistic Chinese tourist figured out how to game the system to cheat the very people who were hoping he would stay safe.
The man, surnamed Huang, reported thefts that never occurred to foreign authorities while vacationing in Thailand, Vietnam, and Malaysia, and used the police reports he received to file insurance claims, pocketing more than 100,000 yuan in compensation over 18 months. Huang got the idea after a real robbery in the Thai beach town of Pattaya, when his laptop was stolen and he realized there was nothing to stop him from reporting other valuable goods missing as well.
Just after the Golden Week holiday in October, a court convicted Huang of fraud, slamming him with 50,000 yuan in fines and a three-year suspended prison sentence.
Song Xu, a lawyer at Zhong Yin Law Firm, told Sixth Tone that travel insurance fraud is less prevalent than auto insurance scams, for example. While it's difficult for companies to verify claims from overseas incidents, Song added, cases involving large sums can be punishable by up to five years in prison.
Contributions: Fan Liya; editor: David Paulk.
(Header image: Cellphones used by suspects in a 50 million-yuan telecom fraud case in Zhengzhou, Henan province, Dec. 12, 2017. Wang Zhongju/VCG)