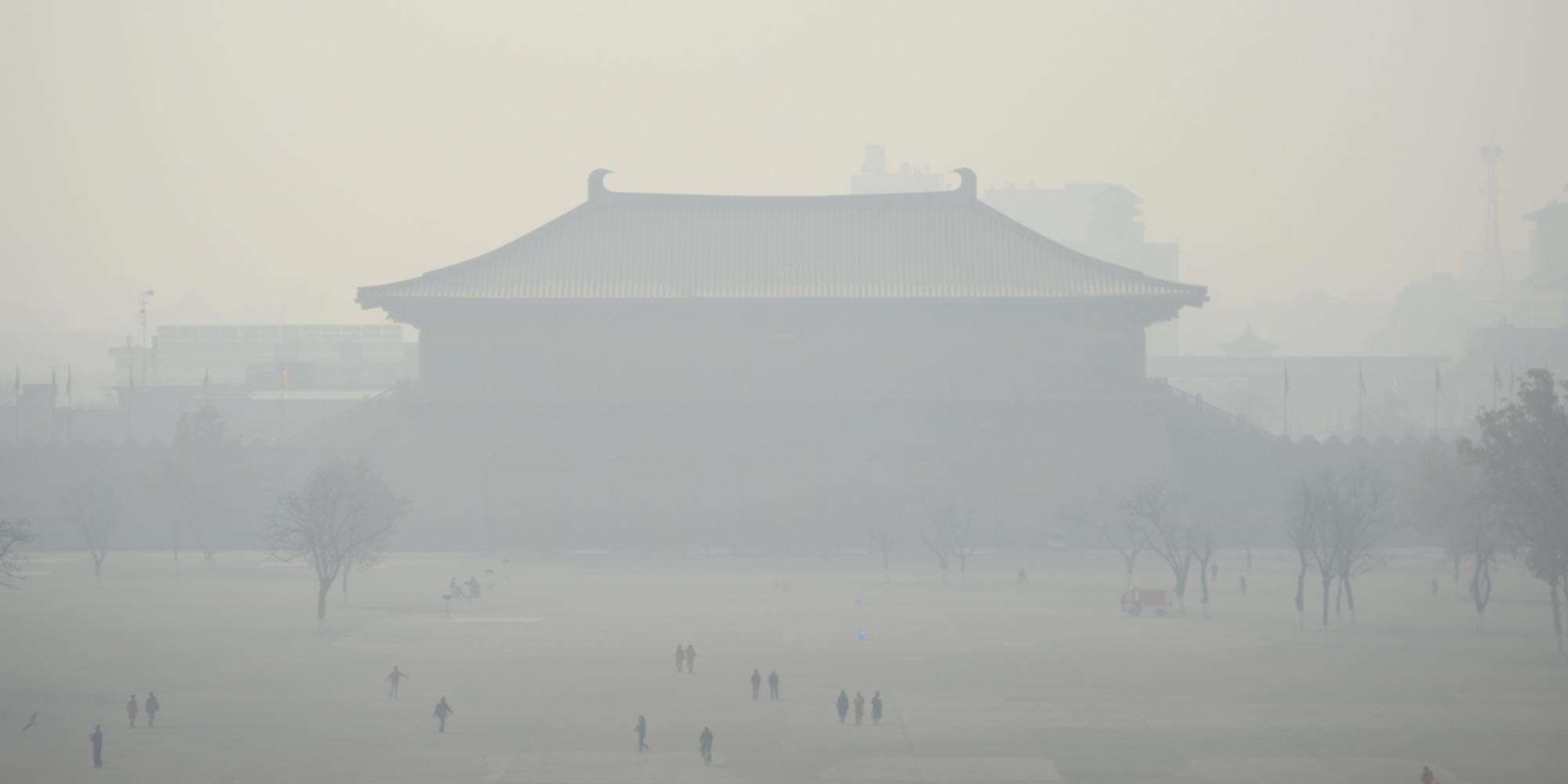 NEWS
Residents Not Holding Their Breath Over Improved Air Quality
Beijing is on track to meet its 2017 air quality target, but experts say challenges remain.
This article is part of a series looking back at some of the most noteworthy China stories of 2017.

For Beijing, 2017 started with a bout of toxic smog followed by tainted snow flurries. But nine months later, government data suggests parts of northern China, including the capital, have actually seen more blue sky than in years past.
Winters in China, particularly in the north, make headlines around the world, as thick smog — and dangerously high PM 2.5 levels — blankets the region.
A major culprit for air pollution is coal, which is used to heat homes and power factories. But in August, the central government announced it would slash industrial production and heavily restrict coal consumption to cut air pollution by 15 percent in 28 cities, and by 25 percent in the Beijing-Tianjin-Hebei region, compared with 2012 levels.
Experts say the measures are showing positive results. Lauri Myllyvirta, an energy analyst at environmental organization Greenpeace East Asia, told Sixth Tone that better air quality in northern China was due to more stringent government measures targeting industries and coal use in the 28 cities — but added that the clear next step is to institutionalize and spread such measures to the rest of the country. "Emissions monitoring and public disclosure should cover all industries' emitters, not just hand-picked ones," he said.
"The picture for 2017 is a bit mixed," Myllyvirta said. "In November, pollution levels in the 28 cities fell by almost 40 percent [from the same period last year], but levels in central and southern China, in the northeast and the far west, increased."
Data from the Ministry of Environmental Protection shows that PM 2.5 levels — the concentration of large particles in the air — have dropped significantly in the last two months. But on the other hand, Greenpeace's analysis of years of NASA satellite data and the Chinese government's ground monitoring data indicates that levels of nitrogen dioxide, a common air pollutant, have seen a "major increase" in the areas east and south of the 28 cities.
Myllyvirta said there are some indications of shifting industrial production from the 28 cities to their surrounding areas, such as Tangshan and Qinhuangdao in Hebei, as well as Shandong further south. But even before the current plan for the 28 cities was implemented, hundreds of heavy-polluting industries were already given the boot by cities like Beijing and forced to relocate.
Balancing environmental and economic policies has been one of China's greatest challenges, as curtailing industry can prove costly. But this year, the central government earmarked an estimated $7.5 billion for supporting environmental protection efforts, with over $2 billion of this specifically reserved for combating air pollution.
"Aligning economic and energy policies with environmental goals will be key to ensuring progress on the national level," Myllyvirta said.
Another challenge for Chinese authorities has been getting people, companies, and local governments to adhere to environmental guidelines. Smaller cities and villages, for example, often find ways to cut corners: Official inspectors have been locked up, and environmental volunteers beaten up. Meanwhile, in April it was revealed that some half-dozen companies in Hebei and Shandong provinces had ignored inspectors' orders to shut down because of environmental violations and resumed normal operations.
On Tuesday, China's environment ministry slammed officials in Binzhou, also in Shandong, for skirting capacity cuts imposed on the city's polluting industries. Local officials had falsified data to win approval for a new aluminum plant in 2014, and a major steel company was found to still be operating despite receiving orders in 2015 to cease operations.
Despite of these slip-ups, Fu Lu, country director of environmental nonprofit Clean Air Asia, told Sixth Tone that she is optimistic about northern China's clean air gains. She said the government is determined to ensure that everyone follows national environmental policies — and has even shown that it is not afraid to publicly shame those who don't. By the end of various inspections in September, some 12,000 officials had been disciplined, and some 18,000 polluting companies punished with fines totaling more than $132 million.
Local governments around the country, too, are making their own contributions to China's nationwide anti-pollution drive. Hundreds of cities restricted the sale and use of smoke-producing firecrackers during the winter Chinese New Year celebrations, and places like Harbin in the northeast have told residents to stop the centuries-old tradition of burning paper money to honor their ancestors and provide for them in the afterlife.
Meanwhile, back in Beijing, officials are hoping that the city will set an example by limiting its average PM 2.5 level to 60 micrograms per cubic meter by the year's end, and thereby purge the city of its reputation as ground zero of a wider "airpocolypse." However, residents who have lived through years of toxic smog and experienced the deteriorating air quality remain skeptical.
Beijing native Jiang Sei isn't ready to celebrate having more clean air days yet. Though government policies are set in place, Jiang said, she believes industries that drive the country's economy will always prioritize profits over pollution.
Nonetheless, the 35-year-old told Sixth Tone on Friday that the air quality in Beijing has been "much better" this year. "You can see more blue sky," she said, "but not every day. Just look outside now: The pollution is terrible."
Editor: Colum Murphy.
(Header image: Tourists visit Daming Palace on a smoggy day in Xi'an, Shaanxi province, Dec. 22, 2017. Zhang Yuan/VCG)